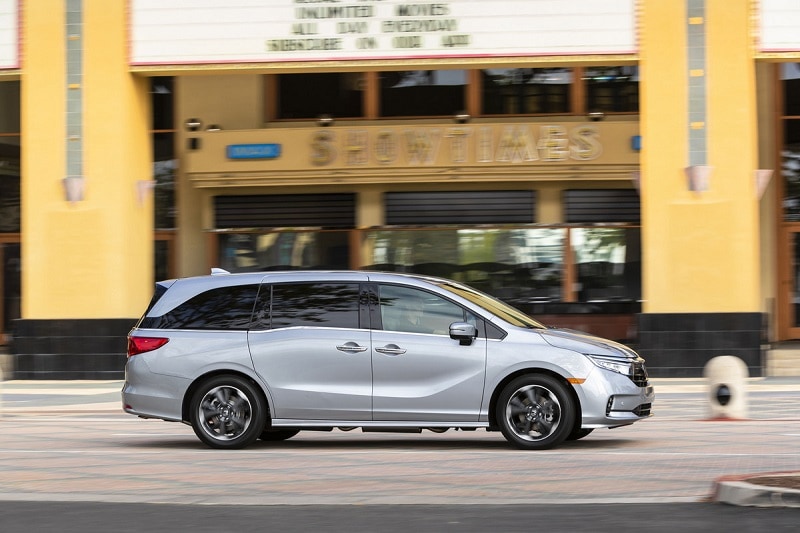 As eagle-eyed automotive aficionados will likely recognize, the Honda Odyssey is a minivan.  Now, like the station wagon before it, the minivan has spent an inordinate amount of time as a punchline, or a symbol of surrender. And that's seriously unfair.
In my experience, people who knock minivans generally haven't spent much time behind the wheel, and there are loads of enthusiasts - including yours truly - who harbor not-so-secret appreciation for the platform. Because while minivans might not be the sexiest machines on the road, the basic design is a marvel of practicality.
Of course, since "practical" and Honda are virtually synonyms, you'd expect the company's offering to be exceptional - and you'd be right. For 2021, Honda has refreshed the sheet metal and cabin of its long-running Odyssey, and the result is an excellent offering in an underappreciated segment.      
---
2021 Honda Odyssey Elite Exterior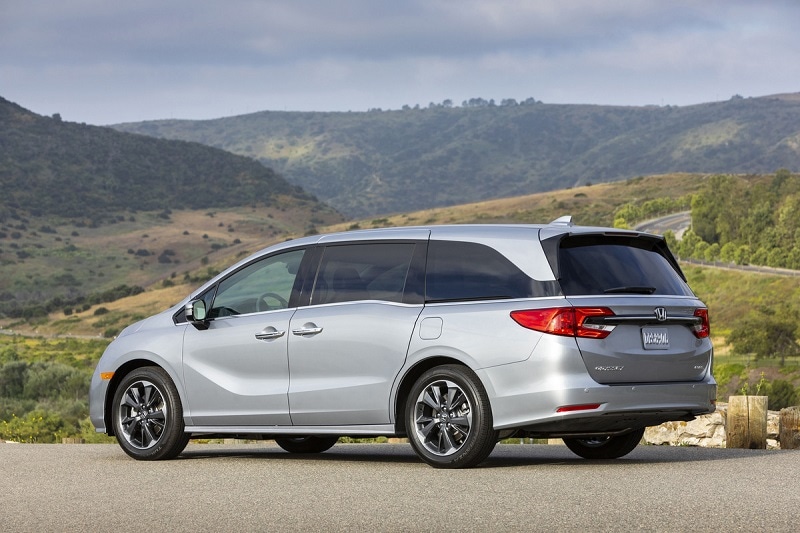 There's nothing revolutionary about the styling of the Odyssey, and that's fine, as nobody looks for the minivan to reinvent the wheel when it comes to design.
For the current model year, the front clip and the rear tailgate have been sharpened up, and there are a pair of creases along the side to provide some visual flair to the package. If anything could be considered flamboyant here, it's how the designers gave the area behind the C pillar the floating roof treatment. It's an interesting touch, even if I'm still not sure if it worked for me.
I very much liked the look of the 19-inch wheels, however, and felt they filled out the wheel wells nicely. If you're driving the Elite and less expensive trims, it'd be worth paying attention to how upping from the stand 18-inch units impacts ride quality. In my week with the Odyssey, I didn't experience anything unexpectedly harsh, but your mileage may vary.    
Shop Honda Odyssey Elite Inventory
---
2021 Honda Odyssey Elite Interior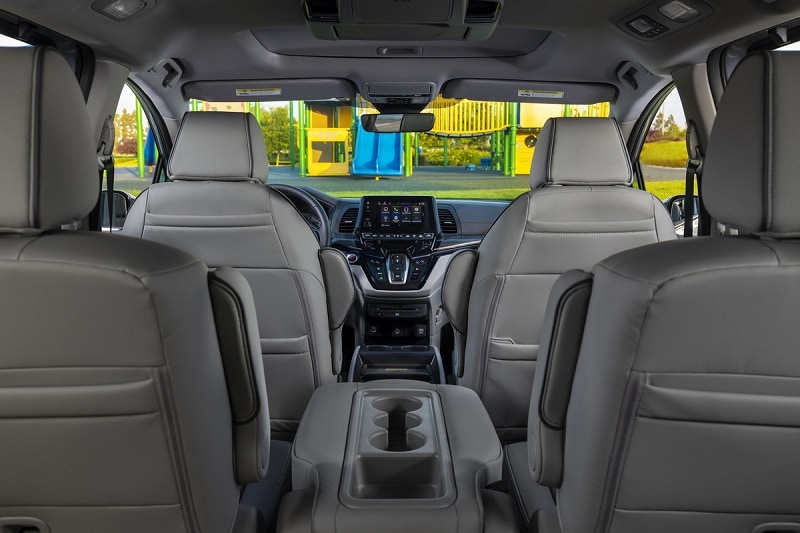 There's loads to love about the interior of Odyssey, especially on range-topping Elite models. The fit and finish of my test model was excellent, and all the materials were top-notch. The front seats were both heated and cooled, and I appreciated the wireless charging pad on the center console. The acres of glass made for excellent visibility, and also gave the spacious cabin an airy feel. It's worth noting that while the Odyssey never felt big when I was driving or parking it, inside, it felt huge. Seriously, I've lived in apartments smaller than the interior of this vehicle.
But quality materials and an excellent use of space are nothing new for Honda. What's really interesting about the cabin are the toys - namely the on-board vacuum. Now, since it debuted back in 2016, there's been loads of coverage of the Odyssey's integrated vacuum - and rightly so. It's a killer feature, and one that parents everywhere, or at least ones who don't appreciate stale Cheerios being crammed in every nook and cranny of the cabin, will love. Another neat feature is CabinWatch, which lets folks in the front seat use the infotainment screen to see what the little ones are up to in the back.
Also, if for some reason your children are less technically adept than you are, the CabinControl feature will let you operate the rear seat entertainment, so they can rewatch Frozen for the 650th time. Personally, my favorite feature was CabinTalk, which turns the stereo into a PA, meaning you could entertain kids with aviation-style banter, or even use it to startle your colleagues so hard that they drop their iPhones, as I did. Never let it be said there's no opportunity for fun with an Odyssey.
As far as infotainment goes, the Odyssey Elite came standard with Apple CarPlay and Android Auto, Bluetooth, a WiFi hotspot, HD and satellite radio, and an 11-speaker stereo. Overall, I found the system intuitive and quick to respond, so any learning curve will be minimal.  
Storage-wise, there's 38.6 cubic-feet of space behind the third row seats. Fold them into the floor, and that figure climbs to 92.3 cubic-feet. At over 155 cubic-feet, overall cargo room is generous, though you'll have to plan ahead and leave the second row at home to maximize all of it.
Shop Honda Odyssey Elite Inventory
---
2021 Honda Odyssey Elite Performance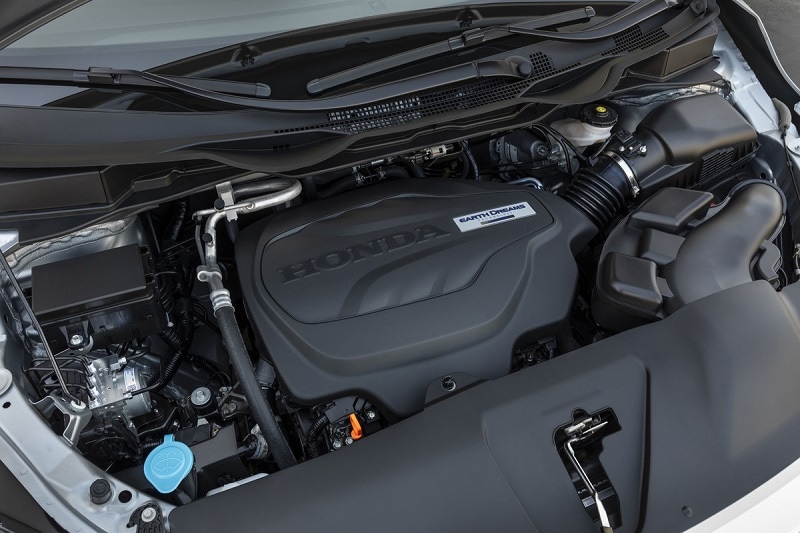 At the risk of stating the dreadfully obvious, nobody outside of mad scientists like Bisi Ezerioha buys an Odyssey to slay at the dragstrip or carve corners. But that doesn't mean the engineers at Honda thought it was acceptable to neglect the driving experience. On the contrary, this is a minivan that comes with paddle shifters, which is as funny as it is awesome. 
While I don't expect many Odyssey buyers will actually use them, I sure did, and I got a proper kick out of the experience. Knocking down a couple of gears and hustling the eight-seat people mover along some of my favorite driving roads was honestly surprising, in the best possible way. Because while the steering wasn't the most communicative, it was notably direct, and I was extremely impressed by just how composed the Odyssey remained when I pushed it. At the end of the day, this front-wheel drive people mover has no business being as good as it is on a twisty road, and Honda's driving dynamics team should be commended for that.
Under the hood, there's a 3.5-liter V6, which is good for 280 horsepower and 264 lb-ft of torque, and that's more than enough poke to put some pep in the Odyssey's step. High-speed cruising is a non-issue, and there's plenty of passing power too, even at highway speeds.              
Shop Honda Odyssey Elite Inventory
---
2021 Honda Odyssey Elite Safety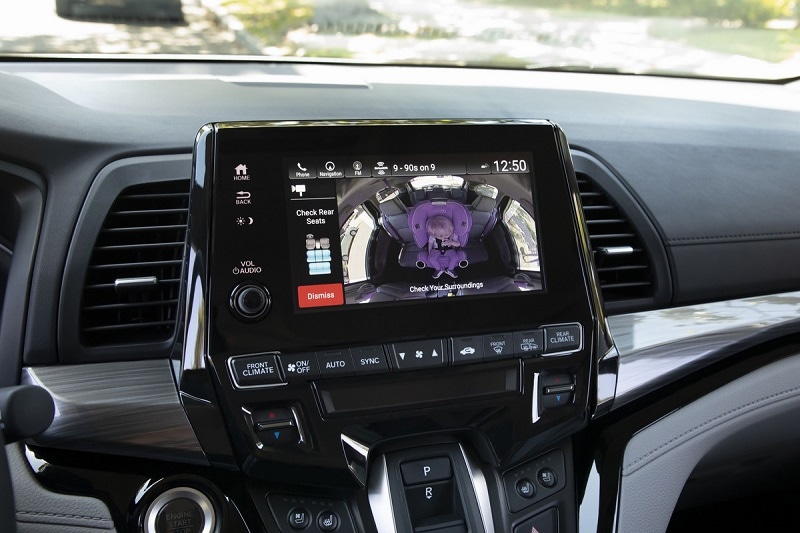 In crash testing by the National Highway Traffic Safety Administration, the Odyssey earned an overall rating of five out of five stars.
It's hardly a secret that minivan buyers are going to prioritize safety. So worst-case scenario aside, the Handa's popular people mover also comes equipped with the Honda Sensing Suite, a robust list of new-school driver aids. Along with advanced technology like Forward Collision Warning, Automatic Emergency Braking, Pedestrian Detection, and Lane Departure warning, features like Adaptive Cruise Control and Automatic High Beams are also included.
It's an impressive list of standard content, and should provide peace of mind for even the most safety-conscious buyer.             
Shop Honda Odyssey Elite Inventory
---
2021 Honda Odyssey Elite Overall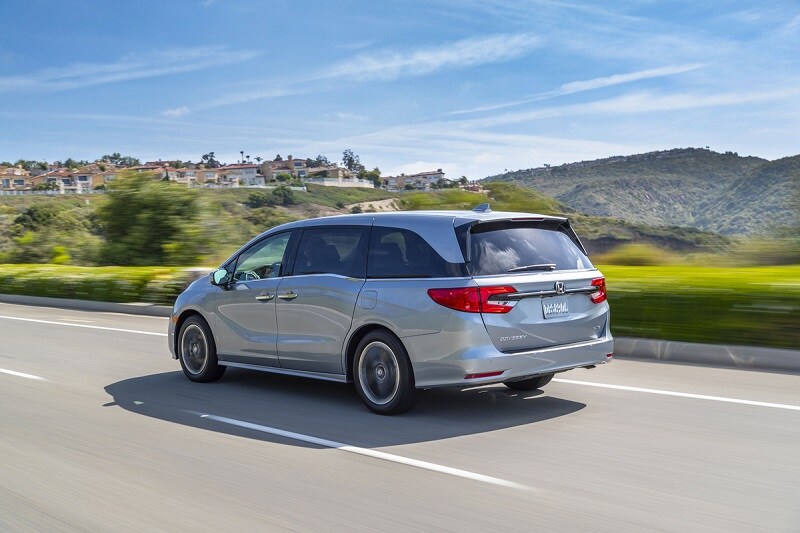 Everybody knows that the difference between a simple task and a tedious chore often comes down to whether you've got the right tool for the job.
Now, while today's crossovers are packed with features to make them family friendly, if you're going to be making the school run, juggling Costco runs and extracurricular activities, it's really, really, hard to beat a minivan for practicality. And the Honda Odyssey is an excellent minivan.  
Because just as a purpose-built race car is designed with low lap times in mind, Honda's humble family truckster was constructed to handle everything even the most demanding brood can throw at it. In that respect, it's probably as good an illustration of form follows function that you'll find in the automotive world. Plus, the driving experience is surprisingly great.
So if you've been turned off by the idea of a minivan, take the advice of this dieshard enthusiast, and head to your local AutoNation Honda dealer and test drive an Odyssey - you won't be disappointed.      
Shop Honda Odyssey Elite Inventory
---
John Coyle  | Jan 18, 2021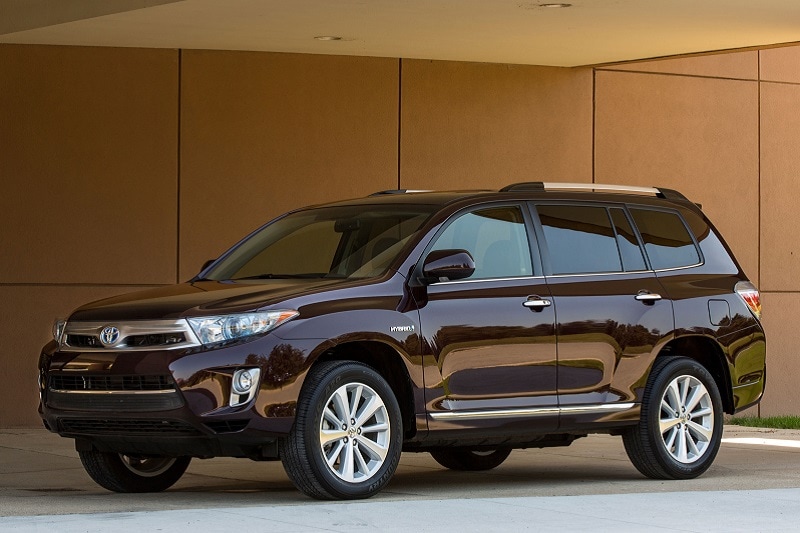 Family Car Research
Discover the best family cars, crossovers, and SUVs that will seat up to 8 passengers.
---
2021 Honda Odyssey Elite Specs
Layout
4-door, 8-passenger, FWD
Engine/Transmission
3.5L V6, 280 hp, 262 lb-ft
Ten-speed automatic
Mileage
19/28 mpg (city/hwy)
NHTSA Safety Rating

★ ★ ★ ★ ★  
---
AutoNation Drive Test Drive Review: ★ ★ ★ ★
---
More Research
Browse more automotive research than you can shake a stick shift at.
---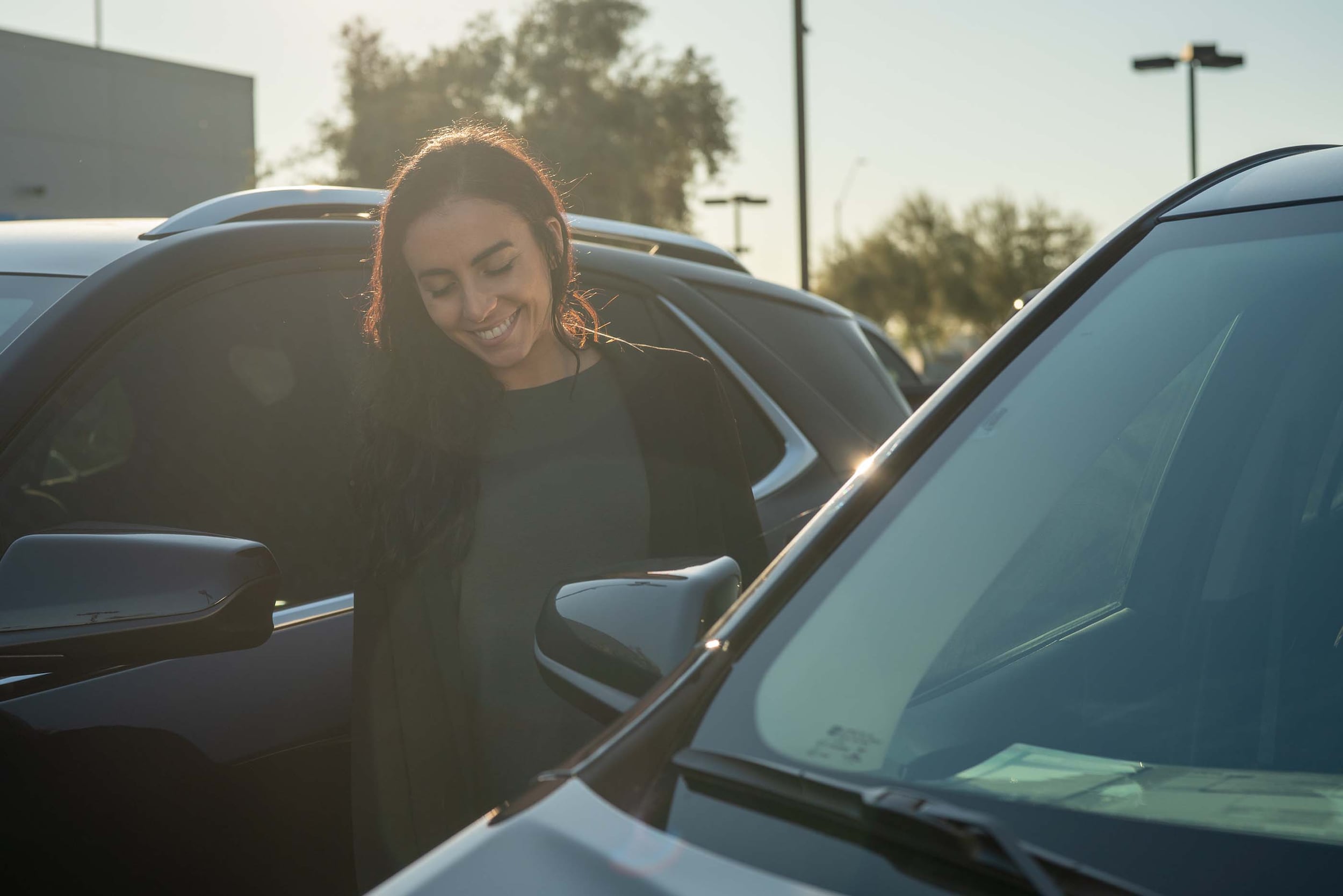 Test Drive Reviews
Our automotive experts at AutoNation Drive weigh in on price, safety, and performance of popular cars, trucks, and SUVs.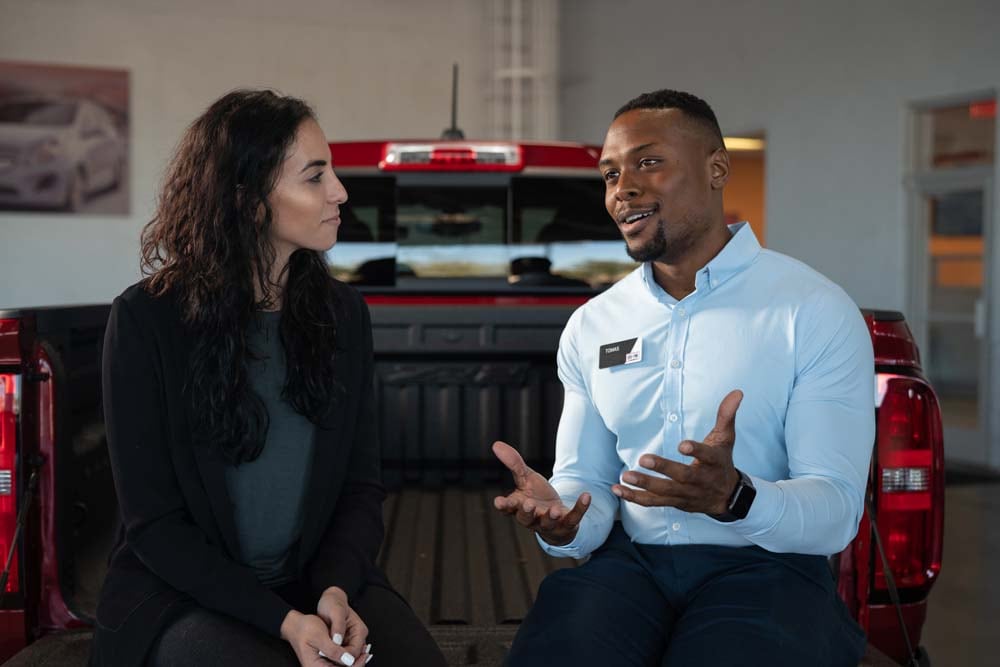 Car Buying Advice
If you're buying a car, truck, or SUV, the chances are - you need help. Don't worry. Our automotive experts are here to help.
---
*MSRP excludes tax, license, registration, destination charge and options. Dealer prices may vary.
**Based on EPA mileage ratings. Your mileage will vary depending on specific vehicle trim, how you drive and maintain your vehicle, driving conditions, and other factors.