John Coyle  | Oct 19, 2020
---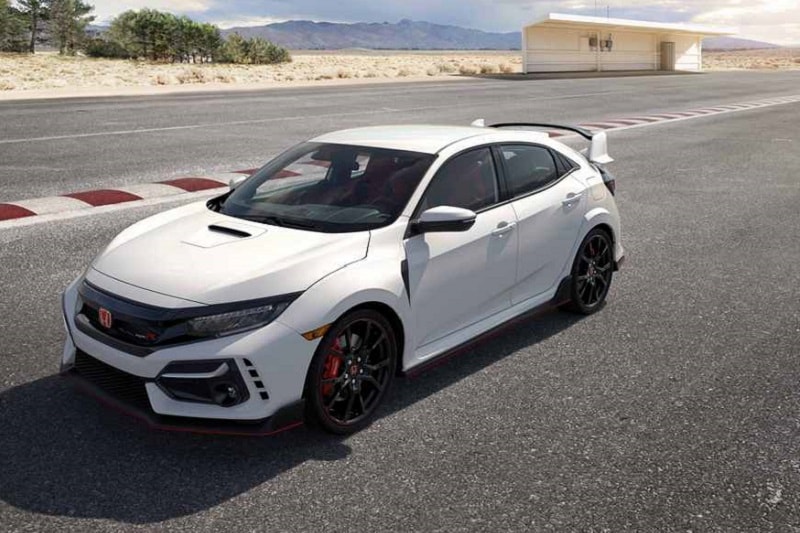 After years of being forbidden fruit on our shores, the Honda Civic Type R officially arrived in the United States in 2017. Thanks to Top Gear and Gran Turismo, Honda's fierce hot hatch already had a following here, and first-year examples got snached up just as fast as Honda could make them.  
Fortunately, while Honda has only sharpened the edges of its famous pocket rocket, since the honeymoon period is over, it's now possible to snag an example without joining a waiting list, or paying a hefty premium. Now, it had been a couple of years since I'd driven the Type R, so I was anxious to drive the latest version, which Honda refreshed for the 2020 model year.
And spoiler alert? It didn't disappoint. The Honda Civic Type R remains a gem of a car, and while it's - quite deliberately - not for everyone, the target market will be thrilled with the latest incarnation of Honda's red-hot Civic.
---
2020 Honda Civic Type R Exterior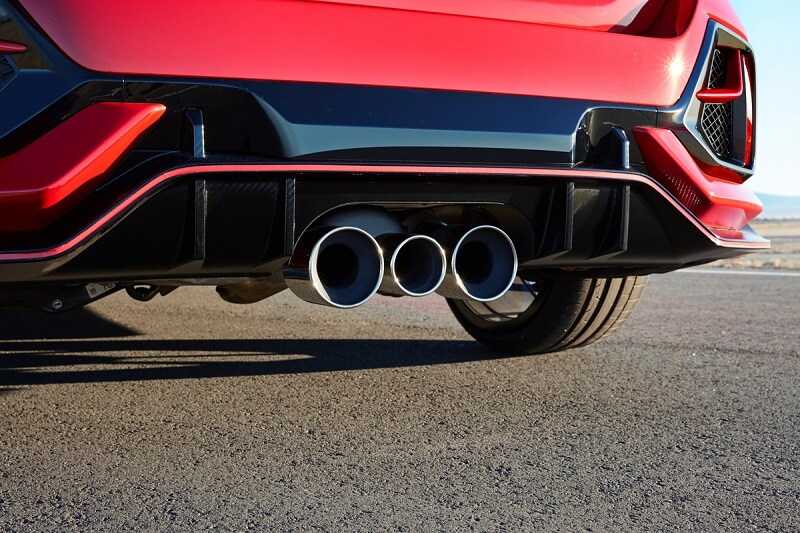 Truth be told? Up to this point, my lone complaint about Type R has been that it's a textbook example of overstyling. Instead of the subtle cues which distinguished previous generations of the car, you can tell a Type R from a standard Civic from across the parking lot.
Now, some people - including probably 90% or the Type R's target demo -are going to dig that, and I'm happy to admit my opinion is 100% subjective.
That said, I have to admit the Championship White tester Honda dropped off at my office looked pretty great. For 2020, the grille has been widened, and the bumper cutouts are now body colored, which I like. Now, despite my initial overstyling comment, there have always been plenty of things I've liked about Type R. For example? I just love the big red Honda badging on the grille and the trunk lid. I also dig the overtly aggressive look of the front clip - and sincerely appreciate that the trick chin spoiler isn't so low I'm nervous to drive into random parking lots, or less than perfect roads.
The fake vents on the rear bumper are probably the thing I dislike the most, but I think the big wing looks tough, and have absolutely no complaints about the look of the triple exhaust pipe setup. I'm also a total sucker for bright red Brembo calipers, and they look fantastic behind the Type R's gloss-black 20-inch wheels.
For what it's worth, when I took the Type R by my buddy's garage, it garnered more attention from the mechanics than anything else I've brought by this year - including the Toyota Supra.
Shop Honda Civic Type R Inventory
---
2020 Honda Civic Type R Interior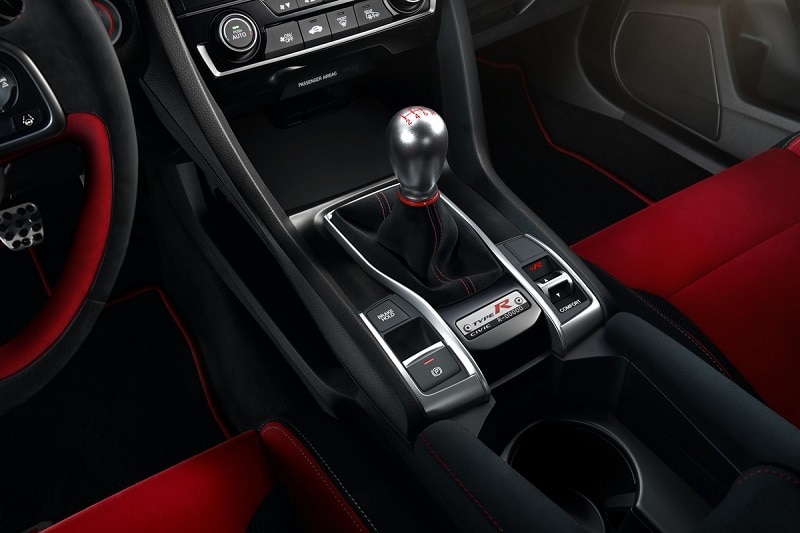 Tuned as it may be, the Type R is still a street car. It's designed to be driven everyday, not just kept in a stable on jackstands and hauled out for track duty. But the cockpit vibe of the cabin totally matches all the racy exterior bits.
The contrasting black red seats are covered in Alcantara, and are aggressively bolstered. Body wise, I'm a very lean 6'3", and honestly, if I didn't spend a lot of time on my bicycle? I would be uncomfortable in these thrones. They are dead serious chairs, so if you've wondered about whether they're more show than go? They're not. In another high-end performance touch, the wheel is also wrapped in Alcantara, and it was a Goldilocks-level of thick. Not too skinny, not too fat.
The red-and-black theme is continued throughout the cabin, and the carbon fiber-esque trim looks slick too. The shift knob has also been updated for 2020, and while the brushed steel and red embossed pattern look sweet, it also felt great in my hand.         
The 7.0-inch gauge cluster is digital, and as you'd expect, changes depending on whether you've selected the Comfort , Sport, or R drive mode. The climate controls are intuitive, and while I find some of the buttons on the infotainment system a little on the small side, there's thankfully a knob to adjust the volume. Overall, the presence of Apple CarPlay and Android Auto means there will be little learning curve for buyers. New for this year is Honda LogR, a data logger which records lap times, helps drivers see the performance benefits of smooth inputs, and displays information about the car's pitch, roll, and yaw. It's trick tech - and will be familiar to anyone that's played Gran Turismo.      
Also notable is that while the designers have taken pains to make the chassis stiff enough to handle being flogged at the track, the rear seats still fold down, increasing cargo space from 25.7 to 46.2 cubic-feet. So thankfully, you don't lose any cargo capacity over the standard Civic.
Shop Honda Civic Type R Inventory
---
2020 Honda Civic Type R Performance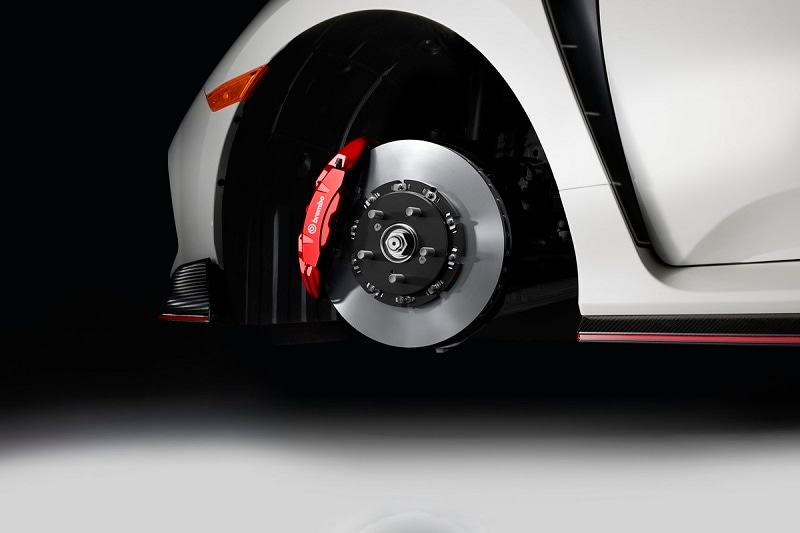 As I said in the intro, the Type R is not for everyone. Even in the Comfort setting, the softest of the car's three drive modes, the ride is stiff. Like, extra-starch, button-down Oxford stiff. So whenever and wherever you drive this machine? You will be intimately familiar with the road surface. Because while the Type R won't totally rattle your fillings, cushy, it is not.
Of course, you don't buy the Type R if you want cushy. You buy the Type R because you want to rev it to the limit and hurl it into corners. And when you do that? It's simply brilliant. In the bends, it stays dead flat, and feels balanced in a way few front-wheel drive cars can manage. Push it hard, and it just wants harder.  
Under the hood is a turbocharged 2.0-liter good for 306 horsepower and 295 lb-ft of twist, and while those are hardly earth-shattering numbers, they're enough to get the Type R from zero to 60 in a few ticks over five seconds, which, when you're behind the wheel, feels properly quick. Over my too-short week with the Type R, I never got over how it felt when the engine was fully on the boost, and pushing me back into my seat. This little mill lives for the upper registers of the rev range, and after you experience it, you'll look for every opportunity to wind it up to the 7000-rpm redline.
Also, it's impossible to praise the six-speed gearbox enough. Honda has long been known for its fantastic manual transmissions, and the unit in the current Type R is stellar. The way the cockpit is set up, you can almost shift it without moving your arm at all. Here, it's mostly in the wrist, and while purists might call it cheating, I just don't care - the rev-matching feature is wonderful. Seriously, try not to smile when the car blips the throttle during an aggressive downshift. Of course, if you're a heel-toe expert? You can shut it off.
My only complaint about Type R's performance is that I wish the engine note was a little more inspiring. But I honestly? I think that, say, tuning the ECU to allow for some snaps, crackles, and pops would make it feel unrefined to Honda's engineers. And unrefined just isn't something Honda does.
For the record, the Type R is EPA-rated at 22 city, 28 highway. Given that this is a Honda, I'm sure it's relatively easy to meet, or even exceed, those figures. But I'm not going to lie and say I tried - this is a type R.    
Shop Honda Civic Type R Inventory
---
2020 Honda Civic Type R Safety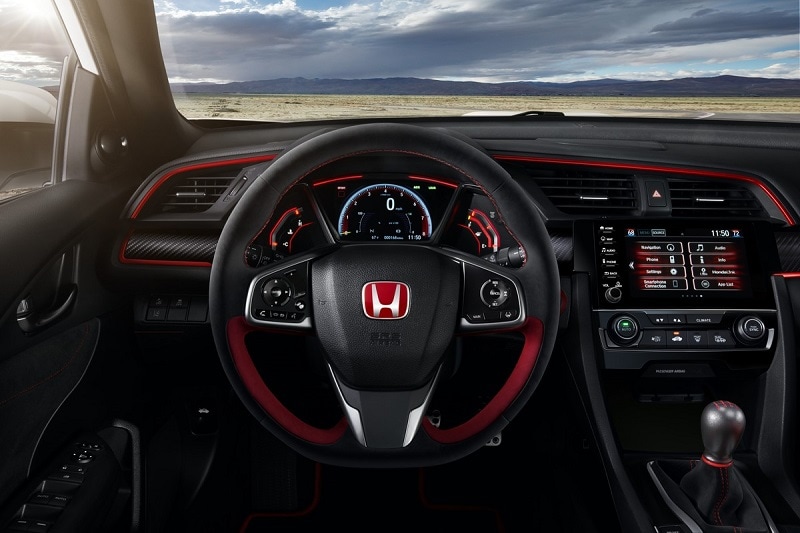 Neither the National Highway Traffic Safety Administration or the Insurance Institute for Highway Safety have specifically crash tested the Honda Civic Type R. But the standard Honda Civic, on which the Type R is based, earned a 5-Star rating from the NHTSA, and is an IIHS Top Safety Pick for the 2020 model year.  
For 2020, every Type R comes standard Honda Sensing, a comprehensive package of safety tech which includes a Collision Mitigation Braking System, a Road Departure Mitigation System, a Blind Spot Information System, and a Cross Traffic Monitor, along with Adaptive Cruise Control and Auto High-Beam Headlights.   
Shop Honda Civic Type R Inventory
---
2020 Honda Civic Type R Overall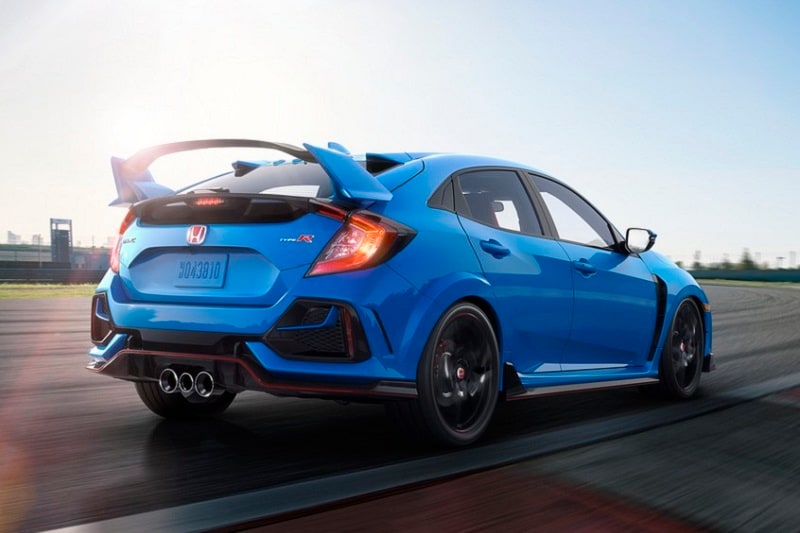 One of the best things about the Type R is that, at the end of the day, it's still a Honda Civic. So it comes instilled with reliability, practicality, and build quality that have made the model ubiquitous on America roads.
But it's also a tremendous performance bargain, and a perfect choice for buyers who want a daily driver that will tear up the track. At the end of my week with it, I really, really didn't want to give it back.