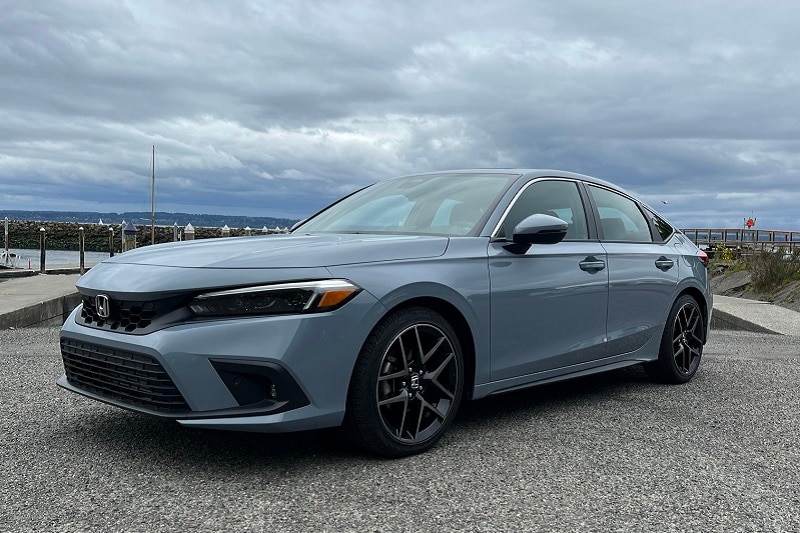 Over the last few years, we've written about the Honda Civic quite a bit here on AutoNation Drive. From Andrew Chen's excellent history of the model, to Jeffrey N. Ross' recent review of the Sport Touring trim, to my experience with the ferocious Type R, the team here has never been shy about its affection for the iconic Honda.  
In 2020, I even got a chance to compare a pristine 1999 Civic Si to the then-current model. And while driving a literal museum car was slightly nerve-wracking? That experience ranks as one of the coolest things I've gotten to do during my automotive career. 
So when a manual transmission version of the Civic Sport Touring arrived in my local press fleet, I jumped at the chance to review it. Because while the CVT-equipped version Ross recently tested is similar to the model that arrived in my driveway in almost every way, the stick shift totally transforms the driving experience. 
---
2022 Honda Civic Hatchback Sport Touring Exterior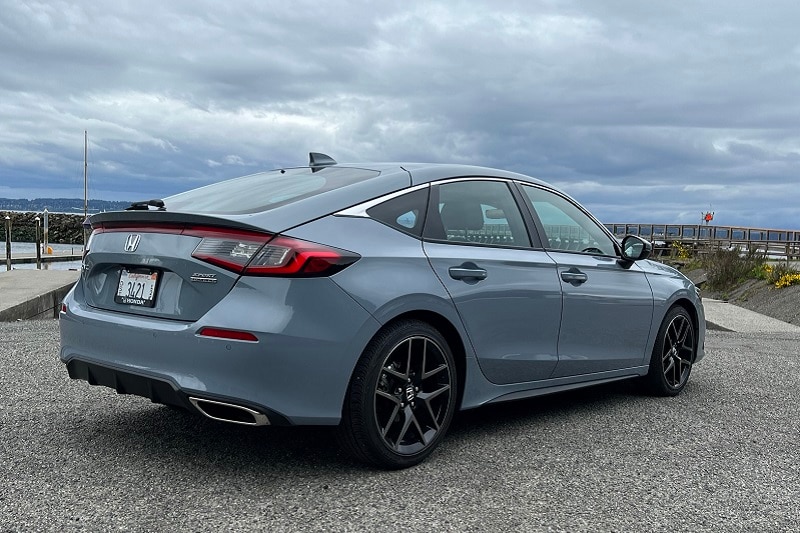 Overall, the Honda Civic is a handsome car. In profile, the arch of the roofline gives it an athletic, four-door coupe look, and communicates that this little sedan is more than a grocery getter. Up front, there's a large lower grille flaked by a pair of fog lamps, and the LED headlights wrap smoothly into the front fender. There's also a sharp crease running just under the beltline, and the subtle upward bend in the sheet metal makes the car look poised to pounce. 
Out back, there's a tiny spoiler at the base of the hatch, and I particularly liked the twin exhaust tips. The chrome surrounds are shaped like parallelograms, and blend nicely into the lower rear bumper. My tester was fitted with 18-inch five-spoke alloys, which looked great and filled out the wheel wells nicely. But if this was my car? I'd swap these nice rims for steelies, as my local streets are more pothole than not, and I'm pathologically afraid of curbing wheels. This Civic was finished in Sonic Gray Pearl, and while it's a $395 option, it's a pretty hue, and a welcome change from standard choices like black, silver, or gray. 
---
2022 Honda Civic Hatchback Sport Touring Interior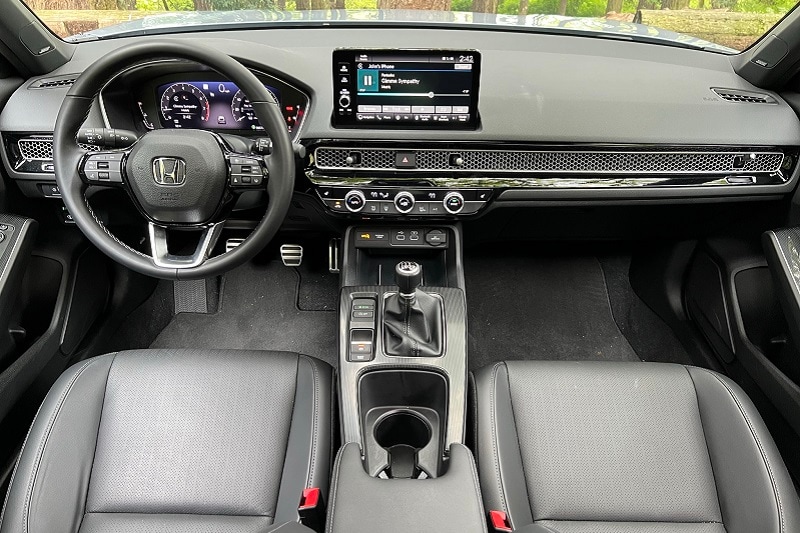 Right now, lots of automakers are trying to reinvent the wheel when it comes to interiors. Between funky transmission levers and infotainment-based climate controls, getting into a new vehicle can often mean a steep learning curve. But while the Civic is packed with creature comforts and tech, there's nothing obtuse about any of the functionality. And in my opinion, that's a huge win. 
The dashboard is bisected by a strip of metallic mesh which hides the climate vents, and prominently features the little stalks used to adjust their angle. Design-wise, it looks intricate, but not busy. Truth be told, every time I looked at the dash, I thought the beveled vent controls looked like the cannons on the Death Star, which is a good thing. Another good thing? The seats. Save for the racing chairs fitted to the Type R, I don't remember Honda seats ever being uncomfortable, but every time I dropped behind the wheel, I was beyond impressed by just how cozy the leather seats in the Civic were. I also found the interior surprisingly roomy, even for my 6'3" frame, in both the front and back seats.       
The infotainment system in the Civic takes a few moments to wake up, but once it's online, users will find it neatly organized and easy to use. The 9" touchscreen sits at the top of the dash, and also incorporates actual buttons and a volume knob. Even in bright sunlight it's easy to see, but thanks to the digital gauge cluster, drivers don't have to look over at it all that often, as info like what's playing on the 12-speaker BOSE stereo is relayed inside the digital tachometer. On the Sport Touring trim, wireless Apple CarPlay and Android Auto compatibility comes standard, and the wireless charger at the front of the console ensures you'll never run out of juice while out and about.
---
2022 Honda Civic Hatchback Sport Touring Performance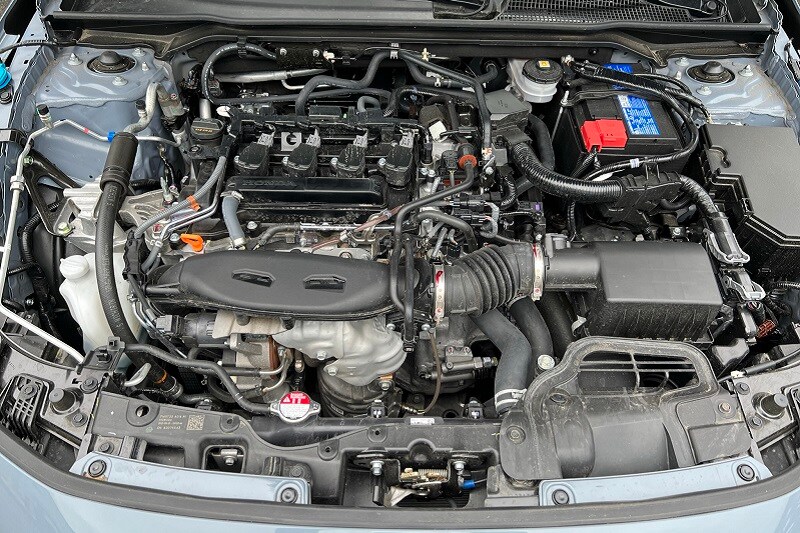 So yes, the Civic is good looking, roomy, and practical. But what really distinguishes this little sedan is the driving experience, which is excellent. Power comes from a turbocharged 1.5-liter four-cylinder which produces 180 horsepower and 177 lb-ft of torque. Now, on paper, that doesn't sound like a tremendous amount of poke--and it's not. But since peak power occurs at 6,000 RPM the little mill pulls strongly all through the rev range, and rewards drivers willing to wind it up. 
As I've mentioned in previous reviews, few manufacturers make a manual gearbox as well as Team Honda does. The six-speed in the Civic is an absolute joy to use, and enthusiasts will note that the pedals are perfectly spaced for heel-toe downshifting. In my opinion, few things in life provide the satisfaction of a perfect downshift, and the pedal placement in the Civic provided loads of smiles per mile. Honestly, I think it would have been cool if Honda had included the rev-matching feature available on the Type R in the Civic, but in an era where manual transmissions are disappearing I'm not going to complain too much. Fortunately, the engineers did fit the Civic with an anti-rollback feature, so even novice stick shift drivers will have no problem starting on a hill. 
Steering feel is another area where the Civic excels, so while hurling my tester along some of my favorite twisty roads, I always knew exactly where I stood in terms of grip. Now, given the existence of the Type R--which I love--it's a matter of record that this chassis will handle more power. But this powertrain provides loads of thrills for drivers of all skill levels, and it does it without the bone-jarring ride and boy-racer styling of its more focused sibling. 
The Civic Sport Touring is EPA rated at an impressive 30 mpg city and 38 highway, which I'm sure is achievable. But if you're caning the car at every opportunity, your fuel economy will reflect that, so I'll just say my mileage varied. 
---
2022 Honda Civic Hatchback Sport Touring Safety
At this point, the National Highway Traffic Safety Administration has not tested the 2022 Honda Civic. This is not unusual for a brand-new model. The previous generation earned a 5-Star rating. 
My tester was equipped with Honda Sensing, a robust suite of active safety features which includes adaptive cruise control, collision mitigation braking, lane keeping assist, and road departure mitigation.   
---
2022 Honda Civic Hatchback Sport Touring Overall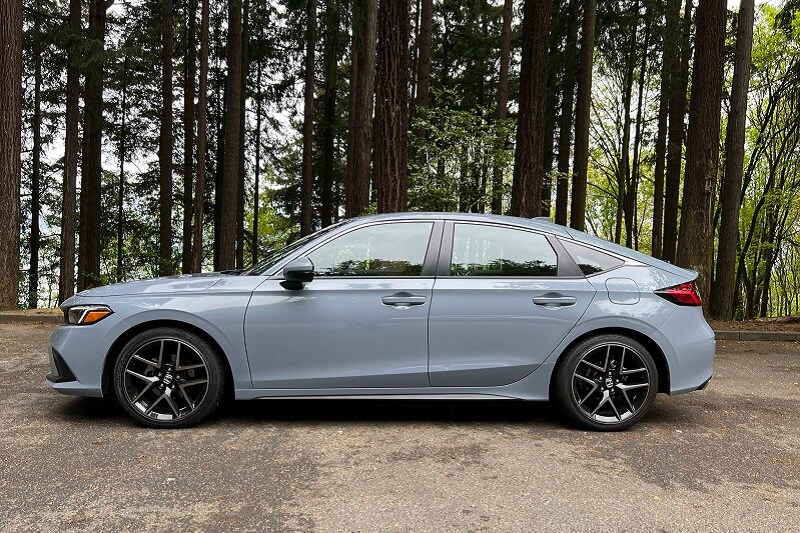 Right now, the crossover is king. Humble sedans and hatchbacks are, strange as it might sound, slowly becoming niche vehicles. And that's a shame. Because cars like the lovely Honda Civic Hatchback--not to mention the dearly departed Fit--offer much of the crossover's practicality, but deliver a driving experience that even non-enthusiasts will appreciate. So if you're looking for a daily driver that can turn a string of twisty tarmac into a fun afternoon? Make sure to check out the latest Civic Hatchback--and opt for the manual transmission.     
The base Honda Civic Hatchback starts at $23,350. Since my tester was a Sport Touring model, it came loaded with a host of features, including heated front seats, leather upholstery, SiriusXM satellite radio, and a BOSE 12-speaker audio system. That meant the list price came to $29,850, and after adding the Sonic Gray Pearl paint ($395) and Destination and Handling ($1,015), that brought the as-tested price to $31,260. 
---
John Coyle
| May 6, 2022