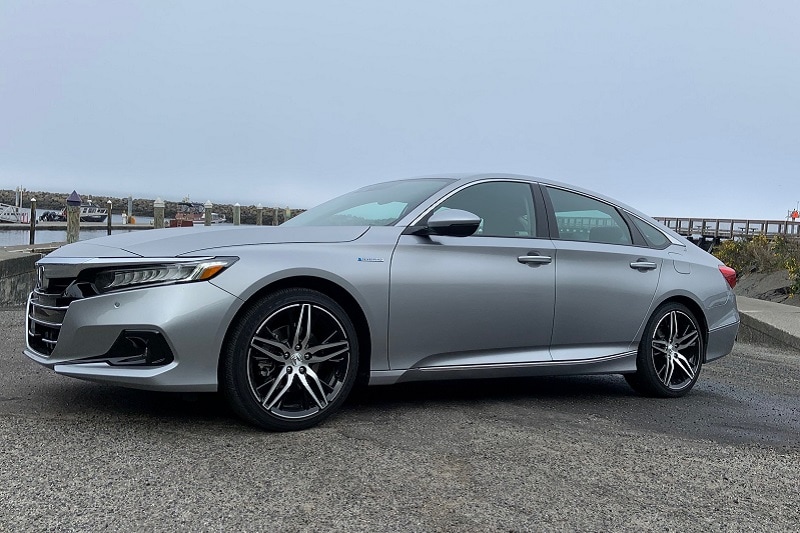 The Honda Accord has been a fixture on American roads since it arrived on our shores in 1976, and helped transform Honda from a scrappy upstart into the domestic powerhouse it is today. 
Now in its tenth generation, the company's mid-size offering has historically been one of the most practical in the sedan segment. But that's only part of the reason for the Accord's success, as every iteration has also been fun to drive. So it should come as no surprise that it's consistently been a popular choice for enthusiasts, critics, and mainstream buyers alike.   
For 2021, the Accord Hybrid has received some styling and infotainment tweaks, along with a more robust hybrid system which gives this fun fuel sipper more punch. In the interest of full disclosure, I should say that I owned a 1990 Honda Accord, and save the automatic seatbelts, I loved everything about it. So I was predispositioned to love the latest Accord, and I did.
2021 Honda Accord Hybrid Exterior Touring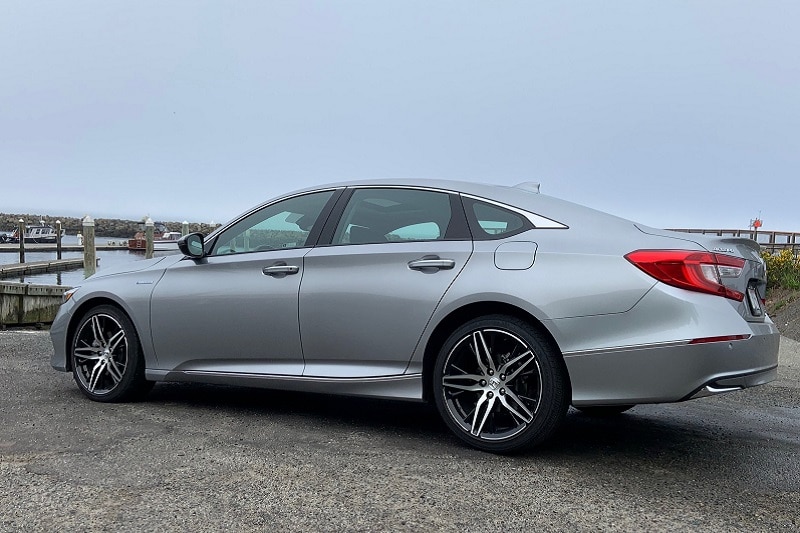 For 2021, the Accord Hybrid got some tweaks to the exterior styling, including a wider grille, a more integrated front radar sensor, and new LED lights. So overall? The changes to the sheet metal are minor, but it's worth noting the car looked pretty sharp to begin with. There's a lovely crease which runs from the edge of the headlights all the way along the body to the taillights, and its gentle arch complements the slightly scalloped area above the side skirts nicely. 
While there's nothing flashy at play here, there's a refined athleticism which makes it stand out in the segment. Thankfully, Honda doesn't refer to the Accord as a four-door coupe, the currently popular and ultimately confusing designation for any four-door with a sloping C-pillar. That said, the slope at the hindquarters gives the Accord a sleek profile, and contributes to the vehicle's sporty, upscale presence. The 19-inch wheels on my tester were also new, and fleshed out the wheel wells perfectly, giving the car a great stance right out of the box. 
2021 Honda Accord Hybrid Touring Interior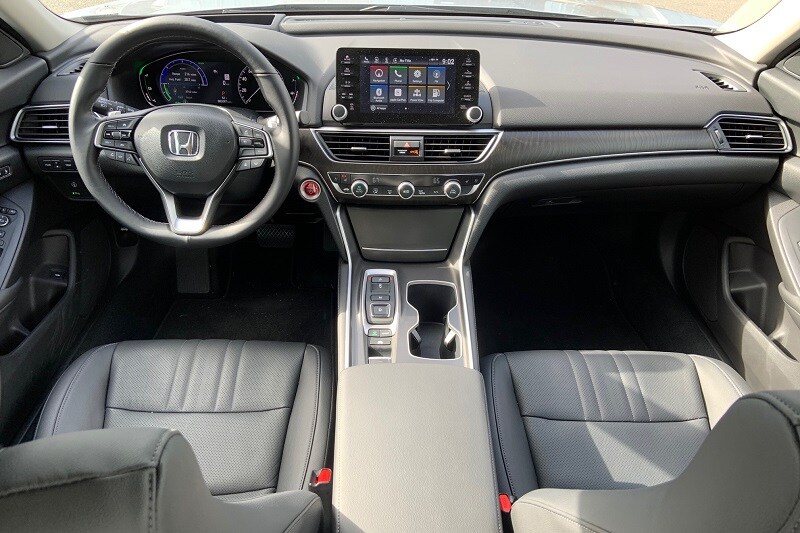 The cabin of the Accord Hybrid is typical Honda, meaning it's well thought out, the materials are high quality, and the various controls are just where you'd expect them to be. My tester was the range-topping Touring trim, so it came loaded with basically every available option, including high-end kit like leather-trimmed seats, a heads up display, navigation, multi-view camera, and a ten-speaker audio system. 
While I'm over six feet tall, I had plenty of head and leg room, and even with the driver's seat adjusted for me, I fit in the rear seat fine. Over the course of my week with the Accord, I used it as my daily driver, shuttled a few friends to the airport, and also took it on an extended road trip. Even after a few hours on the interstate, the heated and cooled seat remained supportive and comfortable, and visibility was notably good too. In an era of driver aids and blind spot monitoring, Honda has clearly remembered there's no substitute for good sight lines.   
Honda's native infotainment system is a snap to use, and the display is crisp and quick to respond. For 2021, wireless Apple CarPlay and Android Auto are now standard, which ensures any smartphone users will experience no learning curve with the system.
2021 Honda Accord Hybrid Touring Powertrain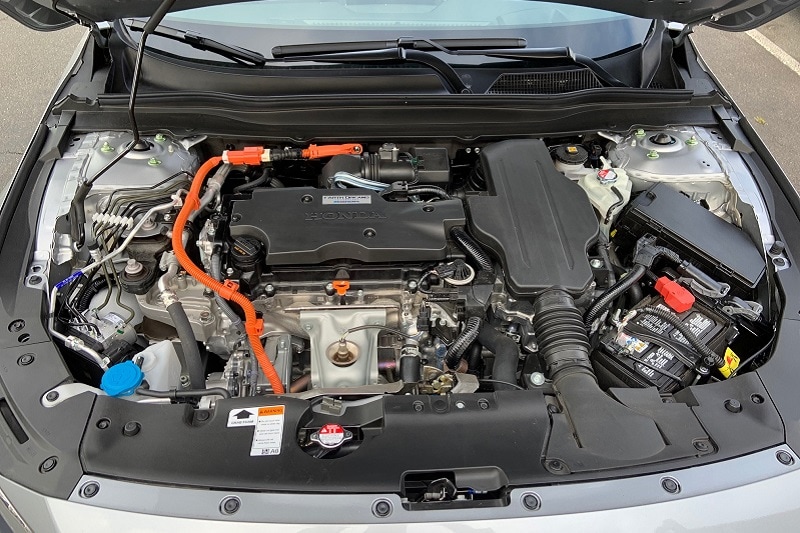 Under the hood, the Accord Hybrid features a 2.0-liter I4 and a pair of electric motors. All together, the system is good for a respectable 212 horsepower and 232 lb-ft of torque, which is piped exclusively to the front wheels. 
That's enough poke to take the 3,300-pound sedan from zero-to-60 mph in around seven seconds, and while that might not win you many drag races, it feels quick. That's due primarily to the electric motors, which provide plenty of twist from zero rpm. So when you're taking off from a stoplight, there's a lot of punch. Recalibrating the throttle response was one of the key changes to the 2021 model, and from my perspective, the engineers dialed it in beautifully. 
Importantly, the Accord Hybrid doesn't feel anemic at highway speeds either. During my week with the comfortable four-door, I took it on a trip down to southern Washington, just across the border from Oregon. And while the exhaust note didn't sound particularly robust? Passing power was more than adequate. In general, I'm not a fan of continuously variable transmissions, so the biggest compliment I can give the unit in the Accord is that it performed like a conventional automatic transmission, with none of the buzzing and hunting displayed on many other CVT-equipped vehicles. 
One of the reasons that buyers opt for a sedan is car-like handling, and I found the Accord delivers that in spades. This is a fantastic chassis, and the steering provides nice feedback, so twisty stretches of road are a joy. Along with the throttle response, Honda's engineers also tweaked the brake response for the 2021 model, and my tester exhibited a progressive,  confidence-inspiring pedal feel. But my favorite thing about the Accord Hybrid was the way it switched seamlessly into all-electric drive at low speeds. In electric mode, it also broadcasts a cool, Brian Eno-esque tone, to alert pedestrians of your presence, and I found myself rolling down the windows so I could hear it. So the sound designers nailed it too.  
2021 Honda Accord Hybrid Touring Safety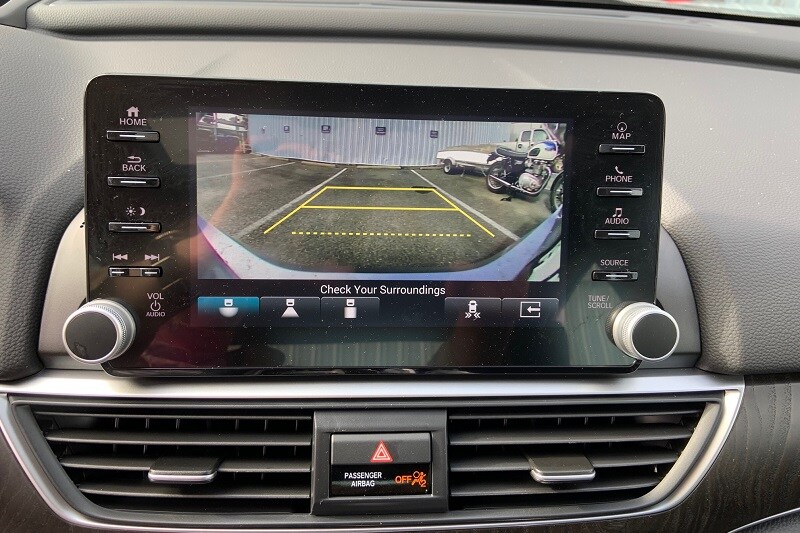 In testing by the National Highway Traffic Safety Administration, the Honda Accord Hybrid earned a 5-Star rating. Notably, it earned perfect marks in every category, which includes individual ratings for frontal, side, and rollover crashes. 
The standard Honda Sensing suite of safety features includes cutting edge tech like Adaptive Cruise Control, Collision Mitigation Braking, Lane Keeping Assist, Blind Spot Information System, and Road Departure Mitigation. On my road trip, I made extensive use of the adaptive cruise, and can personally attest it works quite well, and something that anyone with an interstate-heavy commute will quickly come to appreciate.
2021 Honda Accord Hybrid Touring Overall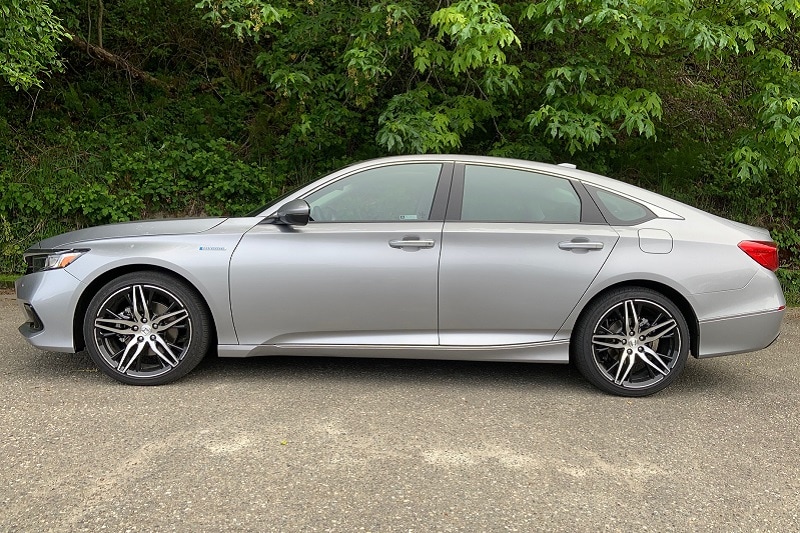 Given the buying public's pronounced pivot toward crossovers and SUVs, how much time traditional "three-box" sedans have left on the clock is unclear. But that's a longer conversation. 
That said, after spending a week with the 2021 Honda Accord Hybrid, it's clear to me that Honda has crafted an exceptional example of the breed. Even enthusiasts will appreciate the driving dynamics, it's wicked fuel efficient, and I was struck by just how seamless the transition between electric and gas propulsion was. You can buy the Accord Hybrid right now, yet it still managed to feel futuristic, and that's no easy feat.     
The list price on the Honda Accord Hybrid used for this review was $37,435, including a destination charge of $995. Given the projected low cost of ownership, and the kitchen-sink level of content, this vehicle presents as an excellent value. It's not just a lot of car for the money, it's a lot of Honda for the money.
---
John Coyle
| May 10, 2021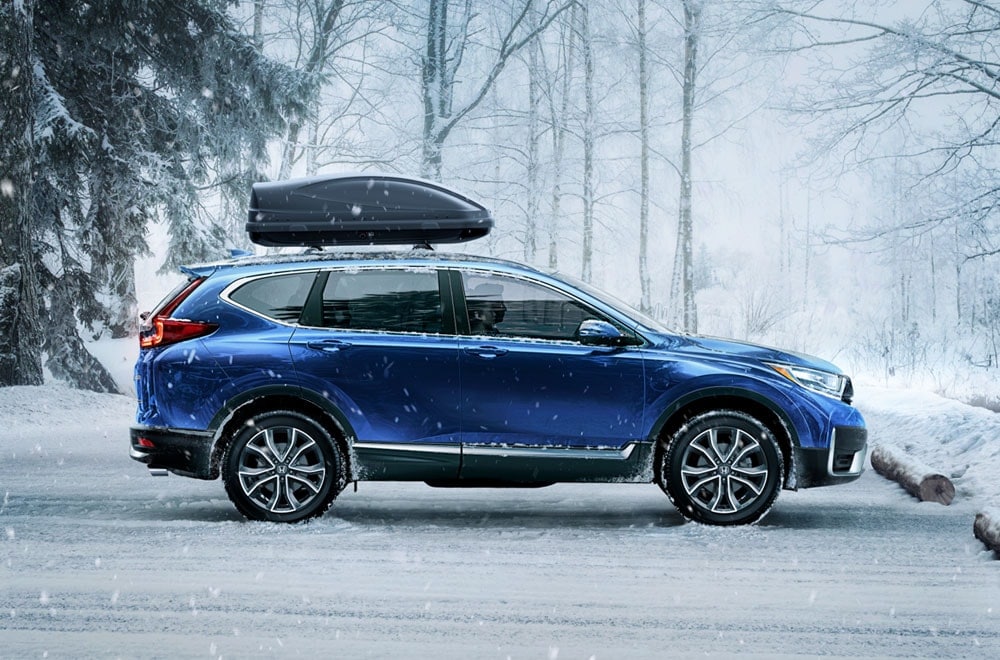 Honda Trim Levels Guide
Get our breakdown of the Honda trim levels available today.
---
2021 Honda Accord Hybrid Specs
Layout
4-door, 5-passenger, FWD
Engine/Transmission
2.0L I4, 212 hp, 232 lb-ft
CVT automatic
NHTSA Safety Rating

★ ★ ★ ★ ★
---
AutoNation Drive Test Drive Review: ★ ★ ★ ★
---
More Research
Browse more automotive research than you can shake a stick shift at.
---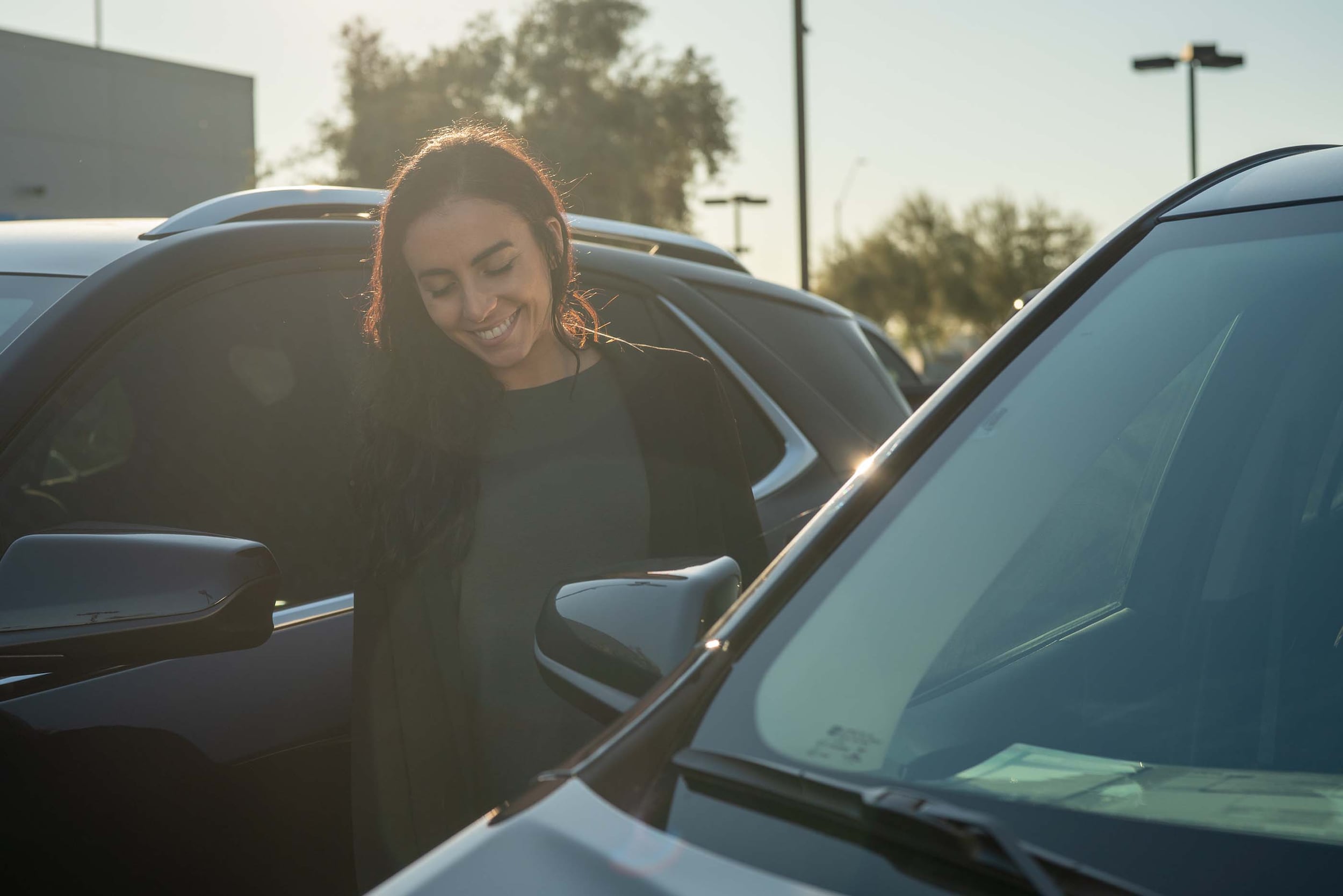 Test Drive Reviews
Our automotive experts at AutoNation Drive weigh in on price, safety, and performance of popular cars, trucks, and SUVs.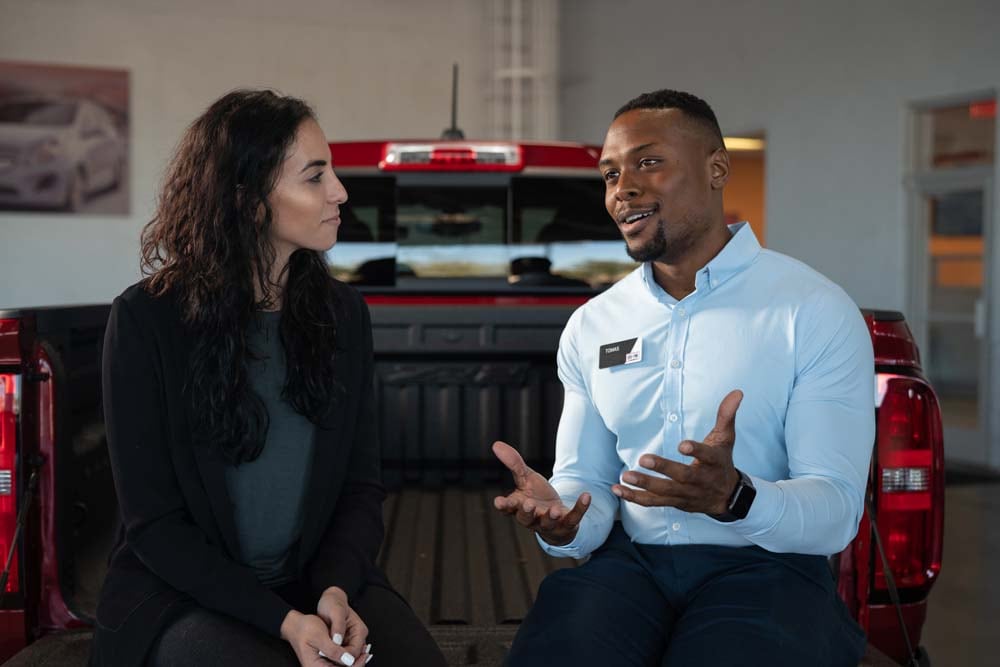 Car Buying Advice
If you're buying a car, truck, or SUV, the chances are - you need help. Don't worry. Our automotive experts are here to help.
---
*MSRP excludes tax, license, registration, destination charge and options. Dealer prices may vary.
**Based on EPA mileage ratings. Your mileage will vary depending on specific vehicle trim, how you drive and maintain your vehicle, driving conditions, and other factors.