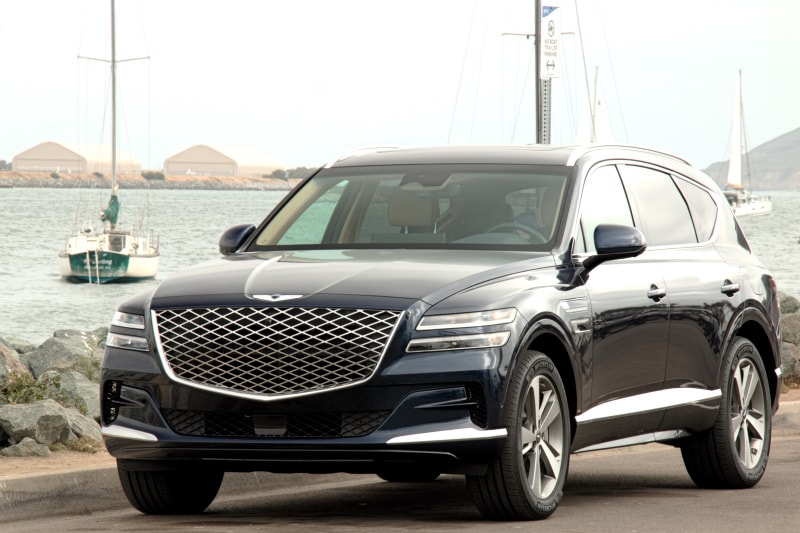 Over the past several years, I've been fortunate enough to test a broad spectrum of luxury sedans, coupes and SUVs. My experience with Hyundai's upscale Genesis brand only started in May, when I got the keys to the 2021 G80 2.5T Prestige. So far, Genesis is 1 and 0 in my book. The G80 was an impressive combination of understated design, tangible elegance, abundant power and advanced technology.
Given how remarkable the G80 was, I was even more eager to drive the GV80, Genesis's first SUV. My $66,475 press loaner showed up equipped with a twin-turbo V6, all-wheel drive and the Advanced+ trim package. It arrived just in time for the Memorial Day weekend and an out-of-state road trip to San Diego some of my family members and I had been planning to take. I can confidently say after traveling almost 1,000 miles in the GV80 that Genesis racked up another W.
---
2021 Genesis GV80 3.5T AWD Advanced+ Exterior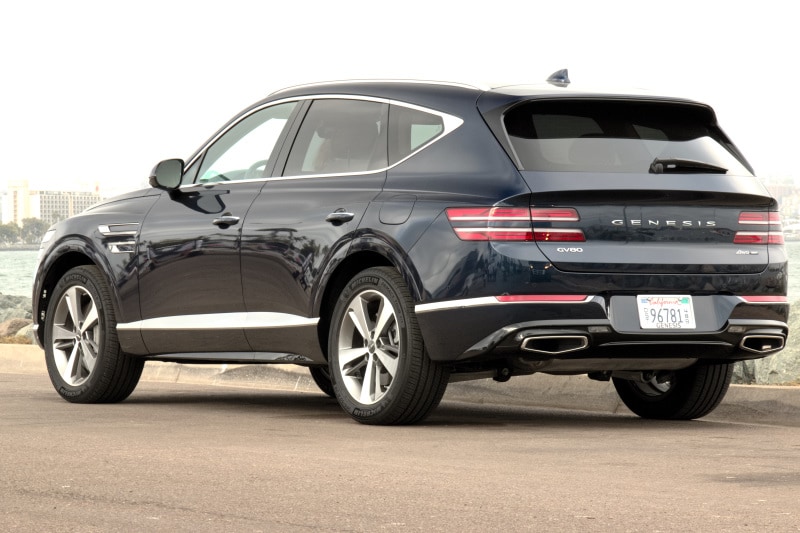 The GV80's prominent mesh-filled pentagonal grille announced its presence. The rest of its body work spoke at a lower volume and kept it from being obnoxiously conspicuous. Clean, simple bands of LED light at both ends of the GV80 let my fellow drivers between Peoria, Arizona and San Diego know when we were coming and going. The 20-inch split-spoke wheels had a low-key finish that didn't distract from the gorgeous Adriatic Blue paint above them. There were chrome accents on the front fenders, greenhouse surround and lower body, but instead of drawing attention away from the sheet metal around them, they directed it down the length of the GV80's handsome, stately profile and toward its sculpted, muscular haunches.  
---
2021 Genesis GV80 3.5T AWD Advanced+ Interior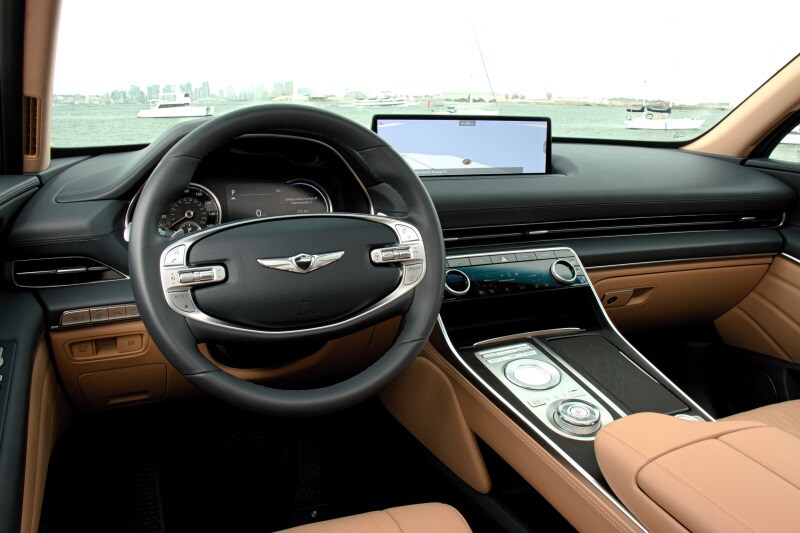 My tester came standard with three rows of leather seats and room for seven. I wasn't worried about passenger room because only my fiancé and I, our cat Graycie and my future in-laws were going to make the trip. My concern was luggage space. I left the third row folded flat to maximize the amount of available room. We quickly filled it with a hard-sided suitcase, cooler, beach bag, variety pack of chips, tote, two over-sized duffle bags, roadside emergency kit and other contingency items. Graycie and her travel carrier took up the spot in the middle of the second-row bench seat. My fiancé and in-laws still ended up carrying a few things by their feet. If we had used a little more restraint while packing, I'm confident that the GV80's rear cargo hold would've been large enough for our needs.
After we beat the 3D game of Tetris and got on the road, we were able to enjoy our surroundings. My tester's cabin was dressed in a combination Genesis calls Ultramarine Blue and Dune. As someone whose first car had an all-blue leather interior, I appreciated Genesis's decision to offer the relatively unusual color. But I'm glad they tempered it with such a mild earth tone. Not only did that give the GV80 a color scheme that reminded me of what you'd find in a Bentley, but it also heightened the visual impact of the bold secondary color above it.
My future father-in-law sat shotgun while I drove. I'm 5'10", so I had no problem with legroom. At 6'5", he had less to work with, but I didn't hear him complain about being cramped. We both had the luxury of heated and ventilated 16-way power seats at our fingertips. Mine had a few extras that made all of my time behind the GV80's wonderfully unusual two-spoke steering wheel more comfortable. I appreciated the adjustable under-thigh cushion and the Ergo-Motion Seat function, which moved different parts of the bottom and back cushions to minimize the fatigue that can set in over the course of long road trips.
The ladies - both human and feline - had enough legroom and headroom in the manual reclining second row. A third climate zone allowed them to dial in their ideal temperature. To keep the cabin as cool as possible during the day, I left the shades to the power front sunroof and fixed rear moonroof closed and they kept their manual side sunshades up.
Genesis absolutely nailed the GV80's color scheme. It did a great job on the details, too. The matte finish dark wood trim was the perfect accent. Many of the commonly used controls, such as the rotary shifter for the eight-speed automatic and the ends of the turn signal and wiper stalks, had a knurled texture. There was more of it on the interface dial for the infotainment system. As nice as it felt, I favored using the 14.5-inch HD center display as a touchscreen to enter the address of our hotel in San Diego because that was faster. I left the music to my fiance's father and the GV80's clear and crisp 21-speaker Lexicon surround sound system.
---
2021 Genesis GV80 3.5T AWD Advanced+ Performance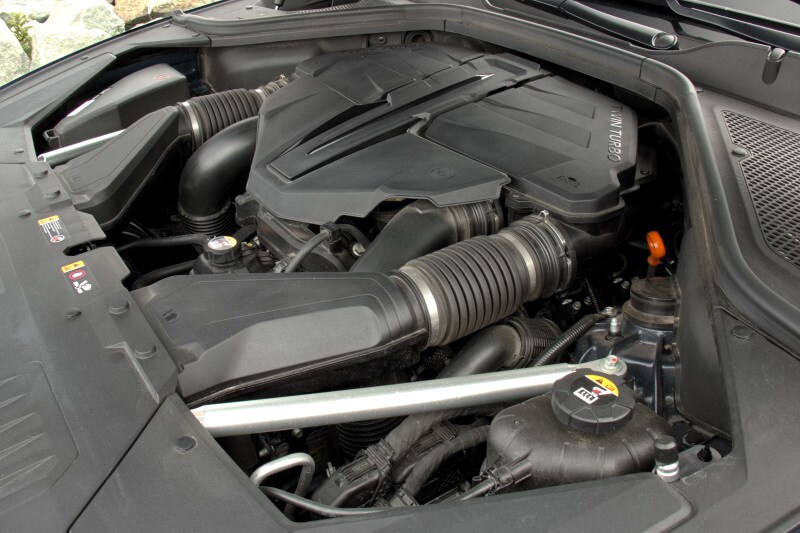 There are roughly 350 miles between Peoria and San Diego. That means that I spent most of my time in the GV80 at a constant speed. Although I didn't get many opportunities to wring all 375 horsepower and 391 lb-ft of torque out of the GV80's twin-turbo 3.5-liter V6, I learned just how fuel-efficient that potent engine is in the real world. The EPA gave the V6-powered GV80 with all-wheel drive fuel economy ratings of 18 city, 23 highway and 20 combined mpg. That last figure turned out to be spot on. I put 848.5 miles on my GV80 media vehicle and averaged 20.2 mpg.
---
2021 Genesis GV80 3.5T AWD Advanced+ Safety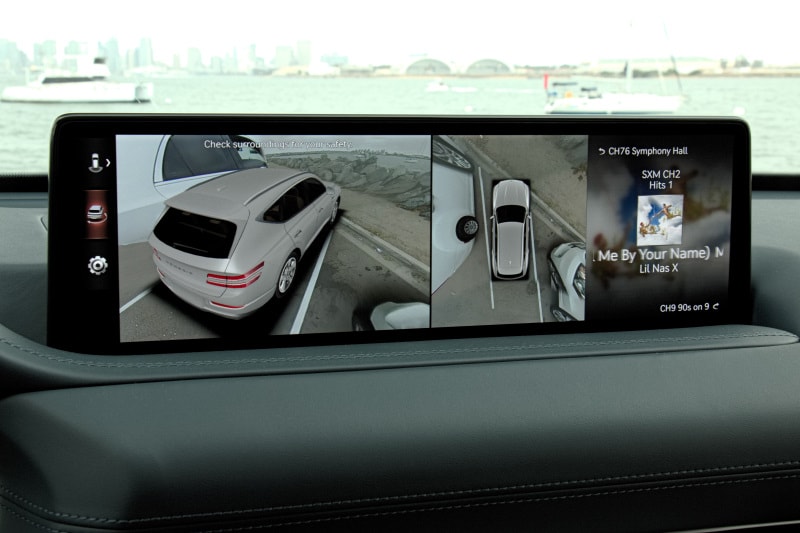 All of that time on the road also gave me plenty of hands-on experience with the GV80's advanced driver assistance features. I passed the majority of the highway miles with the Highway Driving Assist II system engaged. In addition to maintaining the speed and following distance I set, it also kept me centered in my lane. If I signaled a turn and remained patient, it would even make a lane change for me.
When we arrived in San Diego, the streets and crosswalks near our hotel were absolutely packed with tourists. As I outwardly remarked about how hectic the scene was, the voice in my head thanked Genesis for equipping the GV80's Forward Collision-Avoidance Assist system with a variety of different functions, including one that watches out for cyclists and pedestrians.
---
2021 Genesis GV80 3.5T AWD Advanced+ Overall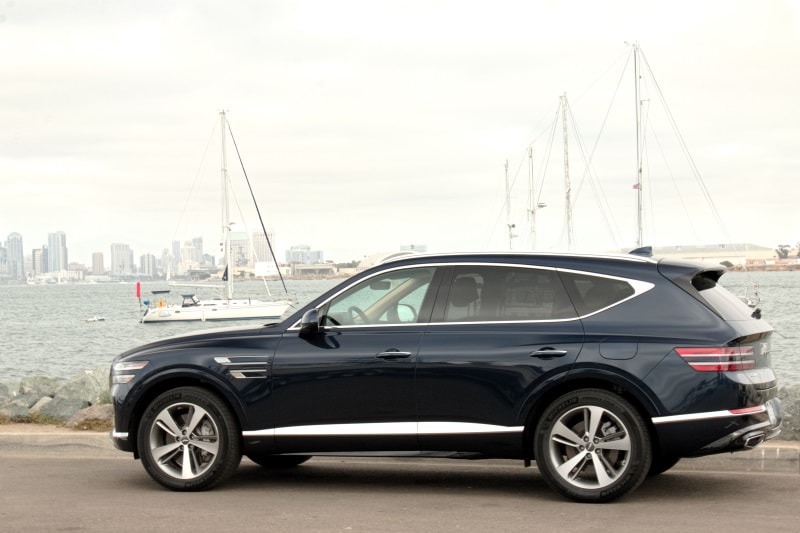 It took me less than 200 miles in the G80 to figure out that Genesis knows what it's doing. After putting more than 850 miles on the GV80, I am even more convinced. Genesis's first SUV is a distinctive rival to offerings from its European rivals with an interior that's as attractive as it is comfortable and tech that makes highway and city driving less stressful. Head to your closest AutoNation dealership to take the 2021 GV80 for a spin. Just be sure not to cross state lines.
---
Derek Shiekhi | Jun 17, 2021