The Genesis GV70 is a compact crossover that packs in a lot of value, without compromising build quality and features. Available with two drivetrains and multiple packages, the model we're looking at today has standard all-wheel-drive, the top-spec powertrain, and the available Sport Prestige package. Priced as you see it, with special factory Barossa Burgundy matte paint, it clocks in at $65,045, including destination and delivery.
The GV70 comes standard with a 2.5-liter turbo engine. What we have here is an upgraded 3.5-liter turbo-charged V6 with 375 horsepower and 391 lbs-ft of torque. It's connected to an eight-speed automatic, which sends power to all four wheels. The Sport Prestige package also include an electronic limited-slip rear differential and these gorgeous 21-inch wheels. EPA rates fuel economy at 19 mpg city and 25 on the highway.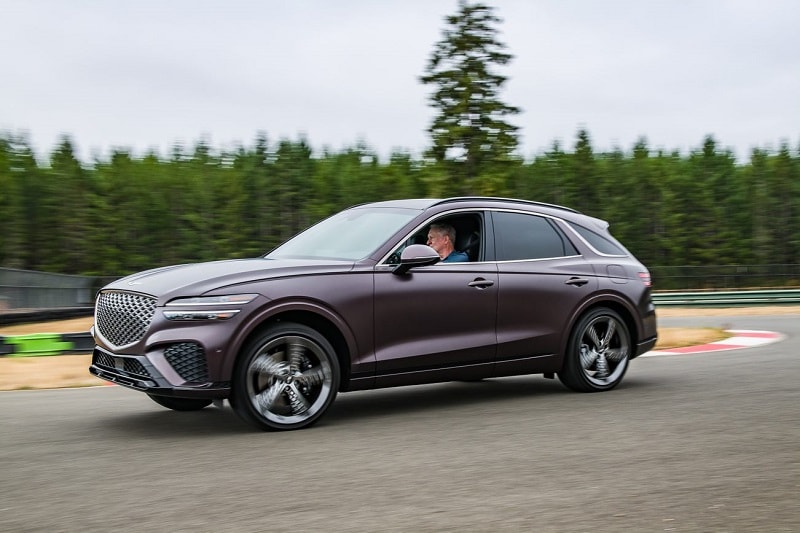 Up front, the GV70 has a cabin unlike any other luxury crossover. Lavish application of leather, metal and wood creates an inviting experience. The 12.3-inch 3D digital cluster can't be appreciated on camera, but in-person, it gives a convincing holographic look and is a display technology that is, so far, exclusive to Genesis. Another exclusive is the ability to use your fingerprint to start the car. The seats are trimmed in fine leather, with heating and ventilation. A massive panorama sunroof is standard across the lineup. The second row also gets their own climate controls and heated seats.
In the Sport Prestige package, infotainment is on an ultra-wide 14.5-inch touchscreen display. This provides quick access to a number of different functions including navigation, entertainment and a surround view camera system with an augmented reality view. Active safety is head of the class, with adaptive cruise control, forward collision avoidance including junction turning and crossing, lane keep assist and blind-spot warning with cross-traffic alerts.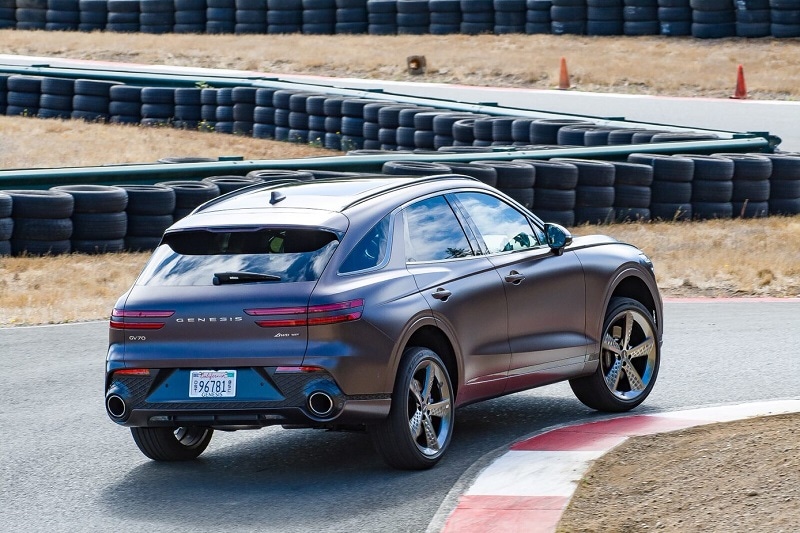 On the road the GV70 is one of the most rewarding cars you'll drive. Power comes on quick thanks to the turbo 6, and the rear-biased all-wheel drive system helps push the crossover through corners with surprising swiftness. A variety of drive modes are available. These adjust power output, the all-wheel drive system, steering feel and even how the predictive, adjustable suspension response to road conditions.
This really is one of the best driving crossovers on the market today. But don't take our word for it, visit AutoNationDrive.com to find your local AutoNation-affiliate Genesis dealer. At AutoNation we have more than 70,000 new and used vehicles available from coast-to-coast. Find the perfect vehicle, pick your options, and arrange for a test drive at your location AutoNation-affiliated Genesis dealer today.
---
AutoNation Drive Editors
| Nov 1, 2021