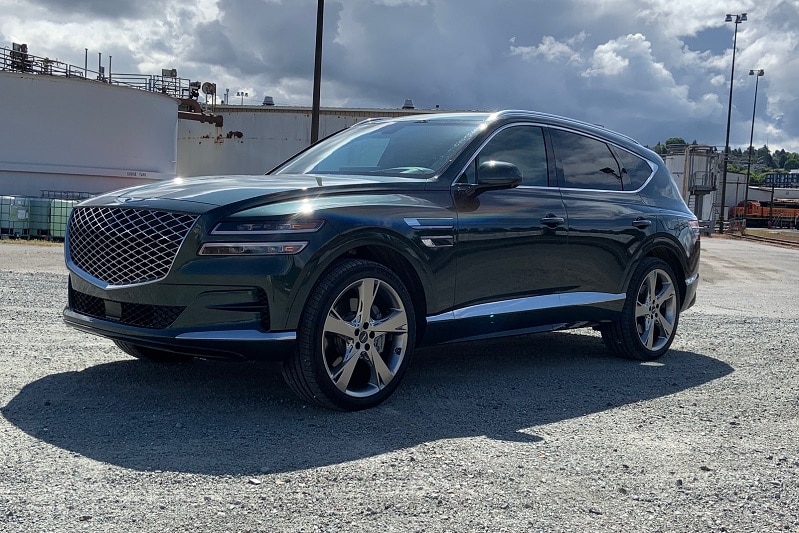 American audiences got their first taste of the Genesis nameplate back in 2009, when the Hyundai Genesis Coupe made its domestic debut at the New York International Auto Show. With a rock band, fireworks, and a pair of the sporty machines spinning donuts at Manhattan's Javits Center, it was a splashy introduction, to be sure. Today, Genesis is a distinct division of the company, with a luxurious lineup that includes three sedans and two SUVs.
At just six years old, Genesis is an infant in comparison to competitors like Lexus, INFINITI  Mercedes-Benz, or BMW. But by delivering products that are stylish, packed with features, and engaging to drive, the company has quickly made a case for itself in the red-hot segment. Having been impressed with the flagship G90 sedan, I was excited to get behind the wheel of the range-topping GV80 Prestige SUV, and my experience convinced me that this "upstart" brand is on the right track.
---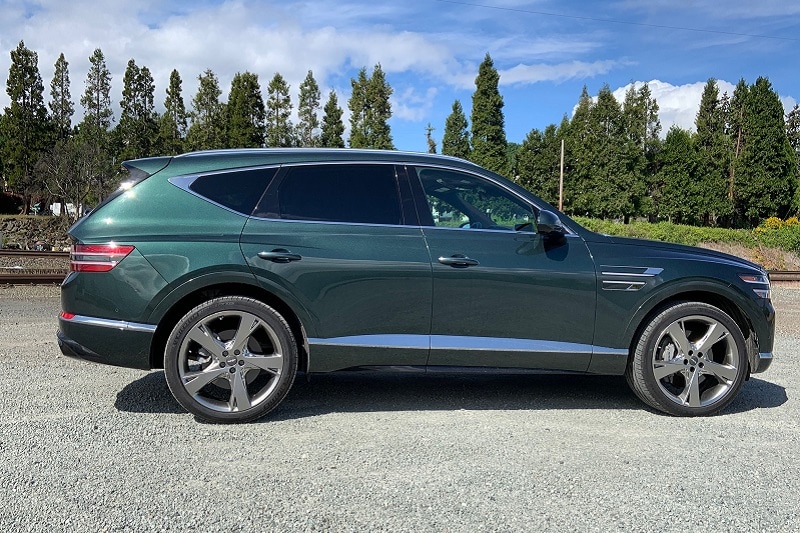 2021 Genesis GV80 3.5T Prestige Exterior
During my week with the Genesis GV80, people on the street asked me lots of questions about it. And the one I heard the most was, "Is that a Bentley?" Now, while it was an entertaining question, I have to admit I found it a little confusing. Because I don't think that GV80 looks anything like the Bentley Bentayga, or really, any Bentley. For the record, while it costs roughly a third of the British beefcake starts at, I think it looks significantly better.
But I did find the comparison strange. Because one of the things I've admired about Genesis is that all its vehicles, GV80 included, were visually distinct from day one. Up front, there's a massive shield-shaped grille, which is flanked by slim, sophisticated double-stacked LED headlamps. The edges of that grille merge beautifully into subtle creases on the hood, and flow into beautifully arched character lines which continue all the way along the body to the taillamps. That line perfectly complements the slope of the roofline, and along with the scallop at bottom of the doors, contributes to a taut, athletic presence.   
All of that is a roundabout way of saying that designer SangYup Lee absolutely nailed the lines of this vehicle. There isn't a bad angle to be found, and it looks far more striking than it does in photos. My tester was finished in bottomless Cardiff Green (think British Racing Green) paint, and while it comes at a $400 premium, I'd get it in a heartbeat.
---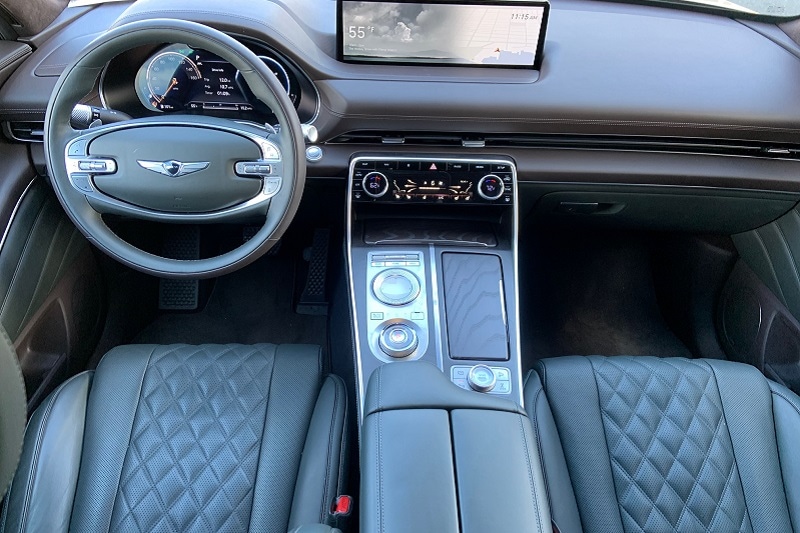 2021 Genesis GV80 3.5T Prestige Interior
The exterior of the GV80 set some high expectations, and the cabin was equally impressive. The quilted green leather on the seats perfectly matched the paint, and was a pleasant departure from more standard choices like tan, black, or gray. As opposed to feeling one-note, it gave the entire vehicle a cohesive, upscale feel. And while the interior doesn't feel busy, details reveal themselves wherever you look. From the matte-finish wood trim, to the metal speaker grilles, to the microfiber-suede on the pillars and headliner, every element has a high-quality feel. 
The Lexicon 21-speaker audio system sounded fantastic, and the Genesis infotainment is an absolute snap to use. There's a rotary dial in the center console which reminded me of an old-school iPod in the best possible way, and made it easy to quickly navigate through all the various menus. But the 14.5-inch display is also a touchscreen, so I didn't feel boxed into using one system to make selections. As you'd expect, Apple CarPlay, Android Auto, XM radio come standard. Since this was the Prestige trim, the GV80 left me essentially wanting for nothing, as it included heated and cooled seats, a heated steering wheel, a panoramic sunroof, and a wireless device charger. While underway, the Genesis was serenely quiet thanks to the trick active noise cancelling system, which contributed to the luxurious feel.
---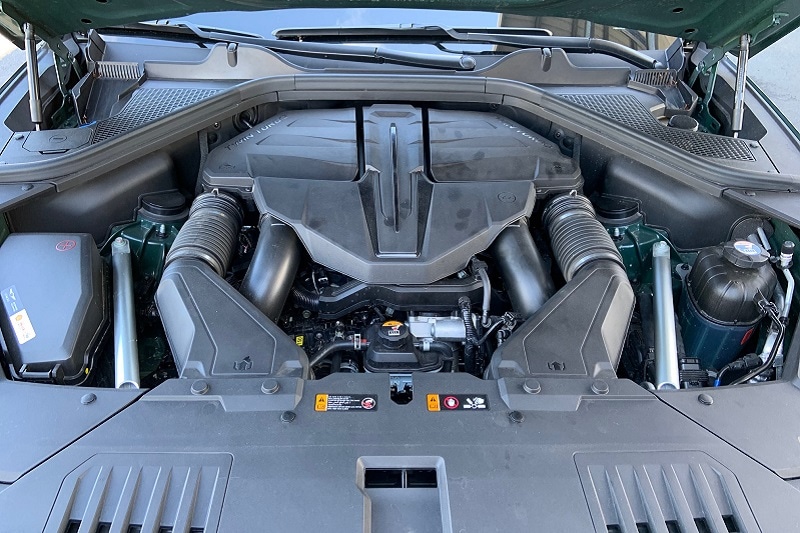 2021 Genesis GV80 3.5T Prestige Powertrain
Under the hood, the GV80 3.5T is powered by a twin-turbo 3.5-liter V6, which produces 375 horsepower and 391 lb-ft of twist. That poke is pumped to all four corners courtesy of an eight-speed automatic transmission, and out back, there's an electronically controlled limited-slip differential. All told? That's a respectable bit of kit. But it wouldn't mean much without a great chassis, and fortunately, the GV80 has great bones.
Around town, the GV80 delivered a comfortable, but not overly insulated ride, which soaked up potholes and uneven pavement with aplomb. On the highway, passing power was never an issue. So when it comes to everyday usability, most drivers should be pleased. That said? Most buyers wouldn't have the opportunity to switch this Genesis into Sport mode and fling it around a go kart track. But I did! And I can assure you that when the gloves come off, the GV80 delivers athletic performance. Whether I was pounding on the brakes or winging it into a corner, it never lost its composure, even as the all-season tires were squealing at the edge of their limit.
Even more impressive was how it handled an off-road course I took it to shortly after. Now, I can't imagine too many buyers are going to drive their GV80 over moguls deep enough to stick the corners of the vehicle two feet in the air, over a pile of logs, or around a bend that'll have it hand at a 30-degree angle. But once again, I did. And as someone who has always liked Genesis and its parent company I was impressed. So if you're wondering whether this machine will get you up to the slopes without a hitch, rest assured.
---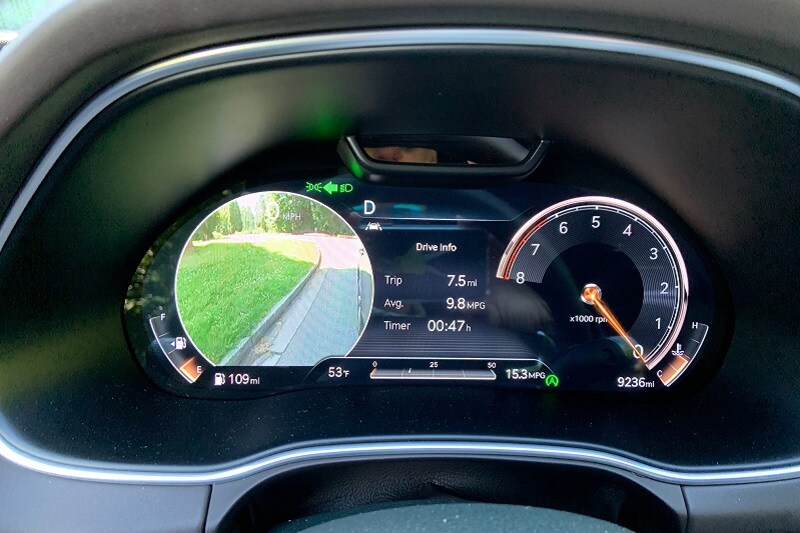 2021 Genesis GV80 3.5T Prestige Safety
At this time, the Genesis GV80 has not been tested by the National Highway Traffic Safety Administration or the Institute For Highway Safety. For vehicles in this price range, that's not uncommon.
 As you'd expect, the GV80 is loaded with safety tech, including Forward Collision Avoidance Assist, Smart Cruise Control with Stop and Go, Driver Attention Warning, Lane Keeping Assist, Blind-Spot Collision-Avoidance, Rear Cross-Traffic Collision-Avoidance, automatic high beams, and a host of other cutting-edge safety tech. 
My favorite bit of safety equipment were the cameras which activate when you hit the turn signals, and display the area you'll be entering on the digital gauge cluster. I've seen similar systems before, but the execution here was exceptional. This is a great piece of tech that should eventually be standard on every new car.
---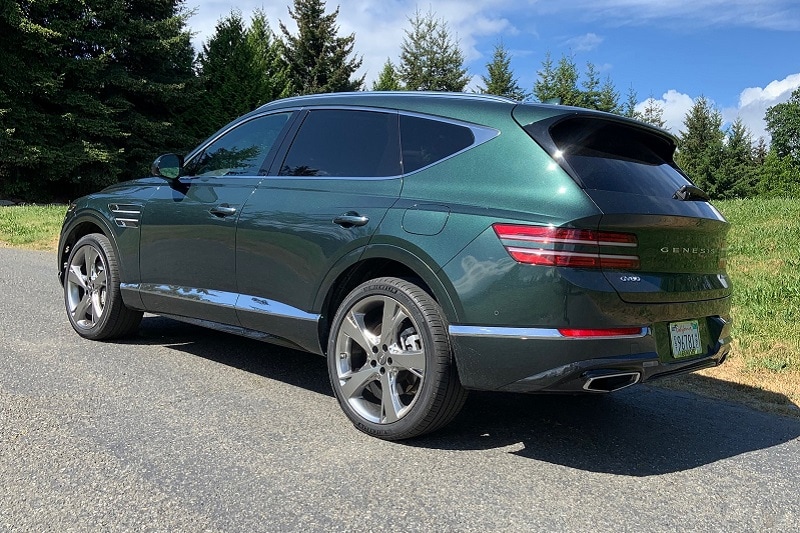 2021 Genesis GV80 3.5T Prestige Overall
You know why I'm sure that we'll be seeing great things from Genesis in the future? Because we're seeing great things right now. Sure, Genesis might be the luxury segment's new kid on the block, but my week with the GV80 proved that it hasn't shown up to the competition unprepared. Far from it. Those looking for a roomy, stylish, and luxurious SUV with great driving dynamics should definitely put it on their test drive list.
 The base price of my tester was $59,150, not including the glorious Cardiff Green paint ($400). Two other packages raised the price significantly. The first was the Advanced Package ($5,200), which included leather seats, a heads-up display, the 21-speaker audio system, three-zone climate control, and heated second-row seats. The second was the Prestige Package ($6,600), which added 22-inch alloy wheels, a limited slip differential, suede headliner, reclining second-row seats, and goodies like power rear-window shades. That brought the total price up to $72,375, which, lofty as it is, makes it a bargain in the segment. 
---
John Coyle
| May 25 2021