2020 Ford Mustang Shelby GT500
---
Jeffrey N. Ross | Dec 03, 2020
---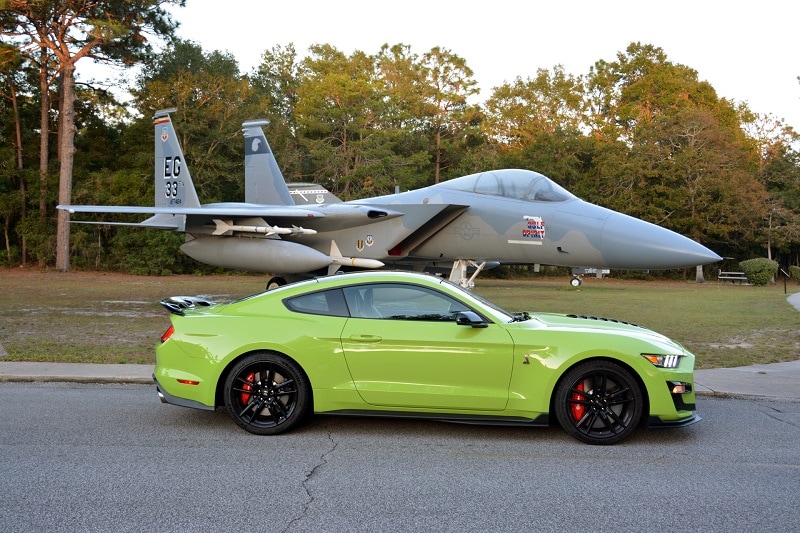 On all accounts, 2020 has been a horrible year, but for car lovers, there has at least been a silver lining, as this year has seen the introduction of several high-performance vehicles, and the return of iconic classic nameplates.
Fitting in both of those categories, the debut of the 2020 Shelby GT500 brings forth the most powerful production vehicle Ford has ever made, and it's wearing the legendary GT500 name first introduced in 1967. This monster Mustang is sure to be an instant collector car, and we recently got to spend a week with this mean, green 2020 Ford Mustang Shelby GT500.
---
2020 Ford Mustang Shelby GT500 Exterior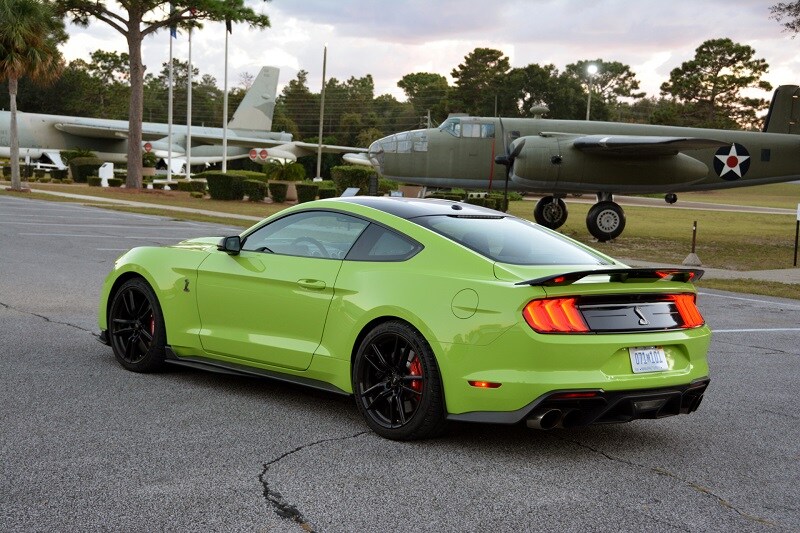 Like any supercar, every inch of the 2020 Shelby GT500 is designed to enhance performance, whether it be speed, downforce or cooling. Not that the current Mustang is subtle by any measure, but the 2020 Shelby GT500 is one mean-looking beast.
The entire front end of the Mustang has been redesigned to improve both cooling and aerodynamics, with the grille alone allowing 50 percent more air flow compared to Shelby GT350. The massive vents under the headlights are functional too, and bring in additional fresh air for the car's various coolers. Aero tuning can be seen from nose to tail, including the vented hood (with functional hood pins), wide side skirts, and the rear spoiler and lower diffuser.
As if the 2020 Shelby GT500 wasn't eye-catching enough, this tester was painted in a bright Grabber Lime paint job (with the optional $695 black roof), which made sure this car got noticed everywhere. 
---
2020 Ford Mustang Shelby GT500 Interior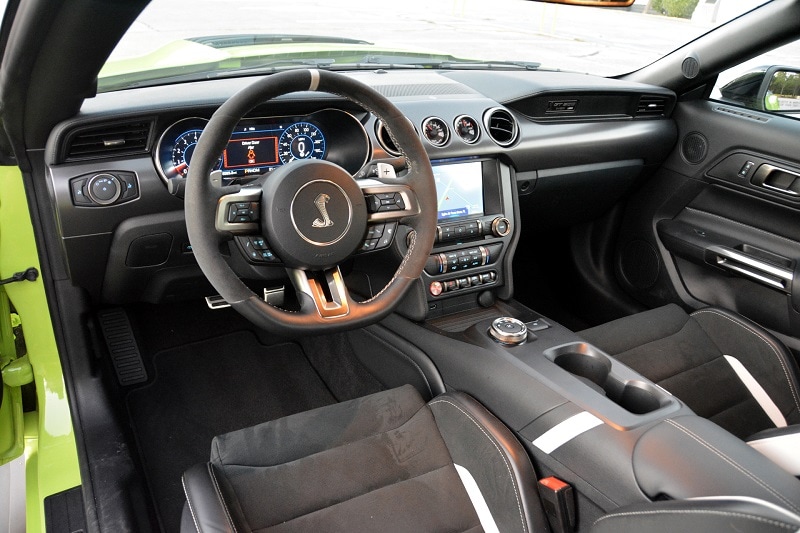 While the exterior is a night-and-day difference from a standard Mustang or Shelby GT350, the GT500's interior hasn't changed much. The biggest difference is the rotary shifter, instead of the more conventional shifter found on other Mustang models, which is used for the car's advanced transmission. But this interior also adds a metallic dash insert, a serialized plaque on the passenger side, and aluminum foot pedals. The thick-rimmed, flat-bottomed steering wheel fits perfectly in your hands, and its suede wrapping and massive shift paddles give the feeling of a true exotic car. 
You can give the Shelby GT500 even more of a racecar feel by opting for the rear seat delete option and five-point racing harnesses. But even without that, this machine still feels ready to carve corners, thanks to the optional ($1,595) Recaro leather seats with suede inserts. Speaking of options, this Shelby also came with the $3,000 Technology Package, which added a 12-speaker B&O audio system, navigation and blind spot monitoring.
---
2020 Ford Mustang Shelby GT500 Performance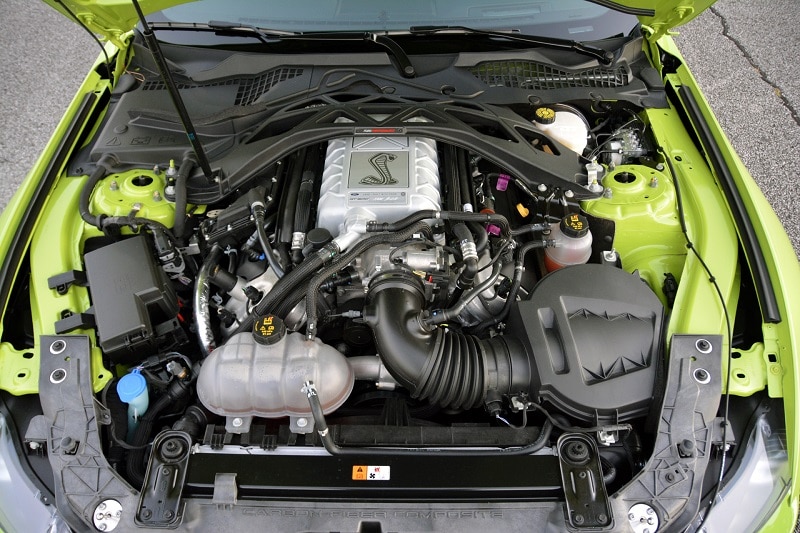 Just like the first-gen of Ford's pony car, the Shelby GT500 represents the ultimate expression of the Mustang. While the Mustang is available with outputs ranging from 310 horsepower for the base model up to 480 for the Mustang Bullitt, the 2020 Shelby GT500 lays down an incredible 760 horsepower and 625 lb-ft of torque thanks to its 5.2-liter supercharged V-8. This engine is paired to an advanced seven-speed dual-clutch automatic transmission, which allows for supercar-like acceleration. The trip to 60 mph takes just 3.3 seconds, and top speed is a blistering 180 mph.
But the GT500 is more than just a straight-line car. The chassis, suspension, and brakes have all been re-tuned to make the GT500 a true track beast. The 20x11-inch alloy wheels wrapped in Michelin Pilot Sport 4S tires provide for perfect grip while cornering, and the 16.5-inch front brake rotors and six-piston calipers provide ample braking capabilities for the 4,171-pound Shelby. As a nod to the heritage of the model, Ford also released the cars zero-to-100-to-zero time, which was a popular metric in the 1960s. The original Cobra 427 S/C would do it in 13.8 seconds, and the GT500 will accomplish the feat in 10.6.
The overall driving experience of this Shelby GT500 is probably more in line with a Nissan GT-R or Porsche 911 than the Mustang's crosstown rivals, the Chevy Camaro and Dodge Challenger. Unlike those fortunate enough to purchase a brand-new GT500, I wasn't able to enjoy a Ford Performance track day at Charlotte Motor Speedway (the GT500 Track Attack program is complimentary for owners), but spending a week in the all-new Shelby GT500 showed that this high-powered 'Stang can still be a daily driver.
And for those who are wondering about fuel economy, the 2020 Shelby GT500 has EPA-rated estimates of 12 mpg in the city and 18 mpg on the highway, which are impossible to hit when you spend most of the time testing the engine's 7,500-rpm redline and showing off the jaw-dropping exhaust note.
---
2020 Ford Mustang Shelby GT500 Safety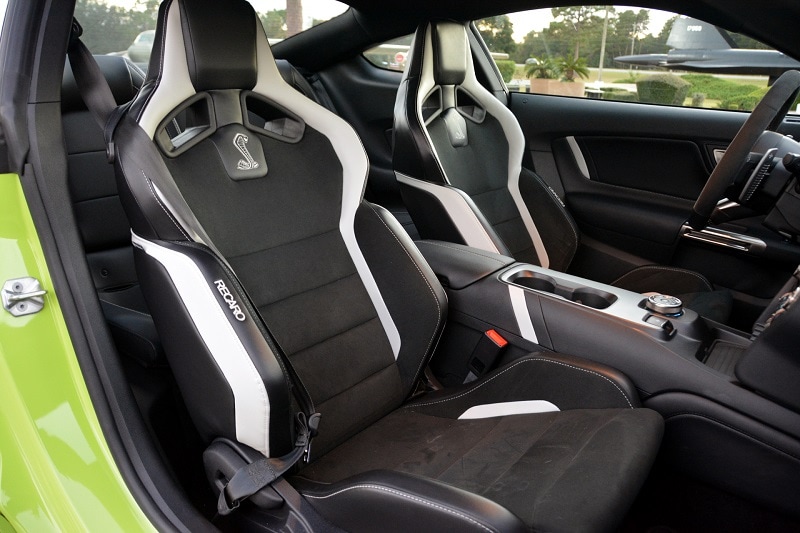 The 2020 Shelby GT500 hasn't been tested by the National Highway Traffic Safety Administration. That said, the standard Mustang fastback did receive a Five-Star overall rating.
Standard safety features include safety canopy side curtain airbags, SOS post-crash alert system and Ford's innovative glove-box passenger-side knee airbag. This industry-first feature that maximizes safety while cutting weight and preserving much-needed interior space by integrating a knee airbag into the glove box door.
---
2020 Ford Mustang Shelby GT500 Overall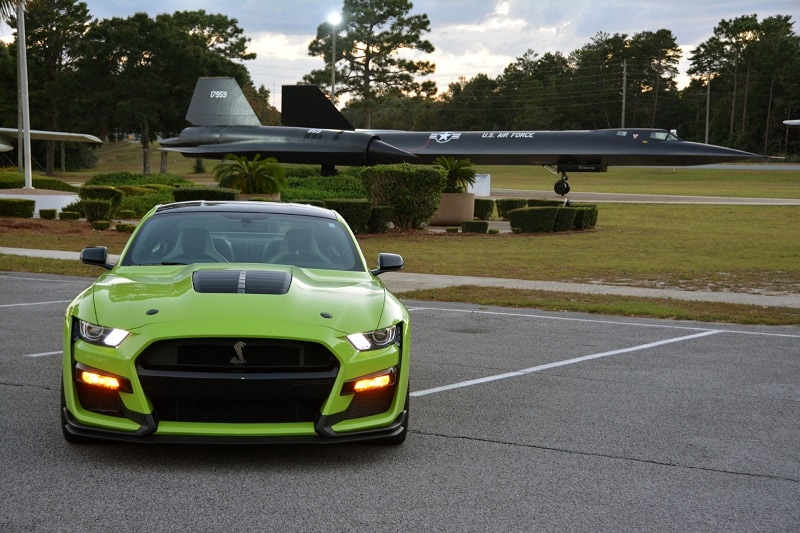 The 2020 Shelby GT500 was bred for the track. But while my time with the most-powerful Ford ever produced was limited to the street, it still relayed a sense of just how extreme this Mustang is. Rather than just dropping a massive engine under the hood of its pony car, Ford transformed the Shelby GT500 into a legit supercar that is as fun to drive as it is to show off.
As is the case with any exotic, though, the 2020 Shelby GT500 is a pricey performance car. With a starting price of $72,900, you could literally afford to buy a pair of brand-new Mustang GTs, and the Shelby used for this review added a handful of options to increase the as-tested price to $81,180. Of course, that price is totally worth it if you want to claim ownership of the most powerful production Mustang of all time!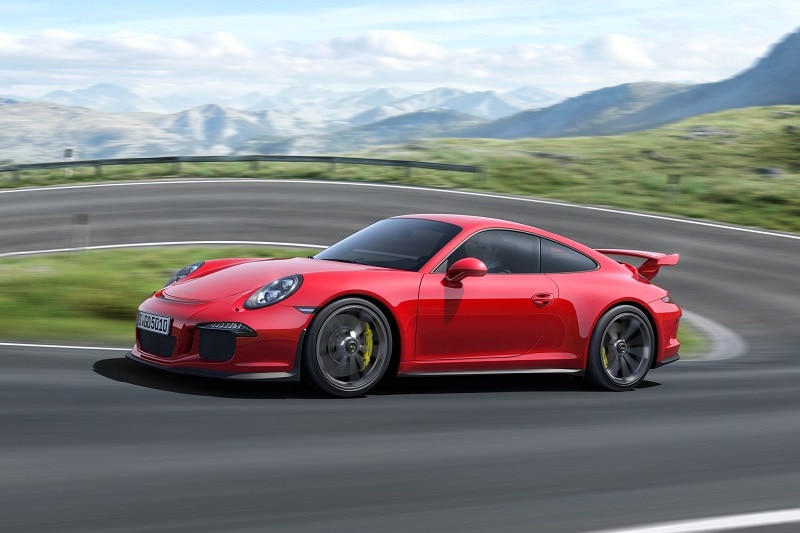 Classic Car Research
Whether you want a project for the garage or a beast for the streets, check out our classic car research.
---
2020 Ford Mustang Shelby GT500 Specs
Engine/Transmission
5.2L supercharged V8, 760 hp, 625 lb-ft
Ten-speed dual-clutch
Mileage
12/18 mpg (city/hwy)
---
AutoNation Drive Test Drive Review: ★ ★ ★ ★
---
More Research
Browse more automotive research than you can shake a stick shift at.
---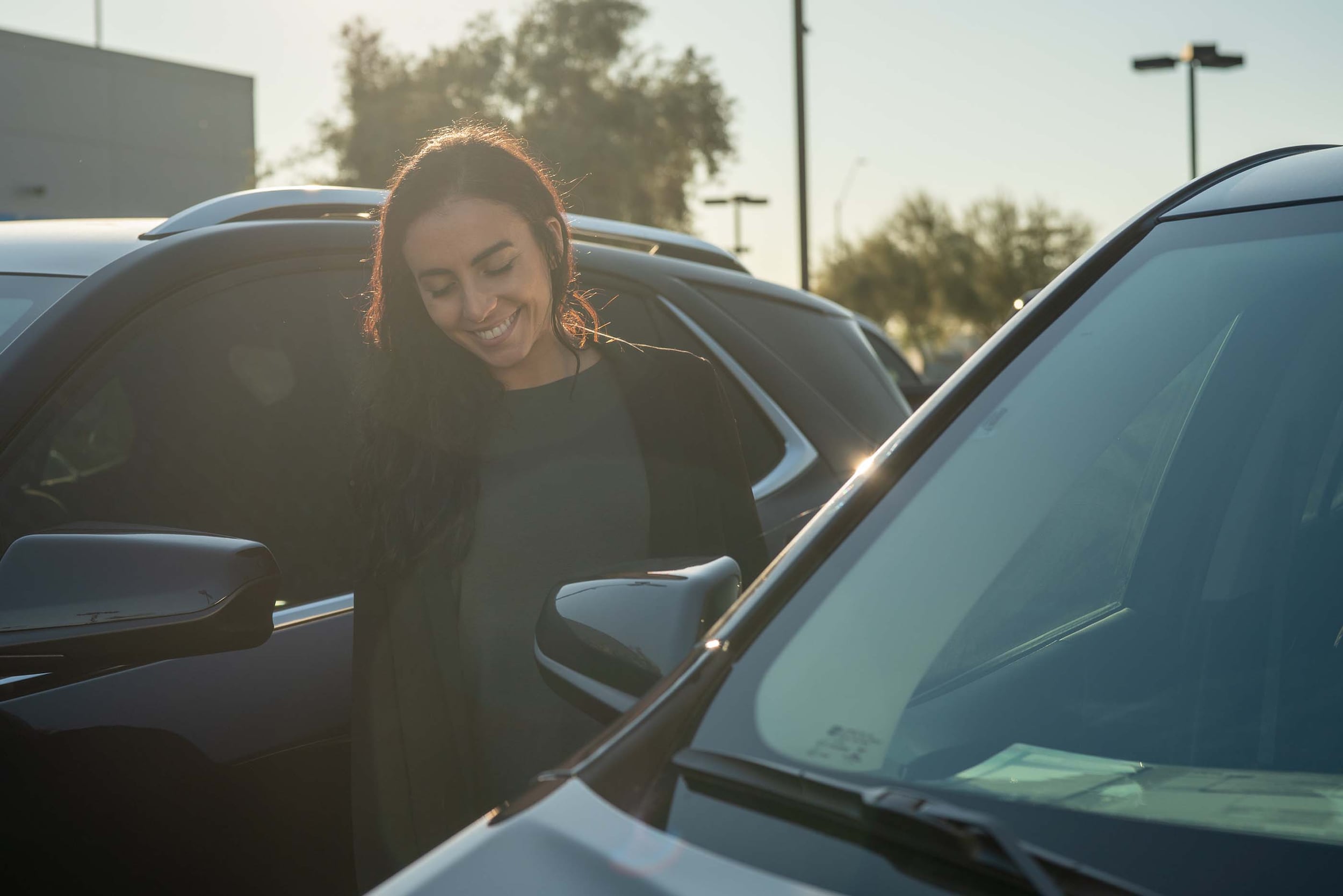 Test Drive Reviews
Our automotive experts at AutoNation Drive weigh in on price, safety, and performance of popular cars, trucks, and SUVs.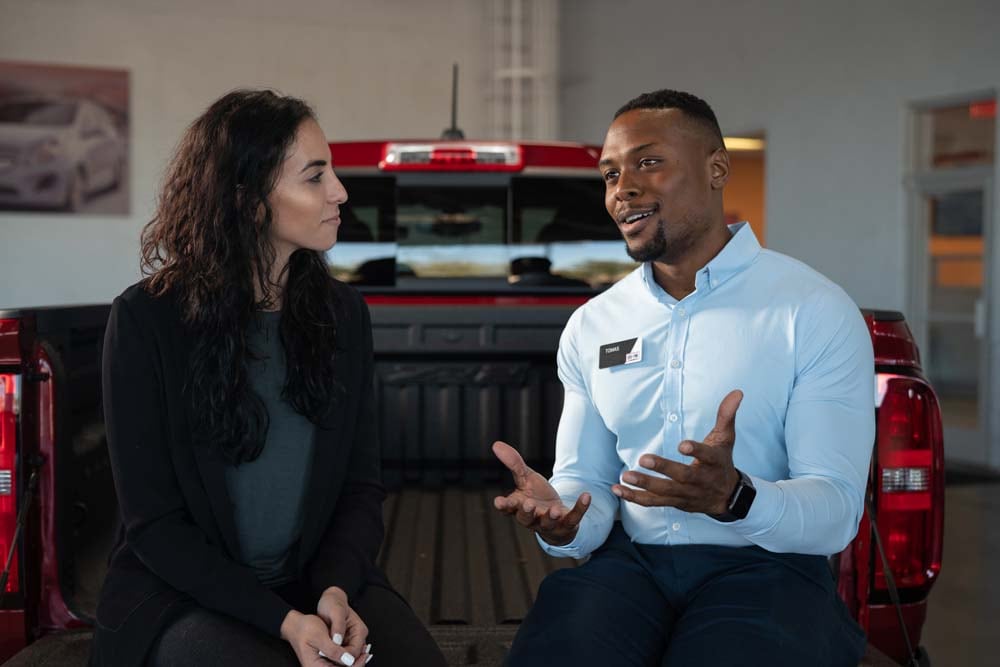 Car Buying Advice
If you're buying a car, truck, or SUV, the chances are - you need help. Don't worry. Our automotive experts are here to help.
---
*MSRP excludes tax, license, registration, destination charge and options. Dealer prices may vary.
**Based on EPA mileage ratings. Your mileage will vary depending on specific vehicle trim, how you drive and maintain your vehicle, driving conditions, and other factors.