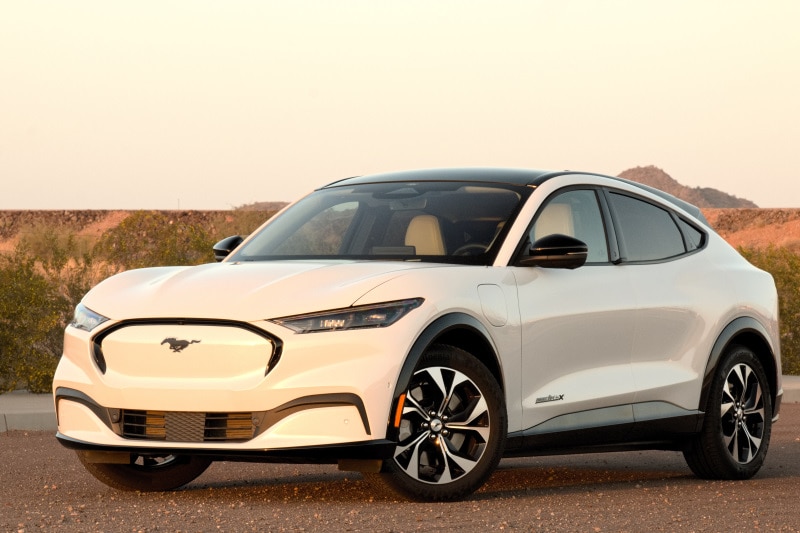 However polarizing it may be, Ford's decision to name its sporty all-electric crossover the Mustang Mach-E makes sense. Using such a legendary nameplate draws attention to what is arguably the halo vehicle in Ford's push to electrify its lineup. The 2021 Mustang Mach-E is a crucial vehicle for Ford, so the more people they get engaged and talking about it, the better.
Is it important for the Mach-E to be more than just a Mustang in badge only? Of course. Since it doesn't have the same form or power source as traditional Mustangs, it needs to deliver the goods in other ways. But the Mach-E has to be more than that. It needs to be a user-friendly electric vehicle with a respectable driving range. Despite its fastback styling, it's also an SUV, which means cargo space is more important to the Mustang than it's ever been.
I found out just how well-rounded the Mach-E is behind the wheel of a Premium model equipped with the extended-range battery and all-wheel drive. Along with premium Star White paint, those raised my press loaner's as-tested price to $56,400.
---
2021 Ford Mustang Mach-E Premium AWD Exterior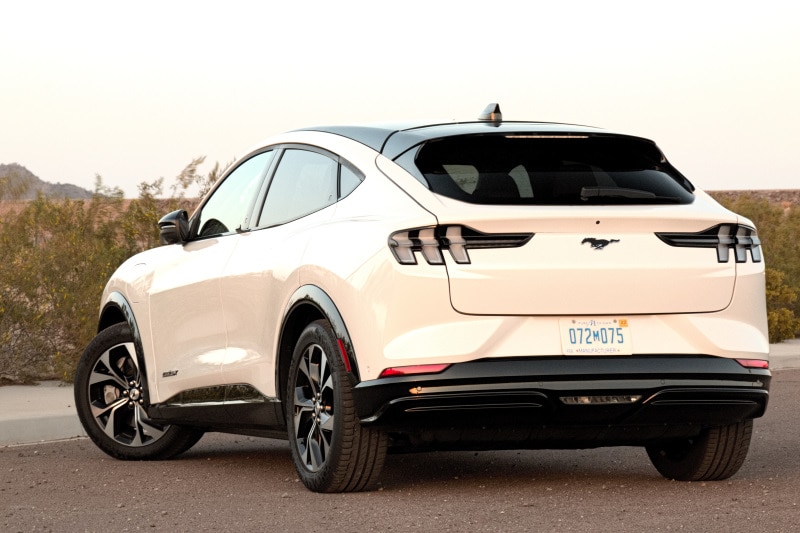 Penning the Mach-E's lines must've been a daunting challenge for Ford's designers. On one hand, if they had taken a Mustang coupe's basic shape and just stretched it out over an SUV platform, the end result would've been a visually graceless and awkward creation. On the other hand, if Ford's designers came up with a swoopy SUV that looked nothing like a Mustang and slapped pony badges on it, they would've only accomplished a cynical feat of badge engineering. I think Ford landed right in the middle of those two extremes. Given its 118-inch wheelbase, 186-inch length, and 64-inch height, the Mach-E has the overall physical presence of a small SUV, and a roofline that hints that it's more about speeding through curves than splashing through creeks.
There's plenty of Mustang DNA in key areas. The angled LED headlights and angular semi-frame to the "grille" area reinterpret the Mustang fastback's front end without losing the message. A subtle flair to the rear fenders hints at the fact that even though the Mach-E is an electric vehicle, it can still put its power down through its rear end (my tester had all-wheel drive, so it zapped its juice through all four of its 19-inch wheels). Pointed black trim bars link the angled tri-bar taillights, which are both unique and familiar at the same.
The Mach-E definitely turned heads like a Mustang. Everywhere I went, people eyed it. A few times, the Mach-E's design led to conversations with complete strangers, an experience I had on multiple occasions while testing the 2020 Mustang Shelby GT500.
---
2021 Ford Mustang Mach-E Premium AWD Interior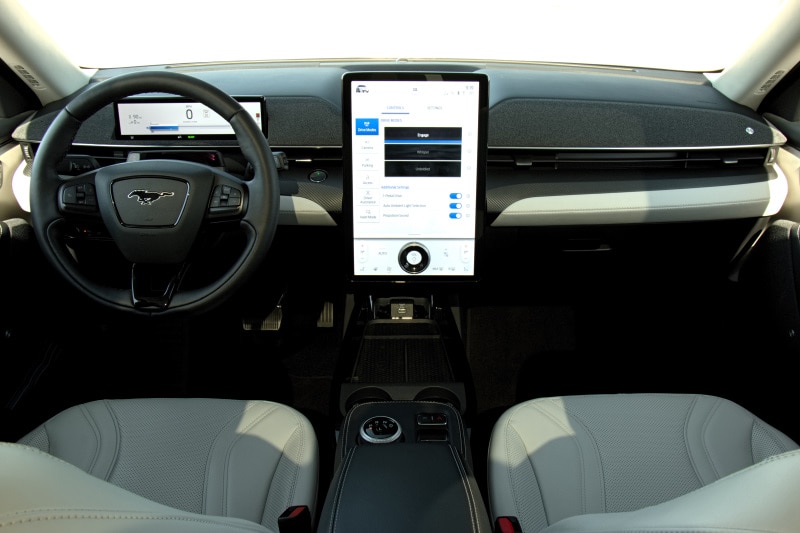 While there were subtle allusions to bygone and current gas-powered Mustangs in the Mach-E's dual-cowl dash design and rotary-style shifter, those were more of exceptions to the overall theme. A simple 10.2-inch horizontal screen replaced the round main gauges. The combination of the Light Gray ActiveX seats, gray fabric over the Bang & Olufsen sound system's front speakers, and the SYNC 4A infotainment system's portrait-oriented 15.5-inch touchscreen gave the cabin a Scandinavian minimalism. There weren't even conventional door handles. Instead, Ford opted for trigger-like paddles. Like many modern SUVs, my Mach-E test vehicle had a full-length glass roof. I was initially concerned that the lack of a fabric shade would let the bright Arizona sun fry me, but the glass panel's special coating with infrared protection and UV-resistant inner layer soaked up all of the damaging heat.
To my surprise, the Mach-E's second row provided more than enough legroom and head space for all 5'10" of me. And whether I kept the rear seats up or manually folded them down, the Mach-E offered cargo space similar to that of the hybrid versions of the Ford Escape. There was even more space in the front trunk, which doubles as a drainable cooler.
---
2021 Ford Mustang Mach-E Premium AWD Performance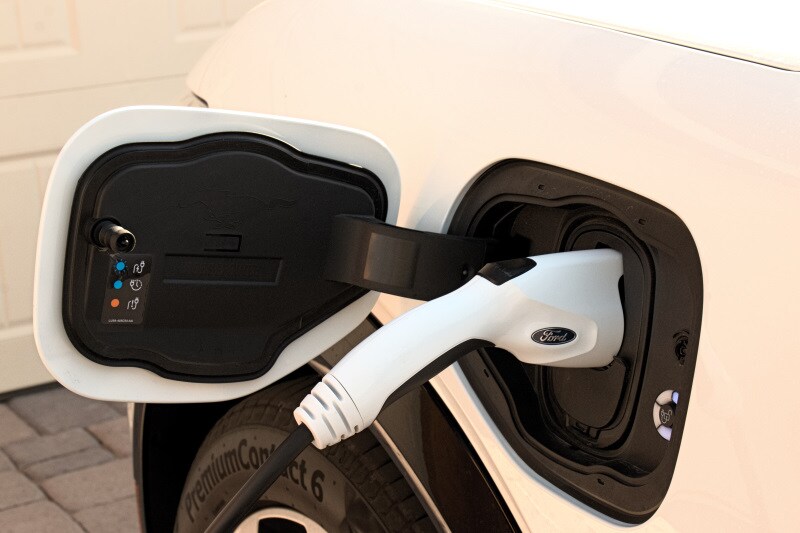 It didn't take me long to get used to driving an engineless Mustang. Like its gas-powered counterparts, it had multiple drive modes. Engage, which I used most often, struck a balance between Whisper and Unbridled. Around town, I switched on the one-pedal driving feature so that the regenerative braking would kick in and charge the 88-kWh lithium-ion battery.
The twisty roads near my neighborhood were the perfect justification for putting the Mach-E in Unbridled mode and turning on the Propulsion Sound. It was during those full-throttle pulls and high-speed turns that I realized how connected the Mach-E is to other Mustangs. I felt the Mustang GT-like weight in the steering, along with the desire to keep mashing my right foot down. My tester's 346 horsepower (258 kW) and 428 lb-ft of torque was easy to enjoy to the fullest - which I did. Repeatedly.
As configured, my press car was capable of returning MPGe figures of 96 in the city, 84 on the highway, and 90 combined**. Fully charged, it could potentially cover a range of 270 mile**. The 120-volt/12-amp mobile charger that came with the Mach-E added three miles of range an hour. Connecting that to a 240-volt/30-amp plug would've pumped in 20 miles of range just as quickly. I ventured out to a public Level 2 charging station, stayed in the Mach-E with the AC running and still managed to rack up 39.6 kilowatt-hours in an hour.
---
2021 Ford Mustang Mach-E Premium AWD Safety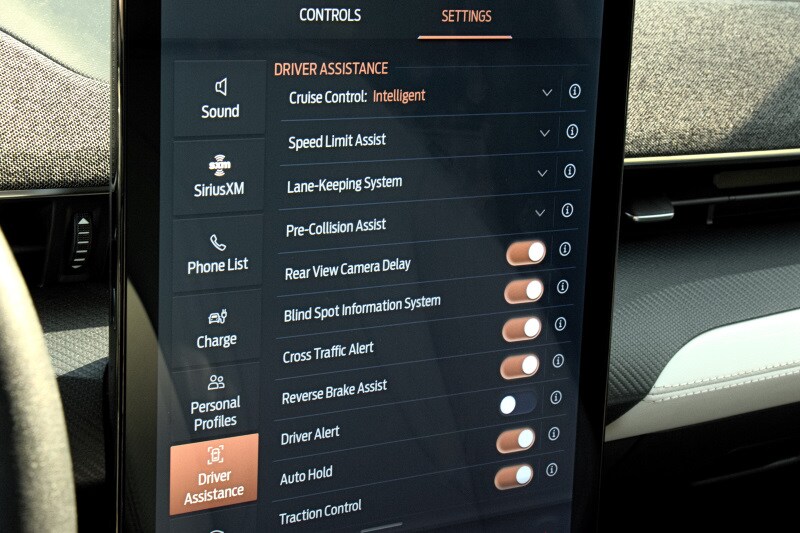 Everybody within a half mile of the Mach-E was aware of its presence, but it was still nice to know my tester was packed with driver assistance and safety features.
Parking was easier thanks to the 360-degree camera system with split-view functionality. Ford Co-Pilot360 2.0 added Pre-Collision Assist with Automatic Emergency Assist, Blind Spot Information System with Cross Traffic Alert, Reverse Brake Assist, and more. There were even more advanced features in the Ford Co-Pilot360 Assist 2.0 bundle, including Intelligent Adaptive Cruise Control with Stop & Go, Intersection Assist, and Evasive Steering Assist.
The Ford Co-Pilot360 Active 2.0 Prep Package gave me access to Active Park Assist 2.0. Once Ford releases an over-the-air software update later this year, the system will also allow for hands-free driving on U.S. and Canadian highways.
---
2021 Ford Mustang Mach-E Premium AWD Overall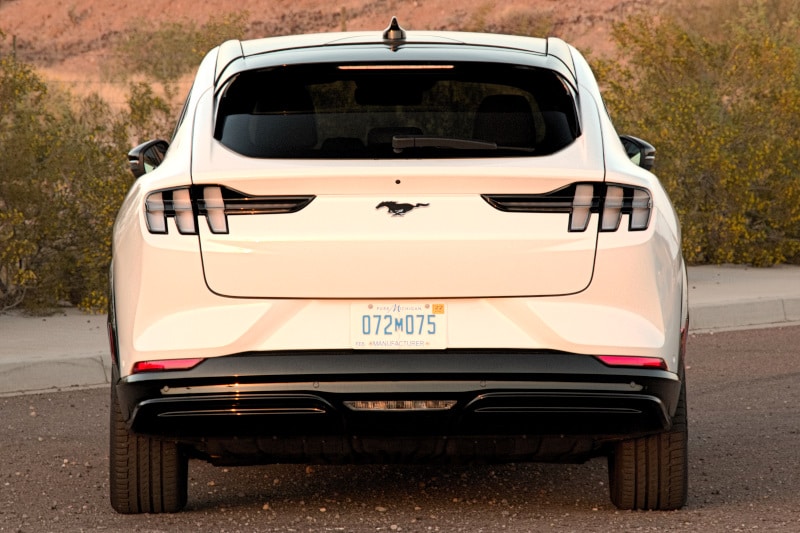 Ford faced loads of challenges when it decided to release the Mustang Mach-E. In the grand scheme of things, the first half of its name now seems like the smallest one. The Mach-E needs to be a performance vehicle, EV, and SUV all at once. My week with the Premium AWD model showed me that Ford threaded that needle. You can find the 2021 Mustang Mach-E in AutoNation Ford dealerships now at a starting price of $42,895*.
---
Derek Shiekhi | Apr 20, 2021