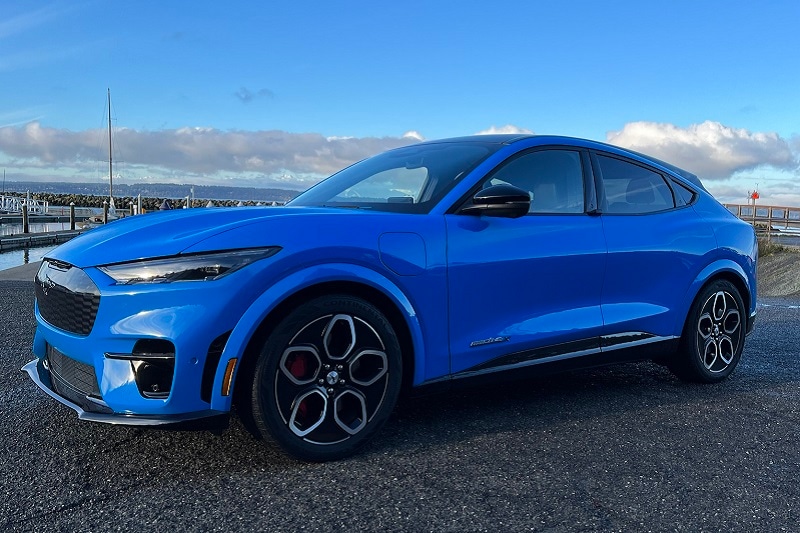 When Ford revealed plans to call its first all-electric SUV the Mustang Mach-E, fans of its legendary pony car reacted swiftly. The polite way to describe their reaction would be "unhappy." The more accurate way to describe it? Well, "pissed" would probably work. Because while the name might be a clever play on the Mustang Mach 1, gearheads were livid about the idea of a four-door crossover wearing the Mustang badge.    
Of course, Ford CEO Jim Farley knows that you don't run a car company by listening to keyboard warriors. And since he has 5.0 coupe in his personal fleet, it's safe to say the well-known car guy didn't want to do anything to tarnish the beloved model.     
Fortunately, the move paid off. Since debuting in November of 2019, award-winning Mach-E has been an unqualified success, and added to a hat trick of hits which includes the Raptor, the Bronco, and the Maverick compact pickup. So given all the excitement around this new green machine, I was thrilled to get my hands on the hot rod Mach-E GT -- even if I wasn't sure exactly what to expect. But after spending a week behind the wheel of this new-school Mustang, I can happily say Ford has done it again. I absolutely loved it.
Shop Ford Mustang Mach-E Inventory
---
2021 Ford Mustang Mach-E Exterior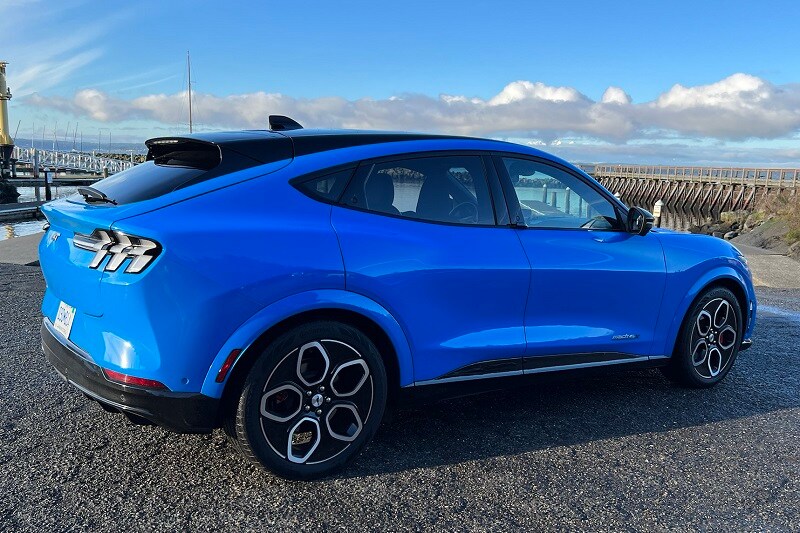 Yeah, it has four doors. And yes, it's got the proportions of a crossover. But you don't have to look hard to see the Mustang DNA in the Mach-E. From the pronounced flare at the front fenders, to the sharp angles of the headlight assemblies, to the pronounced creases in the hood, the design cues are everywhere. While I've found light-up emblems to be somewhat polarizing, the execution here is fantastic, and it works beautifully with the LED stripes in the headlamps. 
Along the side of the Mach-E, there are athletic contours to the sheetmetal, and the optional two-tone roof allows for a fastback-style profile without compromising rear headroom. Plus, while the standard Mach-E has black plastic cladding around the wheel wells, the cladding over the Mach-E GT's 20-inch aluminum wheels is body colored. On my tester, that color was Ford's stunning Grabber Blue, and in my opinion? It's one of the coolest color options on the market today -- at any price point.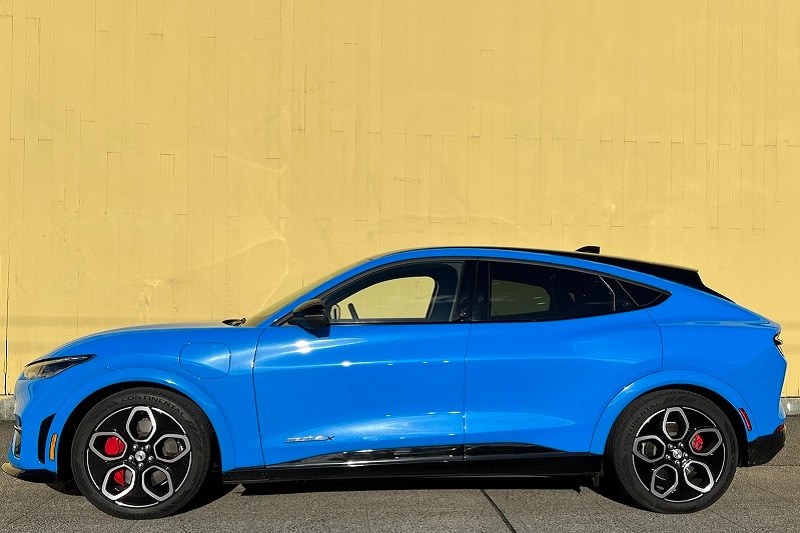 Ford designers wanted the Mach-E to immediately feel different, and one of the ways they did that was by giving it a trick entry system. If the key -- or a smartphone configured as a key -- is in your pocket, the car will unlock upon your approach. Then you just have to push a little button on the B-pillar, and the door will pop open. While it might be a bit gimmicky? It's also wicked cool, and makes you feel like you're getting into a spaceship. At night, it doesn't hurt that the famous Pony emblem is projected onto the ground either. That said, the most Mustang-like lines are definitely at the back, where the wide hips and triple-bar taillights give it a look that's unmistakable as anything but the Blue Oval's prized Pony. 
Shop Ford Mustang Mach-E Inventory
---
2021 Ford Mustang Mach-E Interior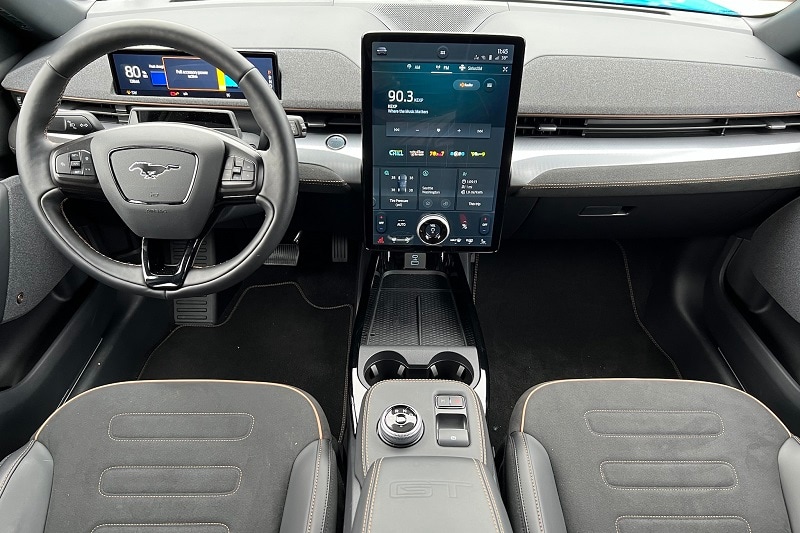 The interior of the Mach-E is sleek and elegant. Cabin materials were another element Ford's designers used to convey that this is a different type of vehicle, and the effect is impressive. The top ridge of the dash is covered in the same type of material as the speakers in the doors, while the bottom is smooth Alcantara. In the middle, there's a bar of beveled aluminum, and overall, there's little to distract from the concept car-like vibe of the interior. This is a case where less is definitely more. 
Given that this is a performance model, the seats are well bolstered, and covered in premium-feeling synthetic leather and more Alcantara. My tester's chairs were finished with contrasting brass-colored stitching and piping which matched sweeping insets in the doors and dash. This contributed to the upscale feel significantly, and the overall cleanliness of the design exaggerated the roomy feel. The trigger-style door switches were another design feature that I appreciated, as they were both unique and intuitive to use.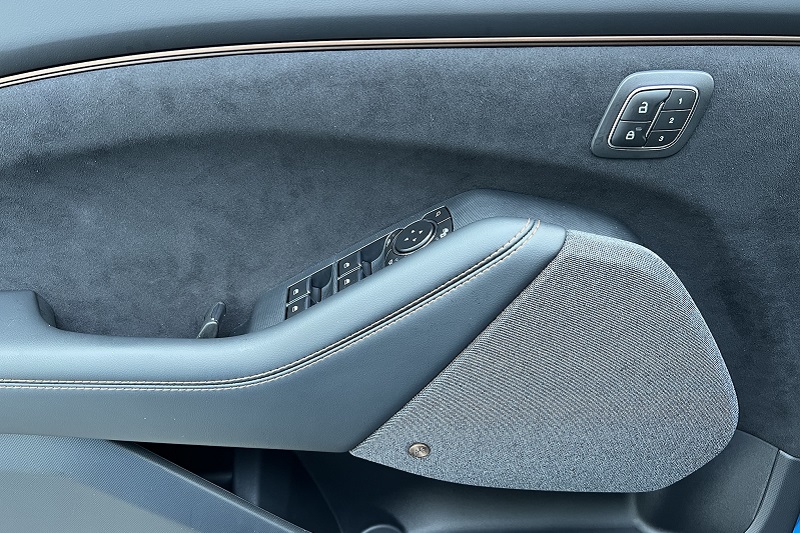 Driver's select gears by using a rotary dial in the center console, and it has a robust, machined feel to it. Another feature that I liked was the wide wireless charging pad at the front of the center console, which sits above a handy storage area. All told, I liked the interior of the Mach-E, and thought it matched the futuristic character of the car well. That said, I wasn't a huge fan of the 15.5-inch tablet-style screen at the center of the dash, which handles most vehicle functions, including the climate control and the heated seats. While the menus are easy enough to navigate, I found the system slow to respond, and found it distracting to adjust something as basic as the fan speed while underway. That said, giant screens are all the rage in the electric vehicle segment, so many buyers will likely be thrilled with it. 
One particularly neat feature about the Mach-E was how it can be configured so drivers can use their smartphone as a key. This is done through the FordPass app, and allows you to check loads of vehicle stats, from the current state of charge down to the pressure in the tires. It also allows users to set a departure time, so the Mach-E will have the cabin conditioned to your liking before you even open the door.     
Storage-wise, there's 29.7 cubic feet of cargo space available with the rear seats up. Fold them down, and that climbs to 59.7 cubic feet. Since there's no engine up front, there's an additional 4.7 cubic feet available under the hood.
Shop Ford Mustang Mach-E Inventory
---
2021 Ford Mustang Mach-E Performance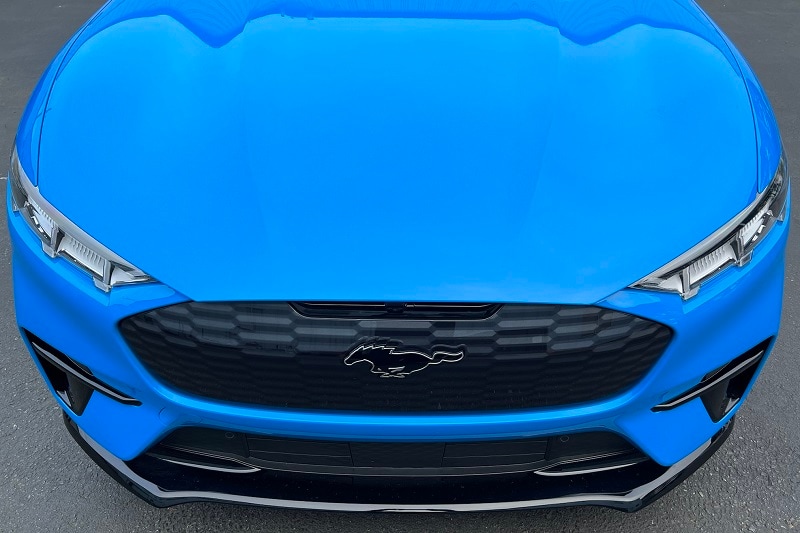 My absolute favorite thing about the Mach-E GT is the way it drives - which befits a machine wearing the Mustang badge. Power comes from a pair of electric motors, one at the front, and one at the rear, which makes the GT all-wheel drive. And with 480 horsepower and a whopping 600 lb-ft of torque on tap? Performance is spine tingling. Wow. 
There are three drive modes, Whisper, Engage, and Unbridled. Select Unbridled, plant your right foot, and the Mach-E GT will whisk you to 60 mph in a blistering 3.8 seconds, all in near  silence. Honestly, as a lifelong gearhead, the instant power delivery in this vehicle felt revelatory. Because while it's one thing to read about how electric vehicles have all their torque available at zero rpm, it is another thing entirely to experience it firsthand. Hit the accelerator, and thrust is  immediate. Plus, since there are no gears, acceleration is seamless. You don't feel any shifts because there are no shifts, and this quiet, smooth sensation was something I immediately became enamoured with. It's an experience that no internal combustion vehicle can deliver and while it's certainly novel, it made the Mach-E feel about as far from a novelty as something can get. Again, wow. 
The Mach-E is no one trick pony either, as its low center of gravity keeps it well planted on twisty stretches of tarmac, and the near-silent operation helped me sense my level of grip in a way that's entirely different from an internal combustion car. I also loved the one-pedal driving setting, which maximizes the amount of regenerated energy that makes it back to the batteries. From an efficiency standpoint, this is better, I did it because it was fun. The feeling is very similar to that of engine braking in a conventional vehicle, and it's a hoot. 
Of course, given that this is an electric car, the big question is range and charging times. A standard 120-volt outlet adds roughly 3 miles of range per hour, and a 240-volt outlet will be good for almost ten times that number per hour.Now, under ideal conditions the Mach-E GT can go 270 miles on a charge. That said, the conditions I experienced during my week with the GT were far from ideal. Electric vehicles don't like the cold, and with temperatures in the low 40s, I got about 200 miles from a full charge. That was plenty for me, and when I got down to about 35 percent battery left, I simply plugged into an Electrify America station at my local grocery store. After an hour, I was back up to 80 percent battery, and went on my way.
Shop Ford Mustang Mach-E Inventory
---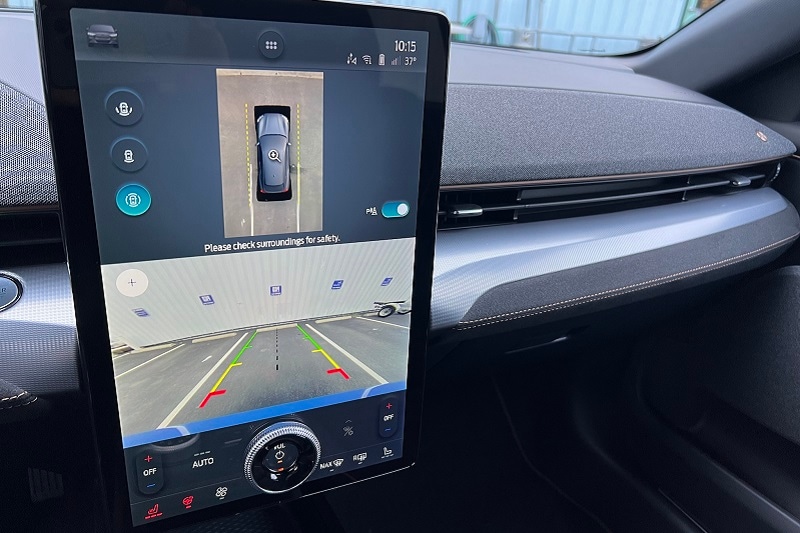 2021 Ford Mustang Mach-E Safety
 At this point, the Mustang Mach-E GT has not been rated by the National Highway Traffic Safety Administration or the Insurance Institute for Highway Safety. This is not unusual for new vehicles at this price point. 
That said, the Mustang Mach-E features a robust system of standard safety technology, including Blind Spot Monitoring with Rear Cross-Traffic Alert, Lane Keep Assist, Pre-Collision Assist with Automatic Emergency Braking, Driver Drowsiness Monitoring, and Automatic High-Beams. Ford's Co-Pilot 360 system also includes BlueCruise. This is a semi-automated driving technology which utilizes its Adaptive Cruise Control with Stop-and-Go, Lane Centering, and Speed Sign Recognition, and allows for hands-free driving under certain circumstances.
Shop Ford Mustang Mach-E Inventory
---
2021 Ford Mustang Mach-E Overall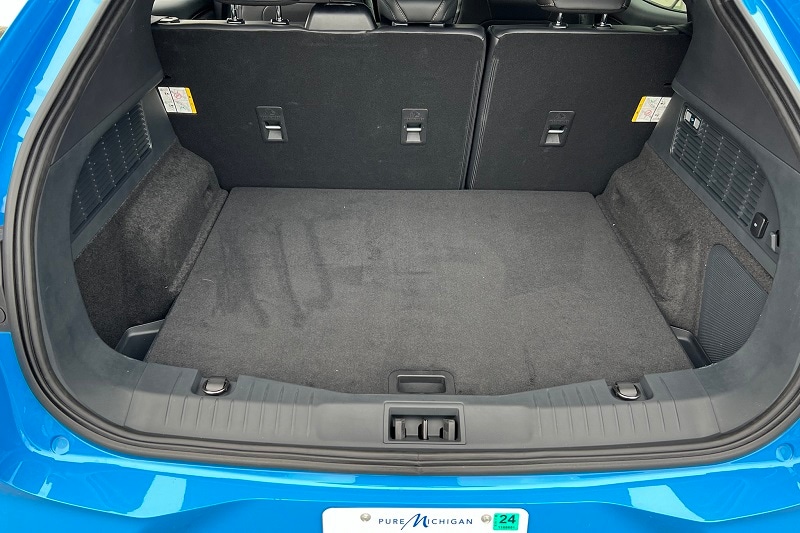 The future is going to be fun. As someone who loves the smell of gasoline and the rowdy sound of V8, I was blown away by how much I enjoyed the Ford Mustang Mach-E. With its quick, silent acceleration, it feels like a secret weapon, and the one-pedal driving feature is way more engaging than I anticipated. Come 2028, every new Mustang - coupes included - will be fully electric, and while I've been curious about them, now I truly can't wait. Bravo, Ford.  
The standard Mustang Mach-E starts at $43,895, while the more powerful GT version starts at $59,900. Since my tester featured the optional black roof ($385) and Ford's Co-Pilot 360 system, that brought the total as-tested price of this Mach-E to $63,285.
---
John Coyle
| Dec 21, 2021