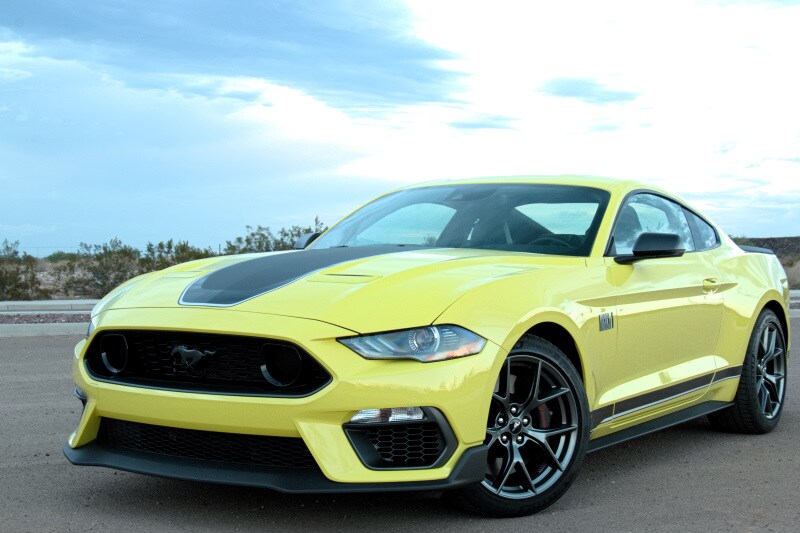 Ford hasn't offered a new Mach 1 Mustang in 17 years. Its return for the 2021 model year as the bridge vehicle between GT and Shelby Mustangs is a good news/bad news situation. 
The bad news is that there's more room for it in the Mustang lineup because Ford discontinued the
Bullitt
and
Shelby GT350
. The good news is that those two models live on in certain ways in the new Mach 1, which has the same output as the Bullitt and modified versions of the GT350's intake manifold, oil filter adapter, and oil cooler. Manual models get the GT350's Tremec TR-3160 six-speed gearbox instead of the regular GT's Getrag gearbox. The Mach 1 even has the same rear toe link, axle cooling system, and diffuser as the 760-horsepower Shelby GT500. 
Technically, the new Mach 1 is a "parts bin special," but that's not a bad thing in this case. I spent a week in a Premium model ($59,390 as tested) with the available ten-speed automatic, Mach 1 Elite Package, and voice-activated navigation system and found it to be the right combination of theatricality and engineering.
---

2021 Ford Mustang Mach 1 Exterior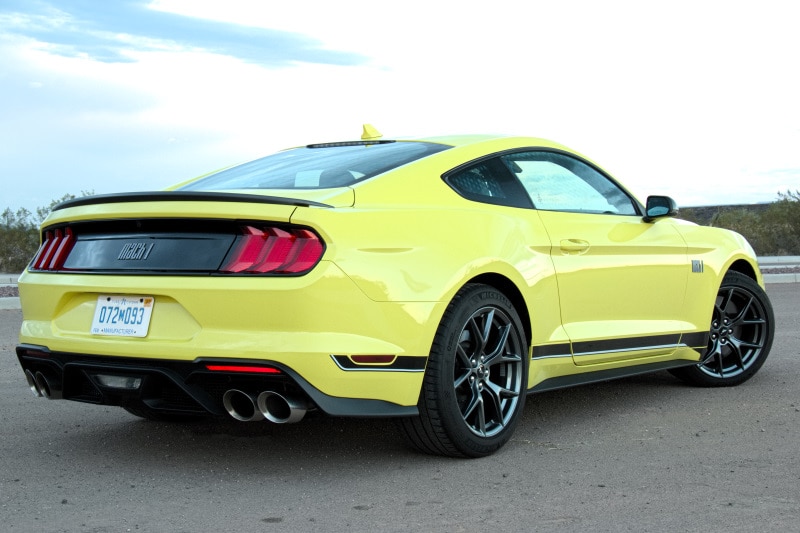 Mach 1 fans of all ages can find something to enjoy about the 2021 Mach 1. Like its ancestors, it has black hood and side stripes. I wasn't around in the 1960s and 1970s when the originals were on the market, but I am old enough to remember when the Mach 1 returned for the 2003 model year. In fact, I had a friend who owned a Zinc Yellow Mach 1 with black leather seats and an automatic. In a visual sense, I got to go back in time to when that car was new every time I went out to start up my Grabber Yellow test car. 
To bring the Mach 1 into modern times, Ford restyled the front end. The new upper grille features a dark running pony emblem and faux driving light elements. Below that are new lower and side grilles. The pronounced front splitter joins forces with the low-profile rear spoiler to give the Mach 1 22 percent more downforce than a Mustang GT with the Performance Pack 1. Underneath, a longer belly pan with special modifications not only pushes the Mach 1 closer to the road, but also channels cooling air to its vented brake rotors, which measure 13.9 inches in the front and 12.6 inches in the rear. A set of staggered-width wheels (19 X 9.5 inches in the front and 19 X 10 inches in the back) and Michelin Pilot Sport 4S tires further connect it to the pavement. 
As eye-catching as my media loaner's paint was, the one feature it had that caught my eye the most was its Active Valve Performance Exhaust system's quad 4.5-inch finishers. And they sounded even better than they looked, filling the cabin with a roar that became more satisfying the longer I kept my right foot down.
---

2021 Ford Mustang Mach 1 Interior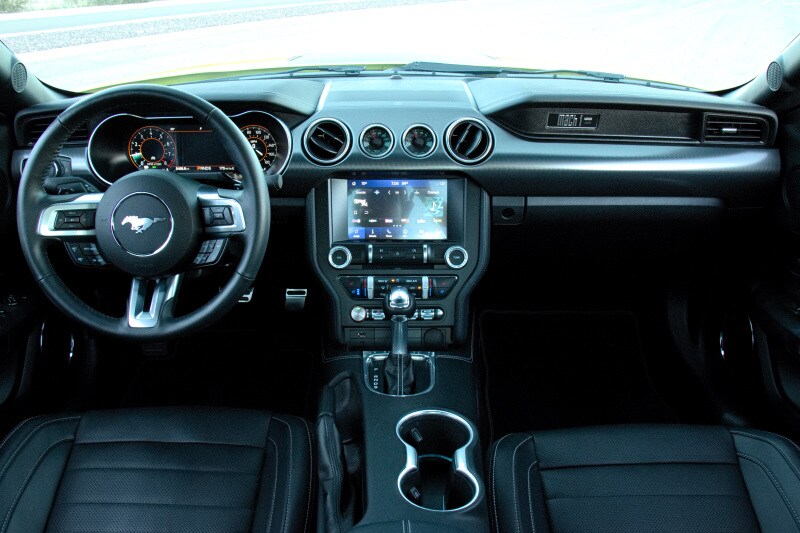 Ford used a lighter touch paying homage to Mach 1s of yesteryear inside than it did on the outside. Aside from an accent stripe on the front seat backs and a plaque on the dashboard with  my press car's chassis number on it, the cockpit was largely the same as the other S550 Mustang interiors I'd been in before. Outward visibility was not an issue. The driver's door panel was at the perfect height for leisurely driving. All of the major controls and touchpoints were just where they needed to be. It was the automotive equivalent of throwing on a well-worn jacket that fits just right.
Thanks to its Premium trim and the Mach 1 Elite Package, the Mach 1's cabin was a comfortable place to try to rack up a high score on its standard 12.3-inch digital instrument cluster. My fiancé and I were able to dial in our preferred temperature settings and beat the Arizona heat with some help from the ventilated leather front seats. The eight-inch touchscreen with navigation and Android Auto and Apple CarPlay compatibility meant we didn't have to worry about getting where we needed to go. Along the way, we had the choice of cruising to the smile-inducing sound from the exhaust or jamming out to the 12-speaker B&O sound system and feeling the kick of its trunk-mounted subwoofer. With the flick of a switch, I could change the weight of the steering or call up an entire bundle of MagneRide suspension, exhaust, and steering settings by engaging a different drive mode.
---

2021 Ford Mustang Mach 1 Performance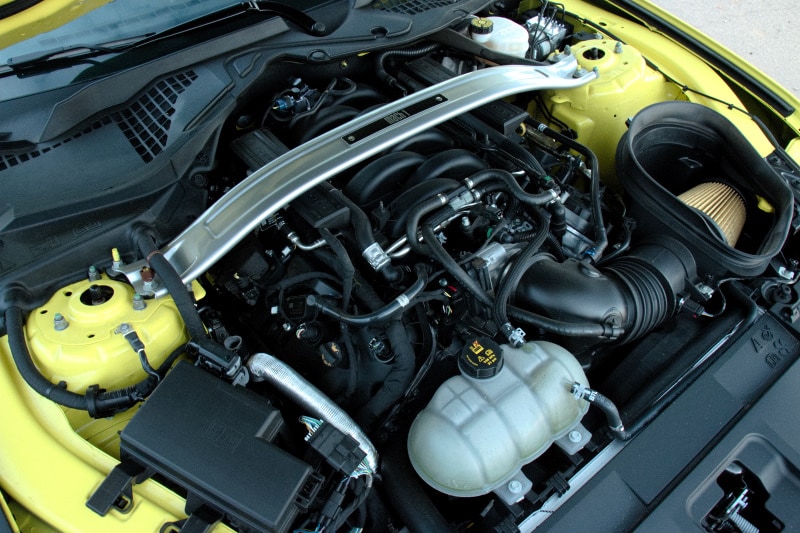 There's one word that encapsulates the time I spent opening the Mach 1 up on the sweeping curves near my house: tension. I could feel it all around me. Just like me, the 5.0-liter V8 seemed constantly ready to unload its 480 horsepower and 420 lb-ft of torque. Every straightaway was a challenge of how long I could keep my right foot down. The higher the number on the digital speedometer went, the more octaves the exhaust soared through. Under heavy throttle, the retuned 10-speed automatic bucked with each upshift, as if it had no patience for getting to the next gear or any interest in being polite about its ambitions. Gearchanges in the Sport S+ drive mode felt like plucking an overly tightened string on a guitar. Like other Mustang GTs I tested in the past, the Mach 1's recalibrated electronic power-assisted steering was rock-solid on center. It didn't stonewall me about important information, though. In hard turns, it made it clear that I needed to hold on tight and tame the wild animal galloping underneath me. 
---

2021 Ford Mustang Mach 1 Safety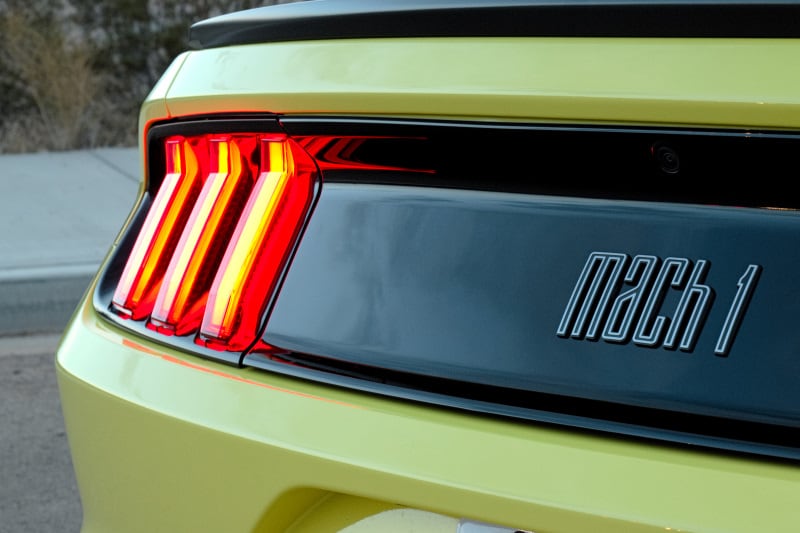 Like its 2021 EcoBoost and GT siblings, the Mach 1 comes standard with the Ford Co-Pilot360 suite of technologies, which includes Pre-Collision Assist with Automatic Emergency Braking and Pedestrian Detection, Forward Collision Warning and Dynamic Brake Support, Blind Spot Information System, Lane-Keeping System, and more. According to the National Highway Traffic Safety Administration, the 2021 Mustang aced every testing category and earned a five-star Overall Safety Rating.
---

2021 Ford Mustang Mach 1 Overall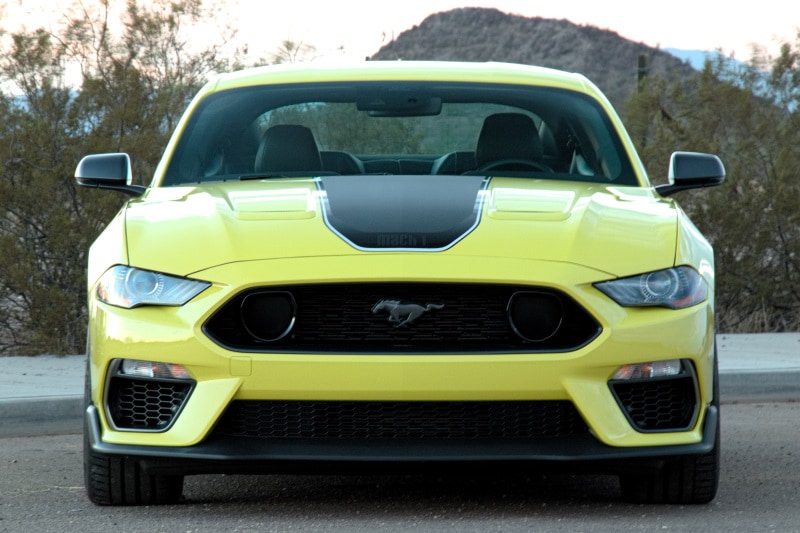 I have more good news and bad news for you. The good news is the 2021 Mustang Mach 1 is in AutoNation dealerships right now. The bad news is it's a limited-edition model so it's not going to be a permanent fixture in the Mustang lineup. The sooner you get one, the sooner you can stop worrying and start enjoying a car that makes tension a wonderful feeling.
Derek Shiekhi
 | Sep 4, 2021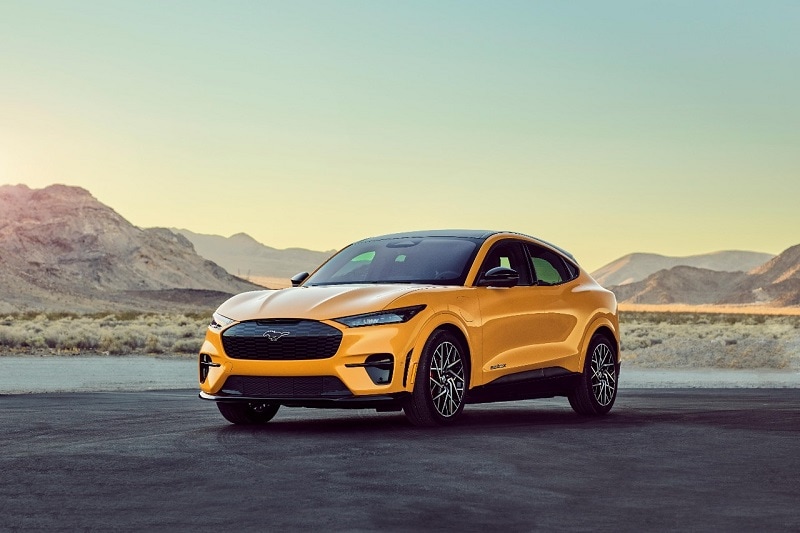 Ford Trim Levels Guide
Learn about the trim packages for popular Ford cars, trucks, and SUVs.
---
2021 Ford Mustang Mach 1 Specs
Layout
2-door, 5-passenger, RWD
Engine/Transmission
5.0L V8, 480 hp, 420 lb-ft
10-speed auto
Mileage
14/22 city/highway
NHTSA Safety Rating

★ ★ ★ ★ ★
---
AutoNation Drive Test Drive Review: ★ ★ ★ ★
---
More Research
Browse more automotive research than you can shake a stick shift at.
---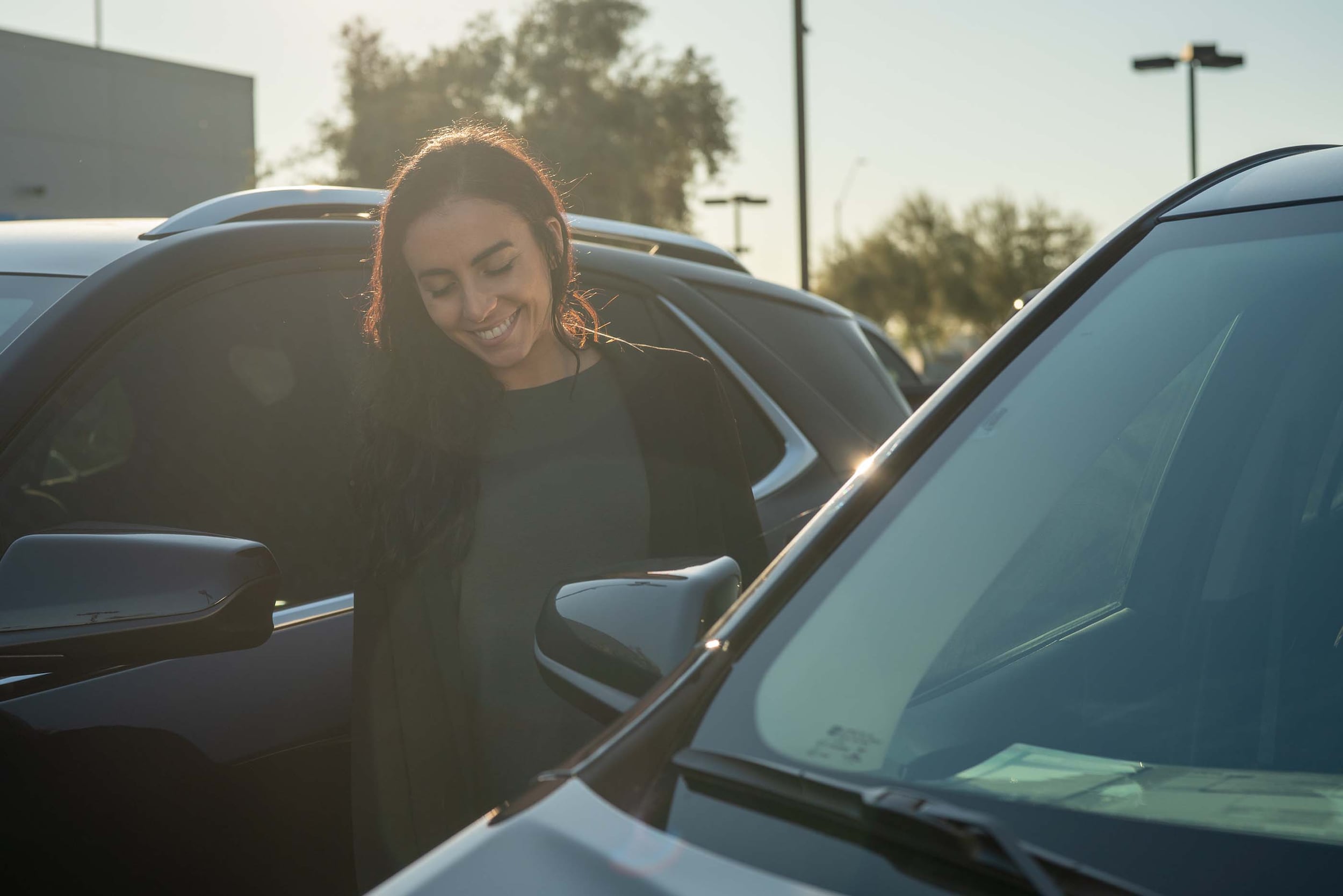 Test Drive Reviews
Our automotive experts at AutoNation Drive weigh in on price, safety, and performance of popular cars, trucks, and SUVs.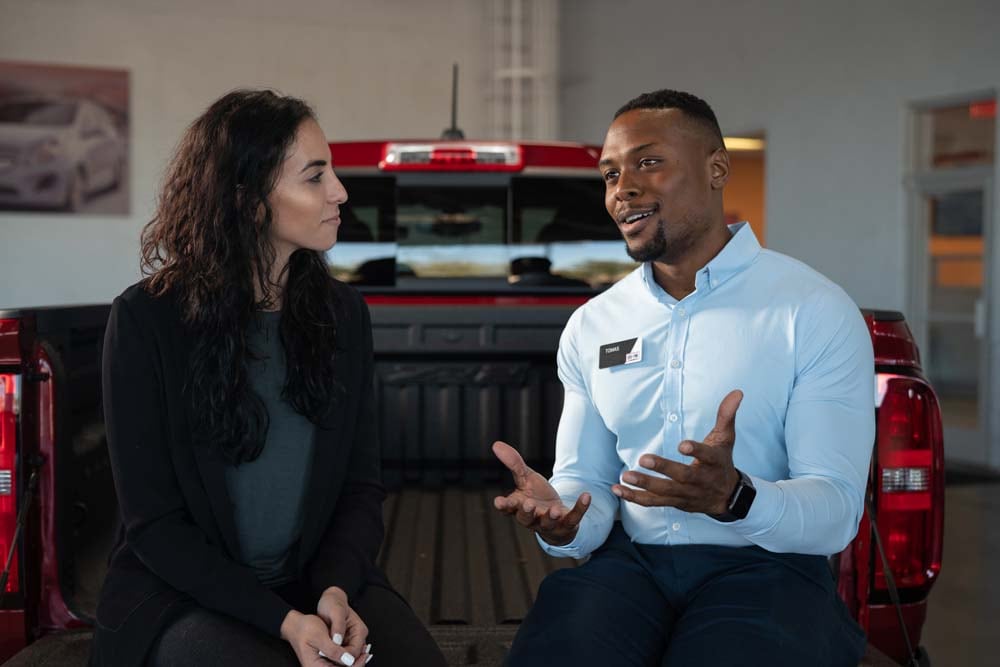 Car Buying Advice
If you're buying a car, truck, or SUV, the chances are - you need help. Don't worry. Our automotive experts are here to help.
---
*MSRP excludes tax, license, registration, destination charge and options. Dealer prices may vary.
**Based on EPA mileage ratings. Your mileage will vary depending on specific vehicle trim, how you drive and maintain your vehicle, driving conditions, and other factors.