2020 Ford Mustang 2.3 High Performance
---
Jeffrey N. Ross | Nov 30, 2020
---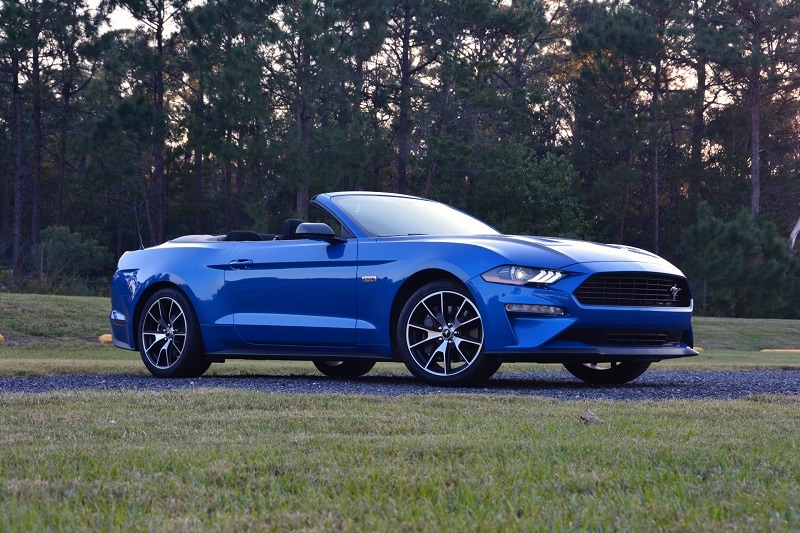 Now is a great time to be a sports car enthusiast. Buyers at all price points have access to some of the best performance cars ever made, and the venerable Ford Mustang is at the top of the list.
This iconic American sports car has been offered with plenty of performance versions, including the Mustang GT PP2, Bullitt Mustang, Shelby GT500, and the upcoming Mach 1. But if you're a budget-minded enthusiast, fret not. The new-for-2020 2.3L High Performance Package is a $4,995 option on the EcoBoost Mustang, which pairs the tuned engine of the Focus RS hot hatch with the chassis and aero upgrades from the Mustang GT.
I recently got to sample a 2020 Ford Mustang Convertible EcoBoost 2.3L High Performance, and came away with the enthusiast-friendly combination.
---
2020 Ford Mustang 2.3 High Performance Exterior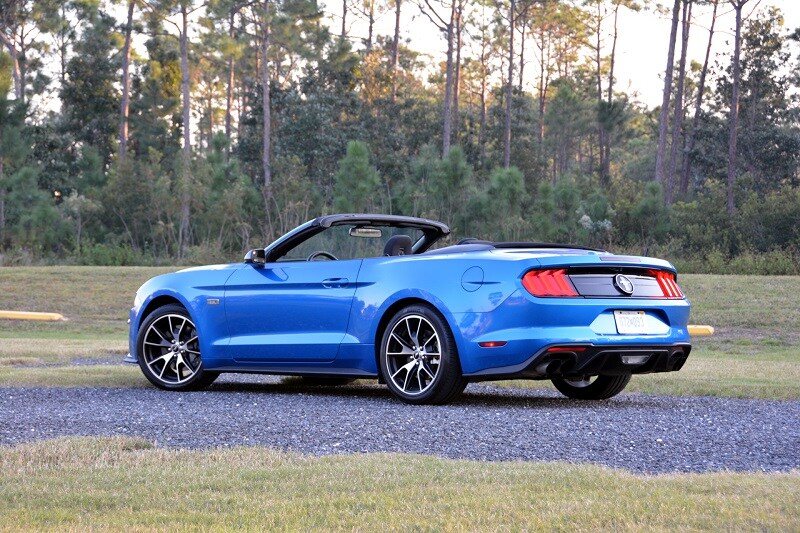 From a styling standpoint, the 2020 Ford Mustang 2.3L High Performance is a bit of a sleeper. Even with the obvious "High Performance" fender badges and the sporty Velocity Blue paint job, this tester still had the looks of a Mustang Convertible rental car thanks to the package's blacked-out grille with offset Mustang logo and a rear spoiler delete.
Eagle-eyed car fanatics, though, will notice key call outs to this package such as the gray mirror caps, a subtle hood accent stripe decal, and the exclusive 19x9-inch machined-face aluminum wheels, as well as a front splitter and belly pan from the Mustang GT. With its LED daytime running lights, sequential taillights, and quad exhaust outlets, the revised sixth-gen Mustang retains its sporty appearance, and the convertible looks good with the top up or down.
---
2020 Ford Mustang 2.3 High Performance Interior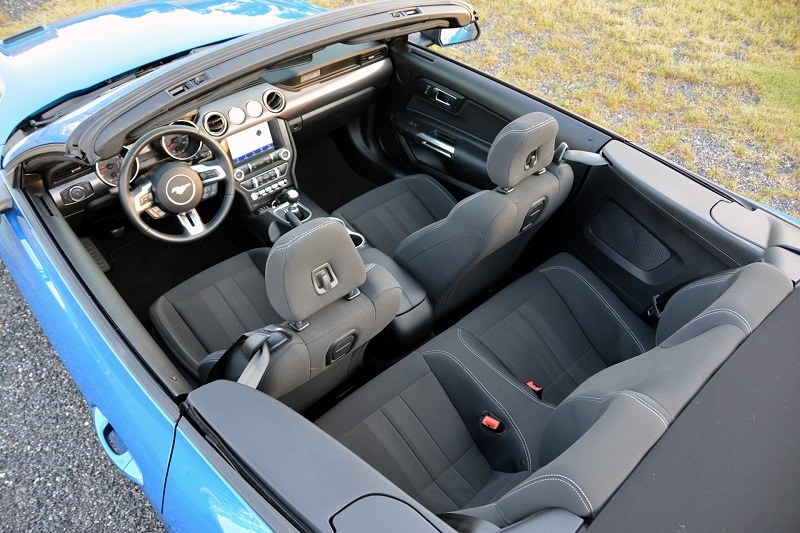 Like the exterior, the interior of the 2020 Ford Mustang 2.3L High Performance shows only slight differentiations from the standard Mustang EcoBoost. The first thing you'll notice is the "engine-turned" aluminum instrument panel, with oil pressure and boost gauges positioned above the center stack. But these models also have a dash plaque showing the car's serial number.
Other than that, it's a pretty straightforward cabin, with ebony cloth seats with white accent stitching and the "Mustang" lettering embossed in the front buckets. This tester also added the $2,000 101A Equipment Group that tacks on dual-zone automatic climate control, SYNC 3 infotainment system, a nine-speaker audio system, and selectable drive modes with cool toggle switches.
Compared to the sport bucket seats that are offered on the Mustang GT and Shelby Mustang models, the base seats are more comfortable but (obviously) offer less lateral support. While the Mustang Convertible is technically a four-passenger car, the rear seats are reserved for small children or handbags. Overall, the cabin is spacious for a sporty convertible, and even features 11.4 cubic-feet of truck space. In case you're really on the fence between buying a convertible Mustang or Camaro, that's four cubic-feet more than its arch rival offers.
---
2020 Ford Mustang 2.3 High Performance Performance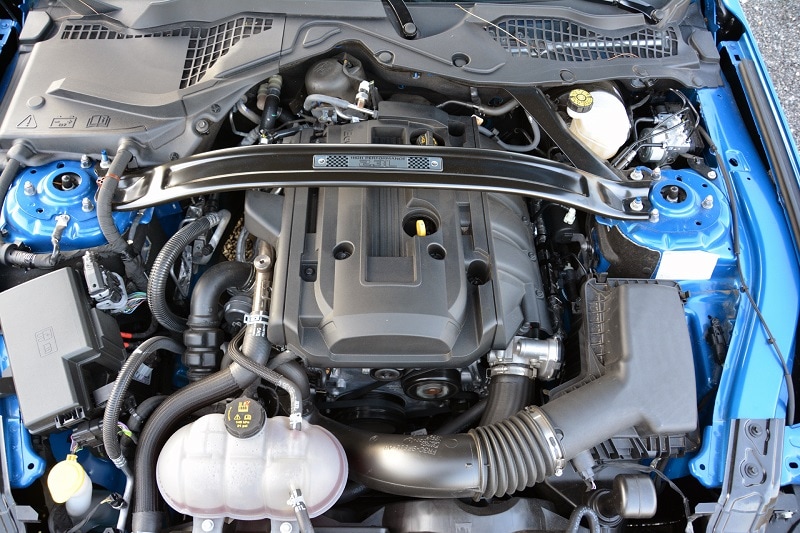 Speaking of the Camaro, the output of the standard Mustang EcoBoost already handily outperforms its four-cylinder Camaro counterpart, and the 2020 Ford Mustang 2.3L High Performance gets a larger turbo and radiator to help squeeze an extra 20 horses from this engine. That's a total of 330 horsepower to go along with 350 lb-ft of torque, and 90 percent of that is available between 2,500 rpm and 5,300 rpm. For those keeping score, that gives this Mustang a significant advantage over the turbocharged four-cylinder Camaro, which is rated at 275 horsepower and 295 lb-ft of torque.
According to Ford,, this extra power gives Mustangs equipped with the 2.3L High Performance Package a zero-to-60 time in the mid-four-second range, and a top speed of 155 mph. That's comparable acceleration to the Mustang GT, but despite the added performance, this package still has stellar fuel economy, with official EPA-rated estimates of 19 mpg in the city and 26 mpg on the highway. That's significantly better than a Mustang GT, and not much of a drop from the standard 2.3L EcoBoost model. After a week of driving of this convertible tester, the trip computer showed an average of 22.6 mpg in mixed driving, which included a decent number of heavy-footed acceleration tests.
The 2.3L High Performance Package is available with an optional ten-speed automatic, but it's obviously more fun when equipped with the six-speed manual, as was the case with this tester. Keeping the engine at higher revs allows the active valve performance exhaust system to give this Mustang an incredible exhaust note when in Sport mode, but flipping the toggle switch back to Normal mode will avoid irritating the neighbors. What really makes the 2020 Ford Mustang 2.3L High Performance fun to drive is the assortment of enhancements that were trickled down from the Mustang GT, including the tuning of the chassis, steering, braking, and stability control systems. There are also heavy-duty front springs and a larger rear sway bar.
---
2020 Ford Mustang 2.3 High Performance Safety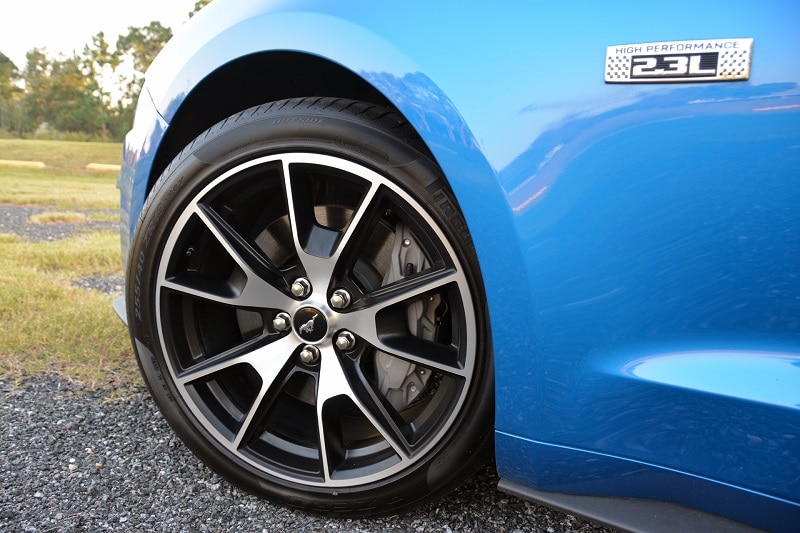 While the hard-top 2020 Ford Mustang has received a Five-Star overall crash rating from the National Highway Traffic Safety Administration, the convertible hasn't been tested yet.
Among the list of safety features that come standard on the 2020 Ford Mustang Convertible, the passenger-side knee airbag integrated into the glove box door is an industry-first feature. This maximizes safety while cutting weight, and preserves much-needed interior space.
---
2020 Ford Mustang 2.3 High Performance Overall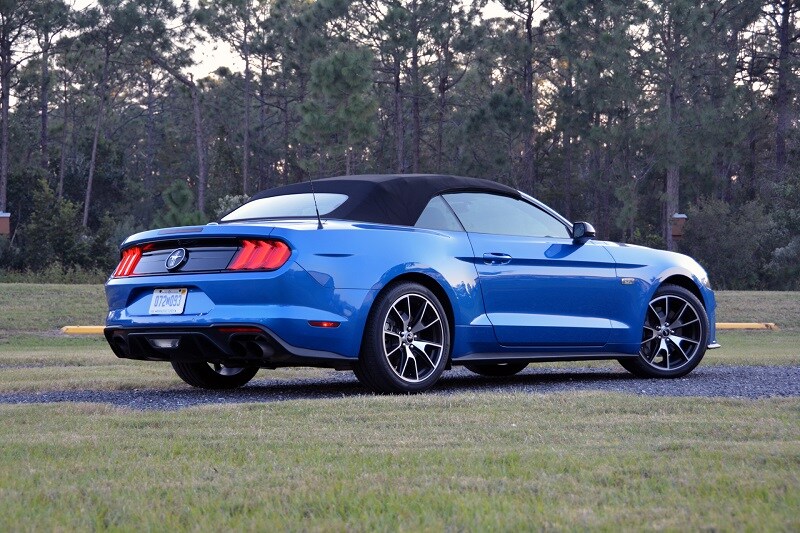 The 2020 Ford Mustang literally offers something for anyone ranging from the base Mustang, all the way up to the legendary Shelby GT500. The 2020 Ford Mustang 2.3L High Performance sits right in the middle, and will prove a Goldilocks-like fit for many enthusiasts. 
This new model is designed to be a fun and efficient sports car for driving around town, while delivering GT-like performance and corner carving capability, and in my opinion, it's a success. One of the best reasons to love the Mustang has always been its affordable starting price, and the 2020 Mustang Convertible provides plenty of value with a base MSRP of $32,170. Adding the 2.3L High Performance costs an extra $4,995, and other options left this tester with a reasonably affordable as-tested price of $40,260.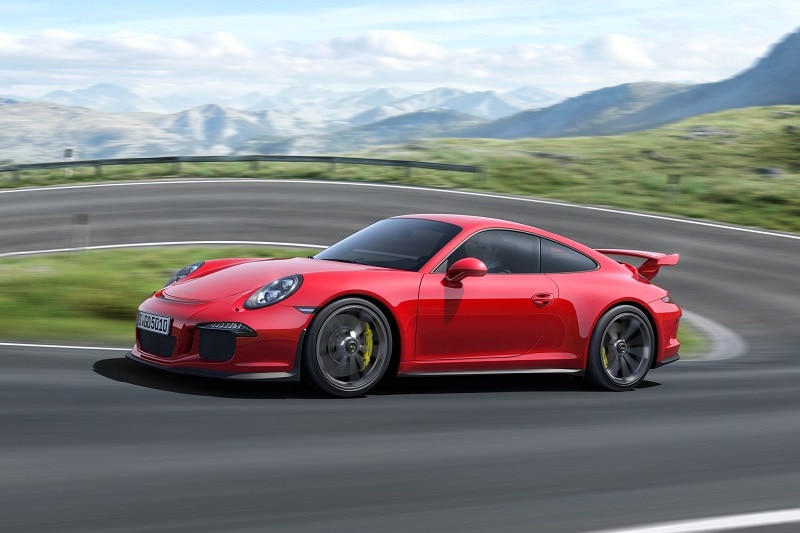 Classic Car Research
Whether you want a project for the garage or a beast for the streets, check out our classic car research.
---
2020 Ford Mustang 2.3 High Performance Specs
Layout
2-door, 4-passenger, RWD
Engine/Transmission
2.3L V6, 330 hp, 350 lb-ft
Six-speed manual
Mileage
19/26 mpg (city/hwy)
---
AutoNation Drive Test Drive Review: ★ ★ ★ ★
---
More Research
Browse more automotive research than you can shake a stick shift at.
---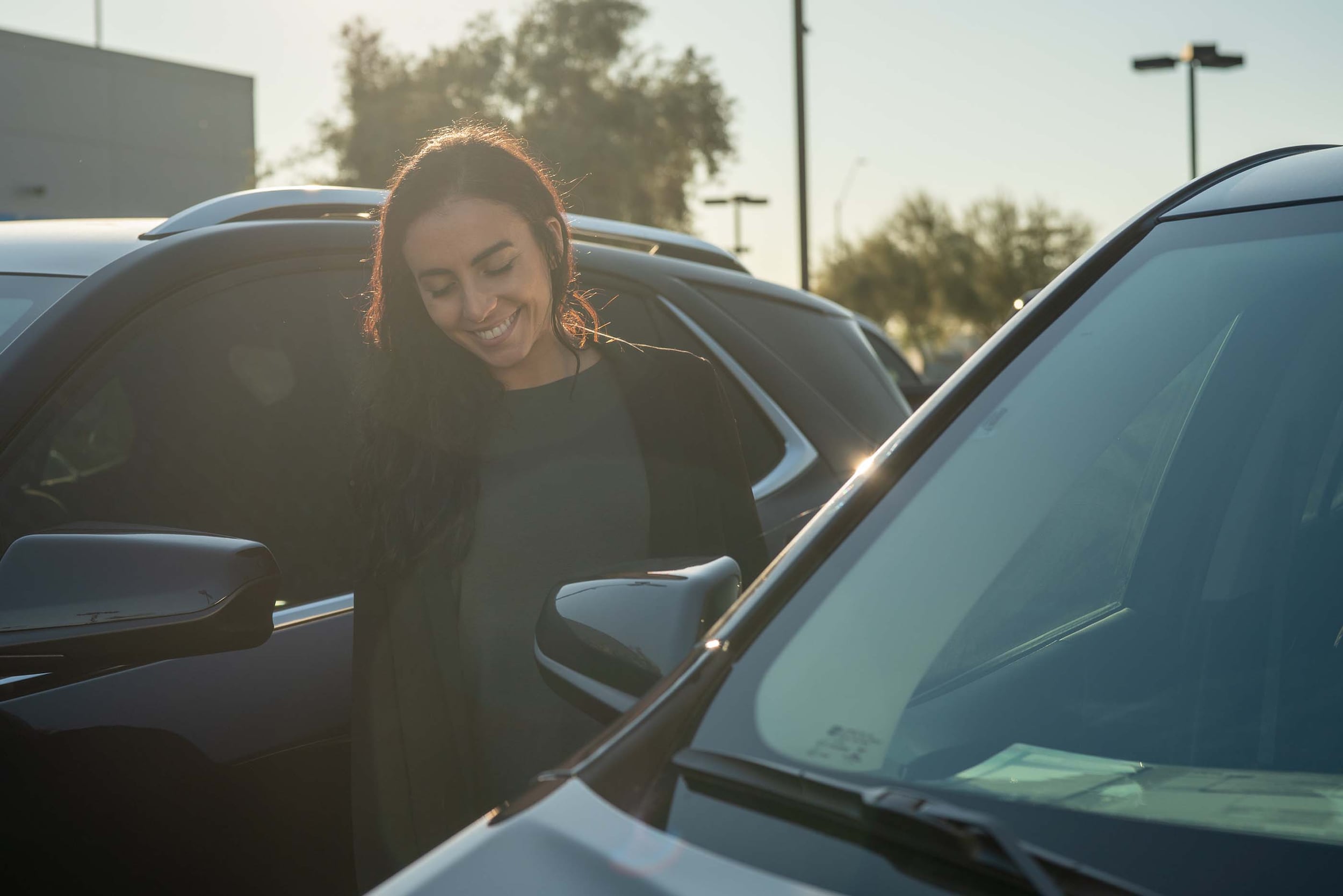 Test Drive Reviews
Our automotive experts at AutoNation Drive weigh in on price, safety, and performance of popular cars, trucks, and SUVs.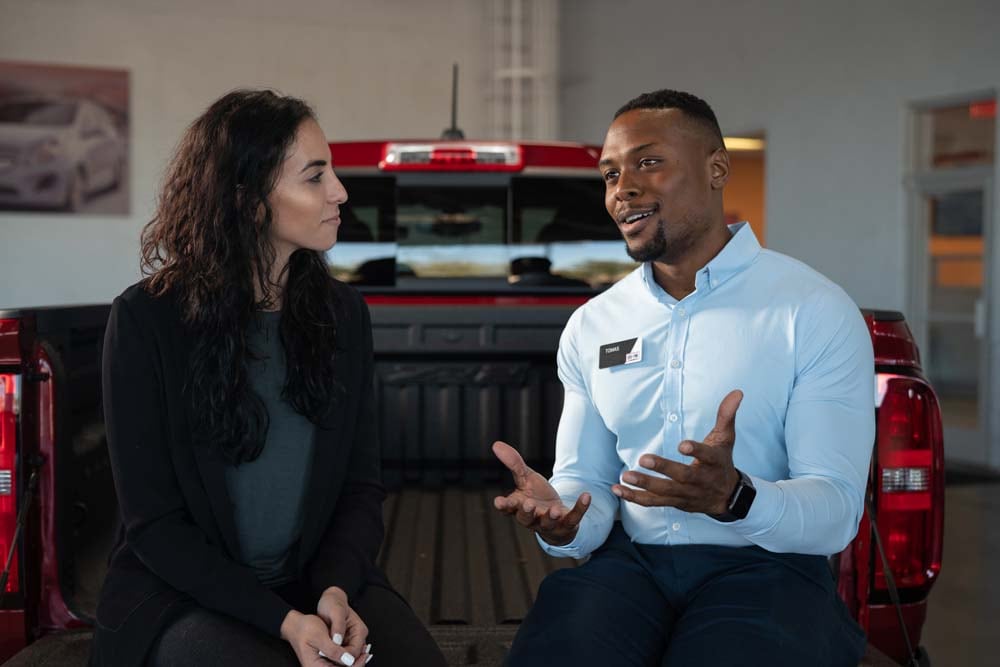 Car Buying Advice
If you're buying a car, truck, or SUV, the chances are - you need help. Don't worry. Our automotive experts are here to help.
---
*MSRP excludes tax, license, registration, destination charge and options. Dealer prices may vary.
**Based on EPA mileage ratings. Your mileage will vary depending on specific vehicle trim, how you drive and maintain your vehicle, driving conditions, and other factors.