Derek Shiekhi | Dec 14, 2020
---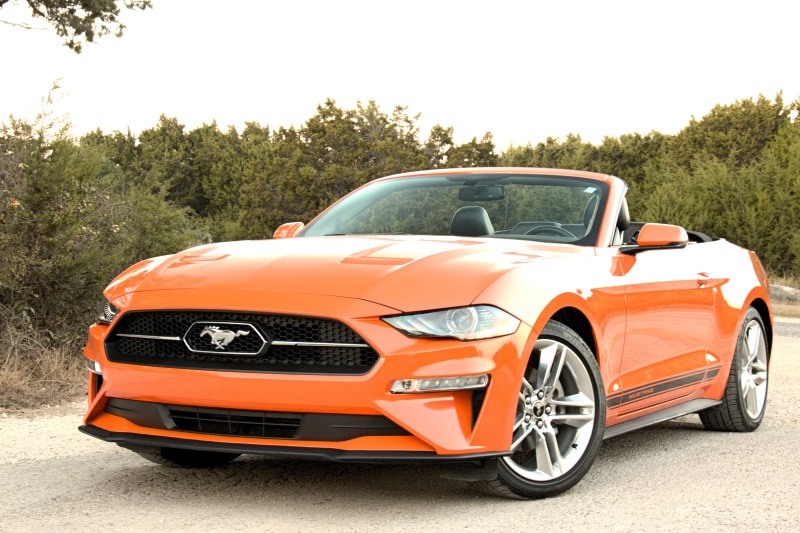 If you've been wanting to get a new Ford Mustang, now's the time to get one. The Mustang lineup has never been as versatile or powerful as it is in 2020. The entry-level EcoBoost model offers the Mustang's attractive styling and budget-friendly turbocharged 4-cylinder power. The available 2.3L High Performance Package and EcoBoost engine options take the 4-banger 'Stang to the next level of acceleration, braking and handling.
Of course, there are multiple V8 options, too. The base model is the 460-horsepower GT. Two tiers of performance packages are available to push it closer to the ground and sharpen its reflexes. Opting for the Bullitt not only gets you throwback Steve McQueen style, but some extra Charger-pursuing grunt. Then there's the Shelby GT350 and its more focused GT350R sibling, both of which are powered by a 5.2-liter V8 with a distinct sound that only a flat-plane crankshaft can produce. At the top of the Mustang model range is the reborn GT500, which uses a supercharged version of the GT350's engine and routes its 760 horsepower through a 7-speed dual-clutch gearbox.
Over the past several years, my colleagues and I here at AutoNation Drive have shared our driving impressions of nearly every single one of the available Mustang variants with you. In March of this year, I told you about my time manually shifting gears behind the wheel of the EcoBoost Convertible. Now it's time to scratch the 10-speed-automatic version off of the list.
---
2020 Ford Mustang EcoBoost Premium Convertible Exterior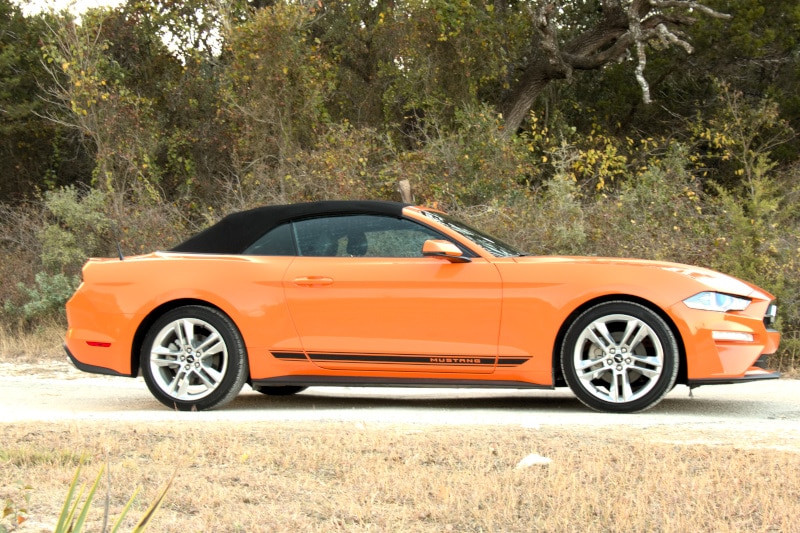 Ford made several minor updates to the overall Mustang lineup for 2020. The bulk of those are tech-related, but there is a notable cosmetic change. Iconic Silver, Rapid Red Metallic, Grabber Lime and the color pictured in this review, Twister Orange Tinted Clearcoat, join the palette of color options. That was perfect for my test car. Driving a convertible should feel fun and care-free; jumping into a bright orange convertible instantly puts you in that kind of mood.
Lowering the fabric roof is not exactly a one-button operation, but it's close. It requires twisting a handle where the roof meets the windshield frame, pushing a rocker switch to separate them from each other, twisting the handle back into position, then holding the switch down until the ragtop is folded behind the rear seats.
A Mustang with its top down is a classic look. The available Pony Package strengthens the connection to yesteryear by adding features such as a "corral" around the front pony logo, side stripes and tri-bar pony badge on the rear end.
---
2020 Ford Mustang EcoBoost Premium Convertible Interior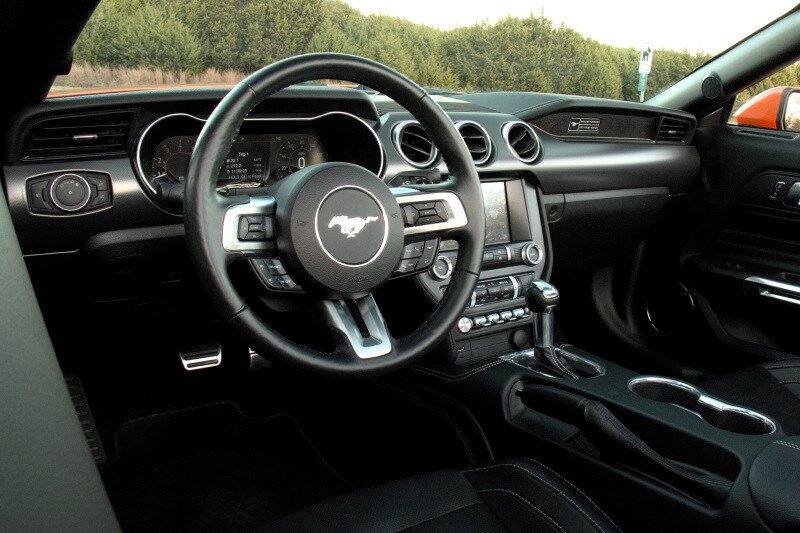 The temperatures in Austin, Texas finally started cooling down right when the Mustang EcoBoost arrived in my driveway. Thankfully, Ford configured my tester as an EcoBoost Premium, so it had 6-way power heated (and ventilated) front seats. Those, along with the 201A Equipment Group's heated steering wheel, allowed me to go cruising in comfort with the top down one particularly chilly evening as the sun was setting. That bundle also upgraded the Mustang's tech by replacing the analog gauges with a 12-inch LCD display and adding voice-activated navigation to the SYNC 3 infotainment system.
All 2020 Mustangs, regardless of spec or trim level, come standard with FordPass Connect, which allows you to do things such as lock, unlock and even locate your car through a smartphone app. Mustangs with the available 10-speed automatic can be started up remotely.
With its windows up, the Mustang did a nice job of keeping in-cabin turbulence under control. I didn't have to shout to carry on a conversation with my fiancé during open-air drives. When the top was raised, the amount of outside noise I heard left no doubt that I was in a convertible, but it wasn't as loud as I expected it to be.
---
2020 Ford Mustang EcoBoost Premium Convertible Performance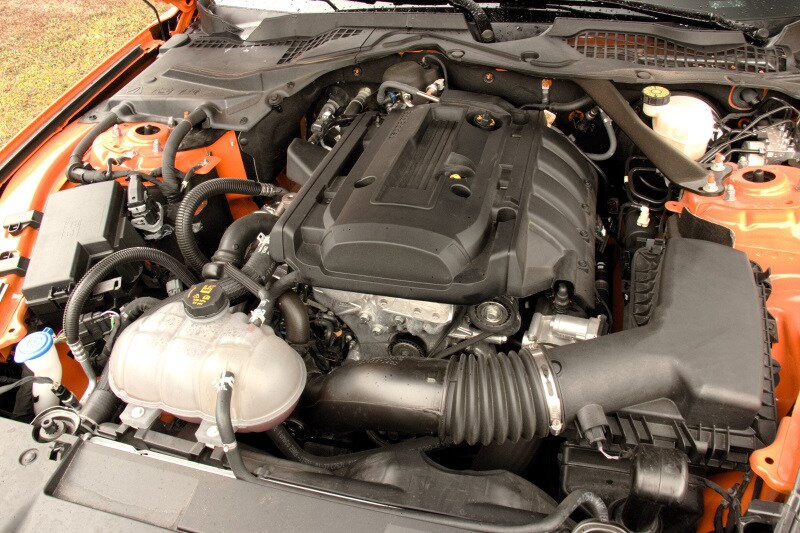 The basic version of the Mustang EcoBoost's turbocharged 2.3-liter I4 is a substantial baseline for the rest of the model range. With 93-octane fuel in the tank, output is a healthy 310 horsepower and 350 lb-ft of torque, all of which made their presence known when I put my right foot down hard. I did that a lot during my week with the Mustang and managed to average 22 mpg over the course of 278.9 miles - just short of the EPA's combined fuel economy rating of 23 mpg.  In the city, the Mustang EcoBoost Convertible is capable of getting 20 mpg; on the highway, it can cover 28 mpg.
A toggle switch behind the shift lever for the ten-speed automatic allowed me to switch between the Mustang's various drive modes. In Normal, the Mustang was perfectly sedate. S+ was happy to keep the revs high so that instant acceleration was always within easy reach. Although I found myself wishing the shift lever had a separate gate for "manual" shifting (the stubby shift paddles behind the wheel performed the same function), I appreciated the fact I could drop it directly into the "S" position to engage Sport mode, the sweet spot of responsiveness and reasonable revs between Normal and S+.
Curvy roads reminded me of another thing that makes the Mustang EcoBoost such a pleasure to drive: The simple act of steering. It starts with the wheel itself. The second I wrapped my hands around it, its diameter and rim thickness felt exactly right. Ford nailed the proportions. Then there's the weighting, which strikes a balance between lightness and firmness.
---
2020 Ford Mustang EcoBoost Premium Convertible Safety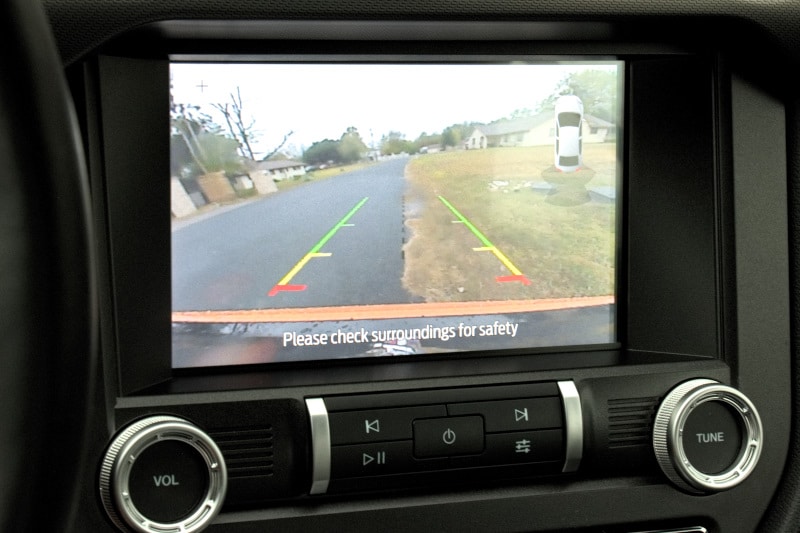 The Mustang EcoBoost Premium Convertible gallops into 2020 with front, knee and side-impact airbags (front row only), as well as features such as traction control, stability control and a post-crash alert system. Thanks to the 201A Equipment Group, my media vehicle was equipped with Ford's Blind Spot Information System with Cross-Traffic Alert.
---
2020 Ford Mustang EcoBoost Premium Convertible Overall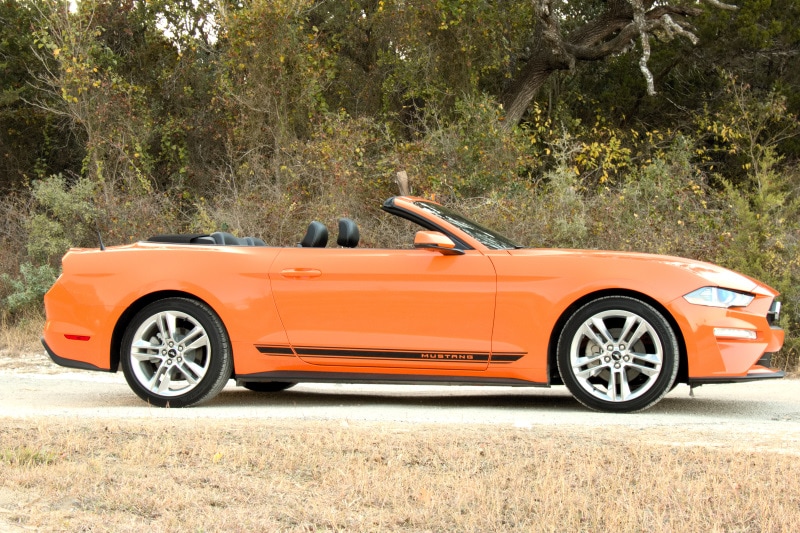 Anytime is a great time to get a new Mustang, but that's especially true this year. There's no shortage of options - or power. Whether you want a mean green machine that harkens back to the late '60s, supercharged drag strip monster or powerful yet relatively economical droptop, you can find it at an AutoNation Ford dealership. Prices for the 2020 EcoBoost Premium convertible start at $37,185. One optioned just like the one in this review will have a final price of $43,465.