Derek Shiekhi | Dec 03, 2020
---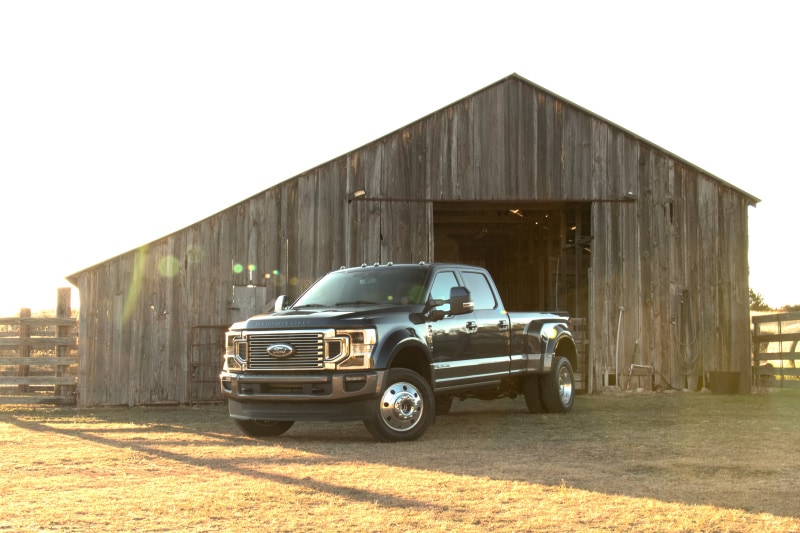 There should be a genre of literature called "Unused Instruction Manuals." Each volume is a perfectly crisp, untouched guide that came in the box with something that required a microscopic iota of thought to figure out and use. A popular subject would be vacuum cleaners. Just plug one in and start cleaning. Even a Post-It note of guidance would be too verbose.
It's the same way with Ford's Super Duty trucks. How do you use one of them? Start it up and put it to work. It really doesn't matter what kind of work that is. The Super Duty can handle it. Last year, I used a 2019 F-250 King Ranch to pick up more than 3,400 pounds of road base for a home improvement project. When my friend Bryan wanted to tow his BMW M Roadster from the Dallas area down to Austin, I hitched the trailer it was on to the back of a 2019 F-450 Limited and pulled the 5,200-pound load to its new home . Since then, Ford thoroughly revised the Super Duty lineup. There's new styling at both ends.
The engine array now includes the base 6.2-liter gas V8, an all-new 7.3-liter V8 and a more potent 6.7-liter Power Stroke turbodiesel. The six-speed automatic is still available; trucks with the larger gas power plant or Power Stroke come standard with a new ten-speed transmission. Upgrades to the Super Duty's connectivity, safety and trailering tech make it a more convenient and user-friendly tool for getting things done. And the Tremor is back after a long absence. This time, it's the ultimate off-road package for the F-250 and F-350.
When I learned that my local Ford media fleet had a 2020 Ford F-450 King Ranch (base price: $77,045, as-tested price: $85,360), I knew I had to get my hands on it - and just what to do with it.
---
2020 Ford F-450 King Ranch FX4 Exterior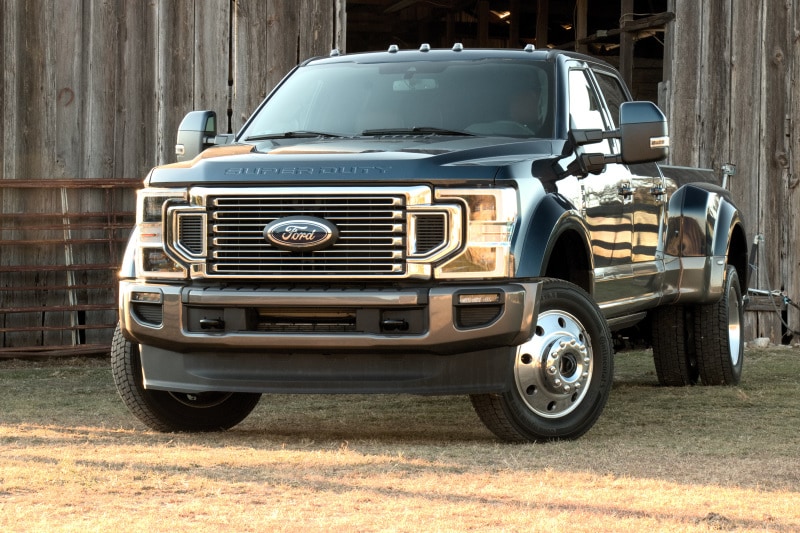 My buddy Jake checked with a couple of his relatives and they allowed me, Jake and my fiancé Eli to go out to their ranch near Lampasas so I could shoot the F-450 in one of its natural habitats. It was perfectly dressed for the location.
Ford configured my test truck with Stone Gray on the bottom and Blue Jeans Metallic on top. It had the hardware to go with its rugged duds, too. The redesigned grille allowed more air to flow through to the monstrous diesel behind it. I had to enter the narrow gates on the ranch cautiously because the F-450's rear fenders stuck out so far, but when I had to back through one, the power-telescoping and -folding trailer towing mirrors helped me guide the F-450's back end through them without scraping. Getting to the barn required going down some uneven gravel trails. Just to make sure the F450 kept its footing, I shifted it into 4H on the fly and let its 19.5-inch forged aluminum wheels and 225/70R tires take care of the rest.
I knew I had to get some sort of use out of the F-450's eight-foot bed, so I called the Austin Resource Recovery Center and scheduled two drop-off times: the first for a malfunctioning TV, the second for a load of old tires.
Given how high off the ground the lined bed was, I was thankful my press loaner was equipped with Ford's convenient tailgate assist step and bar. After my brother helped me load the TV into the bed, he took a step back and marveled at how small it look inside the F-450's cargo box. In a room, the 72-inch screen looked enormous. Between the wheel wells of the Super Duty, it may as well have been an iPad. If I had stood the tires up, I could've fit all nine of them and several more without an issue. Even laid flat with two to a stack, they didn't reach the top of the F-450's bed sides.
---
2020 Ford F-450 King Ranch FX4 Interior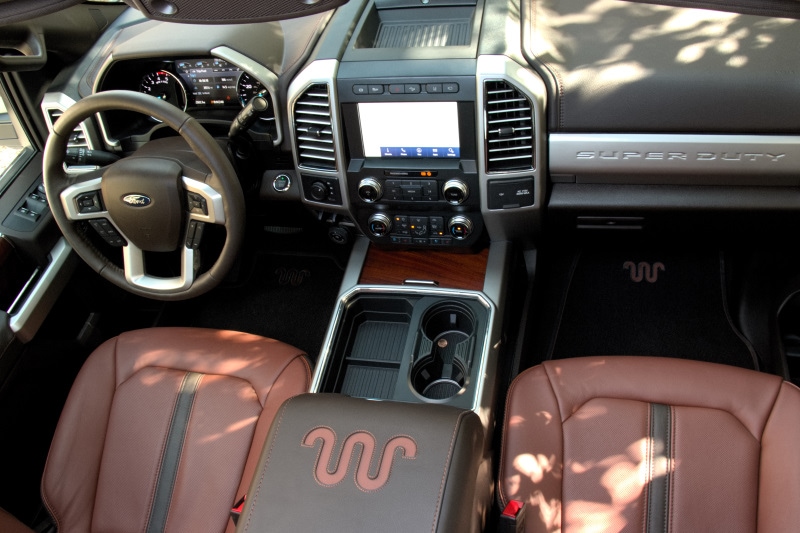 Jake, Eli and I definitely took the right vehicle for our day trip. The F-450's cabin was decked out with the colors you'd expect to see on a ranch. Metallic accents added industrial style. The Kingsville leather seats brought saddles to mind. It was hard not to look at the dark brown leather on the steering wheel and dashboard and not think of cattle roper gloves.
We sure didn't get any blisters or saddle sores, though. The 1.5-hour trip to the ranch was completely comfortable. The front seats were heated, ventilated and provided a massage with the push of a button. Room in the second row was plentiful. Dual-zone climate control allowed everyone to be perfectly cool.
After Jake keyed in the city of Lampasas on his iPhone, he plugged it into the Apple CarPlay- and Android Auto-compatible SYNC 3 infotainment system and I followed the directions on the F-450's eight-inch touchscreen. The whole time, I was able to charge my phone on the wireless charging pad below the HVAC controls. Once we were at the ranch, the daylight faded so quickly that it spoiled our plans to do some more intense off-roading and test out the FX4 package's specially tuned shocks and Hill Descent Control. The tradeoff was we were able to bask in the starlight that shined through the dual-panel moonroof included in the King Ranch Ultimate Package.
---
2020 Ford F-450 King Ranch FX4 Performance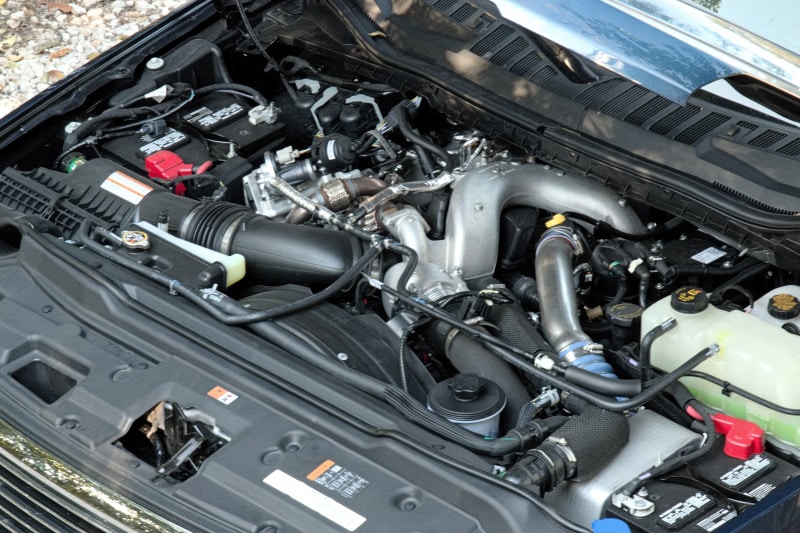 Ford equipped the newest iteration of the 6.7-liter Power Stroke turbodiesel V8 with a stronger block and heads, redesigned variable-geometry turbo and new pistons and fuel system hardware. Output is now 475 horsepower and 1,050 lb-ft of torque. With four-wheel drive, 4.30 rear gearing and a GVWR (Gross Vehicle Weight Rating) of 14,000 pounds, my test truck was capable of hauling 5,630 pounds of payload, conventionally towing 24,200 pounds and fifth-wheel/gooseneck-pulling 32,600 pounds.
---
2020 Ford F-450 King Ranch FX4 Safety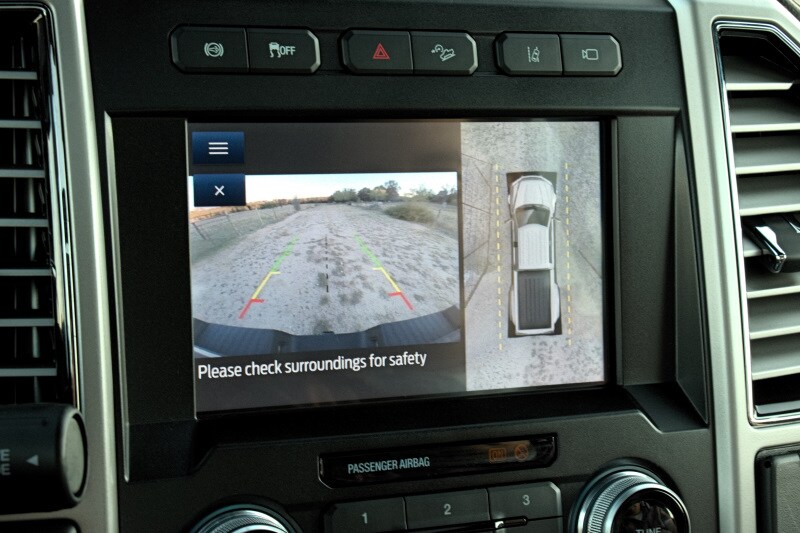 In addition to having thousands of pounds of aluminum around us, Jake, Eli and I were also surrounded by features such as Pre-Collision Assist with Automatic Emergency Braking, Lane-Keeping System and Blind Spot Information System with Cross-Traffic Alert.
The most useful bit of safety tech was the F-450's exterior camera system, which enabled me to see where the truck's extremities were when I was parking and maneuvering through tight spaces.
---
2020 Ford F-450 King Ranch FX4 Overall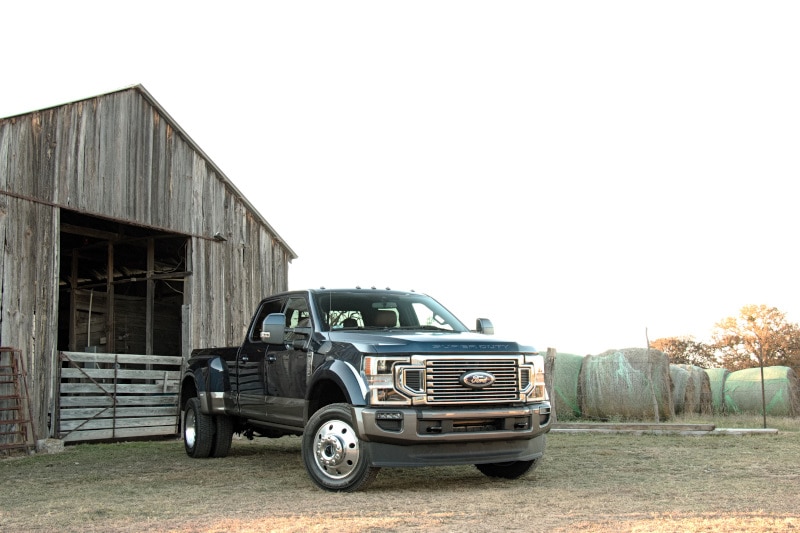 If you're in the market for a new diesel-powered truck that's as upscale as it is able, head to your closest AutoNation Ford dealership to take a closer look at the 2020 F-450 King Ranch. You can leave the manual in the glovebox. You've made it to this part of the review, so there's a good chance you know just how to use such a purpose-built machine.