Derek Shiekhi | Dec 03, 2020
---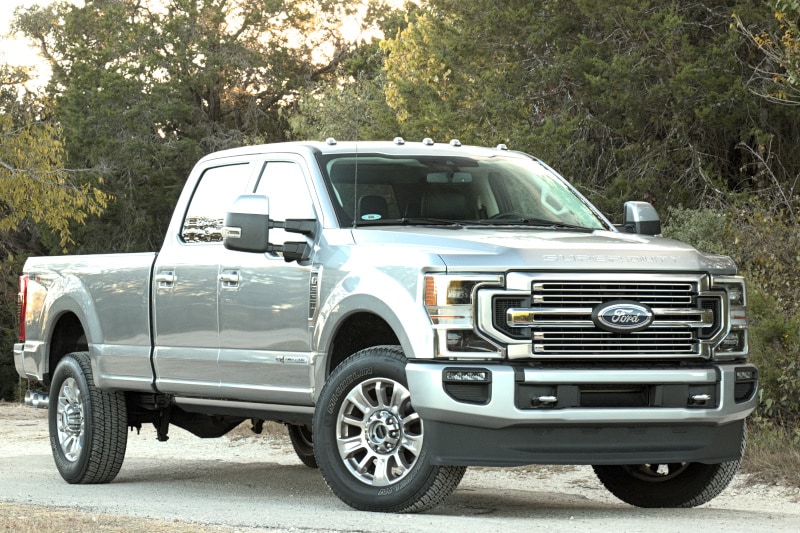 At the beginning of this year, I flew out to Arizona to drive Ford's 2020 line of Super Duty trucks. As part of an extensive mid-cycle refresh of its most capable pickups, the Blue Oval tweaked the exterior design, added more infotainment and safety tech inside, and upgraded and expanded the engine lineup.
An all-new 7.3-liter gas V8 sits between the base 6.2-liter V8 gasser and more powerful 6.7-liter Power Stroke turbodiesel V8. There are now two transmission options: the six-speed automatic from the 2017 to 2019 Super Duty and a new ten-speed auto. After being absent from the F-Series since the 2014 model year, the Tremor returns as the ultimate off-road package available on gas (7.3-liter only) and diesel versions of the F-250 and F-350. I spent a substantial portion of my drive day testing an F-250 Tremor's skid plates, 35-inch tires, Rock Crawl mode and limited-slip front and locking rear differentials on an off-road course set up at a quarry.
When I learned my local Ford media fleet had a variety of new Super Dutys in it, instead of trying to top the rock crawling and mud slinging I did during the media launch, I decided to go a different route and put a couple of the shiny new trucks to work. I started with a diesel-powered 2020 F-350 Limited (starting price: $85,105).
---
2020 Ford F-350 Limited 4x4 Exterior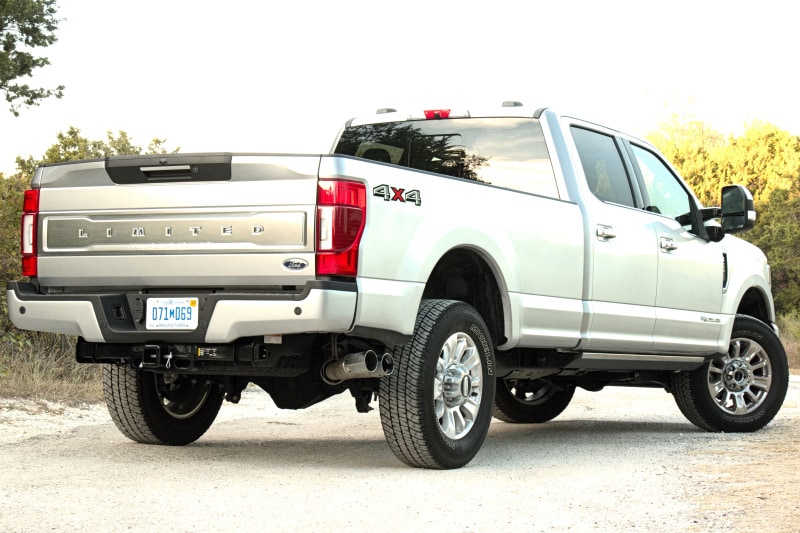 My four-wheel-drive test truck showed up with cosmetic and functional add-ons that took its as-tested price up to $89,040. It looked just like the tool it was designed to be. Its Iconic Silver paint, stacked grille bars, chiseled headlights and massive, chunky taillights gave it a sturdy, industrial appearance.
The timing was just right. My fiancé Eli had been wanting to upgrade from our queen bed to a king and found a great deal on one shortly before the F-350 arrived in our driveway. There was more than three feet of space between the ground and open tailgate, so I pulled out the helpful tailgate assist step and grab bar to make loading everything easier. The lined eight-foot bed's inner dimensions (98.1 inches long, 50.5 inches between the wheel wells and 66.9 inches of maximum width) easily swallowed the stacked pair of box springs. By placing the 76-inch-by-80-inch mattress on top of them and bending one of its sides downward, my friend Austin and I were able to make everything fit. A lack of cleats in the middle of the bed sides meant we had to get creative about strapping everything down. We didn't have to worry about the box springs sliding out because we had more than enough room to close the tailgate. (Fitting the smaller queen-size mattress, box springs and partially collapsed frame into the bed was even easier.)
The drawback to that long bed was that it made my press loaner more than 22 feet long. Wheeling the F-350 around reminded me of driving a very different vehicle. A few years ago, I attended the Land Rover Driving Experience in Manchester, Vermont behind the wheel of a new Discovery. One of the instructors there told me that if I needed to drive around an obstacle on a trail, such as a tree, that I should pull up to the Discovery's "pivot point" - roughly in the middle of the body - and turn around it. Given how enormous the F-350 was, I found myself using its pivot point frequently.
---
2020 Ford F-350 Limited 4x4 Interior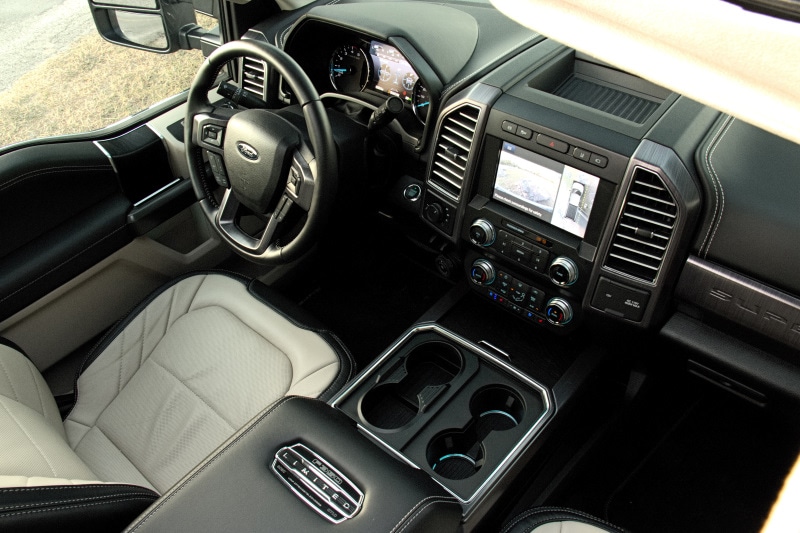 It took some grunt work to get the bed loaded for the trip home, but riding home in the F-350 Limited was nothing but pleasant. The suede-like microfiber headliner surrounded the dual-pane moonroof and its power-retractable shade.
In the front row, the two-tone leather seats offered multiple stages of heating, ventilation and massage. Wood accents flowed over the tops of the door panels and sliding lid that covered the wireless charging pad. With a few taps on the SYNC 3 infotainment system's eight-inch touchscreen, I was able to check the weather through the SiriusXM Travel Link app and confirm that I wouldn't be unloading the bed in the middle of a rainstorm.
Austin and his girlfriend Rachel met Eli and I at our place so Austin could help. Once we pulled all of the cargo straps off, I flipped up the F-350's heated rear seats to access a full-width erectable storage compartment and threw them inside of it. The F-350 made getting my new bed home easy. The hard part was hauling the floppy mattress's dead weight up the stairs. 
---
2020 Ford F-350 Limited 4x4 Performance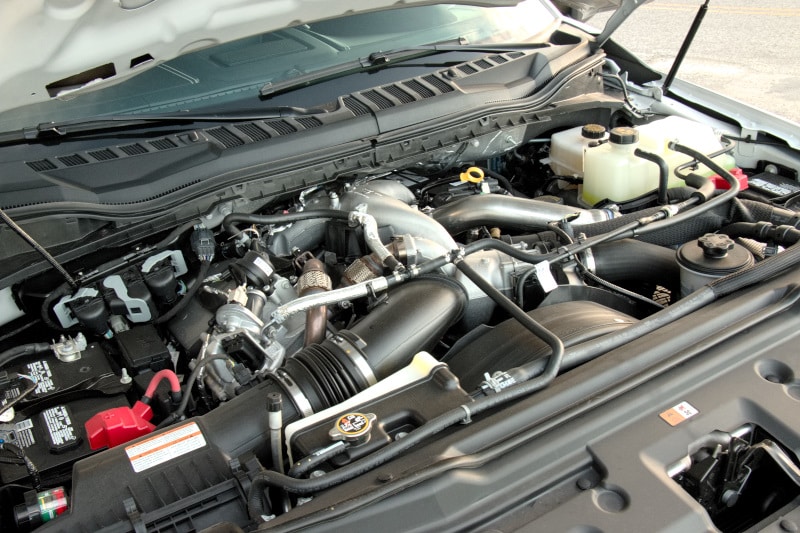 I may have broken a sweat, but the F-350 sure didn't. As configured with its diesel engine, four-wheel drive setup, eight-foot bed, 3.55 rear axle ratio and GVWR rating of 12,400 pounds, my tester was capable of hauling up to 4,580 pounds, bumper-pulling 20,000 pounds and fifth-wheel/gooseneck towing 22,000 pounds. In other words, my media truck could've transported enough mattresses to fill a small hotel.
A big part of those immense capabilities came from the F-350's 6.7-liter Power Stroke turbodiesel V8. I knew its 475 horsepower and 1,050 lb-ft of torque, channeled through the ten-speed automatic, would make the F-350 an absolute monster on the street. What I didn't expect was just how much pull it had left in it after 70 mph. The manic energy with which it accelerated past that speed was startling. The EPA doesn't calculate fuel economy figures for trucks like the F-350. That didn't stop me from keeping track of my diesel mileage. I put 262.9 miles on the F-350 and averaged 15.8 mpg.
---
2020 Ford F-350 Limited 4x4 Safety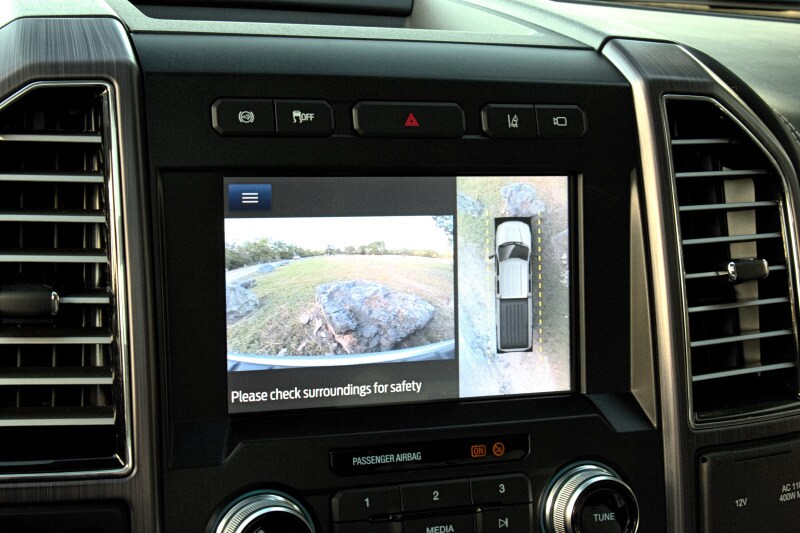 Like other XLT and above 2020 Super Dutys, my Limited test truck had automatic high beams, Lane-Keeping Alert, Blind Spot Information System with Trailer Coverage and Pre-Collision Assist with Automatic Emergency Braking as standard equipment.
As comforting as it was to know those features were watching out for me, I found the F-350's massive tow and blind spot mirrors and 360-degree camera system to be the most useful.
---
2020 Ford F-350 Limited 4x4 Overall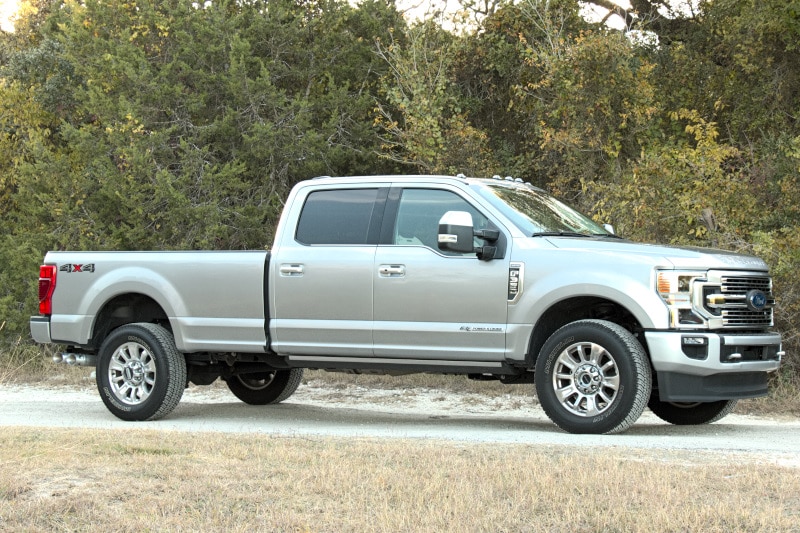 The Ford Super Duty is more powerful and capable than ever. If you want a luxurious truck that can help you move a room's worth of furniture or an entire houseful of it, head to an AutoNation Ford dealership to test drive the 2020 F-350 Limited.