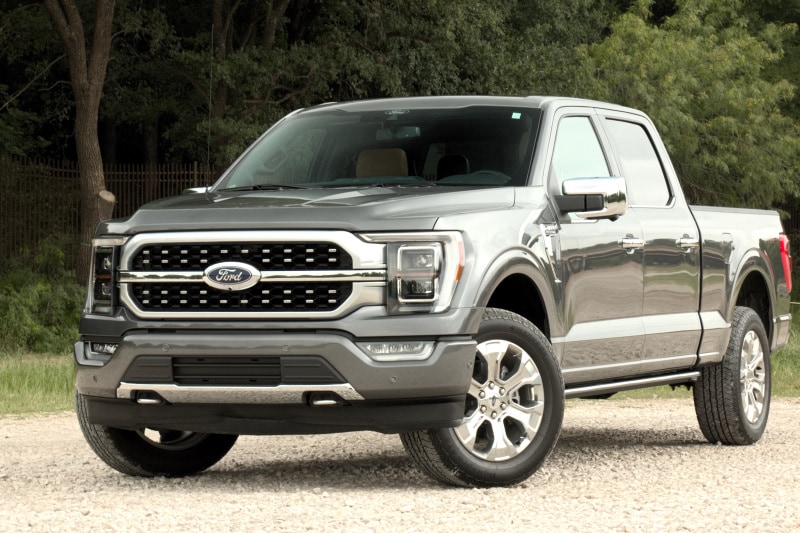 I recently had the opportunity to drive a relatively rare vehicle. It wasn't a vintage sports car with a seven-cylinder K-shaped engine that was made in a country that doesn't exist anymore. It was a modern full-size pickup truck. Those certainly aren't hard to come by these days. They're all over the place. Even the more expensive, high-end models are common sights. On the surface, the 2021 F-150 Platinum 4X4 I spent a week driving is a ubiquitous vehicle. Its engine was what made it a bit of an anomaly these days. RAM offers five engine choices in the 1500; three of them are V8s, but one of them is the supercharged 6.2-liter Hellcat that you can only get in the $70,000+ TRX. Half of the Chevrolet Silverado 1500's six-engine lineup is made up of a turbodiesel inline-six, gas V6, and turbocharged four-cylinder power plant. There is only one V8 in the entire Ford F-150 engine assortment (until the 2022 Raptor R shows up); the rest are six-cylinder gas, diesel, or hybrid units.
My $69,400 test truck had that lone V8, a naturally aspirated 5.0-liter with the throaty roar that you just can't get out of its V6 siblings. Luckily, it also had an extended-range 36-gallon fuel tank, which came in handy during a trip back home to Austin, Texas.
Shop Ford F-150 Platinum 4X4 Inventory
---
2021 Ford F-150 Platinum 4X4 Exterior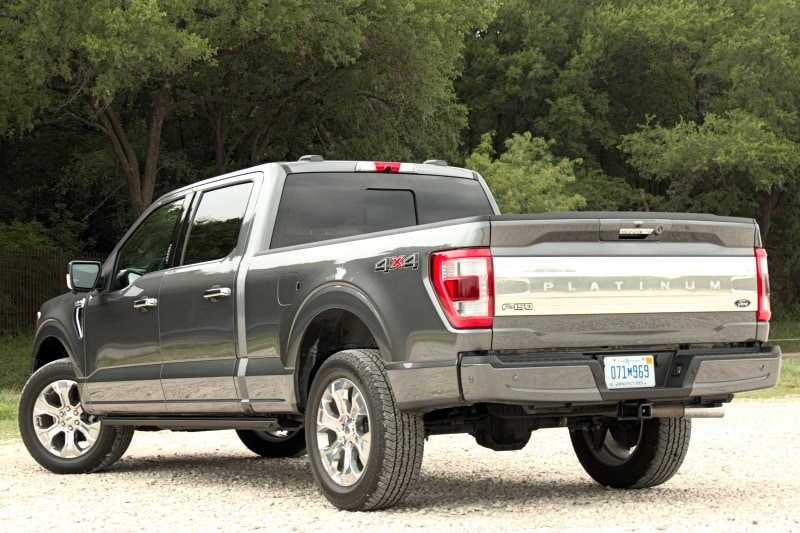 In redesigning the F-150 for 2021, Ford managed to walk a fine line. It managed to make it look different from its predecessor while maintaining its identity as an F-150. Having lived in Texas until January of this year, I would know because I had seen hundreds of the 2015 to 2020 models on the road there, and I've gotten an eyeful of several 2021 models over the past few months.
For my particular media loaner, Ford went with the subtle Carbonized Gray. It was attractive by itself, but also made the polished aluminum 20-inch wheels and chrome grille, front fender trim pieces, door handles, mirror caps, power-deployable running boards, and full-width tailgate applique shine even brighter.  Thanks to the 701A High trim package upgrade, the tailgate at the end of the 6.5-foot tailgate could be lowered by pressing a button in the cab or on the key fob and had the integrated assist step and grab bar.
Shop Ford F-150 Platinum 4X4 Inventory
---
2021 Ford F-150 Platinum 4X4 Interior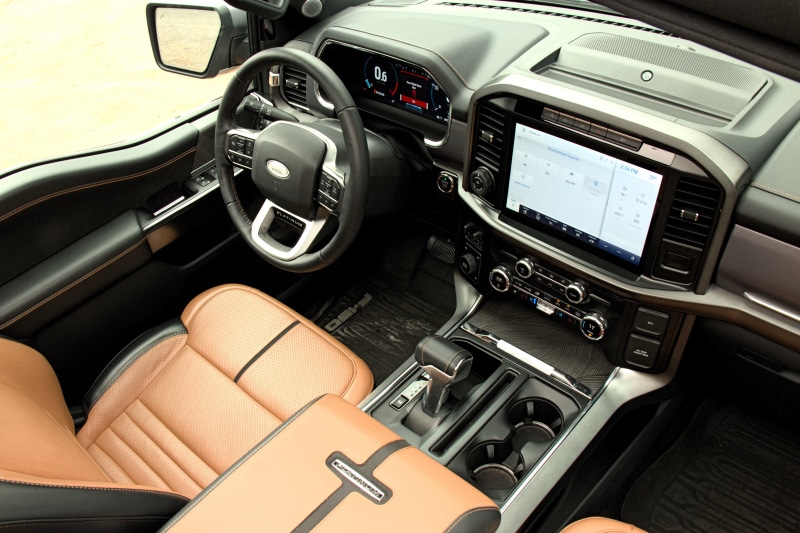 The day after I drove the 2021 Jeep Wrangler 4xe during its official media launch in Austin, I went up to Round Rock to visit some family members for my birthday. They treated me to a wine tasting out in Dripping Springs and BBQ from an old favorite place of mine in Spicewood. We ended up spending a substantial amount of time in the truck, so I was especially grateful for all of its convenience and comfort features.
The front seats were heated, but most importantly, ventilated. I missed my family and friends, but I sure didn't miss the Lone Star State's humidity. Most of the time I spent driving, I was getting a massage of one kind or another from the menu of available options. Large dials for the dual-zone climate controls and a paddle switch for the fan speed made getting the perfect temperature for both sides of the cabin quick and easy. I pulled up the address to the winery on my iPhone XR and using the wireless Apple CarPlay interface, threw the map to it up on the F-150's massive 12-inch touchscreen. My dad and I were able to keep our phones charged with the wireless charging pad and the built-in 120-volt outlet. Two of my other family members riding in the back had more than enough legroom to keep them comfortable and their own HVAC vents and charging ports. We made sure to get sweet tea, the perfect beverage to go with Texas BBQ. Luckily, we had plenty of cupholders to keep our drinks secure for the drive back to Round Rock.
Shop Ford F-150 Platinum 4X4 Inventory
---
2021 Ford F-150 Platinum 4X4 Performance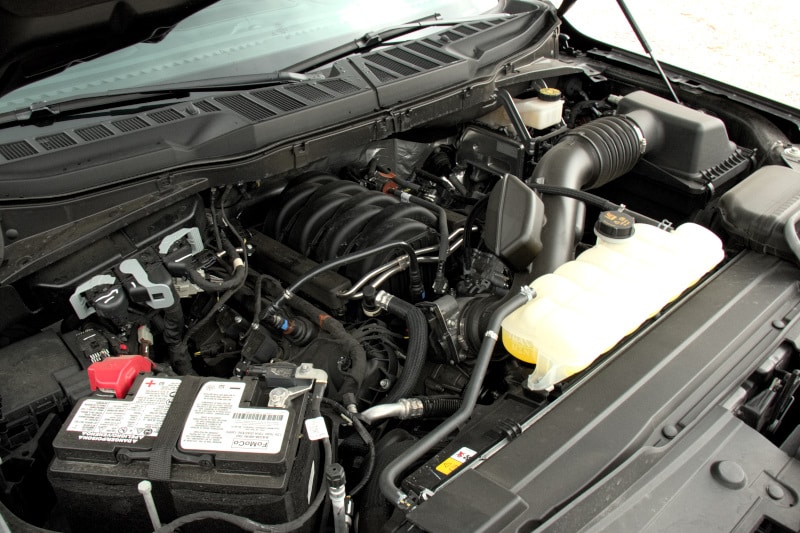 Since 2014, I've been lucky enough to drive at least eight different F-150s. Every single one of them had a six-cylinder engine of one kind or another, whether it was the first-generation 3.5-liter EcoBoost in the 2014 Tremor or the Power Stroke turbodiesel in the 2018 King Ranch. The 2021 Platinum's V8 was everything I thought it would be. When I put my right foot down hard, it let out an aggressive, throaty roar. Its 400 horses and 410 lb-ft of torque pulled hard, most noticeably when the ten-speed automatic was in third and fourth gear.
Judging by my fuel economy, I must've used Sport mode too often over the course of putting 464.9 miles on the F-150's odometer. Even though I racked up mostly highway miles, I still ended up averaging a gauge-indicated 18.3 mpg, slightly below the EPA's combined rating of 19 mpg for the 2021 F-150 with the V8 and four-wheel drive. On the plus side, I didn't have to fill up because I still had 125 miles of estimated range left in the giant tank.
If I had more time in town, I would've been able to put the F-150's capabilities to the test by helping my dad, who always seems to be working on a home improvement project, haul or tow something heavy. According to Ford's website, a truck configured like my tester with 3.31 gearing has a maximum potential payload rating of 2,135 pounds and the ability to tow up to 9,300 pounds. The tag on my tester's door jamb showed it had a Gross Vehicle Weight Rating of 7,150 pounds.
Shop Ford F-150 Platinum 4X4 Inventory
---
2021 Ford F-150 Platinum 4X4 Safety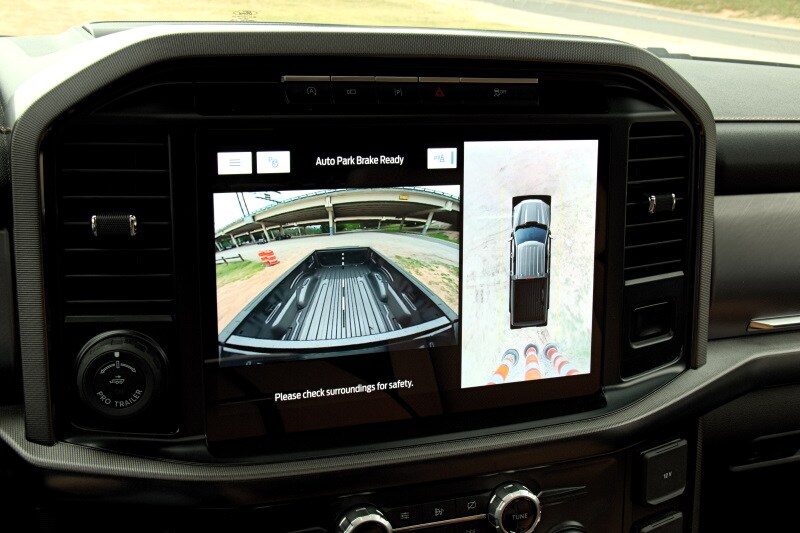 My travels also included driving from Round Rock all the way south to Manchaca and Kyle to visit more of my family. Given how large the F-150 was and how crazy some Austin drivers can be, it was nice to know the F-150 Platinum had features such as Blind Spot Information System with Cross-Traffic Alert, Evasive Steering Assist, Post-Collision Braking, and many others.
The most useful bit of tech was the 360-degree camera package, which made parking the wide and extra-long rig cleanly within the lines of parking spots a one-attempt process. Using the electronic wizardry of Active Park Assist 2.0 to do it all for me would've made it even easier.
Shop Ford F-150 Platinum 4X4 Inventory
---
2021 Ford F-150 Platinum 4X4 Overall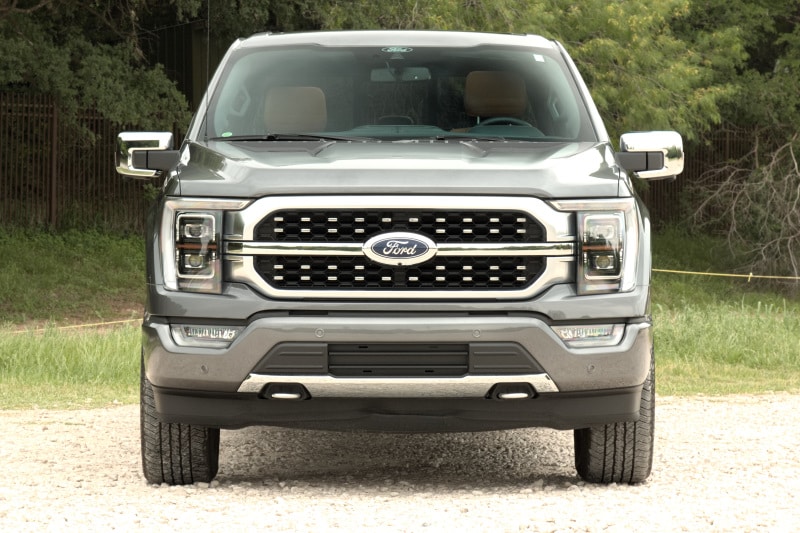 The V8-powered F-150 is a rare breed that's worth seeking out. It took me the better part of a decade to get my hands on it. Once the long-awaited moment to test one came, it did not disappoint. You can experience what I'm talking about at your closest AutoNation Ford dealership by taking the 2021 F-150 for a test drive.
Shop Ford F-150 Platinum 4X4 Inventory
---
Derek Shiekhi | Jun 01, 2021