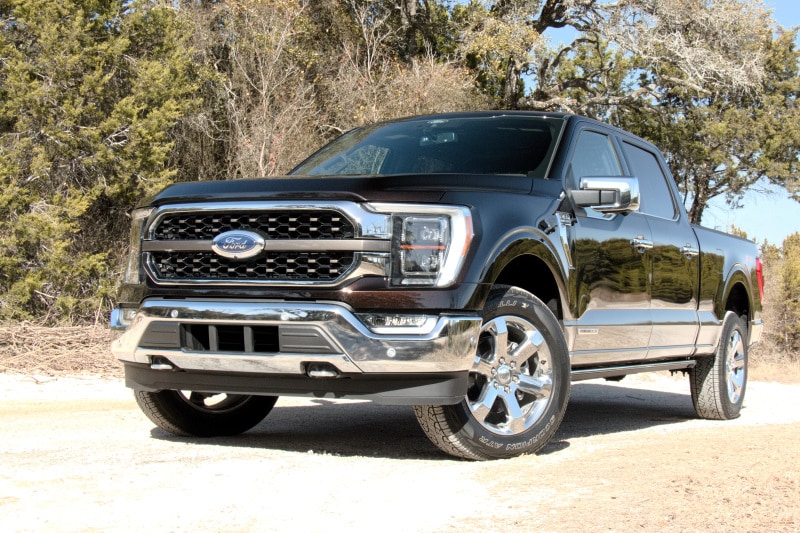 To say that 2021 is a big year for Ford is an understatement. Ford is releasing the new Mustang Mach 1, first-ever Mustang Mach E electric crossover and Bronco Sport, reborn Bronco and completely overhauled F-150. It's hard to think of another automaker that's brought out so many major models in such a short period of time.
The F-150 (MSRP: $28,940) is probably the most significant model in Ford's all-out 2021 product blitz. It's the highly anticipated next-generation version of one of its most iconic vehicles in a staggeringly popular market segment. Like the Mustang Mach E, it signals Ford's increasingly electrified future. For the first time ever, the F-150 is available as a hybrid. Properly equipped models can also be used as a generator for anything from camping trips to construction sites. There's even more tech available inside, including a new digital instrument cluster, massive touchscreen and SYNC 4 infotainment.
I got the chance to experience all of the updates Ford offers in the 2021 F-150 behind the wheel of a generously equipped media tester. After Ford was done loading my King Ranch loaner with the PowerBoost hybrid engine, Pro Power Onboard system, FX4 off-road suspension package and other options, it had a final price of $77,830.
---
2021 Ford F-150 King Ranch Hybrid Exterior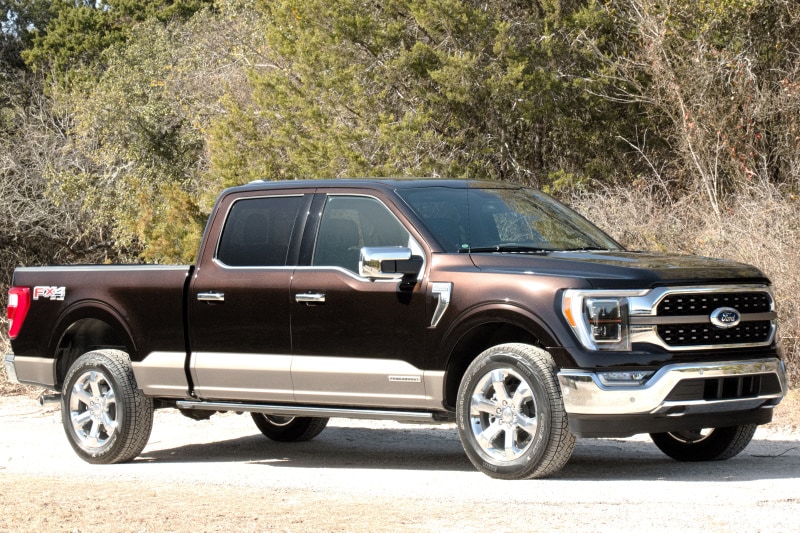 My test truck had the perfect color scheme for a rugged American pickup. Ford configured it with a Kodiak Brown and Stone Gray two-tone paint scheme and decked it out with chrome bumpers, front fender vents, mirror caps, 20-inch wheels and tailgate trim plate.
I came up with a fun way to test out the 7.2-kW version of the new Pro Power Onboard generator. I invited my pal Dan over, then plugged a DVD player and TV into two of the four available 120-volt plugs (a 240-volt outlet was also there for more serious equipment) on the driver's side of the 5.5-foot bed so we could watch "Dr. Strangelove."
Toward the end of my week with the F-150, I used it to haul a piece of furniture. That gave me a chance to lower the tailgate with a button on the key fob and get a better look at the upgrades Ford made to it. There were loops on the outboard sides of it, just in case I needed to lower the tailgate and tie down long cargo. There were even retractable sections in the top lip of the tailgate that could accept C-clamps to make sawing wood at a job site more convenient. I used the integrated tailgate assist step and bar to climb into the lined bed and position the bench just so. The Boxlink cargo management system's cleats were in the perfect places and allowed me to hook the ends of the bungee straps that secured the bench into them.
---
2021 Ford F-150 King Ranch Hybrid Interior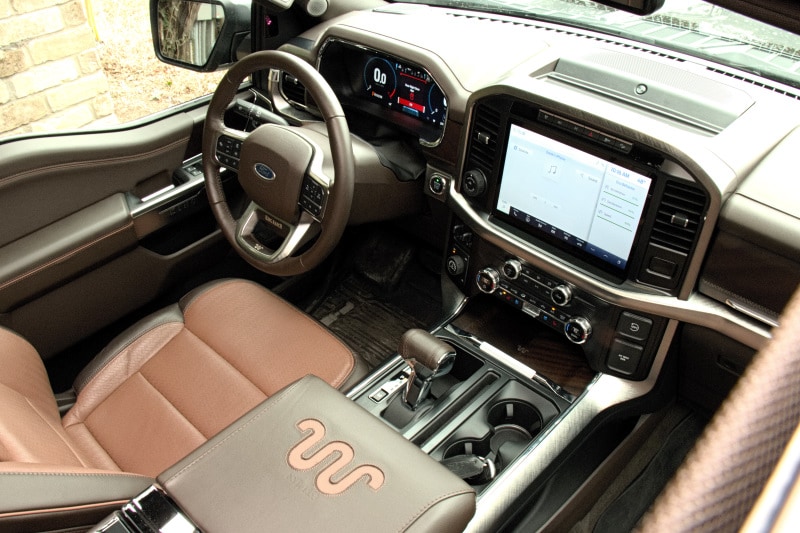 Ford kept the chunky, substantial, industrial feel of the last F-150's interior intact with the newest model. Every major control was appropriately scaled to the full-size truck around it, especially the blocky shifter for the hybrid 10-speed automatic.
As much I like the outgoing F-150's interior, I have to admit the 2021 model's cabin is lightyears ahead in terms of technology. A high-res 12-inch screen displayed my tester's main gauges and even played custom animations featuring the new F-150 every time I turned the dial to change the drive mode. Another 12-inch screen running the SYNC 4 infotainment system sat in the middle of the dashboard. It was immediately responsive to my inputs whenever I needed to input an address on the navigation system or select the kind of seat massage I wanted.
I decided to get out of the house one day and grab lunch, which gave me an opportunity to use the available Interior Work Surface. According to Ford, it's large enough to fit a 15-inch laptop or eat lunch on. After pushing a button to fold the shift lever down and out of the way, I pressed a release at the back of the center console lid and folded out the hinged plates of the Interior Work Surface and dug into my buffalo chicken and blue cheese salad.
A few days later, I took my mom to an important doctor's appointment. I had to park and wait in the hospital parking garage, so I decided to take advantage of the available heated and ventilated Max Recline front seats. They tilt back nearly 180 degrees and offer support under the lower back and shoulders to make grabbing a nap more comfortable. I found somewhere a little past the 135-degree mark to be my sweet spot.
---
2021 Ford F-150 King Ranch Hybrid Performance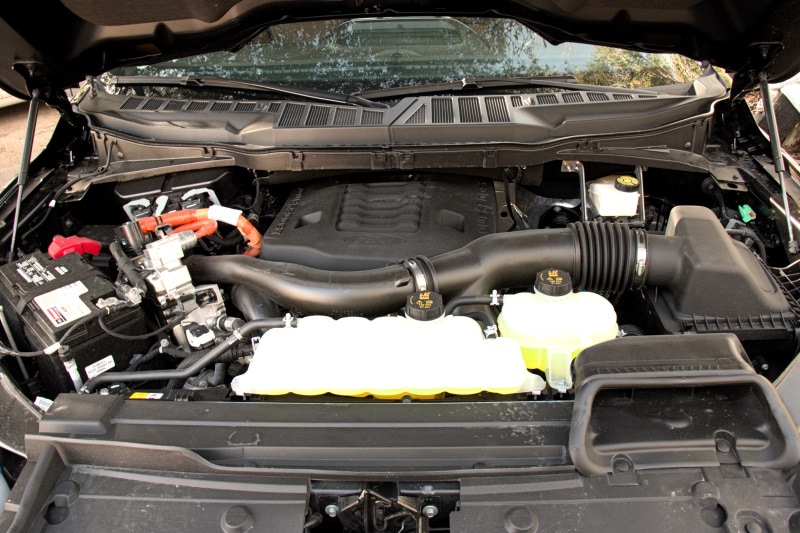 With 430 horsepower and 570 lb-ft of torque from its 3.5-liter EcoBoost V6, 35-kW electric motor and 1.5-kWh lithium-ion battery, the F-150's new PowerBoost engine not only has more torque than the Raptor, it has more torque than any engine Ford has ever put in an F-150. That gas/electric grunt gave my 3.73-geared test truck the ability to haul 1,830 pounds and tow 11,000 pounds.
I ended up putting 358.3 miles on the F-150 King Ranch, 89.1 of which I racked up with electricity alone. Unfortunately, I did a lot of waiting and idling in the truck, so my final average fuel economy was only 19.1 - well short of the 24 mpg across-the-board ratings the EPA gives 4X4 PowerBoost F-150s.
---
2021 Ford F-150 King Ranch Hybrid Safety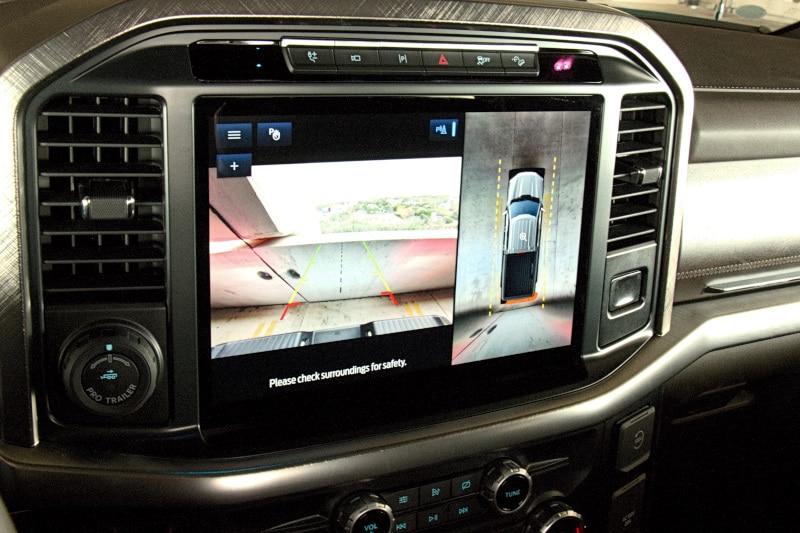 Ford made major improvements to the F-150's safety tech, too. My press loaner was equipped with the Ford Co-Pilot360 Active 2.0 Prep Package. As its name implies, the core of it was the Ford Co-Pilot360 suite of protective features. Another major part of it was Active Park Assist 2.0, which could work the steering, throttle and brakes to parallel or perpendicular park the truck with just the push of a button. The final component of the package was the Active Drive Assist Prep Kit. That sets the F-150 up for hands-free driving on more than 100,000 miles of divided highways in all 50 states and Canada once Ford releases the software for it as an over-the-air update in the third quarter of 2021.
---
2021 Ford F-150 King Ranch Hybrid Overall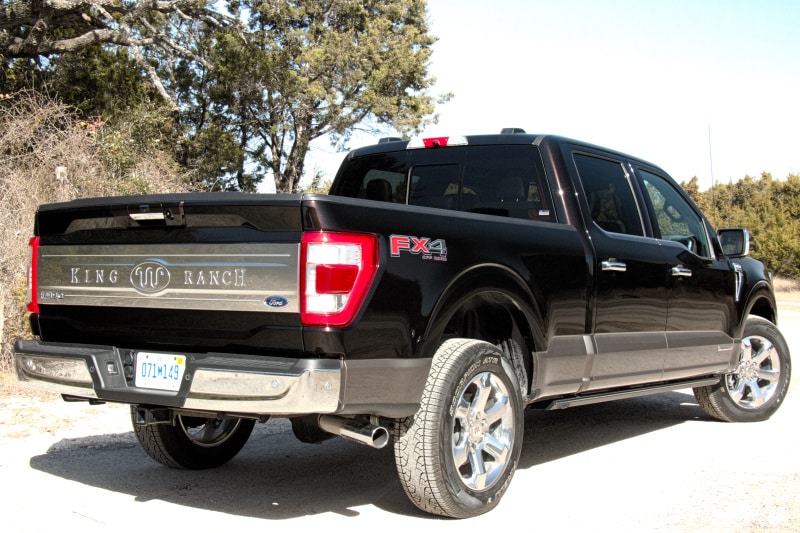 Ford has a lot riding on the important vehicles it's releasing this year. I can say with complete conviction that the new 2021 F-150 is an absolute success, inside and out. It's a handsome rig that offers thoughtful comfort features and modern user-friendly technologies from its grille to its tailgate. You can experience them yourself at an AutoNation Ford dealership.
---
Derek Shiekhi | Jun 08, 2021