2021 Ford Bronco Sport First Edition
---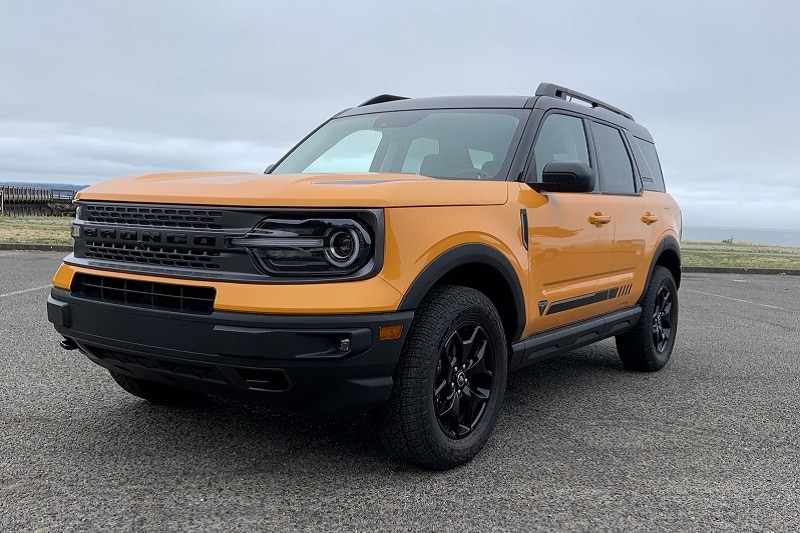 Since it was revealed last July, excitement surrounding the next-generation Ford Bronco has been at a rolling boil. So before readers get too far into this review, I want to clear something up first thing: This is not that Bronco. Unfortunately, the pandemic and global chip shortage have meant production delays for the hotly anticipated Jeep competitor. But the good news is Bronco assembly lines are now rolling, and buyers who pre-ordered their rigs will start taking delivery by the end of the summer.
When Ford took the wraps off the Bronco, however, it also unveiled the Bronco Sport. This compact SUV shares much of its underpinnings with the Ford Escape, but with its standard all-wheel drive and enhanced off-road capability, it's aimed more toward the outdoors set than young families. Obviously, Ford was hoping that associations with the big Bronco would help generate excitement for its smaller sibling. And guess what? It did. Big time.
During my week with the Bronco Sport, I got tons of attention, and fielded loads of questions from folks on the street. Even enthusiasts who knew exactly what it was were stoked to check it out.    
---
2021 Ford Bronco Sport First Edition Exterior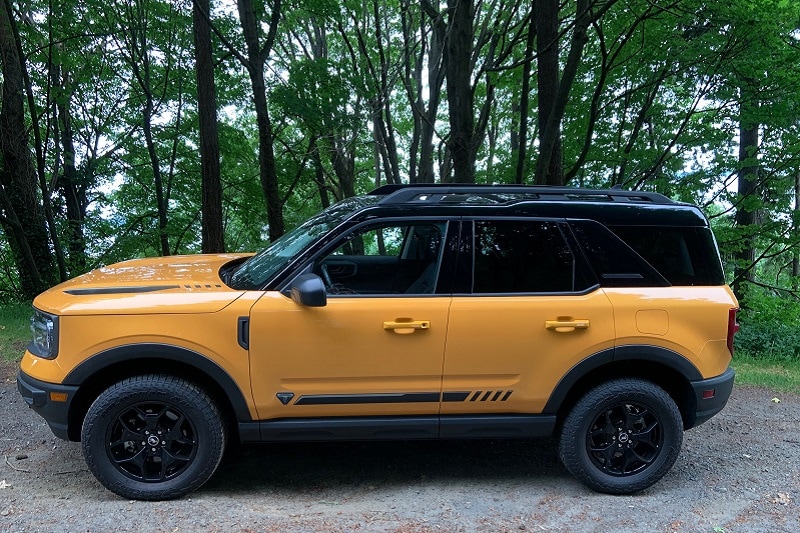 Enzo Ferrari famously said, "Ask a child to draw a car, and certainly he will draw it red." Well, if you asked a child to draw an SUV? You'd get the Bronco Sport, except for me, she colored it Cyber Orange Metallic. Basically, this baby is a big rectangle with a notch for the hood and windshield, and it's fantastic. It looks like a pissed off toaster. Everyone on Ford's Bronco Sport design team should be deliriously proud of themselves.
The front fascia, with its massive Bronco lettering and blacked-out grille, probably has the drag coefficient of a brick, and makes this machine stand out from everything else on the road. The hood has ridges which run over the fenders and down the center, which are set off by cool matte decals, and match the stripes on the sides. The bumper is a purposeful gray, and visually links up with the cladding running over the wheel wells and under the doors. Speaking of the wheels, they're really my only aesthetic issue with the exterior of this Bronco Sport. Not because they aren't attractive, because they are, and the Bronco logo in the centercap is a nice touch. But I happen to think the 17-inch steel units available on the Badlands version, which the First Edition is based on, more fit the burly presence of the vehicle.       
Just past the B-pillar, the roofline raises a couple of inches, which provides some visual flare, along with additional headroom for rear seat passengers. Notably, the beefy-looking roof rails are actually beefy, and are designed to support a tent for high-rise camping. Out back, there's a liftgate which allows drivers to open either the whole unit, or just the window, and after you raise it, you'll find an integrated bottle opener on the passenger side. One particularly interesting note about the liftgate? The Ford logo on the bottom corner is the only one you'll find on the whole rig. Not even the key has a Blue Oval on it.
---
2021 Ford Bronco Sport First Edition Interior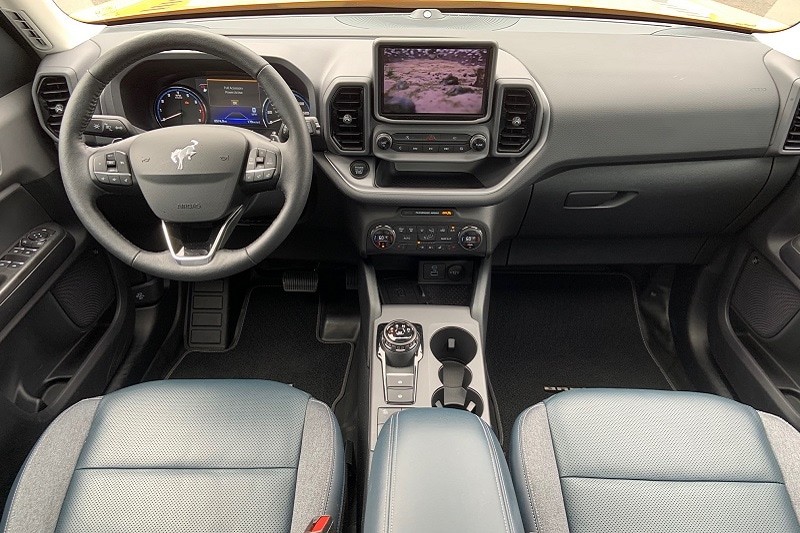 The purposeful vibe of the exterior continues inside the Bronco Sport. There's a commanding feel to the driving position, and the layout is utilitarian and practical. The leather-wrapped wheel felt great in my hands, and the seats featured blue leather in the center sections, and blue-gray, almost wool-like material on the bolsters.
Otherwise, there's lots of plastic, as the dash, doors, and center console are covered with the stuff. But it's a quality plastic that feels like it could take a beating, and fits the character of the vehicle. I particularly liked the rubberized flooring, as it was another nod to the go-anywhere nature of the Bronco Sport. The coolest thing about the rear passenger compartment is definitely the zippered pocket on the front seatbacks. It's a neat little detail I don't think I've seen before, and feels almost like a wetsuit. Otherwise, there's not a lot of space here, as the Bronco Sport's short wheelbase doesn't provide a ton of legroom, even if headroom is fine for taller folks.
Aside from the extended Bronco-themed cutscenes which play upon startup, there's nothing flashy about Ford's user-friendly SYNC 3 infotainment setup. But the ten-speaker system designed by the audiophiles at Bang & Olufsen sounds great, and there's also a handy wireless charging pad tucked into the lower console.
The cargo area is clad in all-weather material, and according to the Blue Oval, if you fold the 60/40 split seats down, you can fit two fully assembled mountain bikes. With the seats up, there's 32.5 cubic-feet of space, and with them flat, that climbs to 65.2 cubic-feet.   
---
2021 Ford Bronco Sport First Edition Performance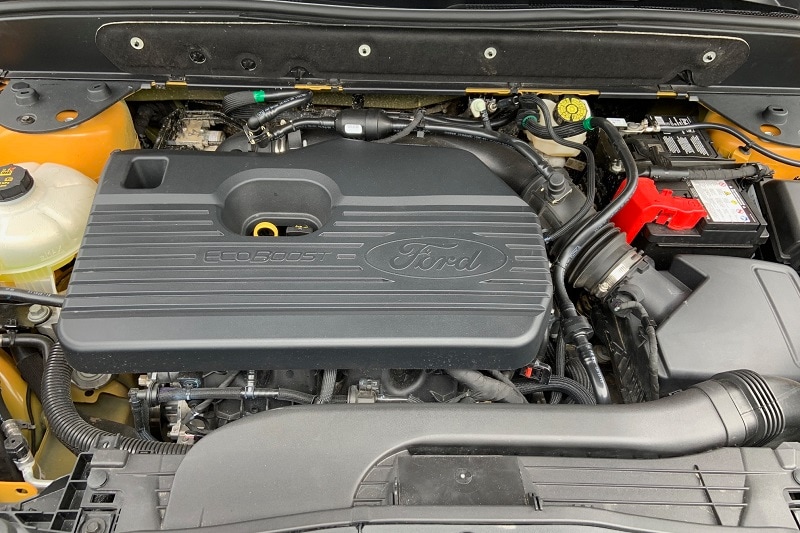 The standard engine in the Bronco Sport is a 1.5-liter three-cylinder, which produces 181 horsepower and 190 lb-ft of torque. Upper trims, like the Badlands and the First Edition models, come packing a 2.0-liter Ecoboost motor that pumps out 250 horsepower and 277 lb-ft of twist. Both engines come mated to an eight-speed automatic, though only rigs with the larger mill can be shifted with wheel-mounted paddles.  
Given how inflated power levels have become, it's understandable if those numbers don't immediately set anyone's hair on fire. But step on the gas, and the 2.0-liter Broncho Sport moves forward with authority. During hard acceleration, I felt some slight torque steer, which was more engaging than offputting, and enjoyed how the turbocharger helped the little mill pull into the upper registers. The steering also had a comforting heft to it, which gave the Bronco Sport an exceptionally solid feel that I generally don't get from a compact SUV, and it  contributed to the little rig's character significantly. At 172-inches, the wheelbase is tiny enough that small spaces presented no problems, and I appreciated the tight turning radius when navigating Seattle's congested streets.         
In addition to the extra poke, Badlands and First Edition models also come with some special kit to make them more capable off-road, including a one-inch lift, beefier shocks, and a twin-clutch rear-drive unit with a differential lock.There are also plenty of electronic aids available to help maximize the potential of the greasy bits, and my tester featured all seven of the Blue Oval's G.O.A.T Modes. Accessible from a dial in the center console, these high-tech traction control settings are designed to help the Bronco Sport  "Go Over Any Terrain." So along with Normal, Eco, and Sport settings, there were options for Mud/Ruts, Slippery, Rock Crawl, and Sand. While they're no substitute for off-road experience or common sense, I've found Ford's expertise with selectable off-road settings goes a long way toward keeping even journeymen offroaders like yours truly from getting stuck.
When properly equipped, the Bronco Sport can tow up to 2,200 pounds. That's not enough to haul a 16-foot Airstream to the lake for the weekend, but will allow fans of the outdoors to take smaller toys like kayaks or dirt bikes along for the ride.
---
2021 Ford Bronco Sport First Edition Safety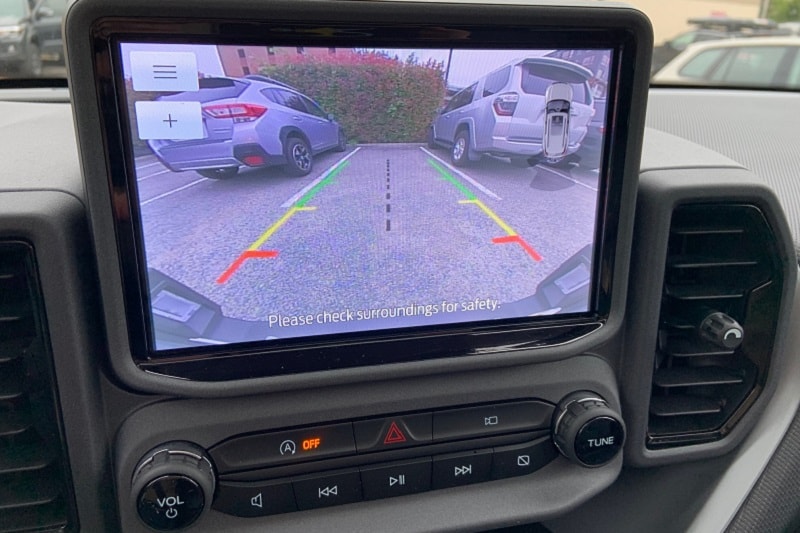 At this time, the 2021 Bronco Sport has not been crash tested by the National Highway Traffic Safety Administration. However, the Insurance Institute for Highway Safety named the Bronco Sport a 2021 Top Safety Pick+, and in an era when lighting remains an Achilles' heel for many models, the IIHS specifically called out how well the Bronco Sport's LEDs illuminate the road ahead. 
Every Bronco Sport also comes standard with a robust suite of cutting-edge safety technology, including Forward Collision Warning, Automatic Emergency Braking, Lane Keep Assist, Blind Spot Monitoring, Rear Cross Traffic Alert, and Pedestrian Detection. As the range-topping model in the current lineup, my tester was also equipped with other helpful driver aids like Rear Parking Sensors, a Forward-View camera, and Adaptive Cruise Control. 
---
2021 Ford Bronco Sport First Edition Overall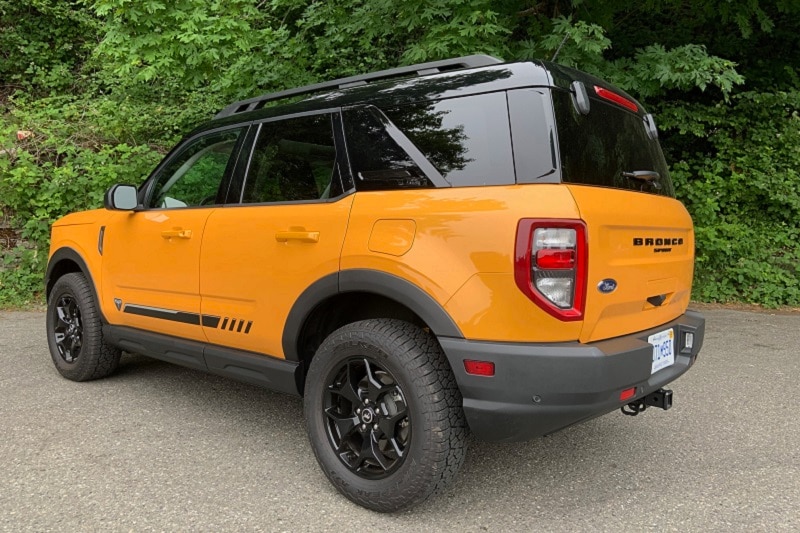 With distinctive sheet metal, an interesting interior, and a great powertrain, the Bronco Sport is unquestionably the compact SUV of the moment.
While Ford ensured it'd be competitive with everything in its class, the truth of the matter is this machine has so much charisma, it's never going to compete on numbers alone. For the time being, at least, it's got a pronounced cool factor, which it backs up by being a total hoot to drive. Even buyers who never point it toward terrain more challenging than a gravel parking lot will have a blast behind the wheel. I know I did.  
The 2021 Ford Bronco Sport First Edition starts at $38,160, though unless you pre-ordered, getting your hands on one will be tricky. The Badlands trim is closest when it comes to off-road kit, and it starts at $33,360. Contact your local AutoNation dealer to experience the new Bronco Sport for yourself!  
---
John Coyle | Jun 25, 2021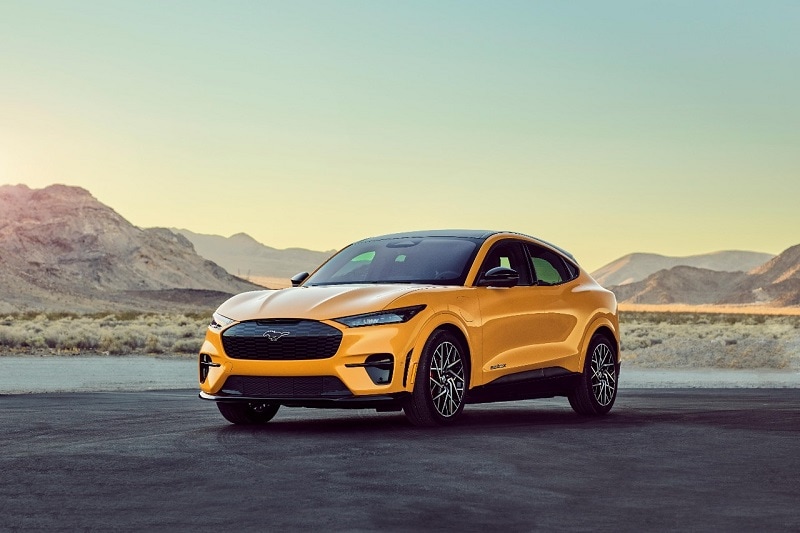 Ford Trim Levels Guide
Learn about the trim packages for popular Ford cars, trucks, and SUVs.
---
2021 Ford Bronco Sport First Edition Specs
Layout
4-door, 5-passenger, 4x4
Engine/Transmission
Turbocharged 2.0L I4, 250 hp, 277 lb-ft
Eight-speed automatic
Mileage
21/26 mpg (city/hwy)
---
AutoNation Drive Test Drive Review: ★ ★ ★ ★ ★
---
More Research
Browse more automotive research than you can shake a stick shift at.
---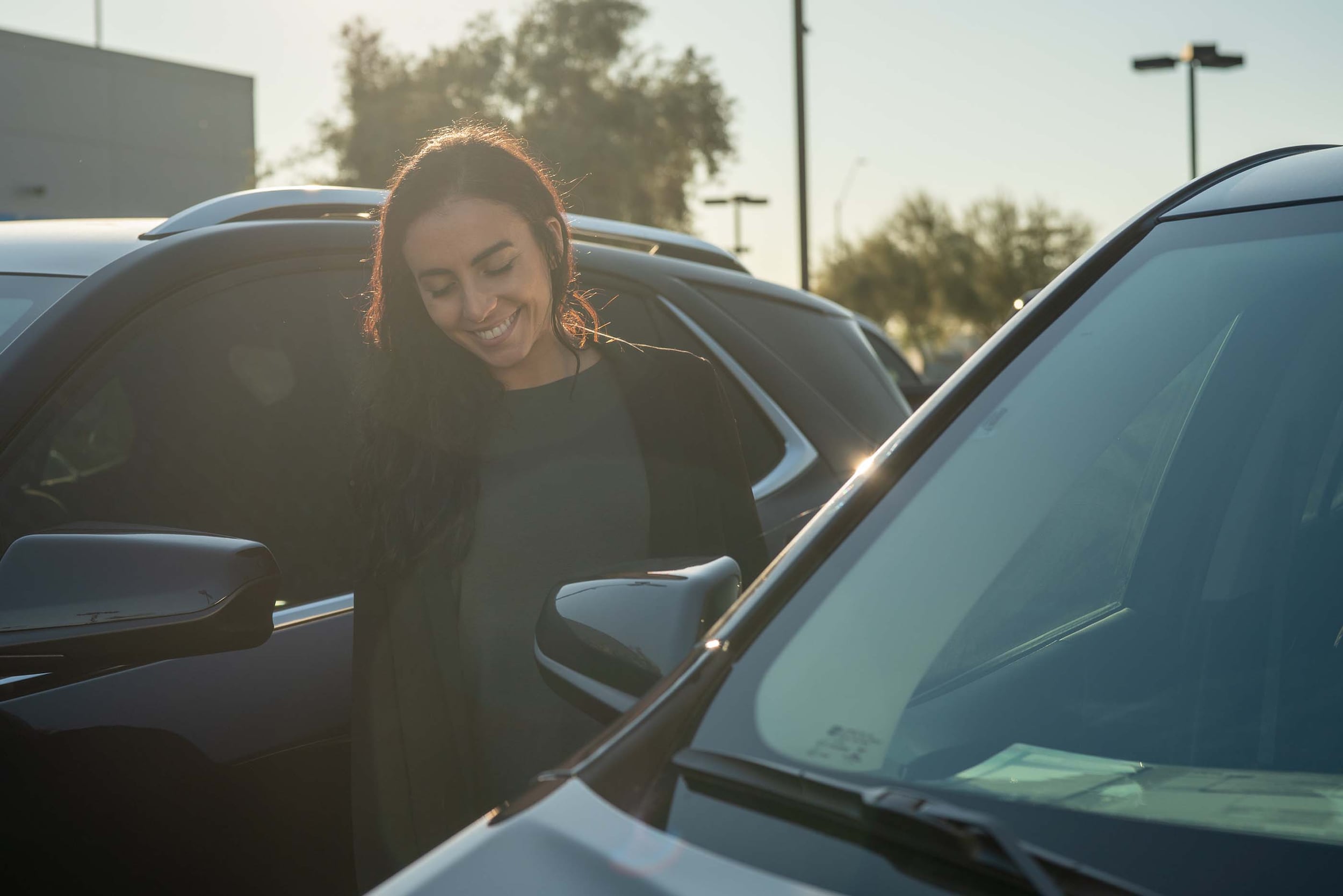 Test Drive Reviews
Our automotive experts at AutoNation Drive weigh in on price, safety, and performance of popular cars, trucks, and SUVs.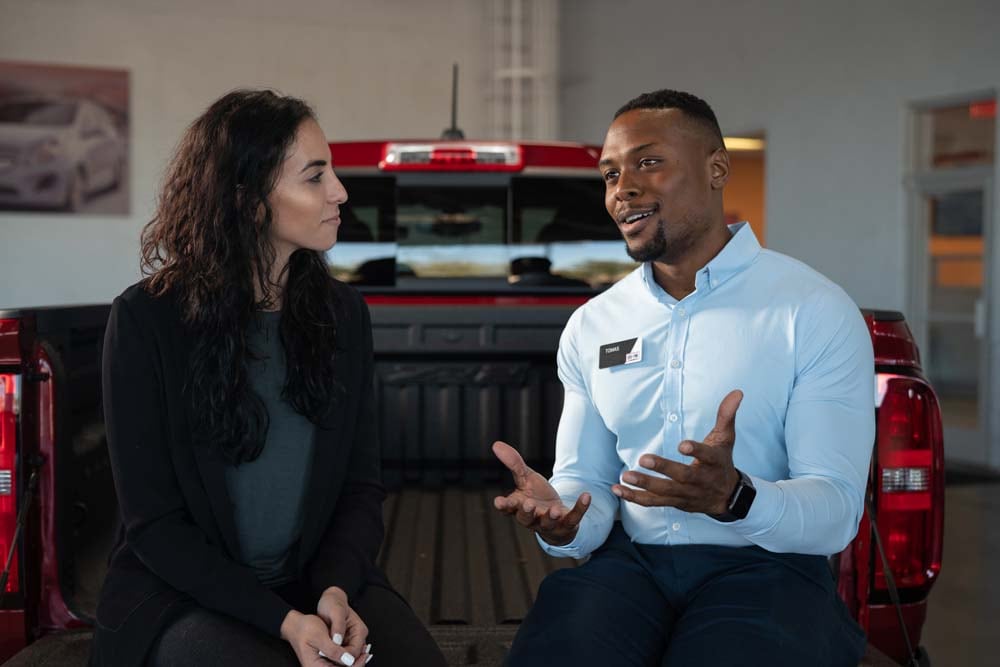 Car Buying Advice
If you're buying a car, truck, or SUV, the chances are - you need help. Don't worry. Our automotive experts are here to help.
---
*MSRP excludes tax, license, registration, destination charge and options. Dealer prices may vary.
**Based on EPA mileage ratings. Your mileage will vary depending on specific vehicle trim, how you drive and maintain your vehicle, driving conditions, and other factors.