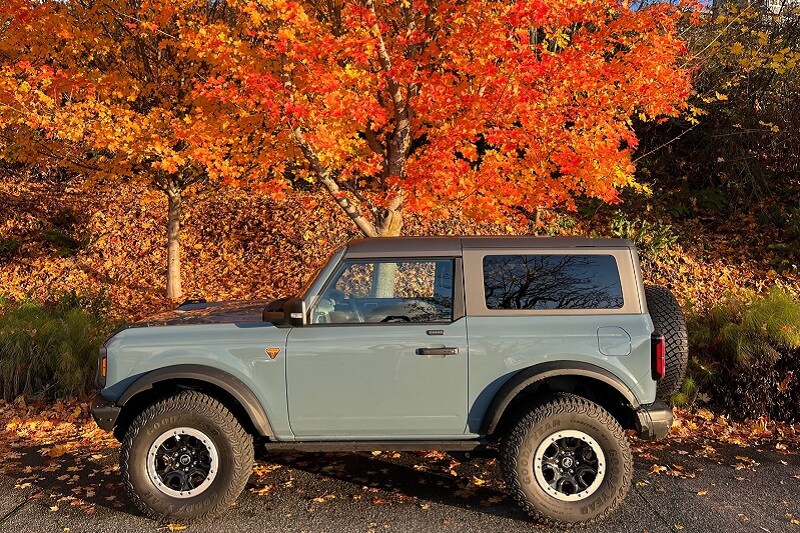 If you're an extrovert who loves talking cars? It's hard not to like a vehicle that makes you feel like a celebrity. And that's exactly what happened when I spent a week with the 2021 Ford Bronco Badlands Edition. 
Because while the Bronco Sport is slowly making its way onto the streets of Seattle, its big brother is still a rare sight here. To date, I've only seen one other Bronco in the wild, and it was a four-door, not a (cooler, if less practical) two-door model like my tester. So whether I was at the local co-op, hitting a drive-through espresso stand, or just stopped at a light, the Area 51 blue Bronco caused a commotion. Obviously, that's sure to die down after these hotly anticipated machines start making their way into customer hands. But rarity aside, there's lots to love about the Blue Oval's next-generation Bronco. You don't have to read any tea leaves to know it's going to be a future classic.
The Bronco's long list of attributes starts with its sheet metal. It's no secret that the popularity of the first-gen Bronco has gone ballistic over the last decade. Go looking for a clean example built between 1966 and 1977, and you'll be paying closer to $100k than not. Ford's designer's were well aware of this trend, so they wanted to keep the aesthetic of the old model alive with the new one, and it's safe to say they hit it out of the park. The Bronco is as square as a toaster, with a wide, flat hood that gives it a commanding presence, whether you're standing in front of it or sitting behind the wheel. All the straight lines in the profile give it a clean, purposeful look, and Ford thinks the Bronco name has enough cache that the only Blue Oval to be found is a tiny one on the tailgate.
---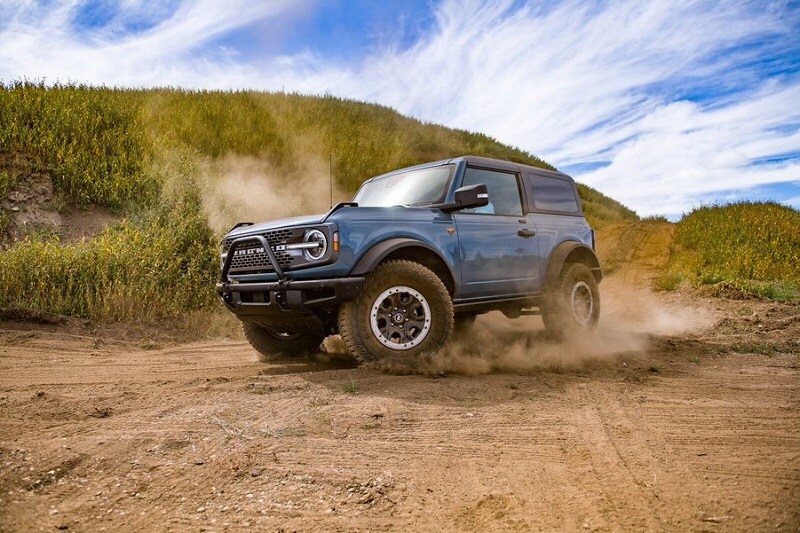 My tester was fitted with the Sasquatch Package, which meant it was rocking 17-inch  beadlock-capable wheels, massive 35-inch tires, front and rear locking differentials, Bilstein shocks, taller fender flares, and a higher 4.7 final drive ratio. According to Ford, a full 50 percent of buyers are opting for the Sasquatch Package, which along with upping the Bronco's off-road prowess, makes it look even more like a full-size Tonka toy. 
My first experience with the latest Bronco was at an off-road park on Washington's Olympic Peninsula, where it was being evaluated as part of the Northwest Automotive Press Association's annual Mud Fest. Over the course of two days, I subjected it to some conditions which would have turned a modern soft roader into scrap metal, and it performed brilliantly. The Sasquatch Package's taller rubber gives the two-door Bronco an approach angle of 43.2 degrees and a departure angle of 37.2 degrees, which in practice, makes it feel like you can point it at a wall and climb right over it.
---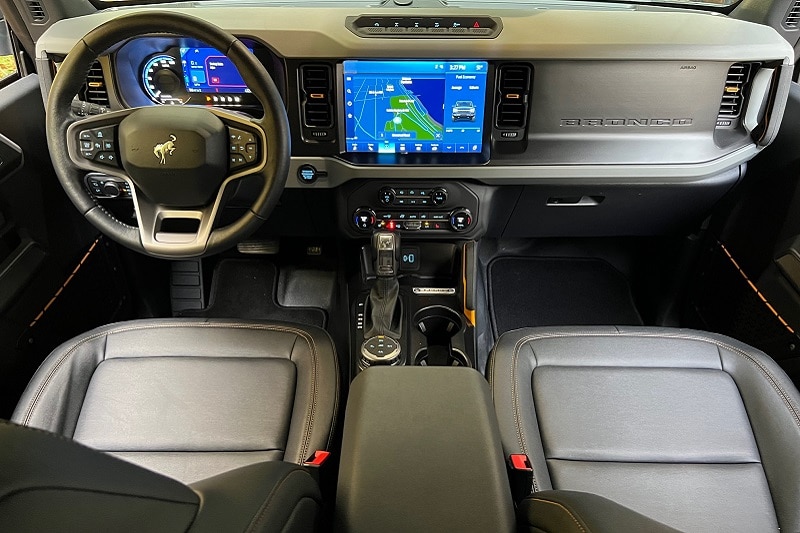 Every Bronco comes with five traction settings, called GOAT Modes. The standard modes are Sand, Slippery, Sport, Eco, and Normal, but Badlands versions get three additional three settings, Mud/Rut, Rock Crawl, and Baja. During my time on the course, I engaged the Rock Crawl to climb over piles of boulders and stacks of tree trunks, and while I used the handy button on the top of the dash to disconnect the front sway bar, I never had to lock any of the differentials. The Bronco happily bounced over any obstacle in its patch, and blasting up and down the course's steep grades was a total hoot. 
Now, given that the Bronco is designed to go head to head against the Jeep Wrangler, you'd expect it to be great off road. The Jeep has been the high water mark for American off-road performance for generations, so Ford couldn't come to the fight outgunned. What was more surprising was how well mannered the Bronco was on the street. While a big body-on-frame SUV with a lift and huge tires is never going to handle like a sports car, it never felt unwieldy, even if there was pronounced body roll when cornering at speed. Power was never a problem either, as the optional 2.7-liter Ecoboost V6 pumped out a healthy 315 horsepower and a robust 400 lb-ft of torque. Buyers who opt for the 2.3-liter four-cylinder (275hp / 325 lb-ft) will have the option of a seven-speed manual, but my tester was fitted with Ford's excellent ten-speed automatic. It's a great gearbox, and stick shift sentimentality aside, if I was optioning my own Bronco, it's likely the one I'd choose.
---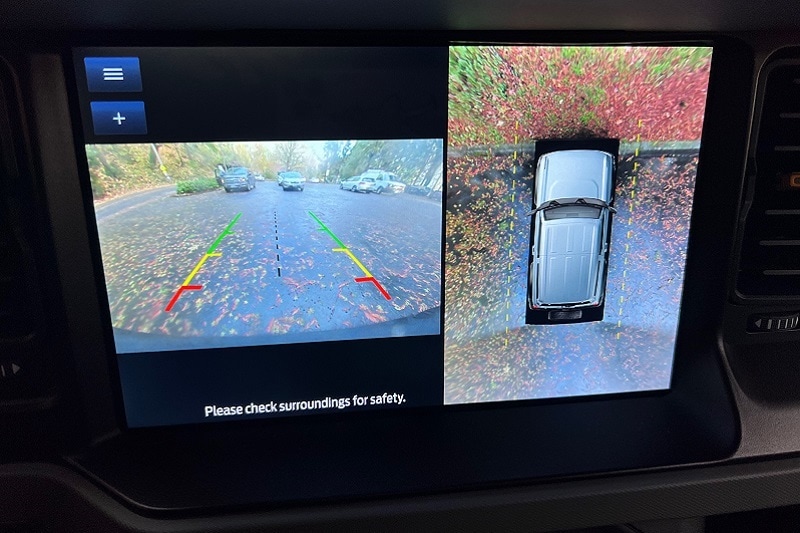 Inside the cabin, the Bronco is strictly business. This is an interior that's designed to get dirty, so there's lots of plastic and rubber-covered bits. Overall, the Badlands' interior feels like a very nice Fisher Price toy, which is a sincere compliment, because everything that company makes is designed to take a beating. The 12-inch infotainment display is well integrated into the dash, and there's a pronounced lip above it that provides shade, so it's visible even in bright sunlight. While the front A-pillar is pretty thick, visibility is good overall, and the 360-degree camera made it easy to squeeze into tight parking spots.  
One thing that needs to be mentioned when discussing the Bronco, and the thing I didn't get when I drove it at the off-road park, was just how big it is. For example, my brother owns a four-door Jeep Wrangler, and when he lined his rig up next to the burly Ford, they looked about the same size. Unfortunately, the big footprint of the two-door Bronco doesn't translate to rear-seat room. There's precious little space back there, and I'd qualify this Bronco as a 2+2, as any adults seated back there will be cramped.
---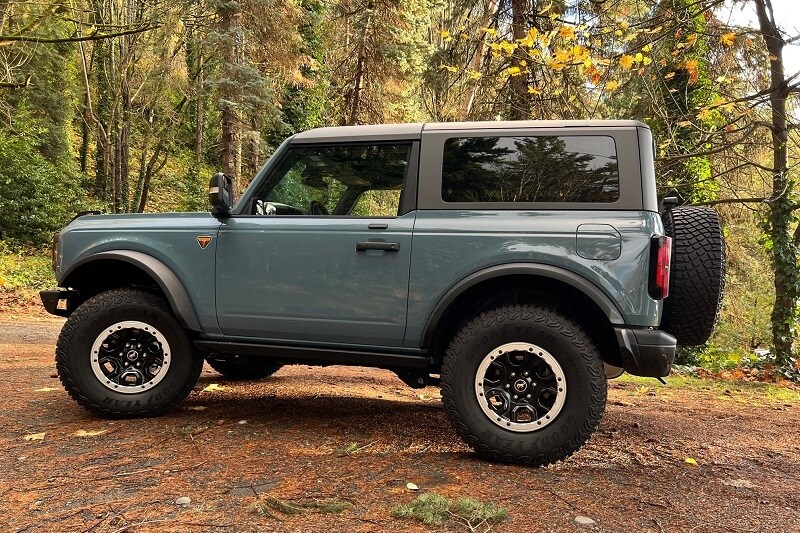 That said, the new Bronco is a vehicle that people are going to love not in spite of its few shortcomings, but because of them. In an era of soft-road pretenders, this beast is the real deal, and while most modern SUVs won't tackle anything more challenging than a gravel parking lot or snowy school run, Bronco fans are likely to flip that script. 
The starting price on my test vehicle was $42,095, but upping to Badlands trim raised the price by $5,085, and adding the 2.7-liter engine ($1,895), front brush guard ($300), and Sasquatch Package (2,495) helped bring the total MSRP to $56,150. That figure might not make the Bronco Badlands a cheap date, but folks who opt for it can rest assured they're getting one of the most capable off-road vehicles on the market, at any price.
Action shots by Doug Berger for NWAPA
---
John Coyle
| Nov 17, 2021