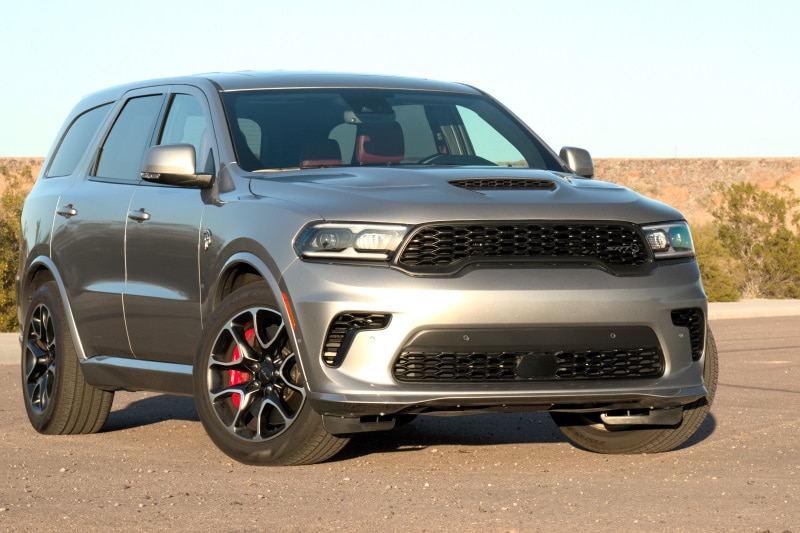 When Dodge released the 2015 Challenger and Charger SRT Hellcat models, it instantly monopolized car-related internet traffic. People couldn't stop posting about how Dodge had created the ultimate muscle cars by stuffing a supercharged 6.2-liter V8 with 707 horsepower under the hood of its iconic coupe and intimidating sedan.
Once the shock of the Hellcat engine's outrageous stats wore off, speculation began about which other vehicles might get the same power plant in the future. Looking to top its powerful Grand Cherokee SRT, Jeep used the Hellcat V8 to create the Grand Cherokee Trackhawk, a high-performance SUV that let its supercharged horses run wild through all four wheels at once. Surprisingly, Dodge didn't release a Hellcat version of the Durango. Until now.
The 2021 Durango finally gets the Hellcat treatment and becomes Dodge's roomiest and most potent family hauler. Priced from $80,995*, the Durango SRT Hellcat is also one of Dodge's most expensive vehicles. It generously equipped my press loaner with a long list of interior and safety upgrades that brought its as-tested price up to $95,730*.
---
2021 Dodge Durango SRT Hellcat Exterior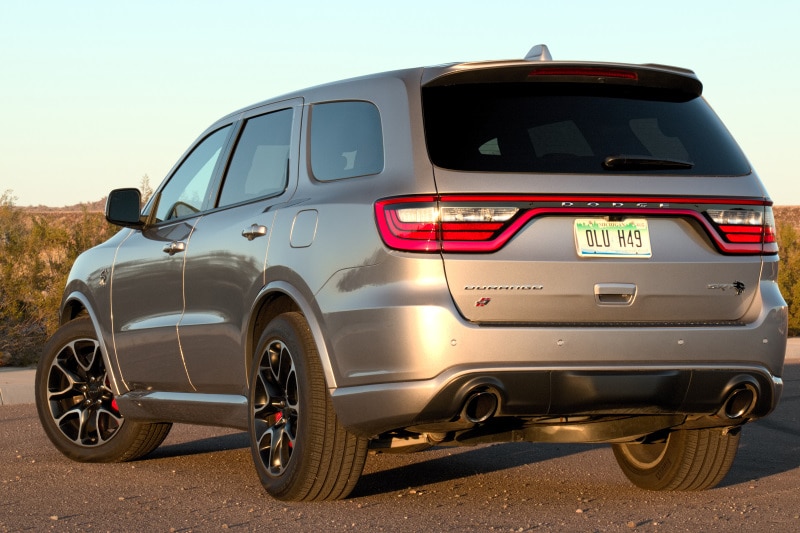 The Durango Hellcat is the most sinister kind of humiliatingly fast vehicle: a sleeper. Like other 2021 Durangos, it sports refreshed exterior styling inspired by the widebody Chargers and an array of new exterior parts, including the front fascia, grille, and LED headlights and daytime running lamps.
The Durango Hellcat is all about the sneak attack. There's no widebody kit or even a staggered-width tire package, just a set of 20-inch wheels wrapped in 295/45 ZR 20 Pirelli Scorpion Zero all-season tires at all four corners. You need to look closely to spot the Durango Hellcat's tells, such as its chin splitter or special rear spoiler that generates more than a 400-percent increase in downforce on the back end. There are no truly overt signals that it's a vehicle capable of roaring to 60 mph in 3.5 seconds or blazing through the quarter mile in 11.5 seconds - just four Hellcat badges and an unmistakable cold-start exhaust roar.
---
2021 Dodge Durango SRT Hellcat Interior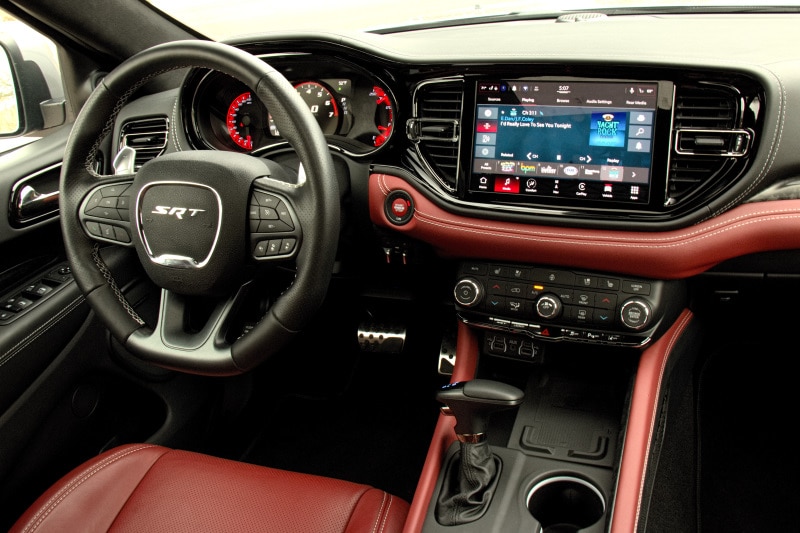 The Durango Hellcat benefits from the same interior updates as its more mild-mannered siblings. There's a new flat-bottom steering wheel featuring a red-backlit SRT logo in the middle. The available carbon fiber trim is a more subtle take on the racy material. In addition to redesigning the instrument panel and upper door panels, Dodge overhauled the center console from the screen down. My tester had the new available 10.1-inch center touchscreen, which runs the new Uconnect 5 infotainment system. That's not only five times faster than the outgoing system, but also provides wireless Apple CarPlay and Android Auto, and Bluetooth connectivity for two phones at the same time. That sits above a new cluster of switchgear for the heated and ventilated front seats, steering wheel heater, dual-zone climate system, performance menus, and select driver aids. Further down is a bank of USB-A and USB-C ports, small storage tray, and wireless charging pad.
The second row of Demonic Red Laguna Leather seats provided a comfortable amount of legroom for someone my size (5'10"). It was easy to fold and flip those out of the way so I could get to the pair of third row seats. Back there, I was a little too tall for my own good. My knees brushed against the back of the middle seats and headroom was an issue. Although it was too tight a fit for me, it would've been a great spot for slightly shorter people or small kids.
---
2021 Dodge Durango SRT Hellcat Performance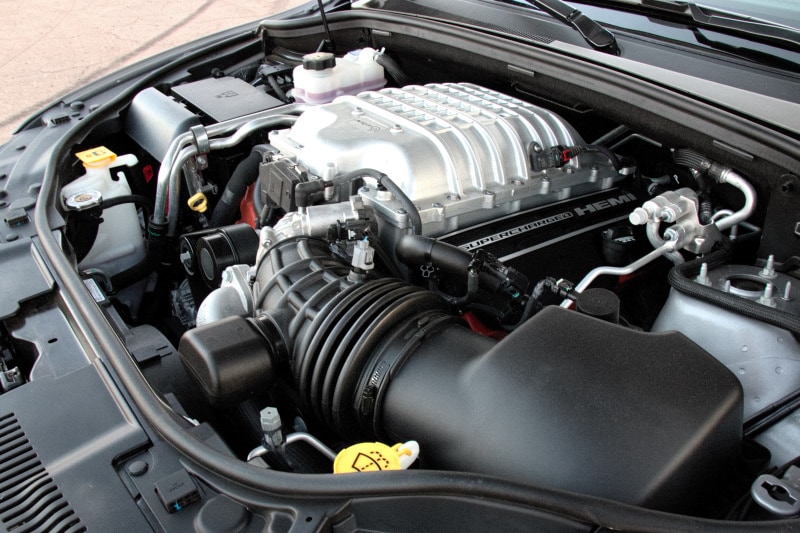 The Durango Hellcat is another reminder of how far we've come from the days in which people starting a family had to sell their sports car and replace it with something boring. My test vehicle had room for six, a Blu-Ray-compatible Rear DVD Entertainment Center with a pair of widescreens, and enough power to absolutely smoke every other vehicle in the school pick-up lane. Dodge's SRT power mongers top the 6.2-liter V8 with a 2.38-liter supercharger that feeds it 11.6 psi of boost. The HEMI converts that and copious amounts of gasoline (as in an average gauge-indicated fuel economy of 12 mpg) into 710 horsepower and 645 lb-ft of torque.
Dodge used the Durango SRT's suspension as a starting point for the Hellcat model's setup. Their tweaks resulted in several improvements, including reduced understeer and increased responsiveness, grip, and stability.
The Durango Hellcat's all-wheel drive system can send varying amounts of torque to the back axle depending on which drive mode is selected. The Snow and Tow settings split power evenly between the front and rear. Auto divides it 40/60, respectively. Sport delivers 65 percent to the back; Track bumps that number up to a nice round 70. I spent the majority of my time driving the Durango Hellcat in its Auto setting, which offered a pleasant ride quality and livable steering and throttle response. When I needed a burst of speed, the eight-speed automatic almost immediately downshifted to give me the extra oomph I needed. Sport mode was surprisingly livable and added a reassuring heft to the steering and a palpable urgency to the powertrain's reactions. At wide-open throttle, the gearbox banged the gears into place as the Durango Hellcat bucked and roared putting its massive power to the road. The monstrous engine's rageful bellow and signature supercharger whine filled the cabin. Huge 15.7-inch slotted front rotors with six-piston Brembo calipers and 13.78-inch rear rotors with four-piston Brembo calipers enabled me to stop the 5,710-pound three-row thrill machine smoothly and confidently.
---
2021 Dodge Durango SRT Hellcat Safety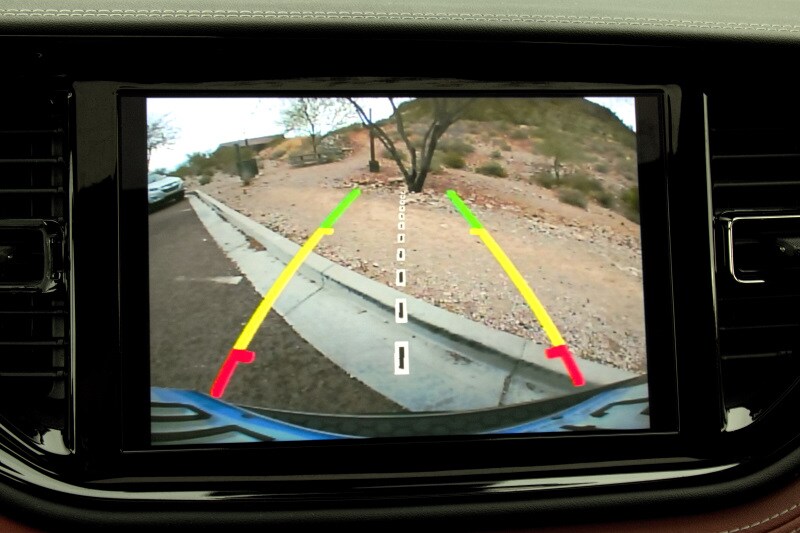 When the weekend rolled around, I went on a couple of urban adventures with my fiancé and her parents. One took us to some of the eateries in Phoenix, the other involved going into Tempe to soak up the local college vibe, and walk along its waterfront area. It was a comfort knowing we were protected by the optional Blind-Spot and Cross-Path Detection bundle and the Technology Group, which included Full-Speed Collision Warning Plus, Lane Departure Warning Plus, Advanced Brake Assist, and Adaptive Cruise Control with Stop capability.
---
2021 Dodge Durango SRT Hellcat Overall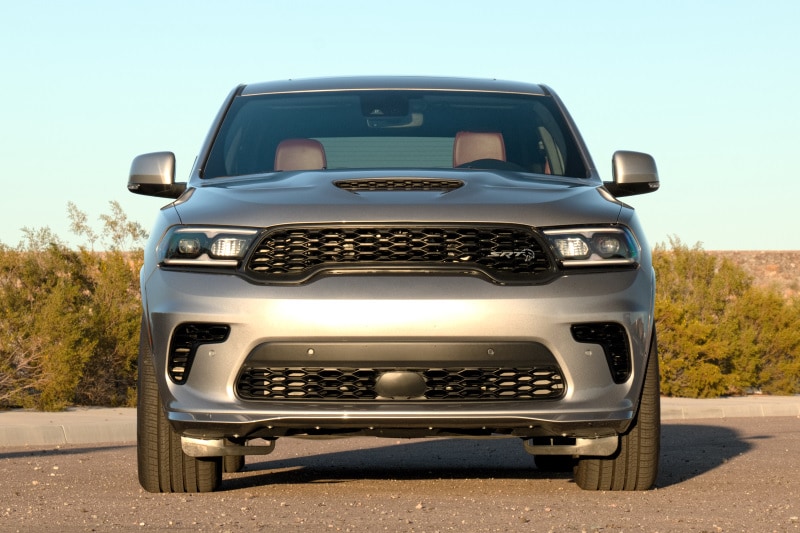 We had to wait several years for Dodge to finally put a Hellcat engine in the Durango and it's finally here. But if you want one, you can't be patient at all. Get one at an AutoNation Dodge dealership as soon as possible because the Durango Hellcat is only around for the 2021 model year. 
---
Derek Shiekhi | Apr 15, 2021