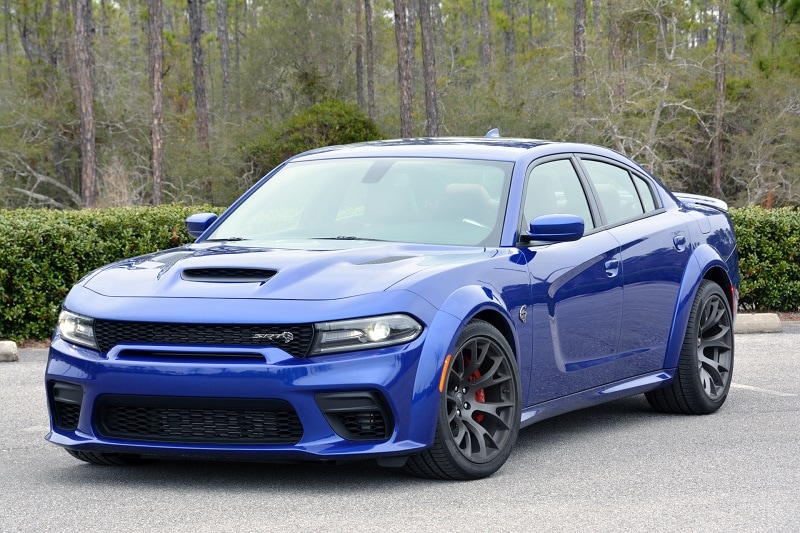 Just as some automakers are abandoning the car market here in the U.S. in favor of more crossovers and SUVs, Dodge is busy cranking out modern-day hot rods powered by the legendary Hellcat engine.
This incredible supercharged V-8 is now found under the hood of ten different vehicles from Dodge, Jeep and Ram. That list includes the all-new 2021 Dodge Charger SRT Hellcat Redeye Widebody, which Dodge boasts to be the most powerful and fastest mass-production sedan in the world! The Charger Hellcat Redeye trickles down tire-shredding performance advancements developed for the limited-production Dodge Challenger SRT Demon, and I recently got to spend a week with this amazing muscle car.
---
2021 Dodge Charger SRT Hellcat Redeye Widebody Exterior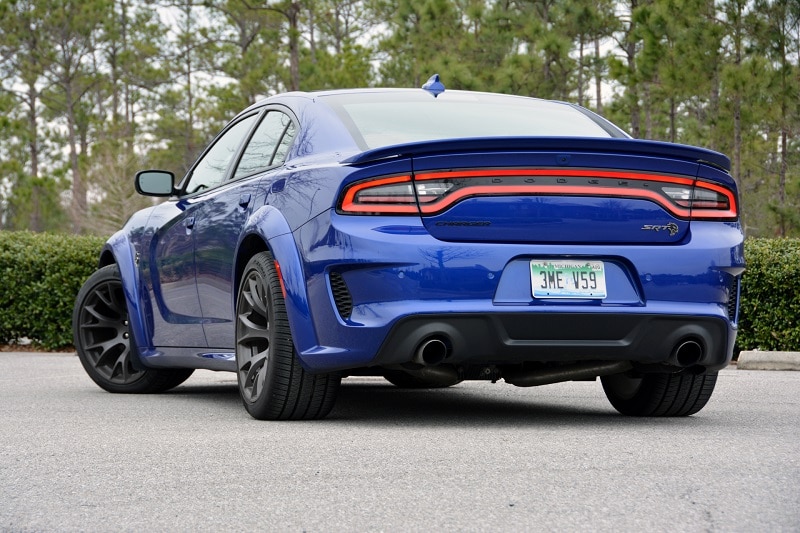 Designed to hit speeds of over 200 mph, the styling enhancements of the 2021 Dodge Charger SRT Hellcat Redeye Widebody are all about aerodynamics and cooling. So there's an exclusive grille, along with a performance hood with a functional air induction system and heat extractors.
The really cool part of the Redeye is that it's a sleeper sedan of sorts, as the styling is practically identical to the "base" 717-hp Charger Hellcat. The exception is the red-eyed accent in the Hellcat logo on the fenders and supercharger. This high-powered sedan has a menacing look,  with a low, athletic stance. The standard Widebody package gives this car an extra 3.5 inches of width compared to a standard Charger, to accommodate the standard 20x11-inch wheels. My tester upgraded to blacked-out, V-spoke wheels of the same size for an extra $1,095, they looked great alongside the Indigo Blue paint.
---
2021 Dodge Charger SRT Hellcat Redeye Widebody Interior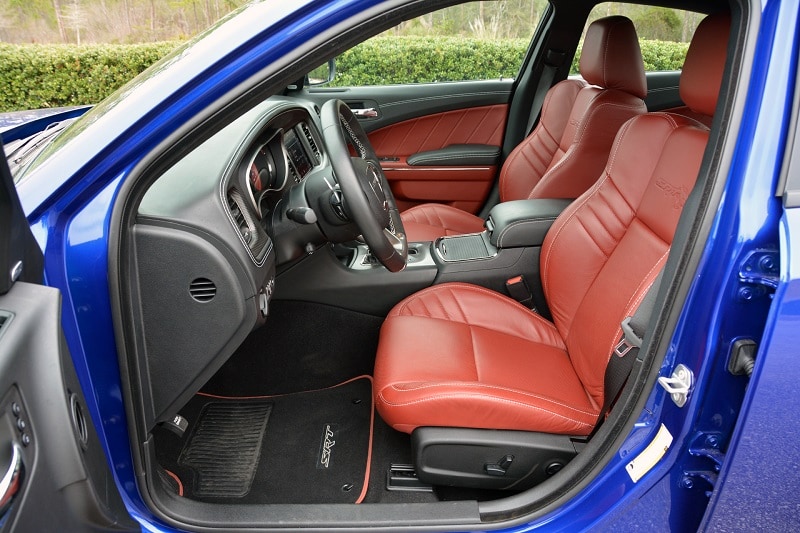 Part family sedan and part high-performance sports car, the 2021 Dodge Charger SRT Hellcat Redeye Widebody does a great job filling both roles. A flat-bottomed, leather-wrapped wheel,  supportive sport bucket seats, and 200-mph speedometer hint at the Charger Redeye's sporty capabilities. But this tester added a little more style with a suede headliner and real carbon fiber accents, which is part of a $1,595 package. There was also a two-tone interior - an extra $295 - which brought Demonic Red seats with an embroidered SRT Hellcat logo. Rounding out the options, our review car also had Chrysler's 8.4-inch Uconnect infotainment system with navigation for $995.
Yes, the 2021 Dodge Charger SRT Hellcat Redeye Widebody is a true performance vehicle, but it's also a large family sedan that offers up plenty of room for five passengers and a huge trunk. The extra price of the SRT Hellcat is more than just the engine, though, as this sedan packs a luxurious cabin with full leather seating, heated and cooled front seats, and heated outboard rear seats. The coolest part of the interior is obvious when driving at night - that's when the SRT logo on the wheel lights up.
---
2021 Dodge Charger SRT Hellcat Redeye Widebody Performance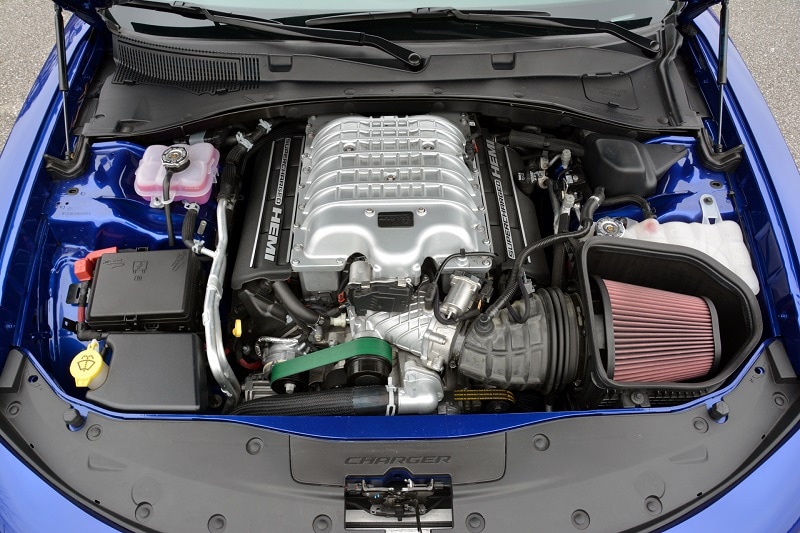 At the heart of this demonic beast is a high-output version of the 6.2-liter supercharged Hellcat V-8 laying down 797 horsepower and 707 lb-ft of torque. That's 80 more horsepower and 57 more lb-ft than the standard Charger SRT Hellcat. This engine allows the 4,610-pound family sedan to accelerate like a true sports car. The zero-to-60 time is in the mid-three-second range, the top speed is 203 mph, and it also delivers a neck-snapping quarter-mile time of 10.6 seconds.
Not surprisingly, this supercharged V-8 is a thirsty engine with EPA-rated fuel economy estimates of 12 mpg in the city and 21 mpg on the highway, although even with a healthy amount of off-the-line, full-throttle acceleration tests, I still ended the week with a decent 15.1 mpg showing on the trip computer.
Considering the bones for this Charger date back to Chrysler's LX platform, there's a mind-blowing amount of performance engineered into this vehicle. The eight-speed automatic transmission delivers smooth, quick shifts whether you're cruising around or pushing the Hellcat engine to its limits. Even with features such as line lock and launch control, the 2021 Dodge Charger SRT Hellcat Redeye Widebody is more than just a straight-line racer, as SRT developed this sedan to deliver sports-car-like handling. This starts with an SRT-tuned adaptive damping suspension with Bilstein shocks at all four corners, which can be tailored to specific driving conditions using driver selectable modes. And for extra handling capabilities, this tester was equipped with optional ($695) 305/35ZR20 Pirelli P Zero three-season performance tires in place of the standard all-season rubber. To keep all of that power and speed in check, the Redeye upgrades to massive brakes. There are 15.7-inch two-piece rotors and six-piston Brembo calipers up front, and 13.8-inch rotors with four-piston units out back.
With great power comes great responsibility, so Dodge gives its SRT buyers a complimentary day of professional track instruction to teach drivers how to control all that power.
---
2021 Dodge Charger SRT Hellcat Redeye Widebody Safety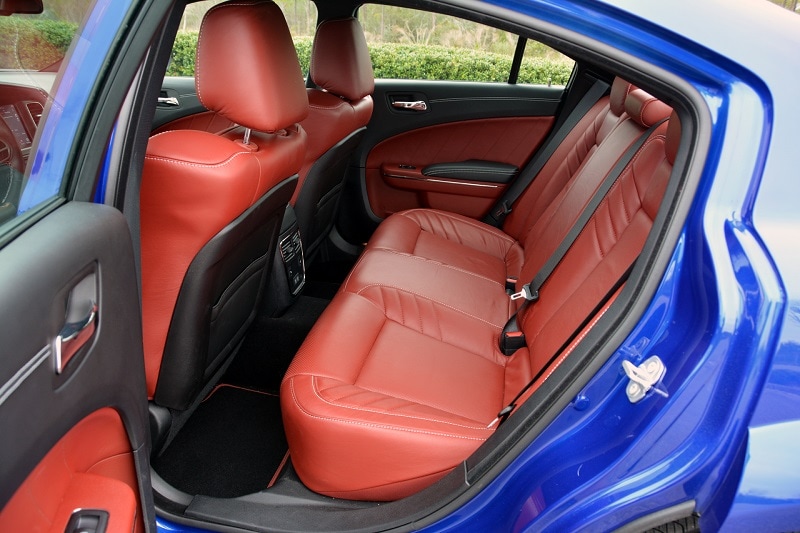 Although the SRT-badged 2021 Dodge Charger sedans have not been tested by the National Highway Traffic Safety Administration, the non-SRT models did receive a five-star overall crash rating.
That discrepancy in safety ratings could have something to do with the fact that neither of the Charger Hellcat models can be equipped with the Charger's available adaptive cruise control, forward collision warning, or lane departure warning. The SRT models do come standard with blind spot monitoring and rear cross path detection.
---
2021 Dodge Charger SRT Hellcat Redeye Widebody Overall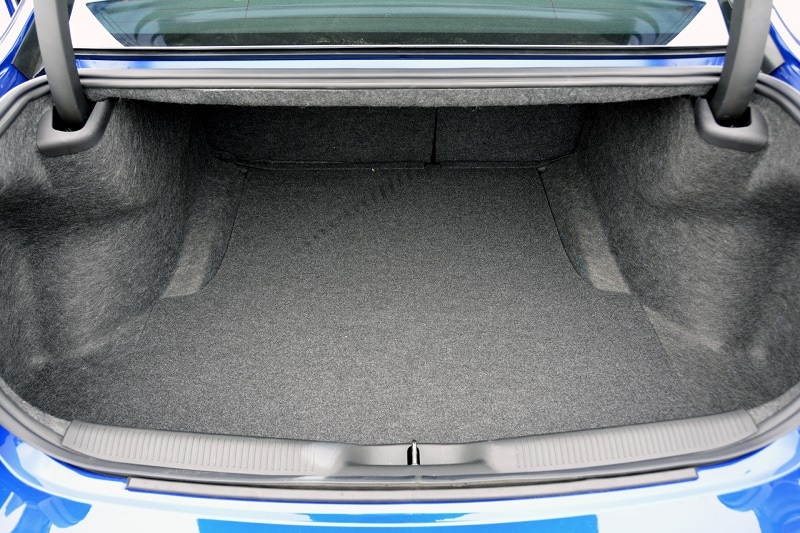 The only thing longer than the name of the 2021 Dodge Charger SRT Hellcat Redeye Widebody is the long, fat patches of rubber this high-powered sedan leaves behind when you step on the gas!
The Charger SRT Hellcat Redeye might have more than double the power of a base Charger, but it also costs almost triple the price. While you can pick up a base V-6 Charger for $29,995, opting for the 2021 Dodge Charger SRT Hellcat Redeye Widebody increases the price to $78,595. With the added styling and handling options added to the Redeye used for this review, the window sticker showed an as-tested price of $86,865, which includes the $2,100 gas guzzler tax as well as access to the SRT Track Experience.
---
Jeffrey N. Ross | May 28, 2021