Derek Shiekhi | Jan 23, 2020
---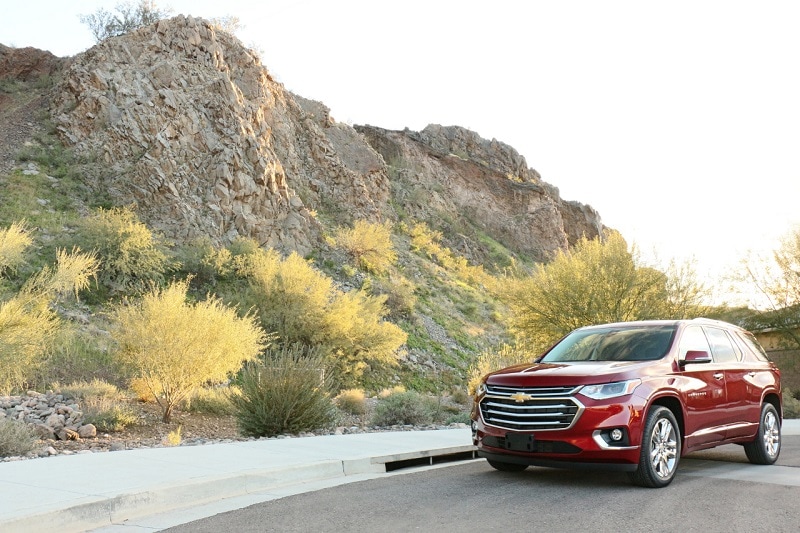 Last December, my girlfriend Eli and I flew out to Peoria, Arizona to visit her parents. Weeks before we left, I had figured out what I wanted for Christmas. I pictured an SUV with plenty of room for me and Eli and our luggage, as well as her parents and her 94-year-old grandmother (we call her Busia, a Polish word for grandmother).
Santa was busy gathering toys for little kids all over the world, so I reached out to one of the media fleet services in the Phoenix area. They gave me just what I was looking for, plus a lot extra. Not only was the 2020 Chevrolet Traverse High Country ($52,490 as tested) a spacious three-row SUV, but it was also an attractive one with a leather-lined interior packed with useful technology.
---
2020 Chevrolet Traverse High Country Exterior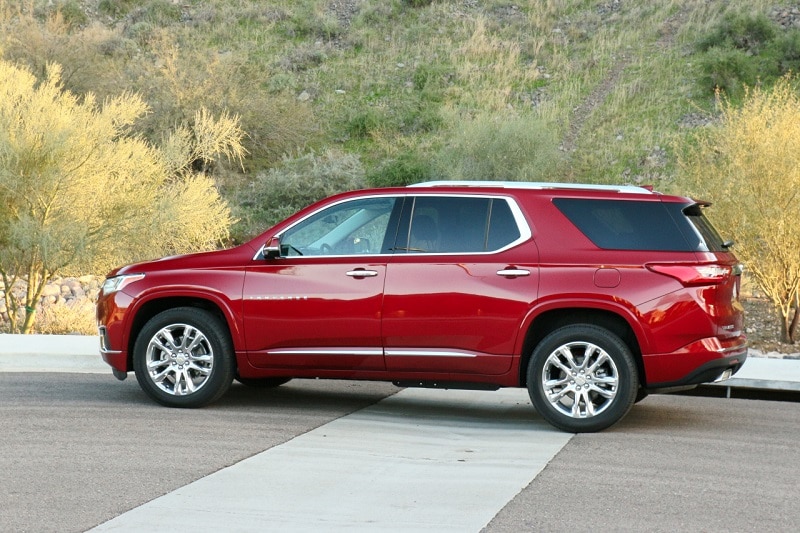 The timing really couldn't have worked out better. The Traverse that was waiting for me and Eli at the Phoenix airport was covered in glossy red paint (a shade Chevy calls Cajun Red), which put me in the Christmas spirit even more. There was plenty of "tinsel" in the form of chrome trim on the double-tier grille between the LED headlights, fog light surrounds, roof rails, greenhouse frame and door handles and a gleaming set of polished aluminum 20-inch wheels.
Given how much the temperatures dropped at night, I made liberal use of the Traverse's standard remote start capability so that the Jet Black/Loft Brown cabin would be warmed up before we all climbed into it to go to church or, one of my favorite destinations of the trip, a drive-through lights display synchronized with Christmas songs. All of our post-Christmas shopping made me grateful for the hands-free liftgate.
Shop Chevrolet Traverse Inventory
---
2020 Chevrolet Traverse High Country Interior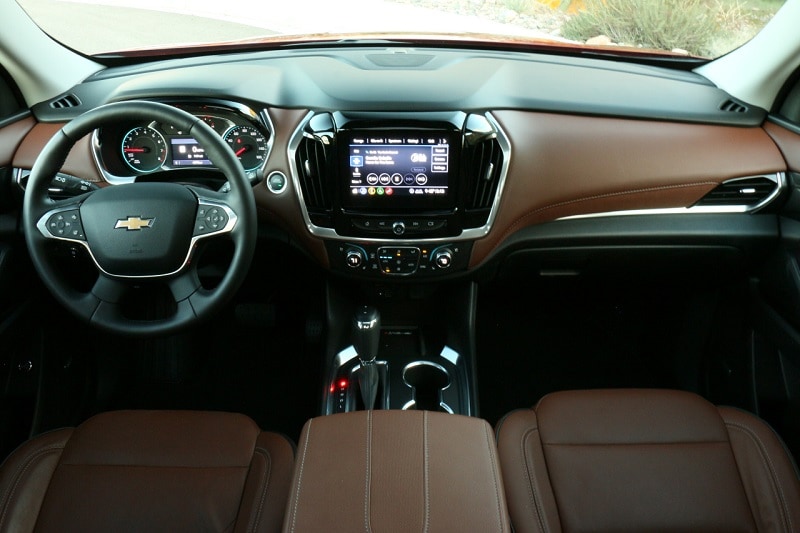 One particular outing made it crystal clear to me why so many people gravitate toward midsize SUVs. Busia was just days away from turning 95. She was still able to walk on her own, but getting in and out of vehicles could be a little tricky for her. Luckily, the Traverse's step-in height wasn't a problem for Busia.
When all five of us went anywhere, I drove, Eli's 6'5" father rode shotgun, Eli's mom and Busia sat in the second-row captains chairs and Eli sat on the power-folding bench seat in the back. I had everything I needed where I was. The leather-wrapped steering wheel was heated, just like both front seats. More than once, I forgot to charge my phone overnight. Luckily, I could just throw it onto the Traverse's wireless charging pad and juice it up as I drove. I never had to worry about Wi-Fi because I connected my iPhone to the onboard 4G LTE hotspot. Punching in an address only took a few taps on the Chevrolet Infotainment 3 system's eight-inch high-definition touchscreen.
Eli's dad seemed a little short on legroom, but I think it was because he wanted to leave his wife more than enough legroom in the second row. Eli's mom and Busia seemed to have plenty of it. They also had their own climate controls, heated seats and three smart device charging options: two USB ports and a 120-volt outlet. After a couple of attempts, Eli was able to easily tilt and slide the captains chairs forward so she could access the third row.
With all three rows of seats upright, the Traverse can hold 23 cubic feet of cargo. Eli and I never pack lightly so we folded the rear bench down to free up a total of 57.8 cubic feet, which was enough for our four suitcases and my briefcase and camera case.
Shop Chevrolet Traverse Inventory
---
2020 Chevrolet Traverse High Country Performance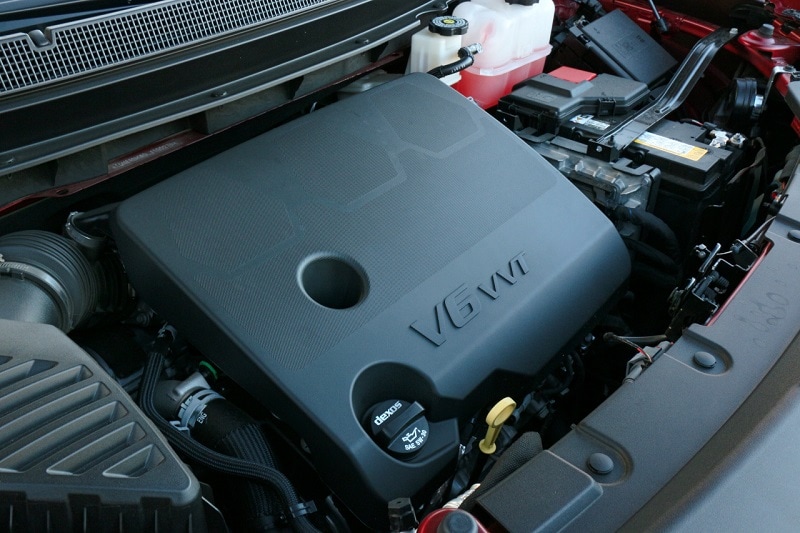 The few times Eli and I were alone in the Traverse, its naturally aspirated 3.6-liter V6 and nine-speed automatic transmission got us up to highway speeds with ease. But I wondered if its 310 horsepower and 266 lb-ft of torque would be up to the job of transporting another three people without running out of breath. It was.
By the time Eli and I were ready to fly back to Austin, Texas, I had put 483.9 miles on the Traverse's odometer. Despite all of my highway driving, I fell just short of the EPA's combined fuel economy rating. According to them, a front-wheel-drive Traverse High Country is capable of getting 18 city, 27 highway and 21 combined mpg.* I averaged 20 flat.
Shop Chevrolet Traverse Inventory
---
2020 Chevrolet Traverse High Country Safety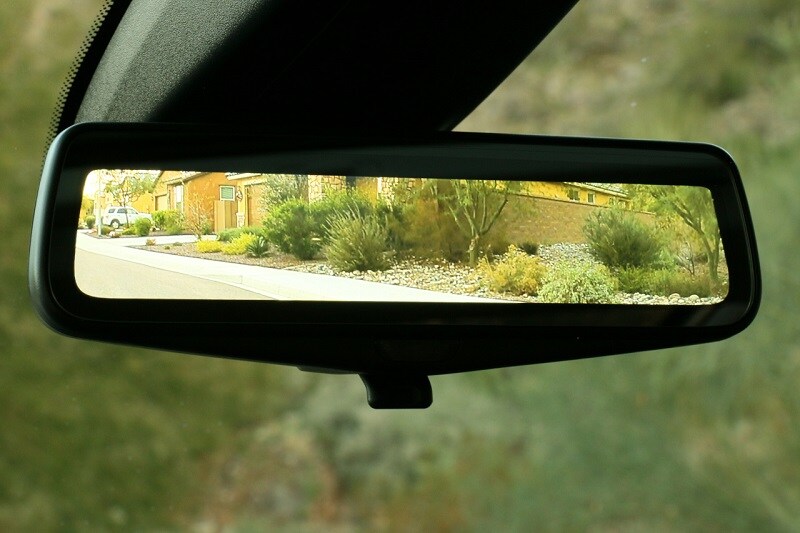 As the flagship model in the Traverse range, the High Country comes standard with a long list of safety features. That includes Front Pedestrian Braking, Lane Keep Assist with Lane Departure Warning, Lane Change Alert with Side Blind Zone Alert and Rear Cross-Traffic Alert.
A shopping trip with the ladies showed me just how helpful the HD Surround Vision setup can be. I had to park in a covered spot next to a pole on my right that supported the roof. To avoid scraping the front passenger-side fender on the load-bearing beam, I brought up the camera feed that showed me an overhead shot of the front end, then pulled forward carefully.
I got the most use out of the rear camera mirror, which gave me a view out of the back of the Traverse unobstructed by headrests or bodywork. I initially thought it would be most beneficial while backing out of parking spots, but I found it gave me the most peace of mind while I was changing lanes on the highway.
Shop Chevrolet Traverse Inventory
---
2020 Chevrolet Traverse High Country Overall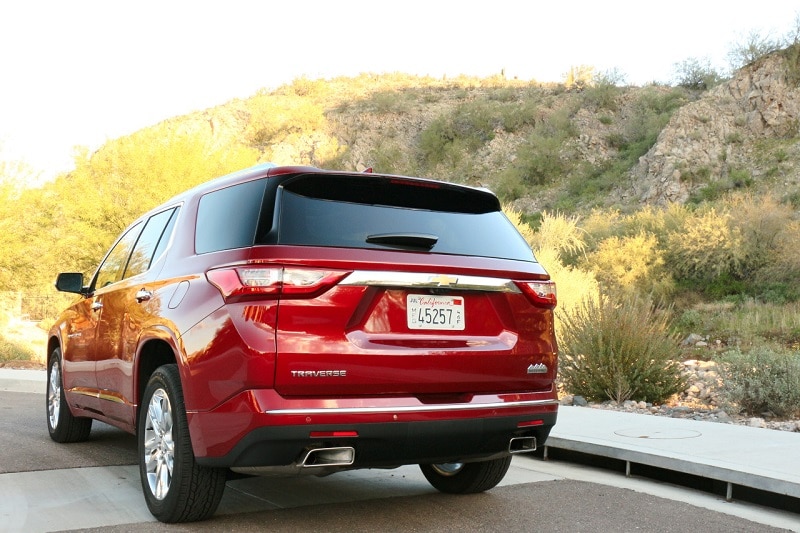 The 2020 Traverse High Country was just the Christmas gift I needed it to be. But you can get it for yourself as a birthday gift, a new job gift or a "just because" gift at a starting price of $50,900** at your local AutoNation Chevrolet dealership.