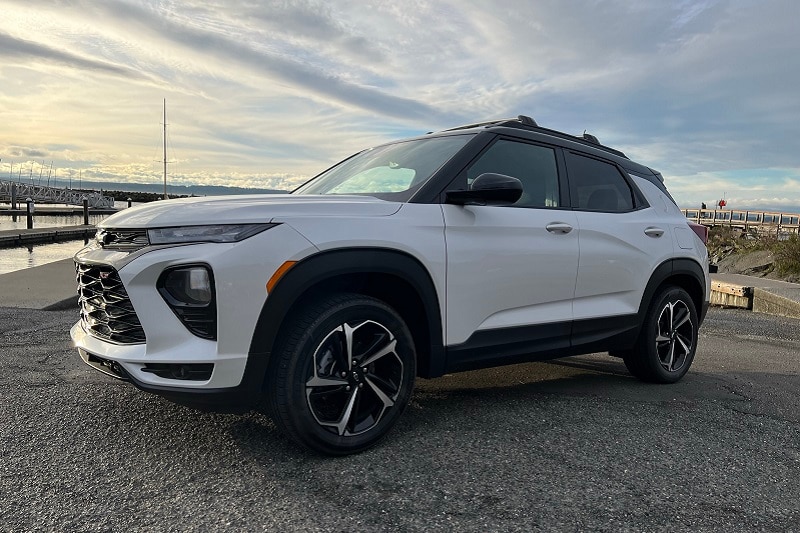 Two decades ago, the Chevrolet Trailblazer was a more luxurious version of the off-road ready Blazer. But in the years since, the General has done some shuffling with its naming convention. Today the Blazer - which had been a competitor to Ford's Bronco - is a mid-size crossover, and the Trailblazer is a unique model in the subcompact crossover segment.
The Trailblazer was all-new for the 2021 model year, so it rolls into 2022 with just some tweaks to the trims and available options. Namely, the entry-level L trim is no longer available, and Apple CarPlay and Android Auto are standard across the board. While the current Blazer shares its chassis and running gear with the more upscale
Buick Encore GX
, it's a distinctly different vehicle with sharper exterior styling and a less luxury-focused cabin.
Shop Chevrolet Trailblazer Inventory
---
2022 Chevrolet Trailblazer RS Exterior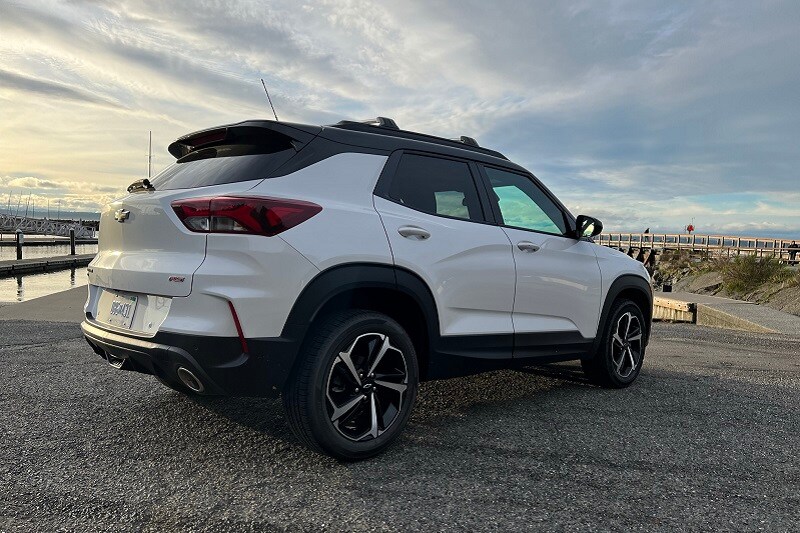 The Trailblazer may have a tiny footprint, but the designers went out of their way to give it some attitude. Obviously, there's some family resemblance between the Trailblazer and its bigger brother, the Blazer. But with the wide grille, creases on the hood, and skinny LED headlamps, I think there's a little Camaro DNA present as well. 
The floating roof concept has become de rigueur for SUVs and crossovers, but it's well executed here, and when viewed in profile, the black cladding on the side skirts provides a nice bit of symmetry. A pair of character lines - one just below the beltline and another just above the side skirts - run along the side of the Trailblazer, and along with the pointed shape of the taillights the C-pillar, help give the sheet metal some visual pop. The five-spoke, two-tone wheels also gave the Trailblazer some performance flare, though I'd be nervous to take them too far off the beaten path, lest they get scratched up.
Shop Chevrolet Trailblazer Inventory
---
2022 Chevrolet Trailblazer RS Interior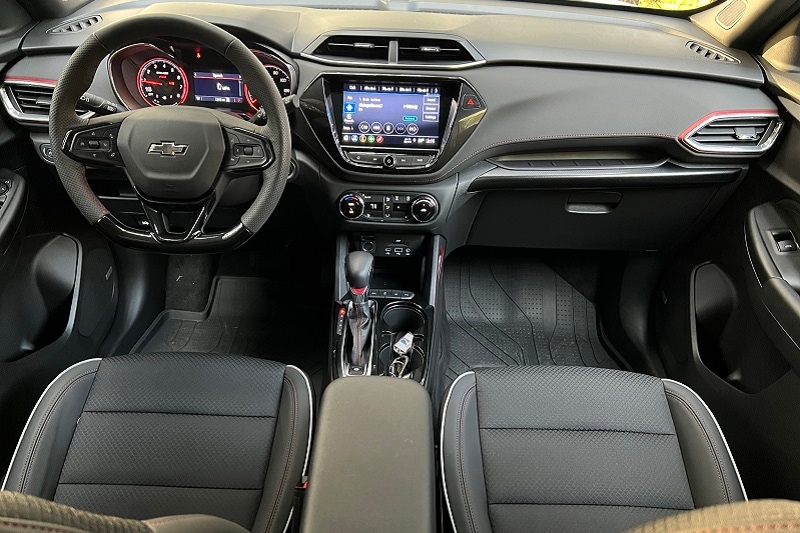 Despite its small overall size, there's plenty of room inside the Trailblazer. I'm 6'3", and while I was comfortable in the driver's seat, I was also surprised by how much space the rear seats offered. 
My tester's jet black seats with red accents were comfortable, and given my tendency to freeze, I appreciated the fact that the front chairs were heated. Overall material quality skewed toward the entry-level tier, with lots of hard plastic, though the designers did a good job of reflecting the sharp lines of the exterior inside the cabin. It also felt well-insulated, as it proved relatively quiet, even at highway speeds. 
Chevy's infotainment system is exceptionally well done, and features large, easy-to-read fonts, intuitive organization, and physical controls for climate controls, radio volume, and heated seats. Apple CarPlay and Android Auto are standard on all trims, but aside from connecting my brother's phone so he could play DJ on an extended interstate drive, I was happy to stick with the native system. While it requires a subscription, it's worth noting that the onboard WiFi was quick, and will likely be a must-have for tech-savvy buyers.        
The available cargo space reflects the Trailblazer's roomy environs. There's 25.3 cubic feet behind the rear seats, and if you fold them down, that climbs to 54.4 cubic feet. This puts it up there with the best in the current crop of subcompacts.
Shop Chevrolet Trailblazer Inventory
---
2022 Chevrolet Trailblazer RS Performance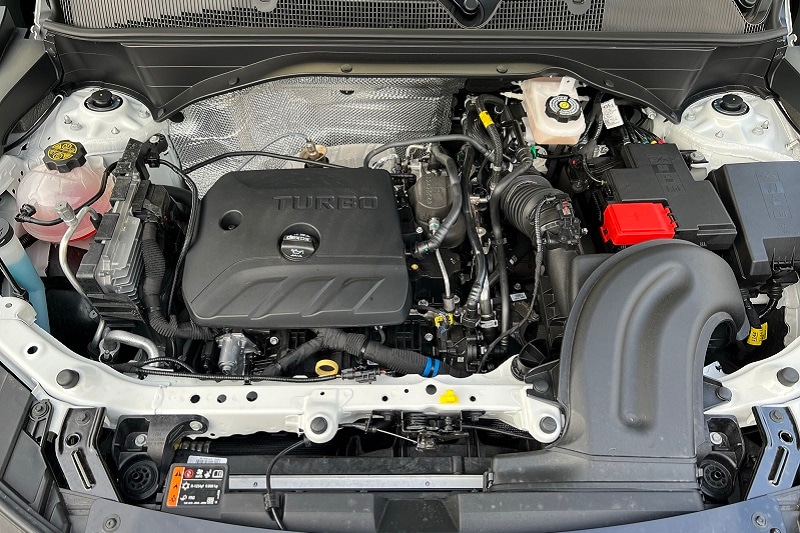 Chevy offers two engine options for the Trailblazer. The base mill is a turbocharged 1.2-liter three-cylinder, which is good for 137 horsepower and 162 lb-ft of torque, and is paired with a CVT automatic. That package is only available with front-wheel drive models, and since my tester was able to send power to all four corners, it was packing a more powerful 1.3-liter and conventional nine-speed. So while this is still a turbocharged I3, it produces a more robust 155 horsepower and 174 lb-ft of torque. 
Now, those numbers aren't earth shattering, but its impressive horsepower-per-liter figure and tiny packaging earned this little mill a spot on the 2021 Wards 10 Best Engineslist. That's no small feat, and while some of my industry friends have remarked that the Trailblazer is underpowered, I honestly didn't feel that way. There was enough poke to easily squirt through city traffic, and even when I took it on a 180-mile Thanksgiving road trip, I didn't have any complaints. This subcompact was perfectly happy to hang with fast highway traffic, and at no point did it sound buzzy or overstressed. That said, the base engine might not prove as eager to please, so if you're interested, make sure to test drive both.   
With the 1.3-liter engine, the Trailblazer is EPA rated at 26 city and 30 highway, and when properly equipped, it can tow up to 1,000 pounds. 
Shop Chevrolet Trailblazer Inventory
---
2022 Chevrolet Trailblazer RS Safety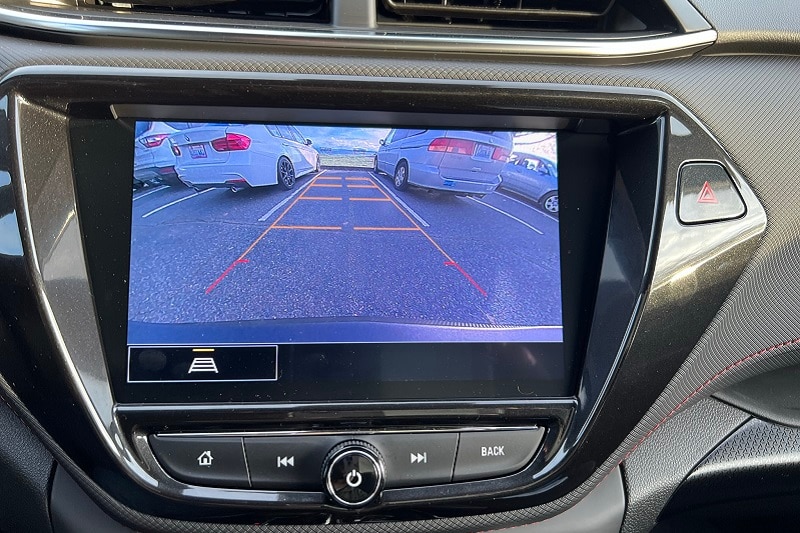 In testing by the National Highway Traffic Safety Administration, the Trailblazer earned a 5-Star rating. So there's nothing pint-sized about its safety credentials. 
There's also a robust list of standard safety equipment, including Lane Keep Assist with Lane Departure Warning, Automatic Emergency Braking, Front Pedestrian Braking, Forward Collision Alert, and Automatic High Beams. Chevrolet's Teen Driver system is also standard, and allows parents to set a maximum speed, and view a report, including highest speed reached, and whether any active safety systems were triggered during the trip. Additionally, my tester was also equipped with the Driver Confidence Package, which includes Rear Cross Traffic Alert, Rear Park Assist, and Lane Change Alert with Side Blind Zone alert.
Shop Chevrolet Trailblazer Inventory
---
2022 Chevrolet Trailblazer RS Overall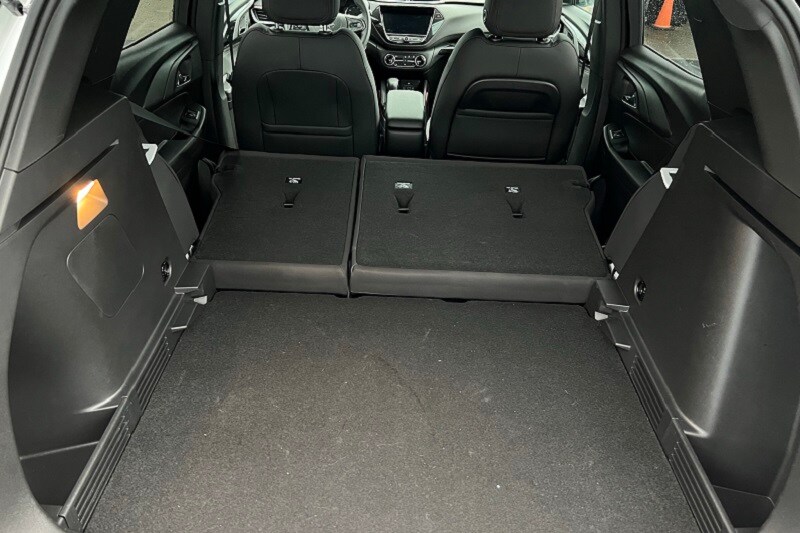 At the end of my week with the Trailblazer, I came away with an appreciation for this subcompact crossover. Because while it doesn't have a ton of power, its stylish looks, tiny footprint, and roomy interior make it a tool to navigate the urban jungle. Plus, it was perfectly comfortable during my Thanksgiving road trip, proving it's not just a city slicker.   
The base price of my Trailblazer RS was $27,200, which included desirable options like the more powerful turbocharged engine and all-wheel drive. That said, it was also fitted with a host of optional equipment, most notably the Technology Package ($1,620). This suite of features includes the premium Bose audio system with seven speakers, a wireless charging pad, an eight-inch color touchscreen, and adaptive cruise. Other additions, like the Iridescent Pearl Tricoat paint ($645), the Driver Confidence Package ($345), and the roof rack rails ($275) bumped the total price to $32,150.  
Shop Chevrolet Trailblazer Inventory
---
John Coyle
| Nov 30, 2021