Jeffrey N. Ross
| Aug 20, 2020
---
Today's pickup trucks have evolved into far more than the work-essential vehicles they once were. But if you need a serious truck for the work site or to haul heavy loads, then heavy-duty trucks like the all-new 2020 Chevrolet Silverado 2500HD are still the right tools for the job.
All new for the 2020 model year, Chevrolet's heavy-duty Silverado lineup is bigger, stronger, and bolder than its predecessor, and I got to spend a week with this work-ready hauler decked out in the Custom trim level.
---
2020 Chevrolet Silverado 2500HD Exterior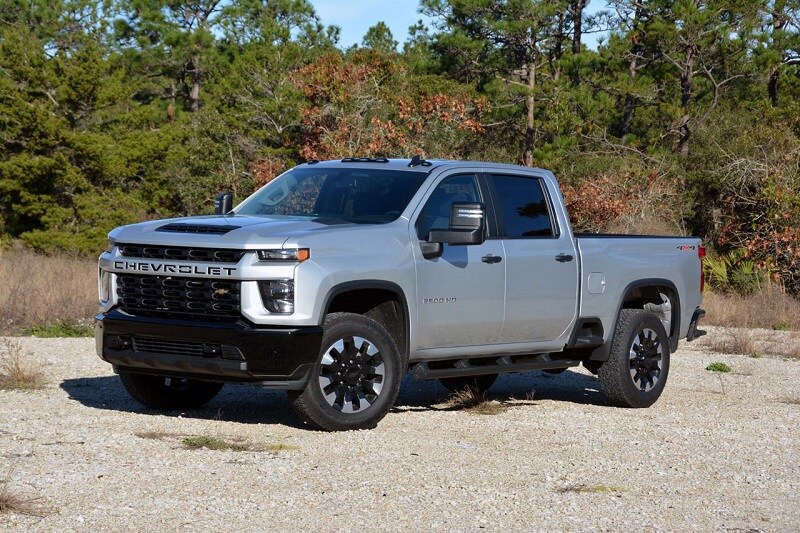 Like the half-ton Silverado 1500, the 2020 Chevrolet Silverado HD lineup has a design that is extremely polarizing. I must admit that I wasn't a fan when I first saw images of this truck when it debuted, but it definitely looks better in person with a muscular and imposing presence. The boxy design mixed with the oversized grille and stacked headlights make for an interesting that won't be confused for anything else on the road.
Balancing style and cost effectiveness, this tester came in the Custom trim level - the Silverado HD's second to lowest trim - helping to eliminate some of the work truck looks of the base model. The Custom trim level adds features such as black-painted bumpers and 20-inch two-tone aluminum wheels, but the coolest part of this truck was the grille that spells out the Chevrolet name (instead of the bowtie badge) to match the stamped tailgate.
One helpful feature Chevy added to the new Silverado 2500HD is an integrated step on each side of the cargo bed. Like GM's CornerStep rear bumper, this integrated side step is a quick and easy solution for making the cargo area easier to access without resorting to complex, weight-adding tailgate steps like Ford. Showing that it's ready to get to work, this truck was also fitted with a Gooseneck/fifth-wheel package adding stamped bed holes, seven-pin wiring harness and a factory spray-in bedliner. Getting into the cab was easier for all occupants thanks to the added side steps for an extra $450.
Shop Chevrolet Silverado 2500HD Inventory
---
2020 Chevrolet Silverado 2500HD Interior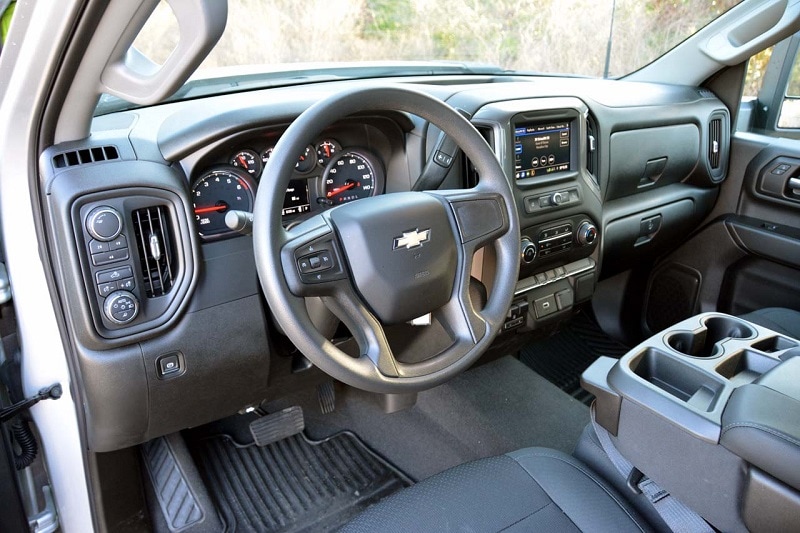 To offset the polarizing exterior, the interior of this 2020 Chevrolet Silverado 2500HD had a more traditional design with a Spartan layout. Sure, you can get a fancier version of this truck, but it was nice to check out the Silverado HD in a more basic (and affordable) trim.
The good news is that opting for the cloth seating with a three-passenger, split bench front seat doesn't mean you have to sacrifice desirable cabin tech. The Custom trim level comes standard with a seven-inch diagonal touch screen with Android Auto and Apple CarPlay, while the optional $1,880 Custom Value Package brings remote start, LED bed lights, locking tailgate with lift assist, OnStar with 4G LTE wi-fi hotspot and heated, power-adjustable trailer towing mirrors.
Similar to the Silverado 1500, the Silverado HD trucks have grown in size offering three more inches of cab length resulting in a roomier cabin experience. Fold up the front armrest, and you get a six-passenger truck that doesn't make things awkward for either middle passenger. Opting for this seating configuration does mean you don't get any center console storage area, but the dual glove boxes do offer plenty of storage space. Likewise, fold up the rear bench seat and you have enough height for even the largest of big-screen televisions. 
Shop Chevrolet Silverado 2500HD Inventory
---
2020 Chevrolet Silverado 2500HD Powertrain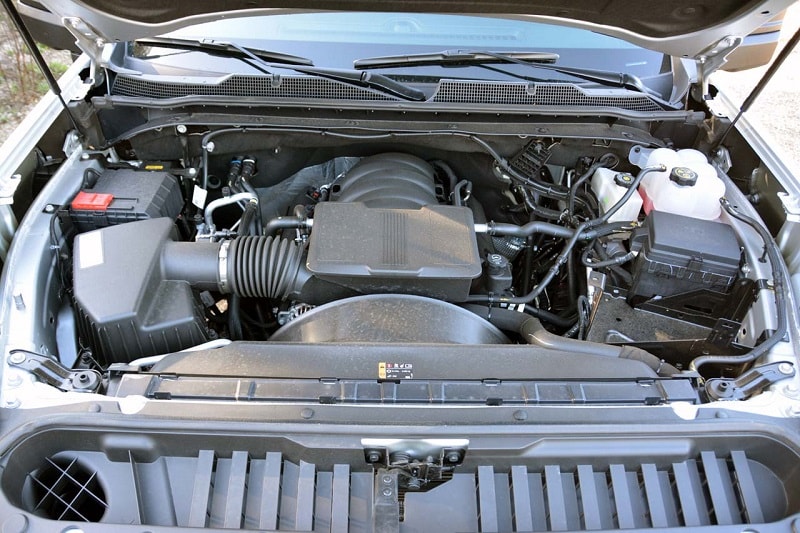 Whereas the Silverado 1500 can be had with seven different engine and transmission configurations, the 2020 Chevrolet Silverado 2500HD is available with just two. The 6.6-liter Duramax V-8 offers up the most power and significantly increases the bottom-line price, while the base 6.6-liter direct-injected gasoline engine provides plenty of power on its own with 401 horsepower and 464 lb-ft of torque. If you want the Custom trim level, this gas engine is your only option, and unlike the diesel or the Silverado 1500, the HD gasser is only offered with the six-speed automatic. The EPA doesn't rate fuel economy for heavy-duty pickup trucks, but we averaged 13.3 mpg in a week of mostly city driving.
While the stronger base engine is surely a selling point for truck buyers, the improved towing capabilities are what really makes the Silverado 2500HD worth checking out. For the record, we didn't have the opportunity to haul anything (what a shame) with this tester, but the gas-powered Silverado 2500HD 4x4 Crew Cab standard bed is a beast with the ability to tow 14,500 pounds with a conventional hitch and 16,650 pounds with a gooseneck or fifth wheel setup. Despite being able to tow this much, the Silverado HD has a surprisingly smooth ride while unloaded.
Shop Chevrolet Silverado 2500HD Inventory
---
2020 Chevrolet Silverado 2500HD Safety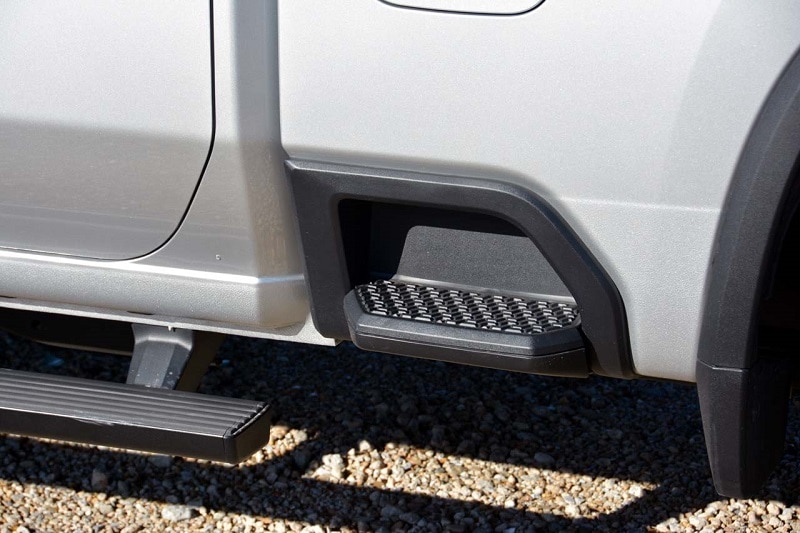 Heavy-duty trucks are not rated by the National Highway Traffic Safety Administration. While the Custom level delivers decent styling and interior content, it is only available with the Silverado HD's standard safety features consisting of six airbags, rear vision camera, Trailer Sway Control and Teen Driver Mode; if you want the more advanced driver-assist features, you have to step up to the higher-priced trims.
Shop Chevrolet Silverado 2500HD Inventory
---
2020 Chevrolet Silverado 2500HD Overall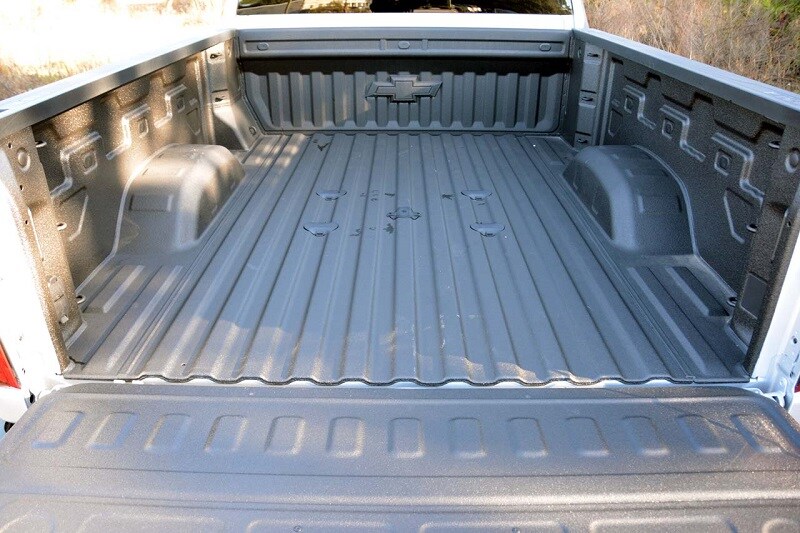 Mid-size and half-ton trucks are what you get when you want occasional towing capability, but heavy-duty trucks are what you get when you need a rugged hauler. The all-new 2020 Chevrolet Silverado 2500HD faces some hefty competition from Ford and Ram, but this gas-powered behemoth has no problem keeping up with its heavy-duty rivals.
Although it might take some time to get used to the design of this new Silverado HD, there's no arguing with its added power and strength. With a starting price of $34,600, the price premium for the HD over the standard Silverado 1500 is right around $6,000, and this well-equipped Custom trim level had an as-tested price of $48,420.
Make sure to visit your local AutoNation Chevrolet dealership and test drive the 2020 Chevrolet Silverado HD today!