Omar Rana  | Aug 06, 2020
---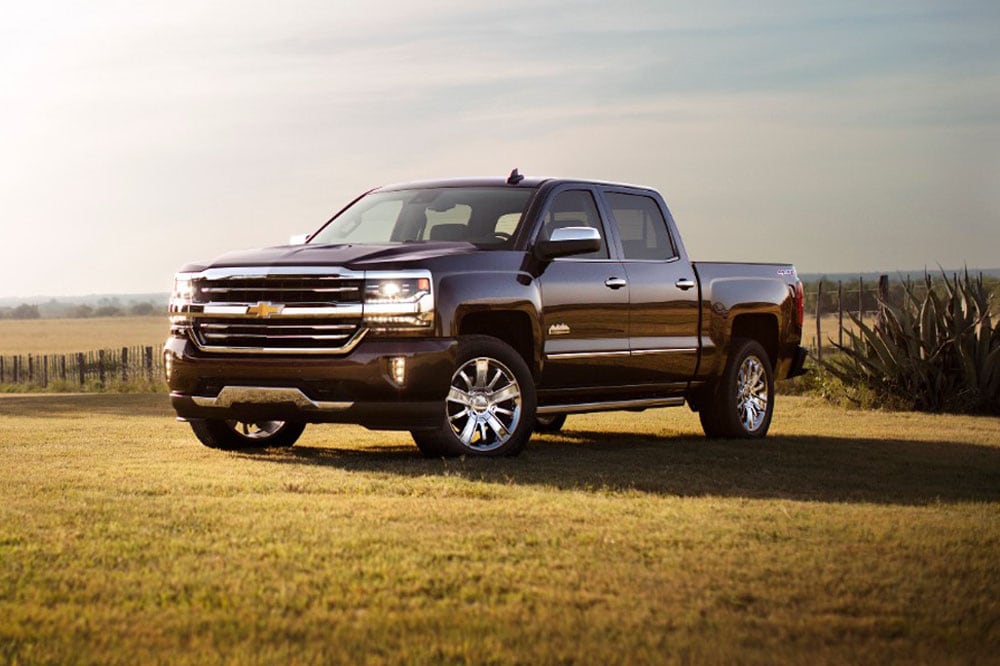 Quarantine has taught me a lot of new things. I've learned that there are many tasty, healthy recipes out there. After watching "The Last Dance" docuseries, I know more about the 1990s Chicago Bulls now than I did back when I watched their games live. These unusual times have also revealed that the 2020 Chevrolet Silverado 1500 High Country and Mazda MX-5 Miata have something major in common: I looked for any reason to drive them.
Back when the ND version of the Miata came out in 2015, Mazda sent me one with a six-speed manual gearbox. As soon as I got the keys to it, I dropped its fabric top and went out to lunch. But I didn't need to be hungry to hop in and fire it up. I justified the thinnest, flimsiest excuses to drive it.
The Silverado High Country showed up at my apartment during a shelter-in-place order for Austin, Texas. I wasn't supposed to go out into public unless it was to clock in at an essential business, go to a medical appointment, pick up groceries or drive-through/takeout food or exercise. My girlfriend and I had already completed our grocery shopping for the week, so I didn't have many reasons to drive the Silverado until my dad called me one afternoon. He had been suffering an awful toothache for several weeks and was advised to set an appointment with an oral surgeon.
Given the conditions, it seemed likely they were going to remove the problem tooth. He asked me if I could give him a ride to and from the surgeon's office. I was happy to give him one less thing to worry about. Having a legitimate reason to get out of the house and saddle up the Silverado High Country was a nice bonus.
---
2020 Chevrolet Silverado 1500 High Country Exterior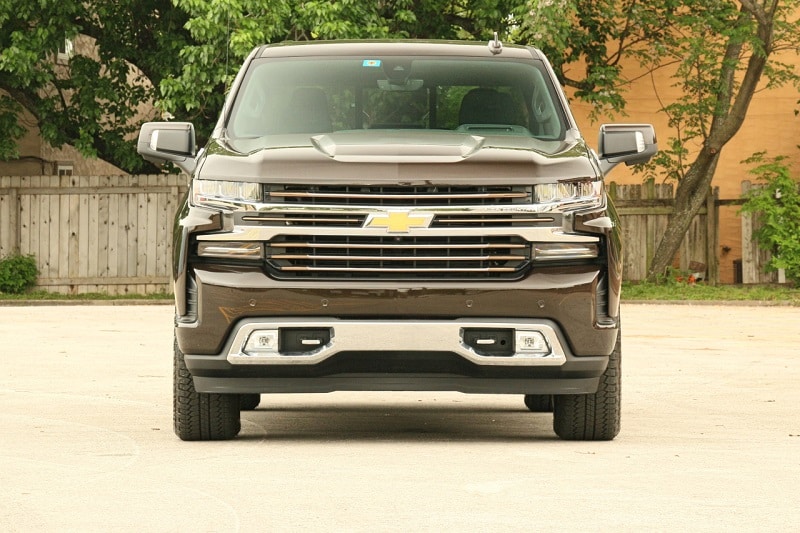 Almost every full-size truck maker offers some sort of Southwest- or Texas-themed trim level. Chevrolet calls its take on the "cowboy Cadillac" pickup High Country. My test truck leaned into the theme hard with its handsome brown paint job (a shade Chevy calls Havana Brown Metallic), which brought Wild West landscapes to mind. Chevy paired that with plenty of chrome on the grille, lower front fascia, lower greenhouse trim, door handles, full-length running boards between the standard 20-inch wheels and dual exhaust finishers that integrated neatly with the body-color rear bumper.
For medical safety reasons, I couldn't go into the building with my dad, so I stayed out in the parking lot and got more familiar with the Silverado's coolest exterior feature. By pressing a button on the key fob twice, I could remotely lower the tailgate for the 5'8" short box. Another two pushes made it power close.
2020 Chevrolet Silverado 1500 High Country
---
2020 Chevrolet Silverado 1500 High Country Interior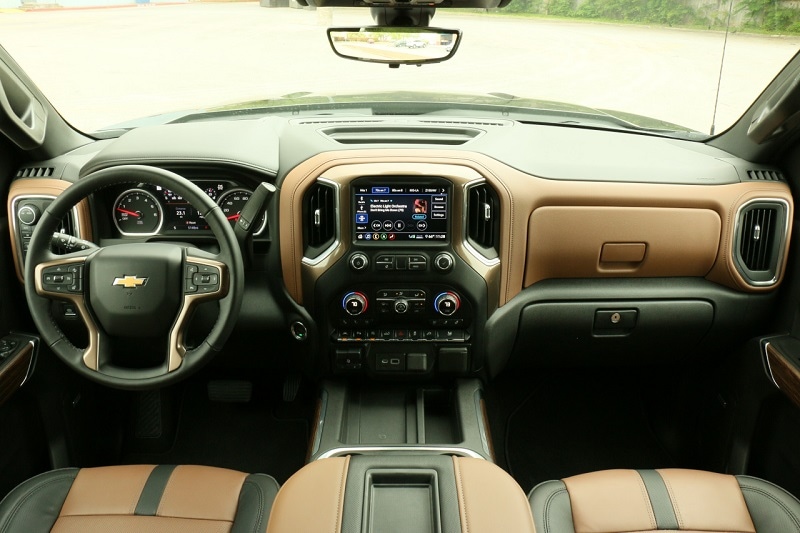 Just as I expected, the surgeon ended up extracting the tooth that had caused my dad so much pain. The local anesthetic was going to wear off eventually and leave him in a state of discomfort so I was glad we were in such a luxurious truck. Chevy decked out the inside of the Silverado with the attractive combination of Jet Black and Umber leather. Both front seats were power adjustable 10 ways, heated and, most importantly, ventilated. The dual-zone climate control allowed my dad to set his side of the cabin to his ideal temperature.
My time waiting for my dad's dental procedure to end also gave me a chance to learn more about the Silverado's infotainment system and rear seats. As the flagship model of the Silverado 1500 range, my test truck had all of the electronic goodies Chevy offers. The High Country comes standard with a premium seven-speaker Bose sound system as well as the Apple CarPlay- and Android Auto-compatible Chevrolet Infotainment 3 system with navigation and a responsive eight-inch touchscreen. There was more than enough head space and legroom for someone my size (5'10") in the second row. It was easy to flip up the seat bottoms and get to the storage compartment underneath them. Chevy even fit little cubby holes in the seat backs.
2020 Chevrolet Silverado 1500 High Country
---
2020 Chevrolet Silverado 1500 High Country Powertrain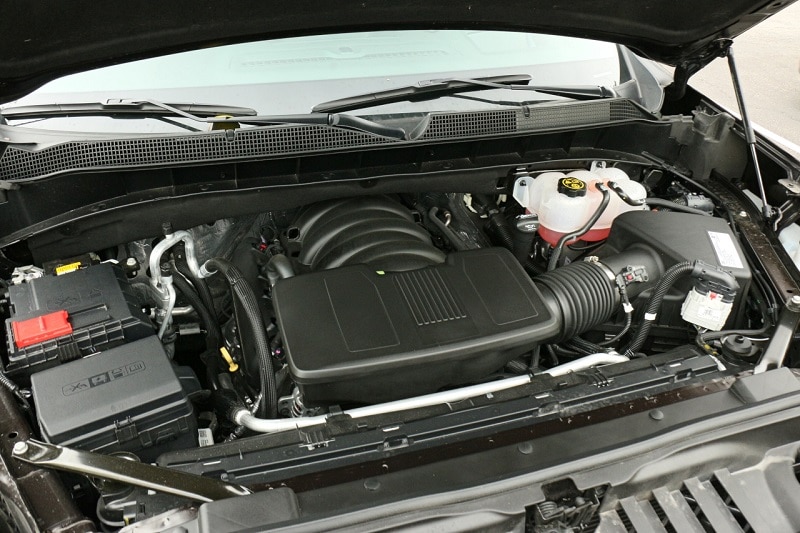 The entire time my dad and I cruised back from the surgeon's office, the Silverado's 5.3-liter V8 emitted a soothing, dull roar. Its 355 horsepower and 383 lb-ft of torque made it easy to get up to highway speeds at a respectable pace. My dad's pending pain and the state of things in Austin meant we weren't going to be able to put the Silverado to serious work.
Had the timing been different, my press loaner, with its crew cab, small V8 engine with Dynamic Fuel Management cylinder de-activation system, ten-speed automatic, four-wheel drive, 3.23 rear axle ratio and 7,100-pound gross vehicle weight rating (GVWR), would've been able to haul 2,060 pounds and tow 9,600 pounds.
By the time my week with the Silverado was over, I had racked up a whopping…190 miles. Most of those were city miles, which explains why my average fuel economy matched the EPA's city fuel economy rating of 16 mpg. The Silverado is capable of getting 22 mpg on the highway and 19 mpg combined.
2020 Chevrolet Silverado 1500 High Country
---
2020 Chevrolet Silverado 1500 High Country Safety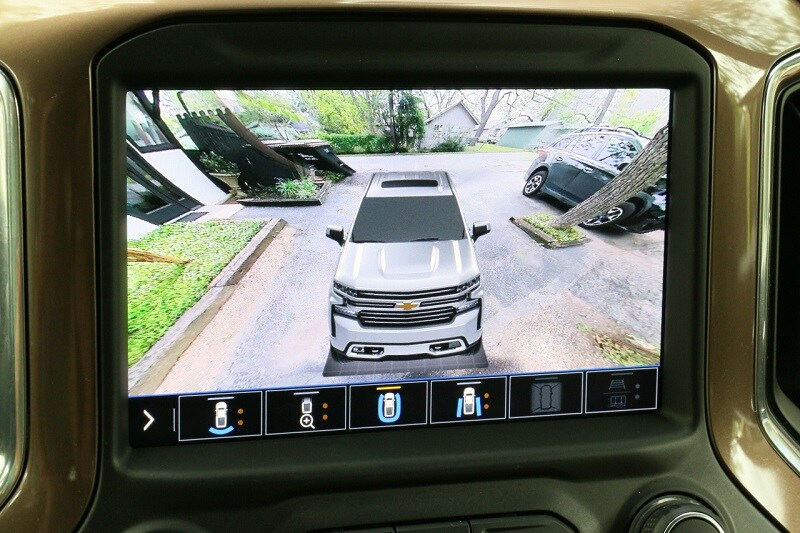 When I did manage to get out of the house and drive, it was comforting to know that my test truck was packed with safety technology. Features such as rear cross traffic alert, lane change and side blind zone alert and front and rear park assist were standard. The optional Safety Package II added front pedestrian braking, adaptive cruise control, lane keep assist with lane departure warning and more.
I found the Technology Package had the most useful gear. The unobstructed view out of the back provided by the rear camera mirror made changing lanes less stressful. Once it was time to park, the HD Surround Vision system's multiple camera angles allowed me to pull into a spot without worrying about scraping the Silverado's sides.
2020 Chevrolet Silverado 1500 High Country
---
2020 Chevrolet Silverado 1500 High Country Overall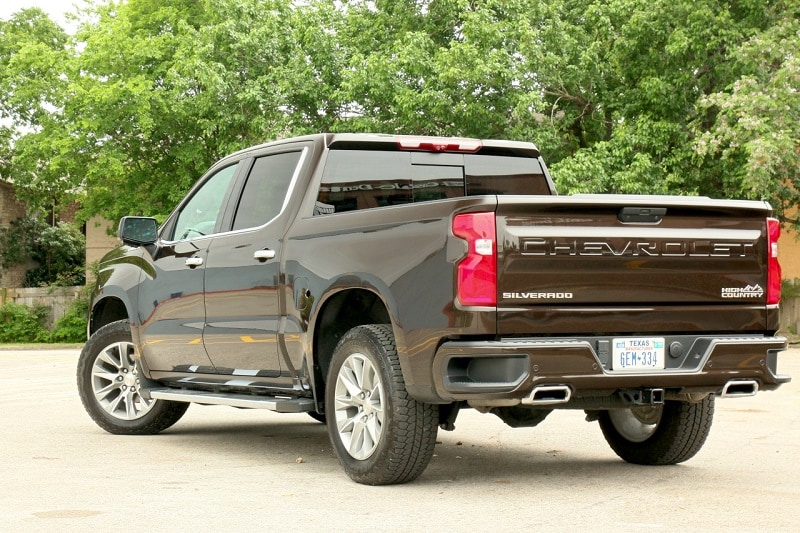 My time with the Silverado was unusual, to say the least. I never would've imagined I'd come away thinking it has something in common with a car like the Miata, but I did. I learned something new.
You can find out even more about the 2020 Silverado 1500 High Country at an AutoNation Chevrolet dealership. Prices start at $53,300. If you spec one like the truck you see here, expect a final price of $61,065.