Derek Shiekhi | Nov 09, 2020
---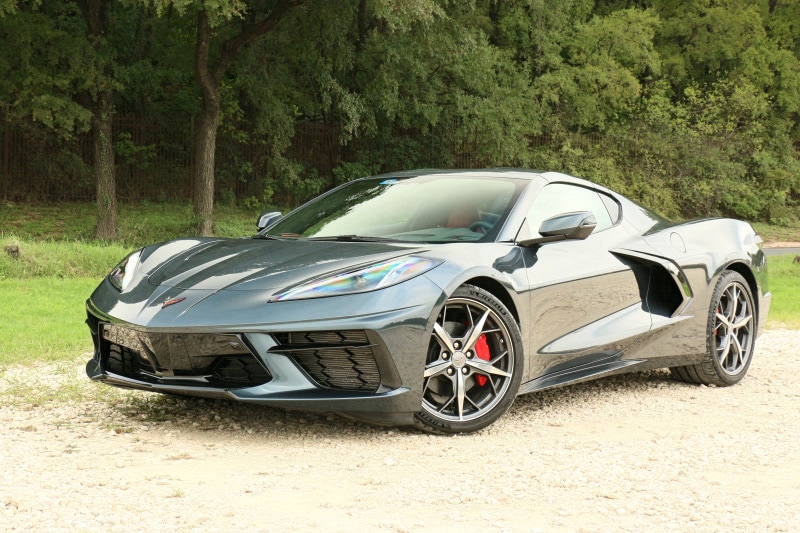 Chevrolet finally did what fans and owners and even company executives have wanted it to do for decades: It made a mid-engine production Corvette.
The debut of the 8th-generation model in July of 2019 was a moment 60 years in the making. Zora Arkus-Duntov, considered by many to be the "Father of the Corvette," knew putting a car's engine in the middle of the body would improve its forward visibility, weight distribution and handling. Between 1960 and 1990, Chevrolet released three midengined CERV (Chevrolet Engineering Research Vehicle) design studies to explore the possibilities of the layout. A variety of reasons, including engine cooling problems and limited passenger and luggage space, prevented the CERVs from being turned into production-ready Corvettes.
Chevrolet overcame those issues (and probably hundreds more) to create the 2020 Corvette Stingray. Even though the mid-engine 'Vette is here decades later than many wanted it to be, Chevy timed it right in two major ways. The company was reaching the performance limitations of the traditional front-engine, rear-wheel-drive layout with the C7 model, which maxed out with the 755-horsepower ZR1.
The C8's mid-engine configuration puts more weight over the rear axle and makes better use of the Stingray's power. Its packaging requirements also help make the Corvette look the part of a legitimate rival to mid-engine European exotics. Then there's the fact that sedans, wagons and SUVs are more powerful than ever and, thanks to advancements such as sophisticated all-wheel drive systems and torque-vectoring differentials, can perform in ways that seem to defy the laws of physics. Chevy needed to make a drastic change to its flagship sports car to keep its "wow factor" alive in a market populated with 306-horsepower Honda Civic Type R hatchbacks and Jeep Grand Cherokee Trackhawks with nearly twice as much get-up-and-go.
All of that internal and external pressure didn't crack Chevy. Instead, it forged a truly impressive machine that delivers on the promises its racy bodywork makes.
---
2020 Chevrolet Corvette Stingray 2LT Exterior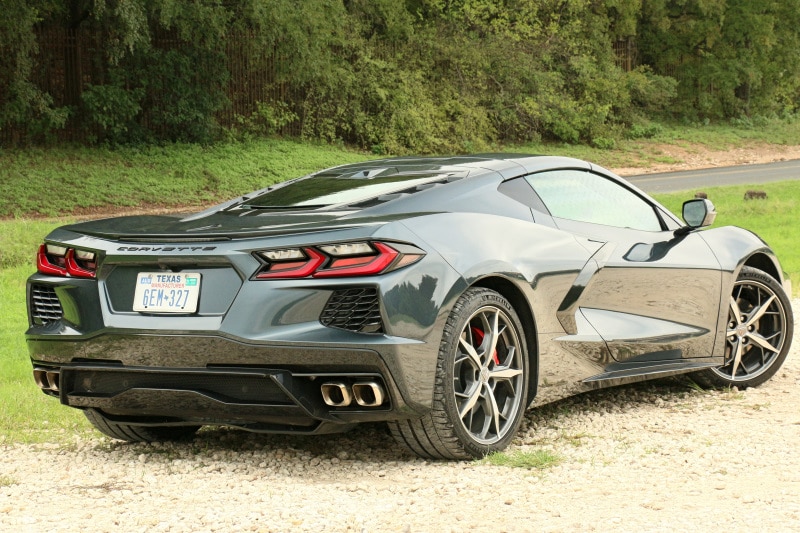 I must admit that when I first saw pictures of the 2020 Corvette, I thought it was attractive, but not unforgettably unique. Then I got an eyeful of my $72,075 test car. Its low-key Shadow Gray Metallic paint made the slashes and swoops it covered that much more impactful. There didn't seem to be a bad angle. The best one was the rear ¾ shot, which showcased how artfully the design team behind the Stingray blended creases and curves into a stunning pair of rear fenders.
Many performance car manufacturers go with a staggered-width tire setup to give their vehicles more rear grip. The C8 uses that, as well as staggered-diameter wheels. My test car had a set of optional two-tone wheels and Michelin Pilot Sport All Season 4 run-flat tires. Up front, the 19s were wrapped in 245/35 rubber; in the back, the 20s were surrounded by 305/30s.
Shop Chevrolet Corvette Stingray 2LT Inventory
---
2020 Chevrolet Corvette Stingray 2LT Interior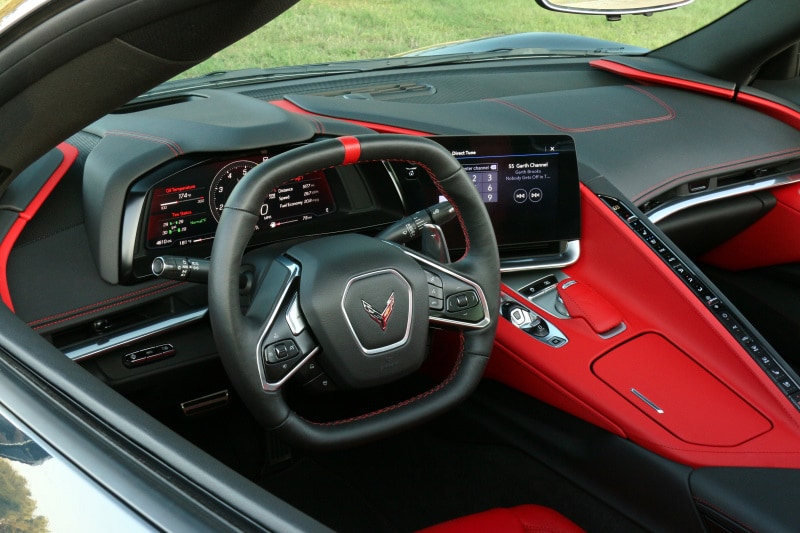 The new Corvette's cockpit is finally as spectacular as the bodywork around it, especially when it's draped in the bright Adrenaline Red that covered the seats, center console and sections of the door panels in my media vehicle. I've reviewed hundreds of vehicles over the years and none of them had a cabin like the C8. It was truly special. Everything around me was wonderfully new to my eyes, especially the two-tone ridges that ran from the door pulls to the dashboard, unusually shaped "squircle" steering wheel, unique transmission switchgear and buttress between the seats that contained the HVAC and seat climate controls.
The 2LT trim package provided a great mixture of comfort and convenience features, as well as safety equipment (which I'll cover further down). Both optional leather and carbon fiber GT2 seats were ventilated and heated. The steering wheel was just as ready for cold weather. The 8-inch HD touchscreen for the infotainment/navigation system was within easy reach. Chevy minimized its hard controls, but left a home button and small volume knob for cranking up the 14-speaker Bose Performance Series audio system. A vertical charging pad between the two seats allowed me to juice up my iPhone. I didn't have to worry about running a USB cable to it to check my texts on the go because the 'Vette had wireless Apple CarPlay and Android Auto.
Shop Chevrolet Corvette Stingray 2LT Inventory
---
2020 Chevrolet Corvette Stingray 2LT Powertrain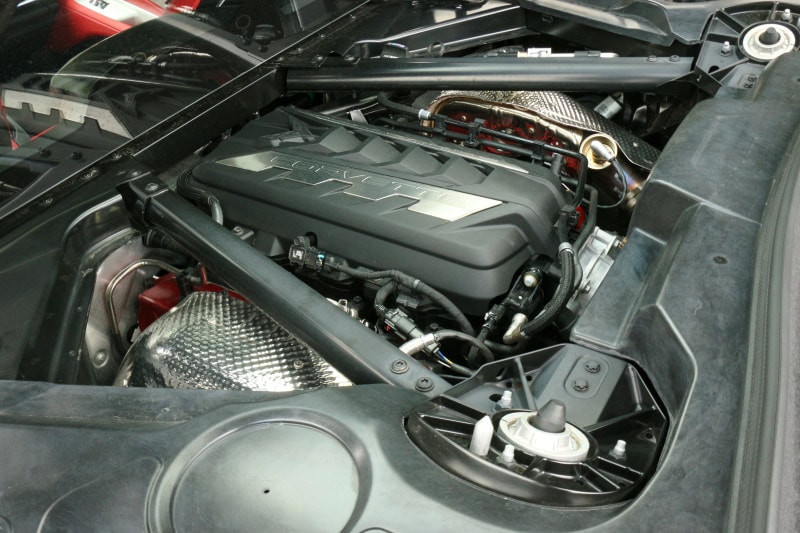 The transition to a mid-engine layout brought other mechanical upgrades along with it. The C8's new LT2 engine is still a naturally aspirated 6.2-liter V8 like its predecessor, but it cranks out more power than the LT1. With the optional performance exhaust (which my test car had), output is 495 horsepower and 470 lb-ft of torque. What's even more significant is how the C8 delivers those figures to the road. For the first time ever, the Corvette has an 8-speed dual-clutch automatic transmission. 
Despite the C8's fundamental differences from the last front-engine Corvette, it didn't lose its composed and comfortable ride quality in its Tour drive mode. The Track setting added a noticeable amount of weight to the steering and got the most full-throated vocal performance out of the exhaust. Sport mode struck the perfect balance between the two extremes. It sharpened the throttle response and dialed in the right amount of steering heft. I could feel the rack instantly respond to every small mid-curve correction I input. The dual-clutch box snapped off paddle-activated shifts quickly and smoothly. When I pulled back on and held the downshift paddle in place, the transmission quickly jumped to the lowest possible gear so I could rocket away at will.
Even under heavy throttle, the rear tires had no problem hooking up and firing the C8 forward. It was so planted and composed that a couple of full-throttle blasts up a toll road seemed like relaxed cruises. More than once, it felt as if the C8 found an invisible groove in the road that only it could access and surge through - a sensation that I can't recall experiencing in any other vehicle. The 12.6-inch front and 13.6-inch rear brake rotors made bringing the Stingray to a stop as predictable and linear as slowing down an A-to-B econobox.
Shop Chevrolet Corvette Stingray 2LT Inventory
---
2020 Chevrolet Corvette Stingray 2LT Safety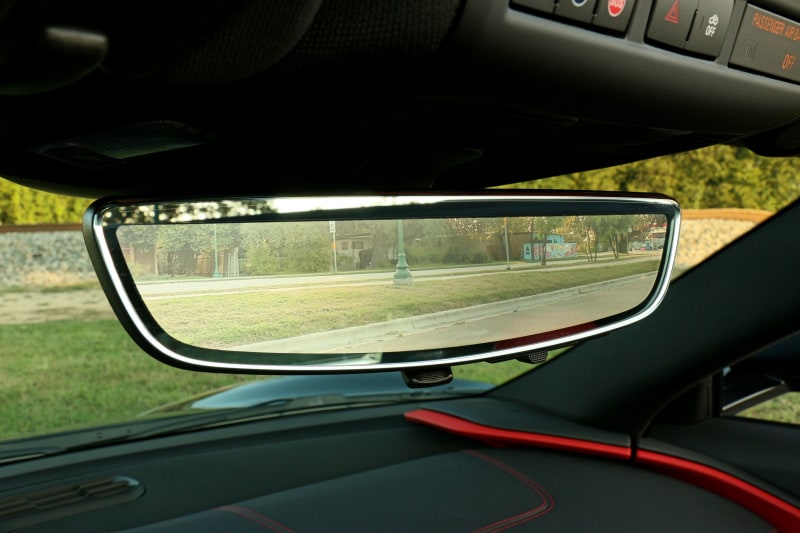 Without a giant V8 straight ahead, it was easier to keep track of the C8's front extremities. The standard head-up display kept me informed of my speed, revs and other important readouts while I was on the move. The tradeoff to having the engine behind me was that it significantly reduced rearward visibility.
Fortunately, the standard rearview mirror camera gave me an unobstructed, wide-angle view of what was behind the C8's broad rear end. Whether I was moving forward or backing up in a parking lot, I didn't have to worry about bumping into anything, thanks to the Corvette's HD front and rear cameras.
Shop Chevrolet Corvette Stingray 2LT Inventory
---
2020 Chevrolet Corvette Stingray 2LT Overall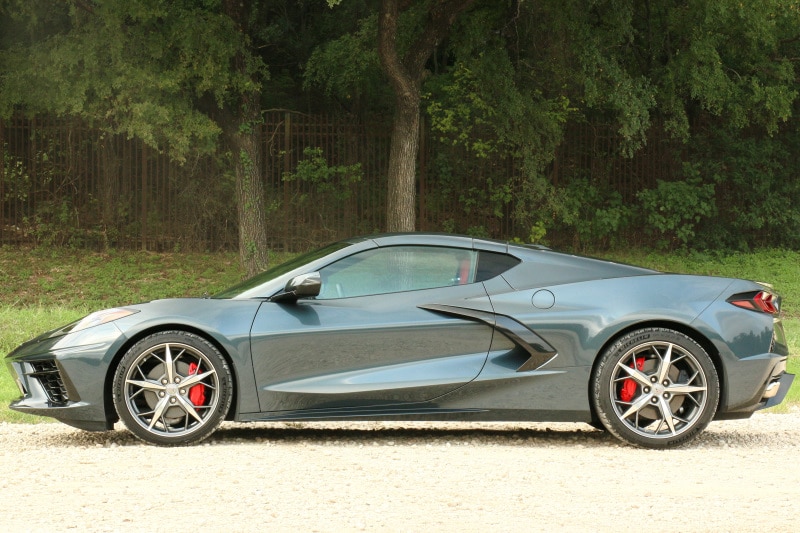 The wait for the mid-engine Corvette is finally over. The 2020 Corvette Stingray is here, so why are you still reading this? Go to an AutoNation Chevrolet dealership right now and take a C8 for a test drive.