Omar Rana | Jan 29, 2021
---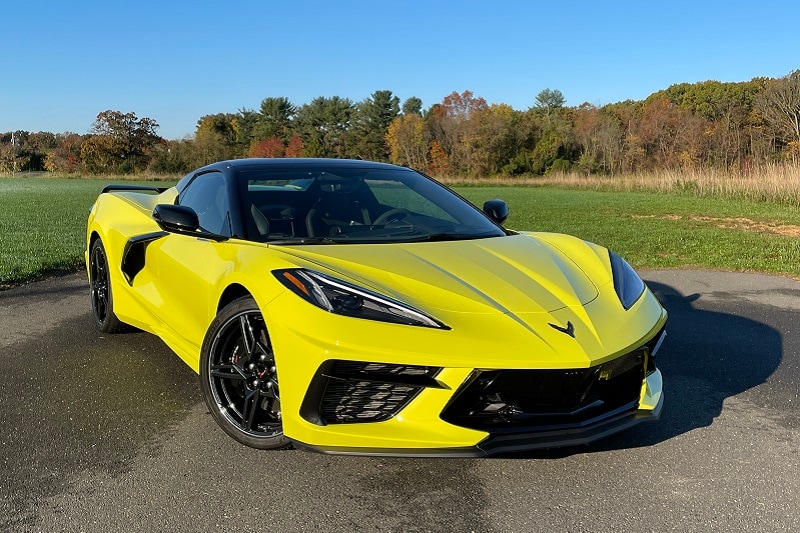 No matter which sports car I've reviewed this year, there's always been a comment about how the new C8 Corvette can beat it. And for the most part? That's been true.
Obviously, a lot of the excitement has to do with the fact that the long-awaited mid-engine Corvette provides supercar-level performance at an extremely affordable price. It's simply mind-blowing that Chevy was able to deliver this much vehicle for under $60,000. It's nothing short of a cosmic shift in the automotive universe.
So let's take a look at what makes the 2020 Chevrolet Corvette Convertible such an amazing sports car.
---
2020 Chevrolet Corvette Convertible Exterior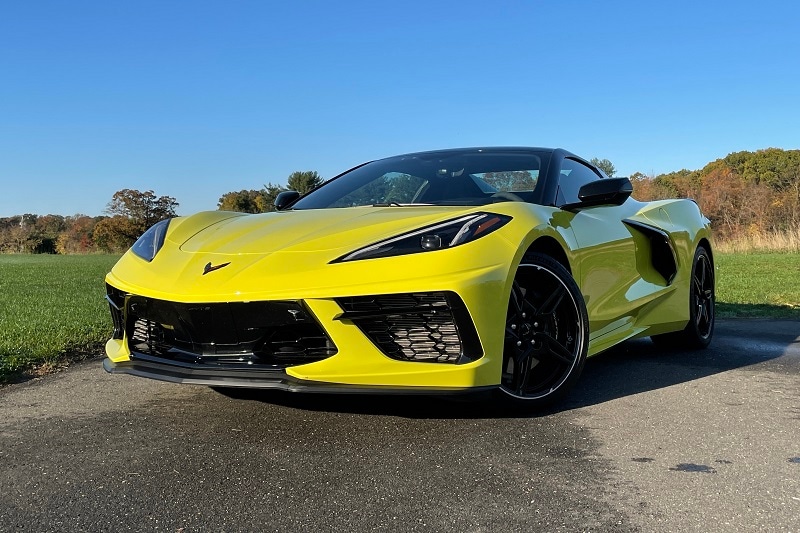 Not only does the new 2020 Chevrolet Corvette come packing supercar performance, it looks the part as well. Now, there have been seven previous generations of the Corvette, and all have been successful to a degree. But in my opinion, the C8 is one of the most stylish Corvettes ever made. 
My test model was a convertible, however, it still has a hardtop. Now, with a Corvette Coupe, you can remove the targa top, but you have to do it manually. But the Corvette Convertible makes it more convenient, as you can lower the top just by pushing a button inside. From what I can tell, the only downside of getting the Corvette Convertible over the Coupe is that you're unable to see a beautiful V-8 engine that sits in the middle.Fortunately, hearing it sing is no problem.
My test model also had the Z51 Package, which includes aggressive model-exclusive touches like carbon-fiber trim and bold wheels, sized 19-inches in the front and 20-inches in the rear. My test model also came with the Accelerate Metallic Yellow paint, which will run you an additional $500, but is worth every penny.
Simply put, the 2020 Chevrolet Corvette Convertible is one of the most stylish drop tops on sale today, and in my opinion, will age exceptionally well.
Shop Chevrolet Corvette Convertible Inventory
---
2020 Chevrolet Corvette Convertible Interior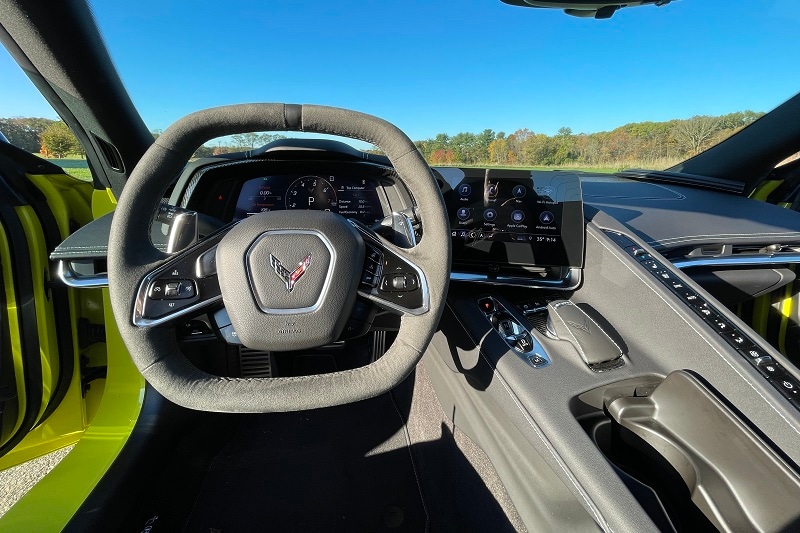 When you take a seat inside the new 2020 Chevrolet Corvette, you'll notice that the interior is packed with high-quality materials, and the cabin is constructed around the driver. Honestly, the interiors of recent Corvettes were never really  celebrated for their style. But with loads of soft-touch materials, a leather-wrapped dash, and microfiber suede touches everywhere, the latest model will prove the exception.
Once you get inside, the first thing you'll notice are a range of buttons that are laid out in a vertical format. These buttons are your HVAC controls and your heated in cooled seat controls, and while owners will likely get used to the location, I found them slightly difficult to use initially, just because of the untraditional layout. 
The 2020 Chevrolet Corvette also steps it up in the technology department. All Corvette trim levels come standard with an eight-inch touchscreen display, and depending on the trim you go for, you can also get the navigation system. Nonetheless, you do get standard Apple CarPlay and Android Auto, so missing native navigation shouldn't concern many buyers. All Corvettes also come standard with a 12-inch digital gauge cluster, which can be configured to display a wealth of vehicle data.
All in all, the 2020 Chevrolet Corvette not only offers enormous performance, it also offers everything you'd expect from a car in this price range.
Shop Chevrolet Corvette Convertible Inventory
---
2020 Chevrolet Corvette Convertible Powertrain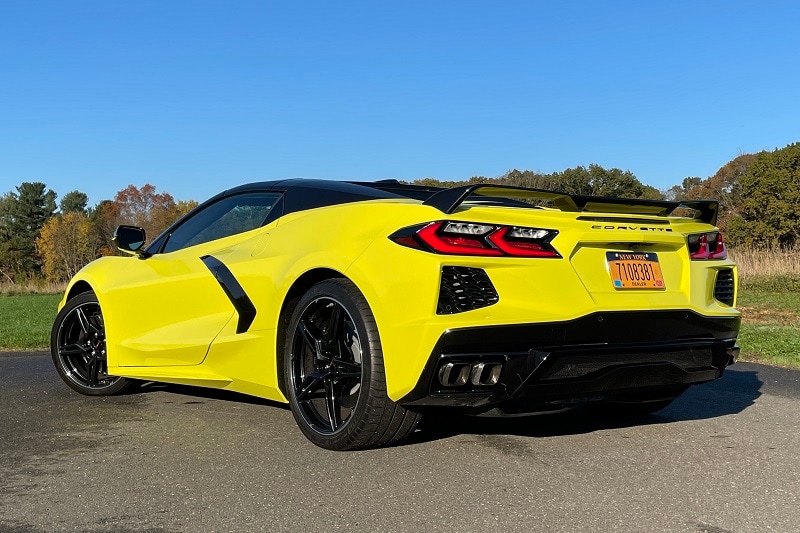 The 2020 Chevrolet Corvette is powered by a 6.2-liter V8, and when you add on the Z51 Package, you're working with 495 horsepower and 470 lb-ft of torque.
Unlike most Corvettes of the past, no standard transmission is available. Instead, the engine is mated to an eight-speed dual-clutch, which is similar to the units you'll find in Ferraris, Lamborghinis, and McLarens. With this package, drivers will be able to blast to 60 mph is just 2.9 seconds, and hit a top speed of 184 mph.
That said, while those specs are crazy in the best possible way, the latest Corvette's performance is something that shouldn't scare you away. Most cars at this level of performance will put some fear inside you, but the new Corvette is so refined, and so predictable at the limit, even those unaccustomed to high-end sports cars will be able to enjoy tackling a twisty road. Whether this trait will transfer to the forthcoming Z06 and ZR1 models remains to be seen. But given the absurd power levels we're rumored to see? That might not be the case. 
Of course, all that power means you'll be spending more money on gas. The 2020 Chevrolet Corvette Convertible averages an EPA-rated 16/25 mpg* (city/highway).
Shop Chevrolet Corvette Convertible Inventory
---
2020 Chevrolet Corvette Convertible Safety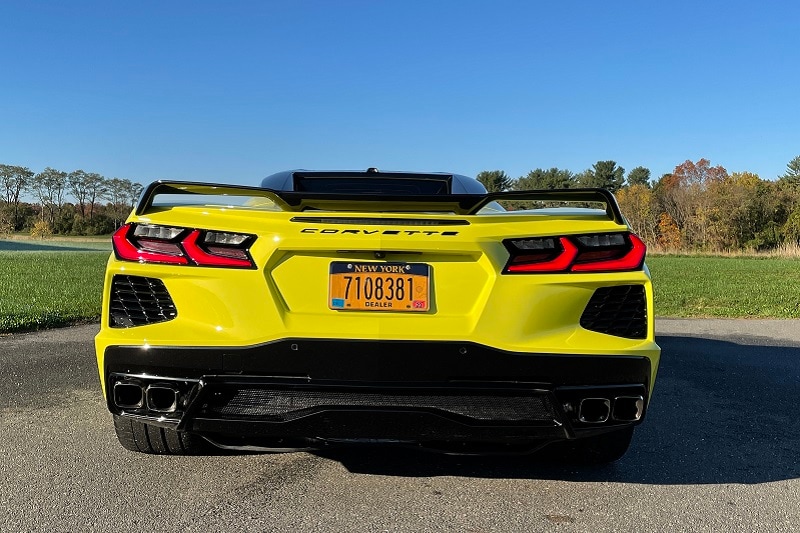 Like most high-performance sports cars, the Corvette hasn't been tested by the National Highway Traffic Safety Administration or the Insurance Institute for Highway Safety.
That said, it does come with a broad range of driver-assist features, including Blind Spot Monitoring, Adaptive Cruise Control, Lane Keep Assist, and Forward Collision Warning. So while it looks and performs like a proper exotic, the new Corvette still features all the technology safety-conscious customers expect in a daily driver.
Shop Chevrolet Corvette Convertible Inventory
---
2020 Chevrolet Corvette Convertible Overall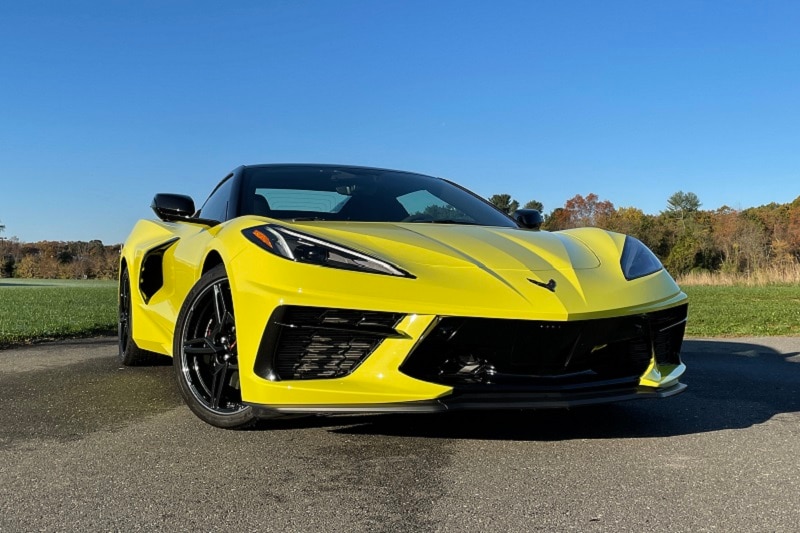 Over the years, many enthusiasts have criticized the Corvette, saying that while it delivered a tremendous bang for the buck performance-wise, the design, interior comfort, and build quality wasn't on par with european rivals.
But for the eighth generation of America's Sports Car, that's changed. This is a machine that's truly  ready to go toe-to-toe with the best the world has to offer. For American performance fans, it's a whole new world.    
Pricing for the 2020 Chevrolet Corvette Convertible starts at $67,495. However, if you're looking to spend a little less, the coupe starts at $59,995. As I've said above, both are a steal at those prices. So visit your local AutoNation Chevrolet dealers and inquire about a new Corvette today.