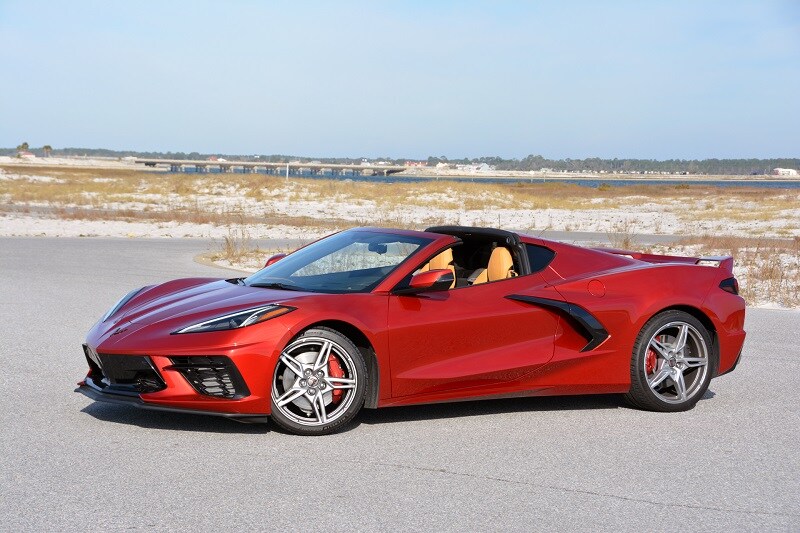 Without a doubt, the C8 Corvette has been one of the hottest cars on the market since its introduction last year. Between its all-new, mid-engine design and production shortages due to COVID-19, early versions of the C8 Corvettes have commanded hefty price premiums and are practically guaranteed to be future collectible cars.
Since the 2020 models sold out quickly, many potential C8 Corvette buyers had to roll over to the 2021 model year, and Chevrolet made some minor updates to help make the wait worth it.  Now, AutoNation Drive already had the chance to drive a 2020 Corvette last year. But this time around, I spent a week behind the wheel of a 2021 Chevrolet Corvette Stingray Coupe which was decked out with the 2LT trim level and the coveted Z51 Performance Package.
Shop Chevrolet Corvette Inventory
---
2021 Chevrolet Corvette 2LT Z51 Exterior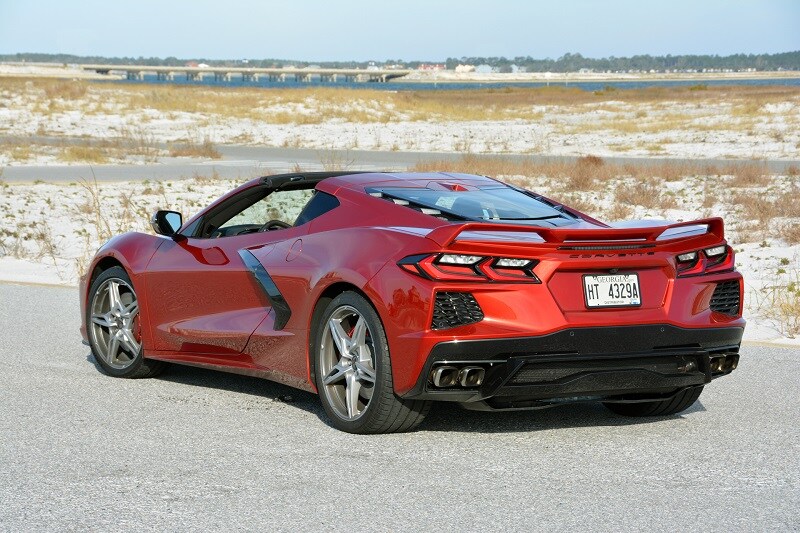 In person, the styling of the new Corvette shows an extreme evolution of the C7 Corvette's angular shape, which allows this iconic car to maintain a familiar look even with its groundbreaking redesign. The ultra-short front end and long decklid are both hallmark design elements of a mid-engine sports car, and the Corvette's angular lines help ensure a distinctive appearance. Some people likened the basic shape to Ferrari or Lamborghini, which is hardly bad company to be in! When Chevrolet first unveiled the C8 Corvette, there were complaints from purists about the lack of round taillights and center outlet exhaust, but designers made sure this Corvette maintained its removable roof panel for an easy open-air driving experience.
For its second model year, the 2021 C8 receives only minor changes which are mostly focused on new paint and stripe options, including the new-for-2021 Red Mist Metallic Tintcoat paint color shown on my test car. This premium color costs an extra $995, but it's well worth the price after seeing this car in the flesh. The Z51 gets some extra aero tuning with a distinctive front splitter and rear spoiler, and my tester also added the $595 red painted brake calipers, as well as the $995 engine appearance package, which includes carbon fiber trim and LED accent lighting.
Shop Chevrolet Corvette Inventory
---
2021 Chevrolet Corvette 2LT Z51 Interior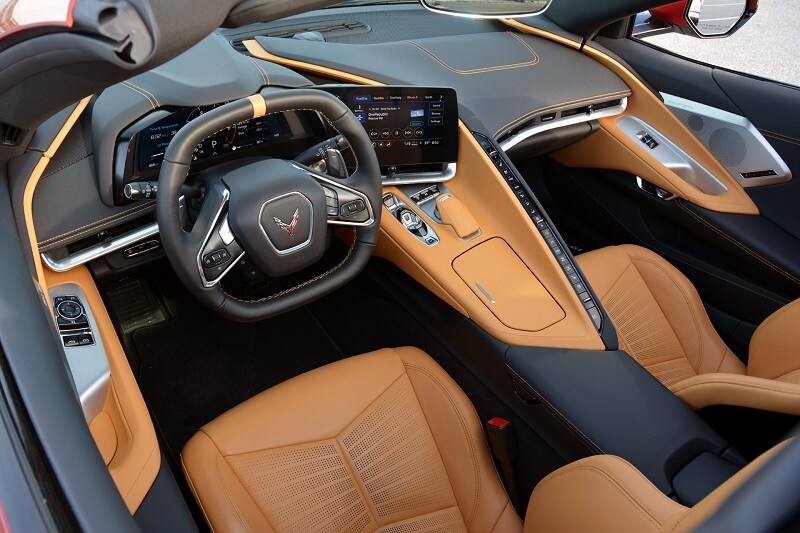 The C7 generation really improved the Corvette's image in terms of interior quality and refinement, and the new C8 Corvette took the refinement even further, and cemented it as a true world-class sports car. With a 12-inch customizable display screen for the gauge cluster and an eight-inch screen for the infotainment system, the driver's cockpit is as advanced as any other sports car on the market. The materials used throughout the new Corvette are also excellent, and my tester featured a stylish two-tone black and tan leather interior with contrast stitching on the instrument panel and door panels. In terms of styling the square-shaped steering wheel and row of buttons on the center console look somewhat odd, but they are both designed to maximize function.
Decked out with the mid-level 2LT trim, our Corvette came standard with features such as navigation, wireless smartphone charging, head-up display, a performance data recorder, heated and cooled seats, and a heated steering wheel. For an extra $1,495, I also got to sample the optional GT2 sport bucket seats with added side bolstering and exposed carbon fiber inserts. Despite being a low-slung sports car, there is plenty of room for taller passengers, and getting into and out of the Corvette is surprisingly easy, especially considering the wide side sills. With a total of 12.6 cubic feet available in the front and rear, there's even a decent amount of cargo space. Notably, the rear compartment is large enough to accommodate the coupe's removable top.
Shop Chevrolet Corvette Inventory
---
2021 Chevrolet Corvette 2LT Z51 Performance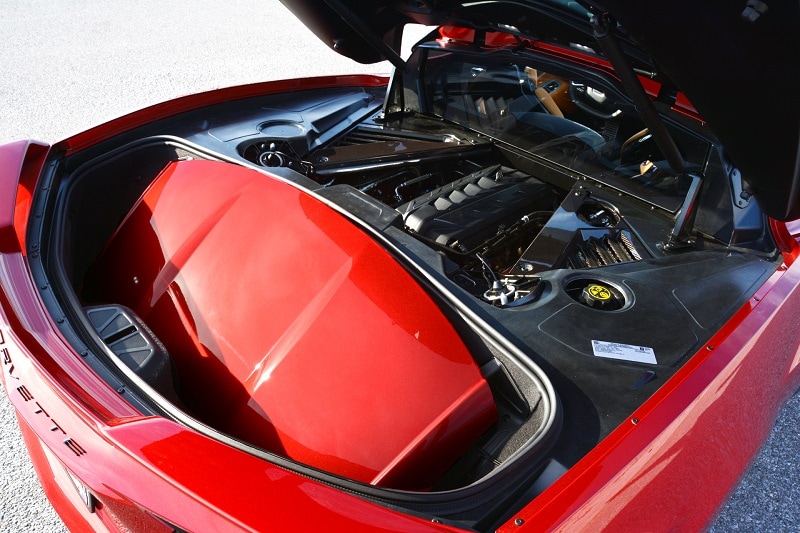 Situated just behind the driver and passenger is a new 6.2-liter direct-injected LT2 V8, which is paired to a quick-shifting eight-speed dual clutch transmission. Thanks to the Z51's performance exhaust system, this engine is rated 495 horsepower and 470 lb-ft of torque, which represents an increase of 5 horsepower and 5 lb-ft over the base power C8. The extra power comes courtesy of a performance exhaust and a heavy-duty cooling system, and the Active Fuel Management cylinder deactivation turns the high-revving V-8 into a fuel-sipping V4 when the extra power isn't required. That helps this eight-cylinder sports car return EPA-rated fuel economy estimates of 15 mpg in the city and 27 mpg on the highway. For those keeping score at some, those figures are similar to the six-cylinder Porsche 911 Carrera S. Even though people aren't going to buy a Corvette for its fuel economy, these numbers do help in justifying this car as a daily driver.
Moving the engine behind the seats gives the car amazing balance and traction off the line, and with the Z51 package, Chevrolet says the 2021 Corvette can sprint from zero to 60 mph in just 2.9 seconds. But where the new Corvette really impresses is its handling capabilities, which are even better with the Z51 Performance Package. This $5,995 option adds a sportier suspension setup, beefed-up Brembo brakes, an electronic limited slip differential, and Michelin Pilot Sport 4S summer tires. All that basically means this Corvette will corner like it's on rails, and the $1,895 Z51 Performance Suspension with Magnetic Selective Ride Control maximizes the track capabilities of this car, while also improving on-road comfort. Whether you're driving the new Corvette on the road or at the track, drivers of all skill levels will enjoy this car immensely.
The Corvette has always been a sports car capable of being a daily driver, and thanks to an abundance of available technology, the C8 Corvette might be the best ever in this regard. With the 2LT trim level, the 2021 Corvette Stingray comes standard with curb view camera and rear camera mirror. The curb view camera makes parking far less stressful, by providing a clear view of the nose in relation to curbs and parking blocks, while the rear camera mirror is extremely helpful while driving, due to the limited visibility of the rear engine compartment. My tester was also fitted with the front lift adjustable ride height ($1,995) making it possible to go over large speed bumps and up steep driveways without worrying about scraping the front bumper.
Shop Chevrolet Corvette Inventory
---
2021 Chevrolet Corvette 2LT Z51 Safety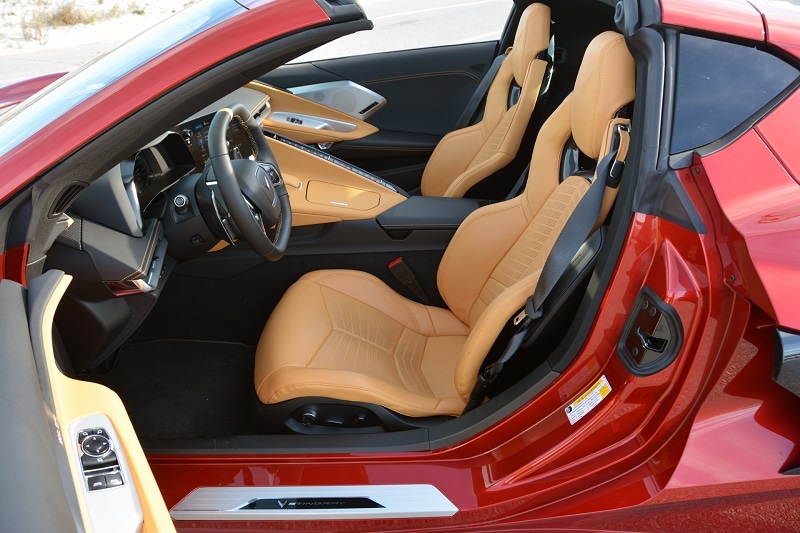 Like most sports cars, the 2021 Chevrolet Corvette Stingray has not been crash tested by the National Highway Traffic Safety Administration. The 2LT trim level comes standard with Side Blind Zone Alert and Rear Cross Traffic Alert.
Shop Chevrolet Corvette Inventory
---
2021 Chevrolet Corvette 2LT Z51 Overall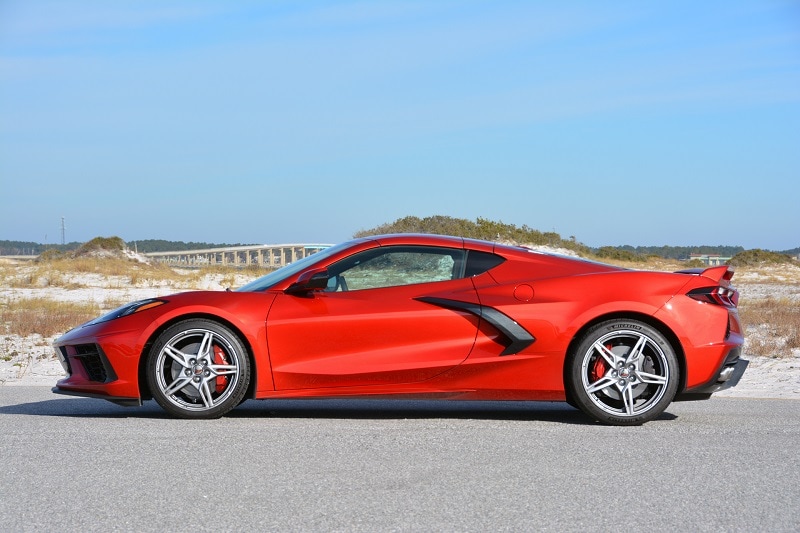 It only took 67 years and eight generations of designs, but the mid-engine Corvette - a dream of Zora Arkus-Duntov - is finally here. And it is one fantastic machine! Not only was it fun driving this Corvette for a week, but watching the reactions people had to this car was almost as entertaining. For now, the Z51 package represents the most performance you can get from a factory Corvette, but rest assured, more performance is coming.
Of course, the best part of the Chevrolet Corvette has always been its affordability, and the C8 is no different. In base form, the 2021 Chevrolet Corvette Stingray Coupe represents incredible performance value, as it has a starting price of just $59,900. But even factoring in the added styling and performance options of this 2LT Z51, the as-tested price remains relatively low at $81,280. That's a heck of a bargain when compared to other mid/rear-engine sports cars like the Acura NSX, Porsche 911, and Audi R8, as they cost almost double.
Shop Chevrolet Corvette Inventory
---
Jeffrey N. Ross | Jun 24, 2021