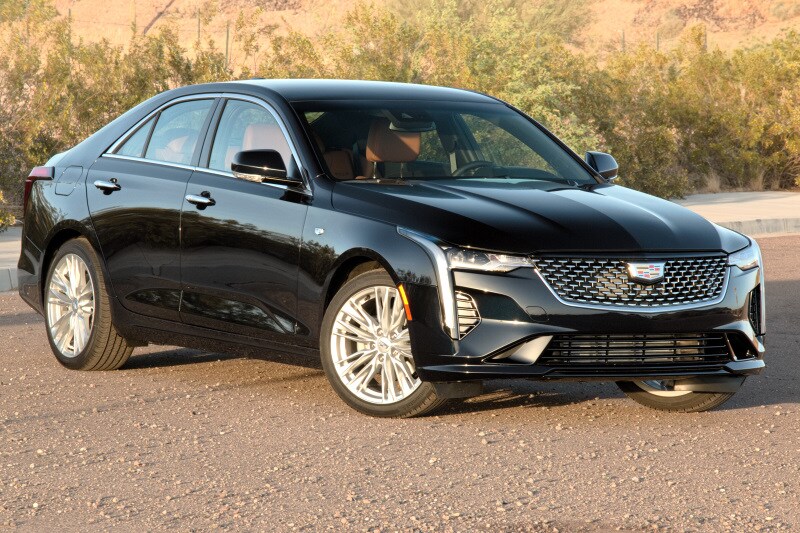 New car features typically follow the same schedule. An automaker introduces cool technologies in its flagship vehicle, which trickle down into its less expensive models at a later date. But what happens when that top-of-the-line model no longer exists?
Cadillac's halo sedan used to be the CT6, a full-size executive express available with Super Cruise hands-free driving technology, 34-speaker Bose audio system, and 550-horsepower twin-turbo V8. But Cadillac discontinued it after the 2020 model year. That means that whatever cool new features Cadillac comes up with have a shorter path to the sedans it still produces, such as the CT4. The 2021 version of Cadillac's smallest sedan benefits from an array of updates and upgrades, including two new paint colors, a distinctive Diamond Sky Special Edition appearance package, the latest version of Super Cruise, a trick 12-inch digital gauge cluster, and standard wireless Apple CarPlay and Android Auto on all trim levels.
I got a taste of some of those refinements in a 2021 CT4 Premium Luxury. Cadillac didn't configure my test car with the available all-wheel drive system, but it did tick the box for the optional turbocharged 2.7-liter four-cylinder engine and an assortment of comfort, infotainment, and safety packages, which raised its price from a starting point of $37,595 to a final figure of $45,115.
---
2021 Cadillac CT4 Premium Luxury Exterior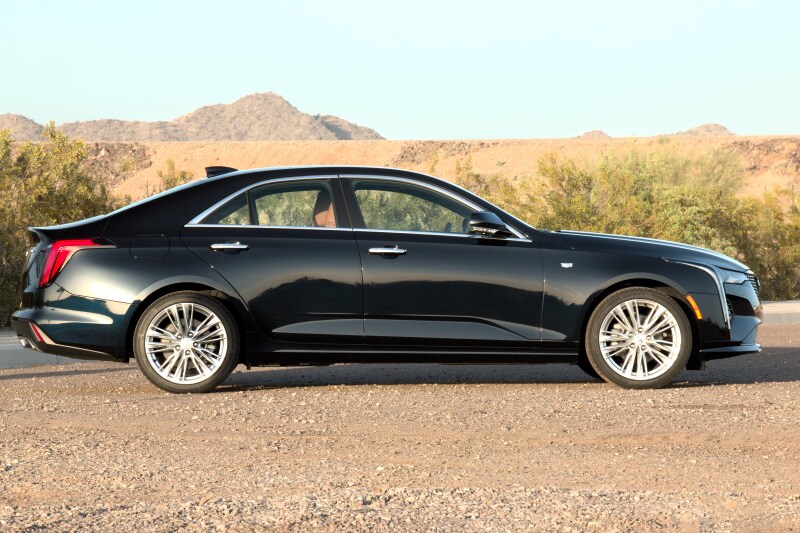 Any large car can have presence by virtue of its sheer size. It's harder for smaller cars to pack the same punch, so their styling becomes that much more important. Despite the CT4's compact dimensions, it manages to stand out in a crowded parking lot. No other car looks like it, something you should expect from a luxury vehicle. I give the bulk of the credit to the CT4's lighting and brightwork. The grille is filled with rows of shiny elements that share the same shape as the Cadillac crest at the top. A thin strip of chrome frames the bottom of the grille and connects to the CT4's LED headlights, which flow right into the strips of LED signature lighting that span almost the entire height of the front fenders.
More chrome highlights the door handles and the roof's gradual slope. A set of 18-inch wheels with a sterling silver finish adds its own sparkle to the CT4's profile.
The LED taillights jut out of the rear fenders like wind-polished jewels that are ready to be plucked from the earth. Instead of sitting on top of the trunk lid, the CT4's pronounced rear spoiler emerges from it, making the whole piece look like a natural, organic formation. Another Cadillac crest sits between a CT4 badge and one marked "500T." That denotes how much torque the CT4's engine generates. Kind of. Cadillac took the 2.7-liter turbo four's pound-foot output, converted it into newton meters, then rounded up. It may be an odd and convoluted way of getting a message across, but it's also a truly unique way of letting everyone know the CT4 has the big engine under its hood.
---
2021 Cadillac CT4 Premium Luxury Interior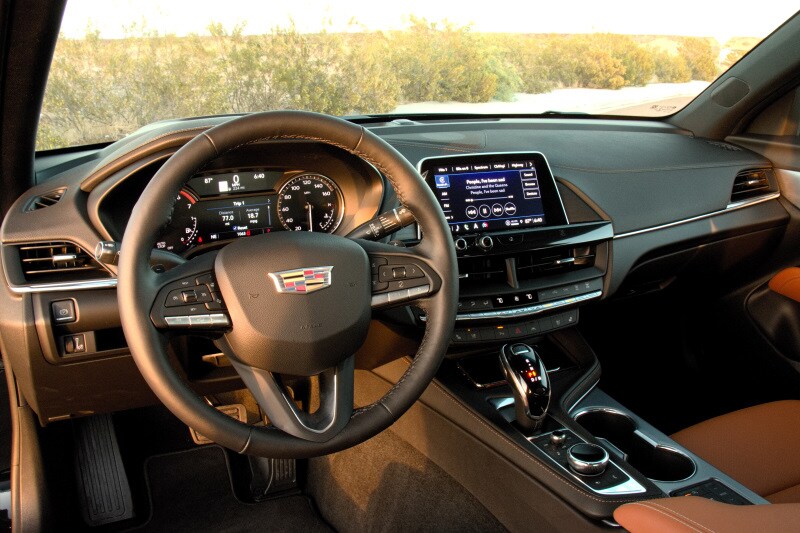 My CT4 press loaner's Cinnamon and Jet Black leather-lined interior was much more straightforward. I didn't have to think. I just reached for what I needed and it was right where I thought it should be. The cruise control switchgear was on the left of the heated, leather-wrapped steering wheel and the redundant controls for the 14-speaker Bose audio system were on the right. While my test car didn't have the trick 12-inch main gauge cluster, it did have an easy-to-read multi-information display between its white-on-black analog tachometer and speedometer.
Both heated and ventilated front seats offered 12-way power adjustability. The way I had the driver seat set up made reaching the eight-inch HD color display a bit of a stretch, but I appreciated the fact that it could be used as a touchscreen and didn't force me to use the rotary control knob in front of the shifter to enter an address into the navigation system or change a setting. I was also grateful that Cadillac made sure to put traditional knobs for the volume and tuning functions right below the screen. There were more physical controls for the HVAC system, parking aids, and seat heating and ventilation settings. A generously sized wireless charging pad below those made it easy to juice up my phone while on the go.
---
2021 Cadillac CT4 Premium Luxury Performance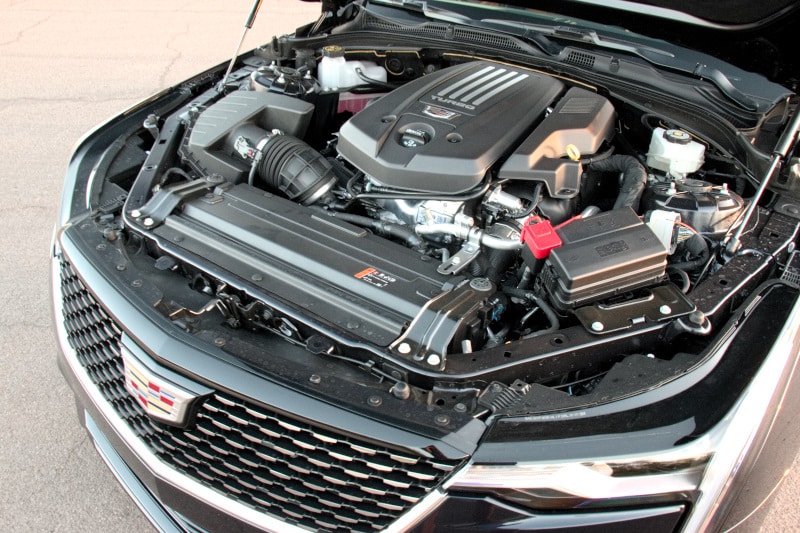 Calling the CT4's optional turbocharged 2.7-liter I4 the "big engine" is not an overstatement. It's significantly larger than the base 2.0-liter power plant. It's massive for a four-banger in general - plus it has a turbo. In fact, it's large enough for GM to offer it in its Chevrolet Silverado and GMC Sierra full-size trucks.
In the CT4 Premium Luxury, the 2.7 cranks out 310 horsepower and 350 lb-ft of torque. Thanks to its dual-volute turbo design, it can hit boost quickly. Whenever I put my right foot down hard, I could feel the delightful overkill of putting a truck engine in a small sedan.
Cadillac pairs the CT4's generously sized I4 with a Ten-speed automatic transmission. That enables the rear-wheel-drive model to rack up 21 mpg in the city**, 31 on the highway**, and 25 combined**. I covered 124.3 miles in my CT4 media car, but only managed to average 21.7 mpg.
---
2021 Cadillac CT4 Premium Luxury Safety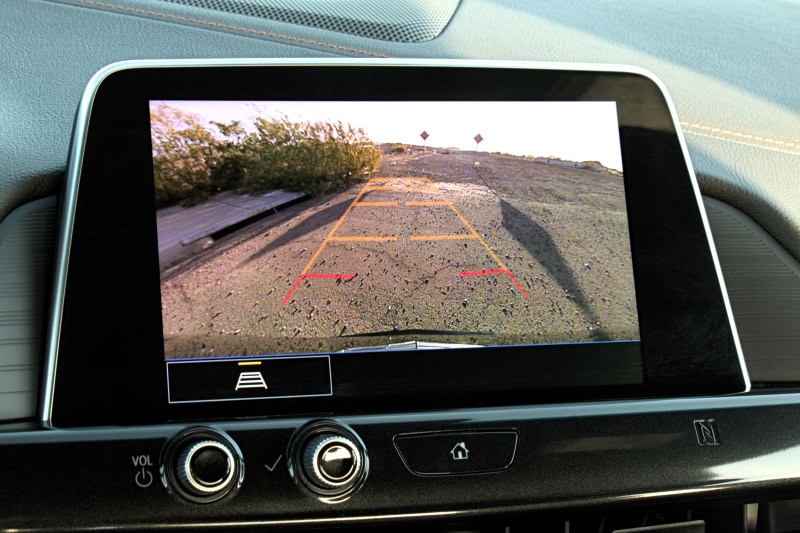 In its most basic form, the CT4 Premium Luxury comes equipped with safety features that include Forward Collision Alert, Automatic Emergency Braking, Front Pedestrian Braking, and the helpful Safety Alert Seat, which vibrated the bottom cushion to warn me of potential hazards approaching from different directions.
Buckle-to-Drive is new for 2021 and prevents the driver from shifting into drive if they're not buckled in first. My CT4 tester had the Driver Awareness Plus Package, which added Lane Change Alert with Side Blind Zone Alert, Lane Keep Assist with Lane Departure Warning, Rear Cross Traffic Alert, and more.
---
2021 Cadillac CT4 Premium Luxury Overall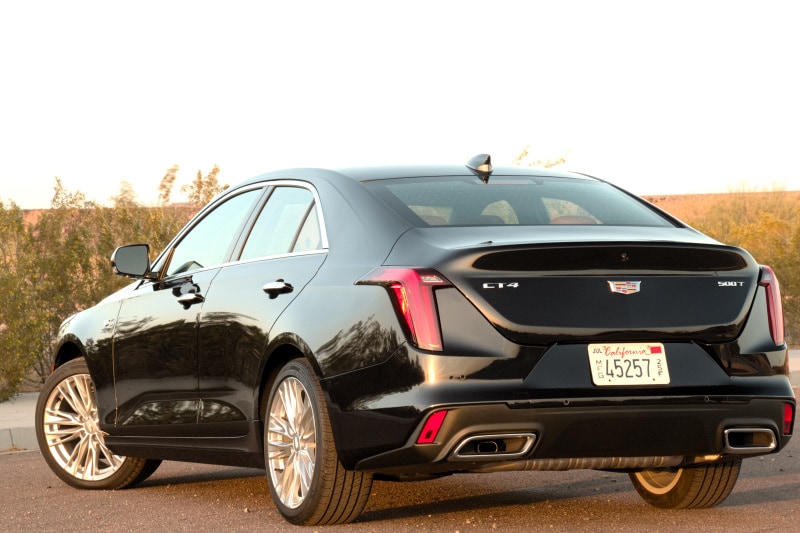 The absence of the Cadillac CT6 leaves room for its smaller four doors to get increasingly better features sooner than they otherwise would have. The CT4 certainly got a few for 2021. You can see all of the changes to the CT4 for yourself, at your local AutoNation Cadillac dealership.
---
Derek Shiekhi | May 14, 2021