Omar Rana | Jan 28, 2021
---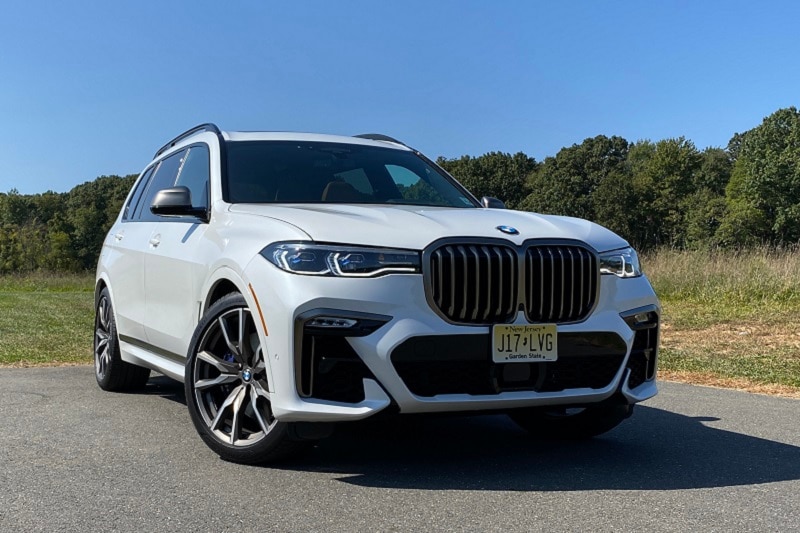 At this point, we don't have a hardcore M version of the BMW X7, and it doesn't look like we'll be getting one anytime soon.
That said, German tuning house Alpina, which works closely with BMW, has just released the new XB7. That machine produces an outstanding 612 horsepower, and can make the zero to 60 sprint in just four seconds flat.
But what if you want a fast X7 that isn't created by a third-party? What if you want a fast X7 straight from BMW? Well, that's where the X7 M50i comes in. With a ferocious 4.4-liter twin-turbo V8 under the hood, it will challenge your idea of what a large SUV can do.
---
2021 BMW X7 M50i Exterior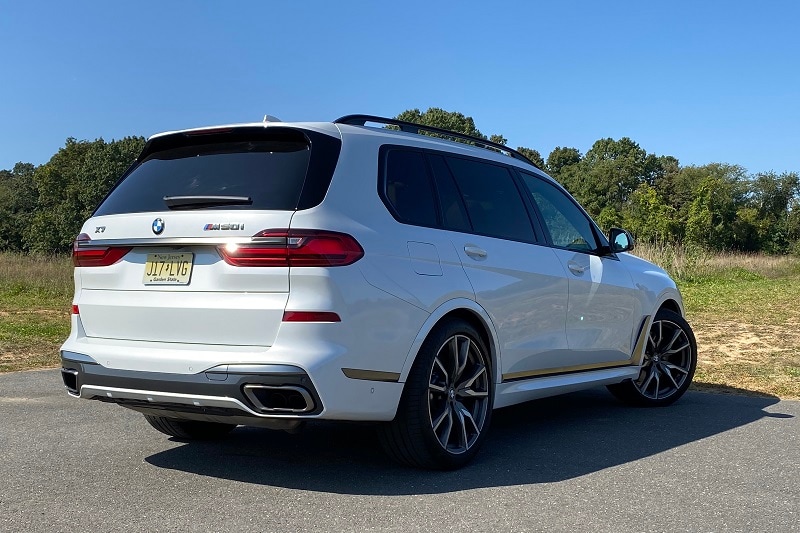 I'm already a massive fan of the exterior design of the BMW X7, as its striking stance exudes power, elegance and luxury. The M50i takes all that to the next level, with a range of model-exclusive touches like larger black front bumpers which allow for more engine cooling. Furthermore, it features a high-gloss Shadowline trim along with Cerium Grey highlights which give this behemoth a slightly menacing aire.
Interestingly enough, the 2021 BMW X7 M50i looks more aggressive than the faster and more powerful Alpina XB7. In my opinion, the 612-horsepower Alpina XB7 looks like a standard X7 wearing a body kit, while the X7 M50i seems as if BMW's M team really went to work.
Even in a segment which includes heavyweights like the Mercedes-AMG GLS 63, the BMW X7 M50i really stands out, which isn't easy to do.
---
2021 BMW X7 M50i Interior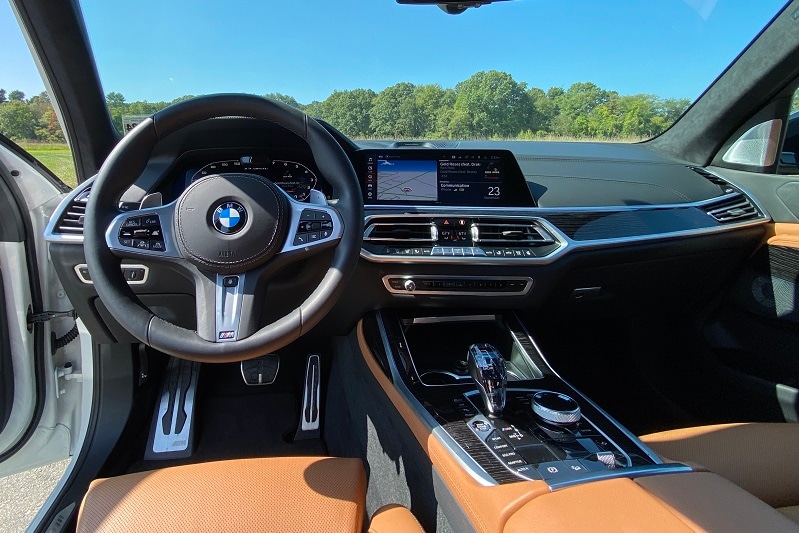 Take a seat inside the 2021 BMW X7 M50i, and you're welcomed by one of the most luxurious cabins in this segment. The X7 itself is already known as the BMW 7-Series of the large luxury SUV segment, and the X7 M50i carries on that message, even though this is a more performance-oriented model.
My test model came with a range of upgrades that made it feel more expensive than it is. Honestly, you almost feel like you're riding around in something that was put together by Bentley. Depending on how you option out the BMW X7 M50i, you can get a leather-wrapped dashboard, a crystal shifter, and plush pillows for the second-row headrests.
The exclusivity and excitement don't stop there. Most cars come with dual-zone climate control and I'm sure you've even seen four-zone climate control. The 2021 BMW X7 M50i seen here can be had with an insane five-zone climate control, meaning every passenger in the X7 can have their own climate setting. Furthermore, you can add heated and cooled seats for the first and second row, which is something seen in loads of luxury vehicles. But the 2021 BMW X7 M50i takes things a step further by not neglecting third-row passengers. There are heated seats back there too, which is something you don't see very often.
If that wasn't enough, the BMW X7 M50i I tested also brings over some 7-Series luxury, including automatic shades for each of the second-row passengers, along with the ability to open and close the panoramic sunroof. You also get the option to add a Sky Lounge, which is a beautiful atmospheric mood lighting embedded into the roof.
---
2021 BMW X7 M50i Powertrain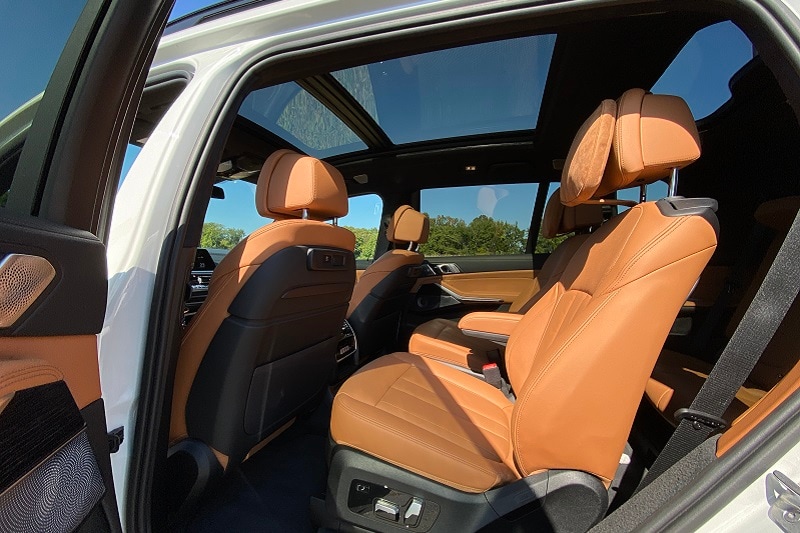 At this point, you're probably thinking about how you'd rather be a passenger than a driver when it comes to the 2021 BMW X7 M50i. But you'd be missing out. This giant beast pumps out an outstanding 523 horsepower with a peak torque of 553 lb-ft, which means it'll make the sprint to 60 in just 4.5 seconds, and hit a top speed of 130 mph.
Not only that, the 2021 BMW X7 M50i comes with Launch Control, which is extremely surprising for a vehicle in this segment. Activate Launch Control, and you'll be able to maximize the acceleration of the X7 M50i, taking full advantage of the 4.4-liter twin-turbo V8 that sits under the hood.
Fortunately, even with all that power under the hood, the BMW X7 M50i doesn't forget that it's a luxury SUV, so the X7 M50i still retains the comfortable ride quality of the other X7 trims. BMW has done an outstanding job of smoothing out the suspension and dampers of the X7, and offers one of the most comfortable ride qualities in this segment.
Of course, all that power means you'll be paying more at the gas station. When it comes to fuel economy, the BMW X7 M50i gets an EPA-rated 15/21 mpg (city/highway).
---
2021 BMW X7 M50i Safety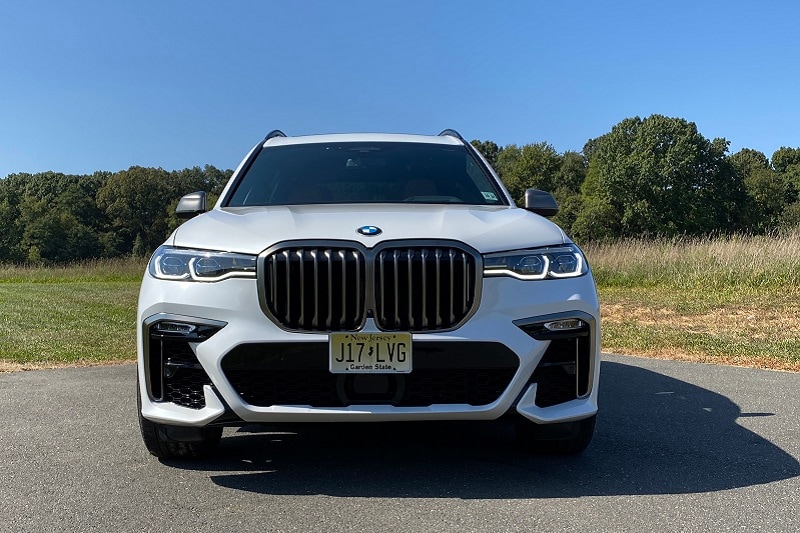 At this time, the 2021 BMW has not been tested by the National Highway Traffic Safety Administration or the Insurance Institute for Highway Safety.
That said, the X7 has a range of driver-assist tech, including Adaptive Cruise Control, Lane Keep Assist, Blind-Spot Monitoring, and a 360-degree camera. On top of that, it benefits from other advanced driver-assist technologies which will allow for minor autonomous driving when stuck in rush-hour traffic.
---
2021 BMW X7 M50i Overall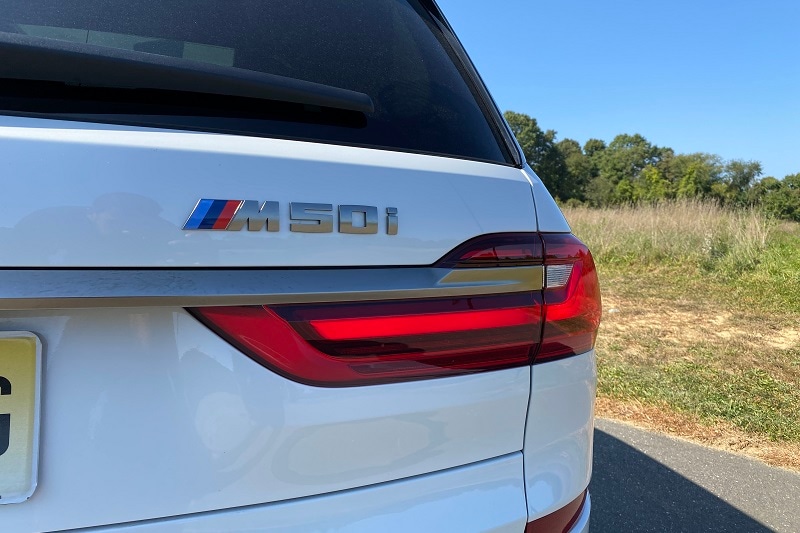 If you're in the market for a large luxury family SUV, the BMW X7 is a great option. If you want some more power to let loose when your family's not around, you certainly want to check out the 2021 BMW X7 M50i. Pricing for the 2021 BMW X7 M50i starts at $99,800**. Visit your local AutoNation BMW dealership for a test drive today.