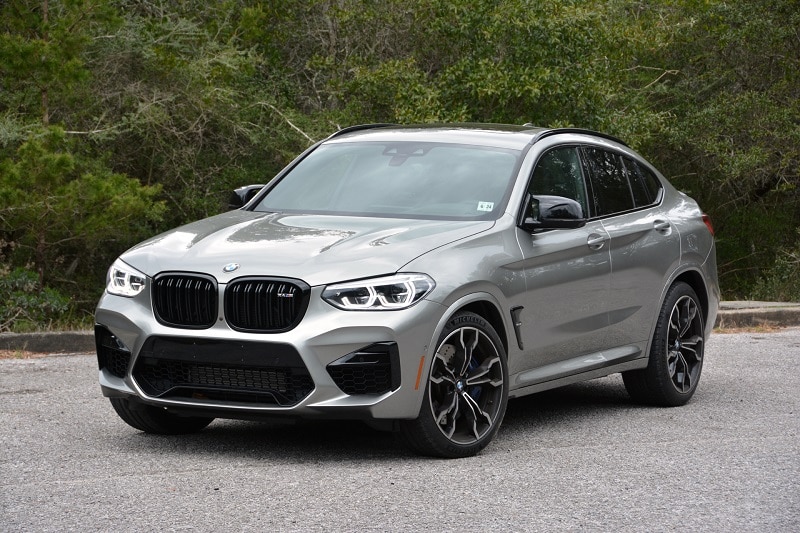 There's no denying the fact that crossovers and SUVs are the new standard for vehicles. And while many of these vehicles are family-friendly driving appliances, a growing number of automakers are catering to performance enthusiasts.
Vehicles like the
Alpina XB7
have made BMW a leader when it comes to performance SUVs, and the 2021 X4 M is another promising arrow in its quiver. This machine builds on the design of the second-generation X4, the M-spec model offers increased performance, handling, and style. Just as the
M5 Competition
is the pinnacle of 5 Series performance, the X4 M Competition is the king of the X4 lineup, and I was thrilled to get a chance to see whether it deserves the hallowed M badge.
---

2021 BMW X4 M Competition Exterior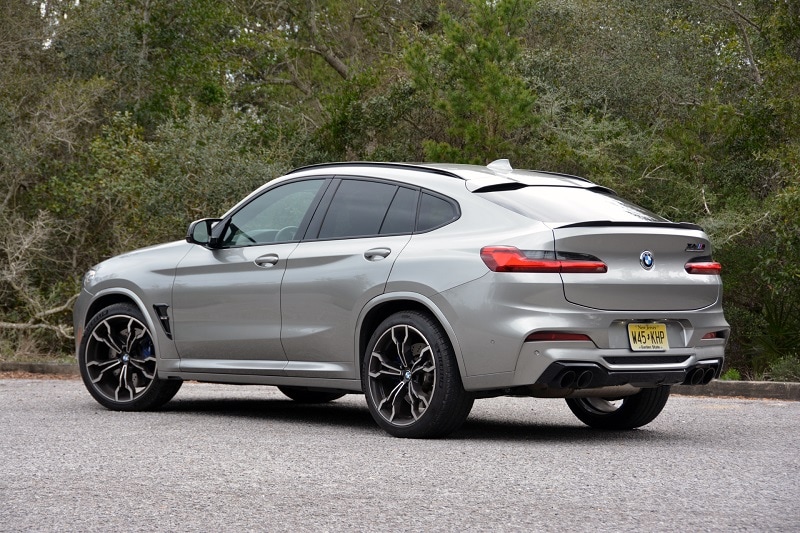 The polarizing design of the 2021 BMW X4 might not be for everyone. But the point of these coupe-like SUVs is to stand out from the current crop of CUVs and SUVs. So the X4's design blends the looks of the current X3 with a sloping roofline, which trades some SUV practicality for a distinct visual appearance.
With its BMW-signature winged door mirrors,  and quad exhaust outlets, the X4 M takes this styling to an even higher level, and checking the box for the M Competition Package makes the X4 even meaner. That adds 21-inch wheels and an abundance of blacked-out exterior trim which perfectly complemented with this tester's Donington Grey Metallic paint job. Despite its aggressive design, the BMW X4 M Competition is still a usable and practical SUV, as it features  8.1 inches of ground clearance.
---

2021 BMW X4 M Competition Interior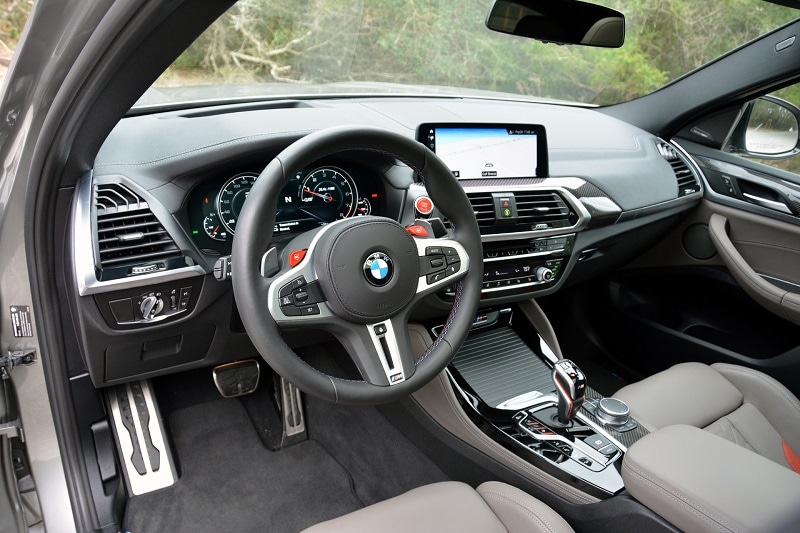 Fitting of an M-badged BMW, the interior of the 2021 BMW X4 M Competition exhibits the form and function of a true sports car. The race-inspired bucket seats are heavily bolstered, and the  thick-rimmed steering wheel fit perfectly in my hands. Adding an extra dose of sportiness, the cabin features carbon fiber trim on the dash, center console and door panels, and racy red and blue stitching. Just in front of the shift paddles are the buttons for the two M modes, which transform the X4 M into a true sports car. Plus, there's plenty of other tech, including an M-specific digital gauge cluster, and massive 10.25-inch infotainment screen.
The $2,500 Executive Package ensures there is still plenty of luxury inside this performance SUV, and brings features like head-up display, wireless charging, gesture control, front and rear heated seats, and a heated steering wheel. Spring for an extra $350, and you'll get ventilated front seats as well. 
The second-generation BMW X4 has more cabin space than its predecessor, thanks to a body that is longer and wider (as well as two extra inches of wheelbase). But due to the sloped roof, the X4 loses about two inches of headroom and about an inch of legroom compared to the X3 off which it's based. That being said, there's still a decent amount of room for adult passengers, which makes the X4 a functional SUV with seating for five. With the rear seats in place, there's 18.5 cubic feet of cargo space. Fold them down, and that figure climbs to 50.5 cubic feet, including some hidden space under the load floor.
---

2021 BMW X4 M Competition Powertrain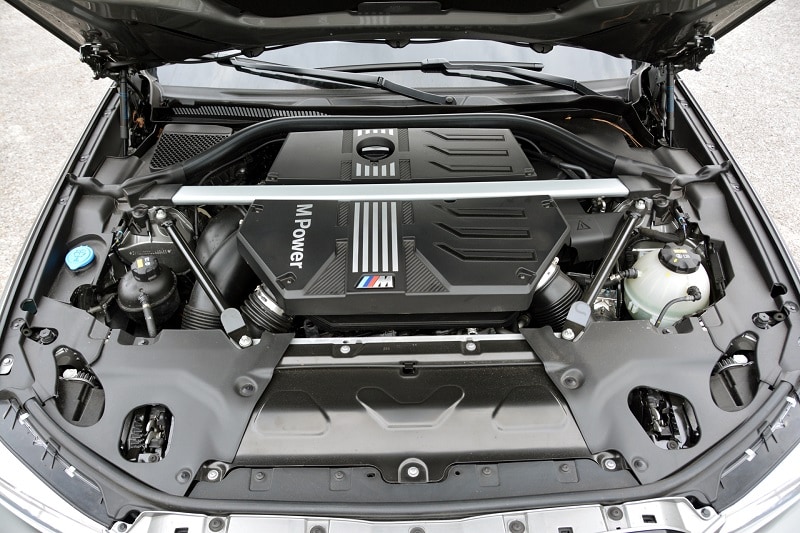 To borrow a phrase from Spinal Tap, the 2021 BMW X4 M Competition takes performance up to 11, thanks to a 3.0-liter twin-turbo inline-six that's rated at 503 horsepower. This is a 30-hp gain over the "standard" X4 M, and it was achieved by tuning the engine computer and adding a sport exhaust. Even the eight-speed automatic transmission has been tuned specifically to deliver lightning-fast shifts, and for drivers who don't want to give up manual shift capabilities, there are paddle shifters.
 As you might expect from a performance vehicle, opting for the high-powered engine comes with a fuel economy penalty, but the 473-horsepower X4 M and 503-horsepower X4 M Competition have identical EPA-rated fuel economy estimates of 14 mpg city and 19 mpg highway.
Upon firing up the 2021 BMW X4 M Competition, the engine lets out a wonderful note through the active exhaust system, and this SUV backs up its sports sound with equally impressive acceleration. It pulls hard off the line, and delivers a zero-to-60 time of four seconds flat. The suspension tune is on the firmer side, but the ride quality is still smooth and quiet when you want it to be. Surprisingly, there's no shortage of 500-plus horsepower competition on the market right now, as the Alfa Romeo Stelvio Quadrifoglio and Mercedes-AMG GLC 63 S both crack that lofty figure. That said, this X4 M Competition is one of the most exciting vehicles I've driven this year, hands down.
---

2021 BMW X4 M Competition Safety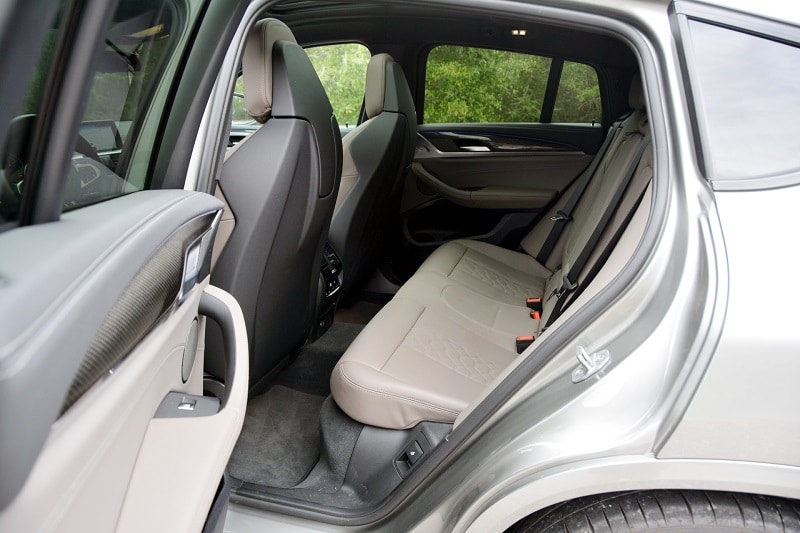 At this time, the 2021 BMW X4 has not been rated by the National Highway Traffic Safety Administration.
That said, BMW includes just about all of its safety content on the top-of-the-line X4 M Competition. Specifically, BMW's Active Guard brings Frontal Collision Warning, City Collision Mitigation and Daytime Pedestrian Detection, while the Active Driving Assistant includes Lane Departure Warning, Blind Spot Detection, Rear Cross-Traffic Alert and Rear Collision Preparation. The aforementioned Executive Package also adds the Parking Assistant Plus feature. 
---

2021 BMW X4 M Competition Overall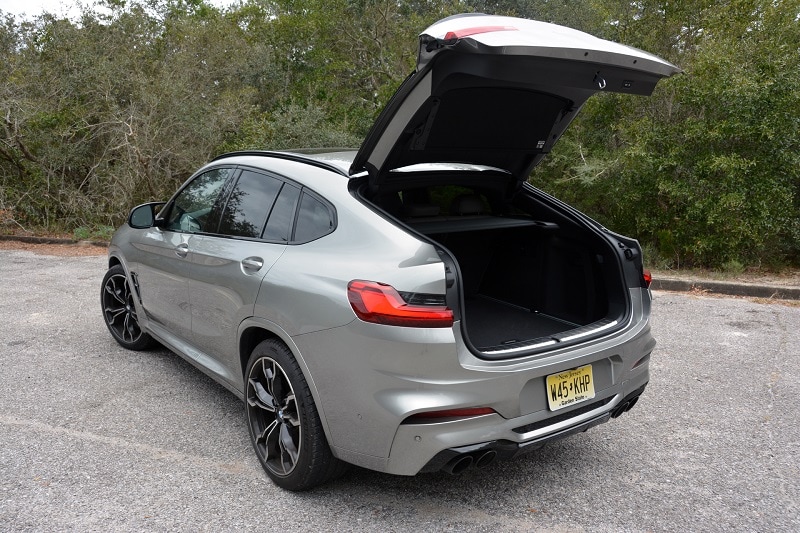 In short, this high-powered, coupe-like SUV is most certainly worthy of wearing the legendary BMW M badge. And while enthusiasts don't have to love the X4 M Competition, it's impossible to argue with this machine's amazing performance. Thanks to its unique design and jaw-dropping athleticism, it's up there with the M2 and M5 Competition as one of the most exciting vehicles in BMW's lineup.
As you might expect, that kind of performance means a higher cost of entry. The X4 M Competition used for this review had an as-tested price of $84,795, which is significantly higher than the X4's $50,000 base price. That's a lot to pay for a compact SUV, but if you're looking for a five-seater that is fun to drive, the level of style, luxury, and all-out performance is worth the extra coin. At the end of the day, the M Competition Package is only a $7,000 premium over the standard X4 M. 
---
Jeffrey N. Ross | Oct 25, 2021