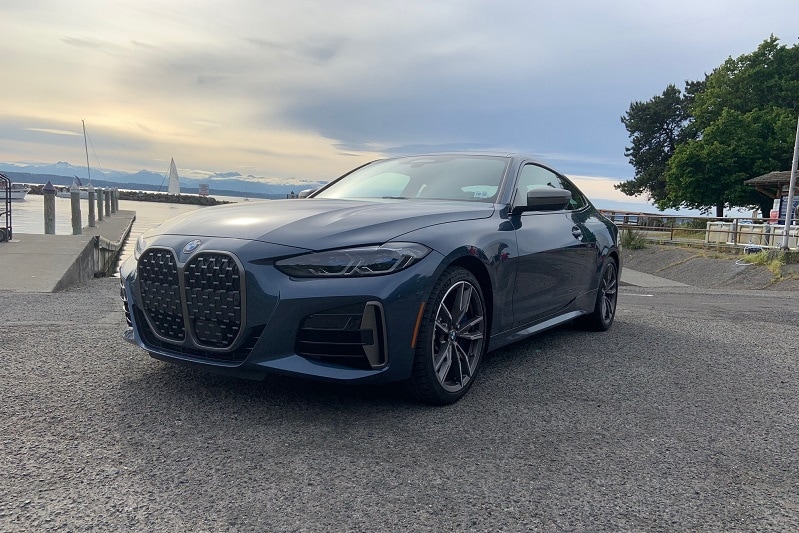 While BMW has effectively retired its "The Ultimate Driving Machine" slogan, the purposeful phrase has remained synonymous with the company, and speaks to the intrinsic value its engineers have traditionally placed on great driving dynamics.  
That distinction has always made the marque a favorite of enthusiasts, but right now, the new 4 Series has been discussed more for how it looks than how it drives. So to find out whether or not this offering holds up the high standards the company's past triumphs set, I spent a week with the 2021 BMW M440i xDrive. Safe to say, if you're looking for a machine that'll turn a twisty bit of tarmac into an adventure, the new 4 Series is a hot ticket. Read on for all the details about BMW's luxurious sports coupe.
---
2021 BMW M440i xDrive Exterior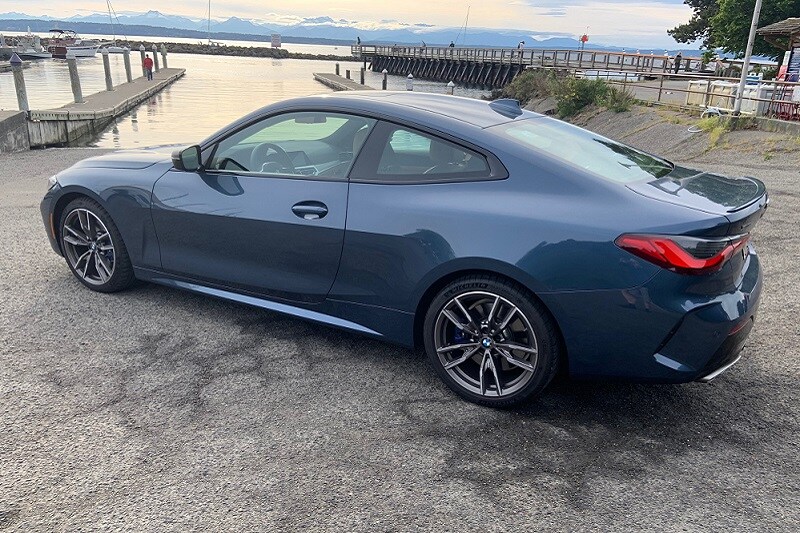 Yes, the exterior. It's the elefant in the bierpalast of every discussion about BMW's latest 4 Series, and there's really no delicate way to put this: The hivemind of the automotive internet hates it. Tremendously. Rarely do we see anything close to the kind of universal agreement about any topic, automotive or not, that the disdain for this Bimmer's huge nostrils has provoked.
That said, I've mostly been on the side of popular opinion when it comes to past controversial automotive styling decisions. For example, I still think the first-gen Porsche Panamera is a dud, and remain steadfast in my belief that the Bangle-designed 7 Series was an egregious error. But I seriously don't get the crazy outrage here. In all honesty, I think this 4 Series looks aggressive and cool. So I was curious about the reaction people on the street would have to it. And despite what the internet would have you believe? The feedback from folks was overwhelmingly positive. Even the famously opinionated mechanics next door to my office, who serve as my unofficial focus group,were effusive in praise for the styling. Somewhat unsurprisingly, most of it was unfit for a family-friendly site like AutoNation Drive. 
Look past the new grille, there are lots of other details which make this baby sparkle. The multiple creases on the hood give it an understated, muscular look, and the blue "eyeshadow" in the LED headlights looked spectacular against my tester's Arctic Race Blue Metallic. The blue, M-branded brake calipers are an especially trick touch, and look great behind the gunmetal, 19-inch wheels. My biggest criticism about the M440i's sheet metal has nothing to do with the front fascia, but rather lack of flare around in the rear hips. I'd like to see more definition there, to better complement the vestigial nub of a spoiler on the rear decklid.  
---
2021 BMW M440i xDrive Interior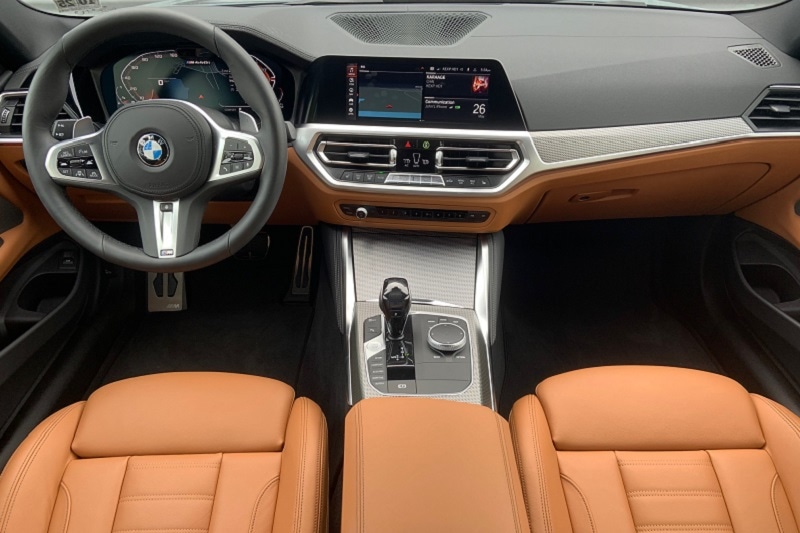 With an MSRP just north of $70k, you'd expect the cabin of the 4 Series would be well- appointed, ergonomically excellent, and attractive. And you'd be right.
But while fit and finish is fantastic, the borderline-busy but ultimately dead-hot pattern on the aluminum tetragon trim is wicked cool, and the leather of the seats is supple, the thing which is perhaps the most impressive about the interior of the 4 Series is the technology. Or rather, just how easy BMW's iDrive 7 system is to use. This is obviously a huge element for automakers to get right, and while Apple CarPlay and Android Auto were onboard, it's safe to say BMW hit the cover off the ball when it comes to the native system.  
At the center of the dash, there's an 8.8-inch touchscreen display, which responds quickly, and has an intuitive layout which makes accessing various vehicle settings a snap. Since touchscreens can be distracting to use while you're underway, however, BMW has also given drivers a dial in the center console, which allows for easy navigation through the various menus. Function-wise, the action of the click wheel will be familiar to anyone who owned an early iPod, and it's an excellent design. One of my pet peeves in modern vehicles is just how hard it can be to select a radio station from the thousand-odd channels available on SiriusXM. In the past, I've driven vehicles where I had to actually pull over, because I felt too much of my attention was being confiscated by trying to find First Wave, but scrolling through the list in the BMW was a non-issue.    
Another standout feature of iDrive was the exceptional voice recognition system. I used BMW's navigation extensively during my week with this car, and I loved it. All I had to do was say, "Hey BMW, take me to Hi-Voltage Records in Tacoma, Washington," and I was immediately on my way. Even crafting routes with multiple stops was super-simple, and I would love to see this technology implemented industry-wide.
---
2021 BMW M440i xDrive Performance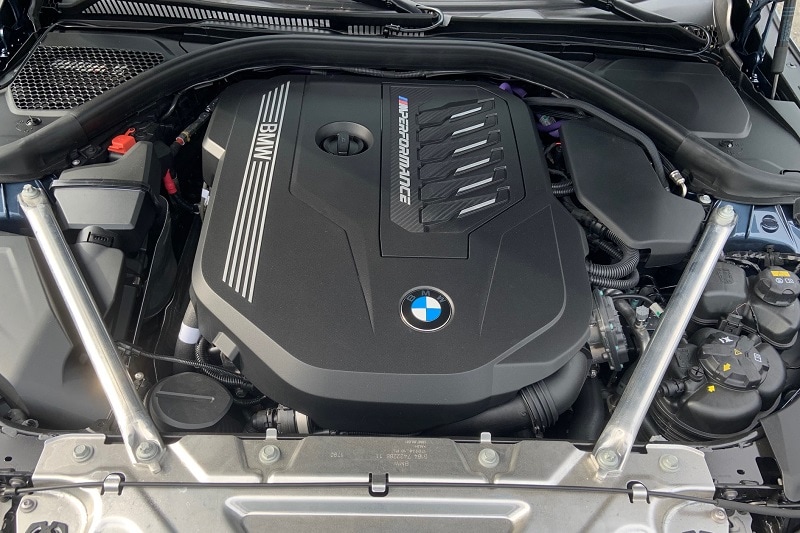 On one of my days off when I had the BMW, I did nearly 200 miles of driving on twisty back roads, and when I arrived home, I felt great. If you're looking for more of a bare-knuckle sports car, you'll probably want to make the jump up to the M4. But the M440i is a great grand touring machine, and even in its most aggressive drive mode, it won't beat you up.
Power comes from BMW's sublime turbocharged 3.0-liter I6 which delivers 382 horsepower and 364 lb-ft of torque in a silky smooth fashion, and sounds like the business when doing it. According to the Motoren Werke, that's enough poke to rip from  zero to 60 mph in a brisk 4.2 seconds, and blast through the quarter mile in 12.7 seconds. Gobs of power is available at any speed, and thanks to the xDrive all-wheel drive system, it's almost impossible to upset this car in the bends, even if it does impede the ability to hang the tail out in a big fat drift.
Now, as someone who's an avowed fan of the manual transmission, it feels almost heretical to say how much I enjoyed the eight-speed unit in this car. While it's a traditional automatic, and not a dual clutch, drivers can still manually shift it using solid-feeling paddles on the wheel. More important than that feature, however, is just how well it shifts when you leave it to its own devices. Especially in Sport+ mode, the gearbox performs with near-telepathic precision, and even makes some lovely throttle blip sounds during hard deceleration. For the lion's share of my time with the car, I was happy to let it handle shifting duties, even when pushing it on the aforementioned twisty bits outside my home base of Seattle.
---
2021 BMW M440i xDrive Safety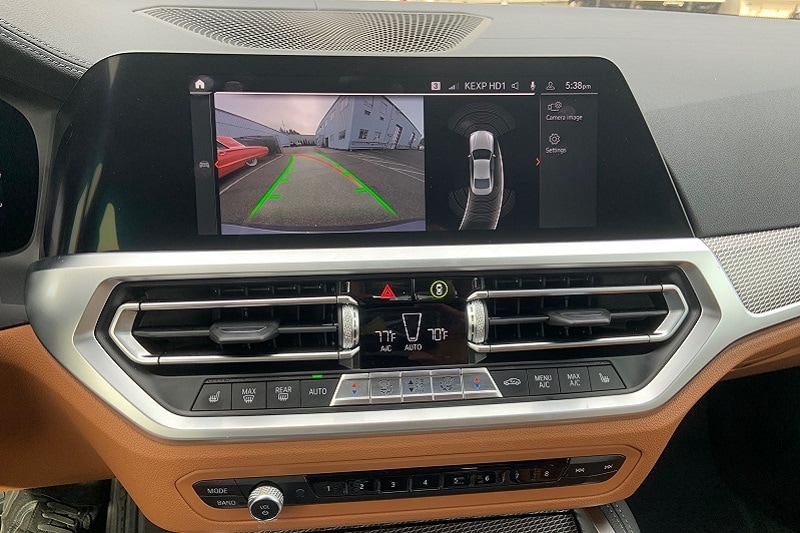 At this time, the 2021 BMW M440i has not been tested by the National Highway Traffic Safety Administration or the Insurance Institute for Highway Safety. For luxury cars at this elevated price point, that's normal.
But the M440i was loaded with safety tech, including Forward Collision Warning, Automatic Emergency Braking, Blind Spot Monitoring, and Lane Departure Warning. Other cutting edge tech, like Adaptive Cruise Control, Driver Drowsiness Monitoring and Pedestrian Detection also came standard. One notable bit of safety equipment was BMW's awesome cornering light system, which moved with the wheel to throw light through the bends.
---
2021 BMW M440i xDrive Overall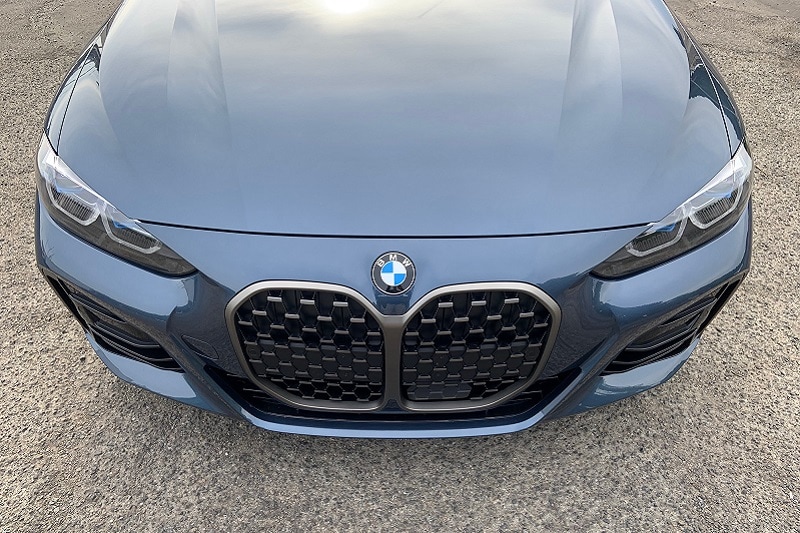 How history will judge the styling of the latest BMW 4 Series is a mystery for now. Unquestionably, it's polarizing in a way that we haven't seen from the automaker in over a decade. But like it or not, it makes every other BMW look old in comparison, and there's something to be said for that.  
What's less subjective than the looks is the performance, which delivers on BMW's long standing promise of making vehicles which are inspiring to drive. I can't say whether the current 4 Series would provide nearly as much fun with the base 255-horsepower mill under the hood, though I suspect not. As it stands, however, the M440i exists in a happy place between the entry level car and the more performance-focused M4. So if that rings bells for you, don't be concerned with what the internet is saying about 4 Series. Schedule a test drive at your local AutoNation-affiliated BMW dealer, and make up your own mind.
The as-tested price for the 2021 BMW M440i xDrive used for this review was $70,470.  
---
John Coyle | May 28, 2021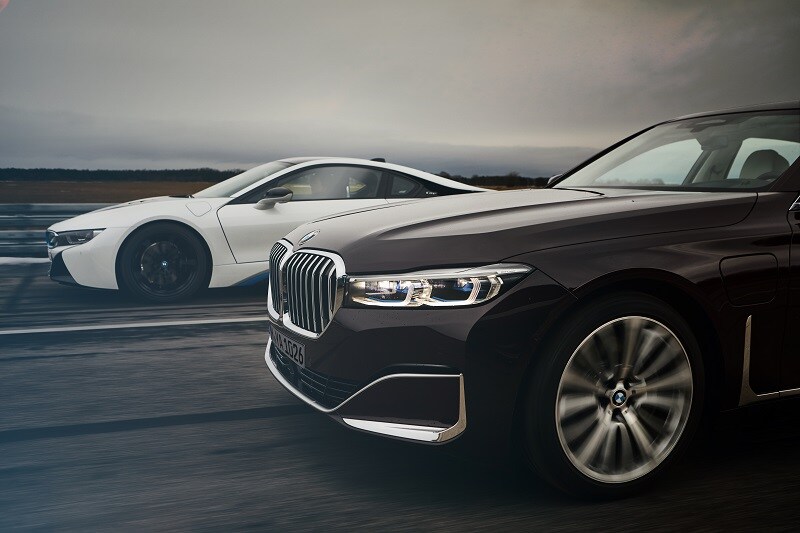 BMW Trim Levels Guide
Get the breakdown of the BMW powertrain options for cars and SUVs.
---
2021 BMW M440i xDrive Specs
Layout
2-door, 4-passenger, AWD
Engine/Transmission
Turbocharged 3.0L I6, 48-volt mild-hybrid, 382 hp, 364 lb-ft
Eight-speed automatic
Mileage
22/31 mpg (city/hwy)
---
AutoNation Drive Test Drive Review: ★ ★ ★ ★ ★
---
---
More Research
Browse more automotive research than you can shake a stick shift at.
---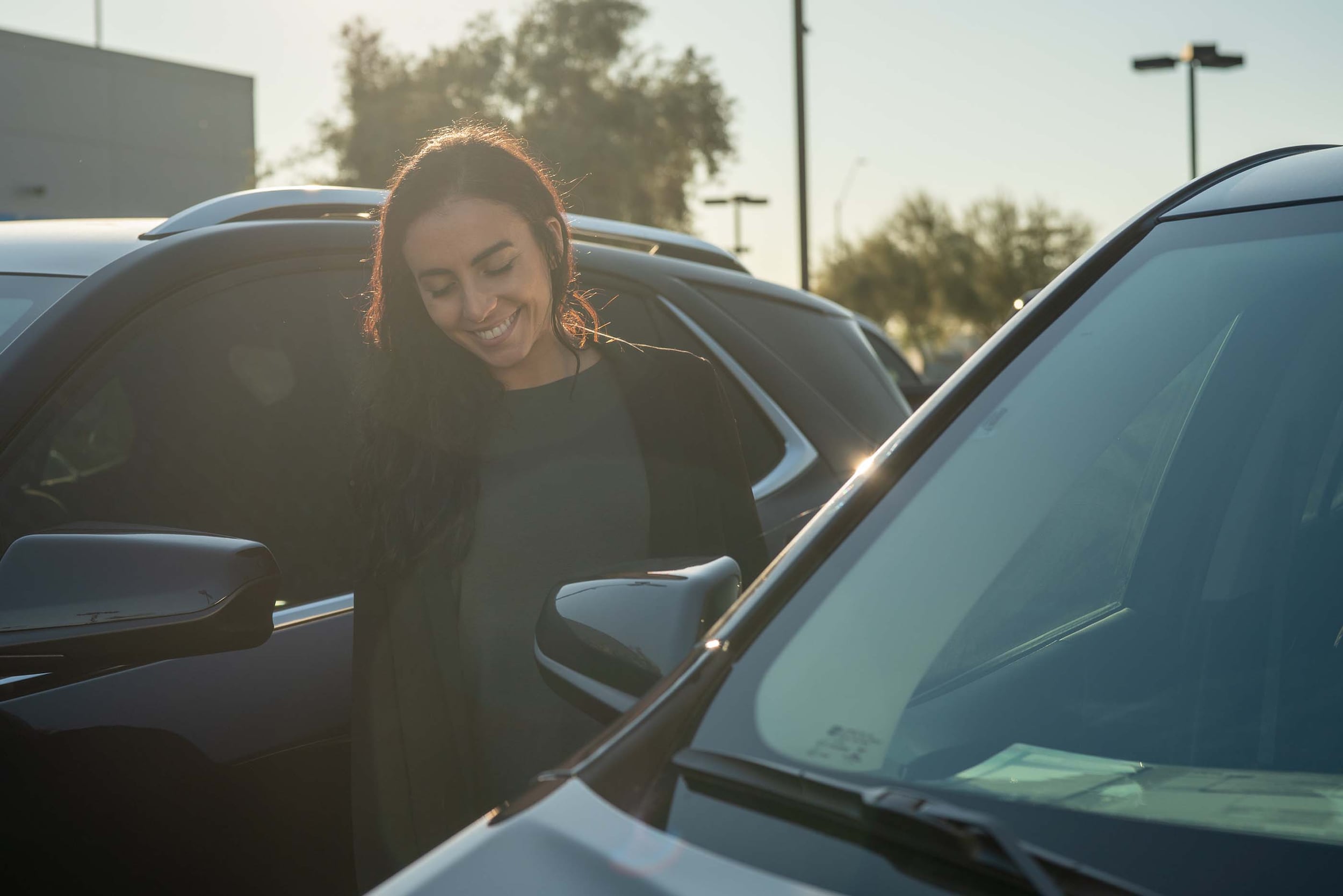 Test Drive Reviews
Our automotive experts at AutoNation Drive weigh in on price, safety, and performance of popular cars, trucks, and SUVs.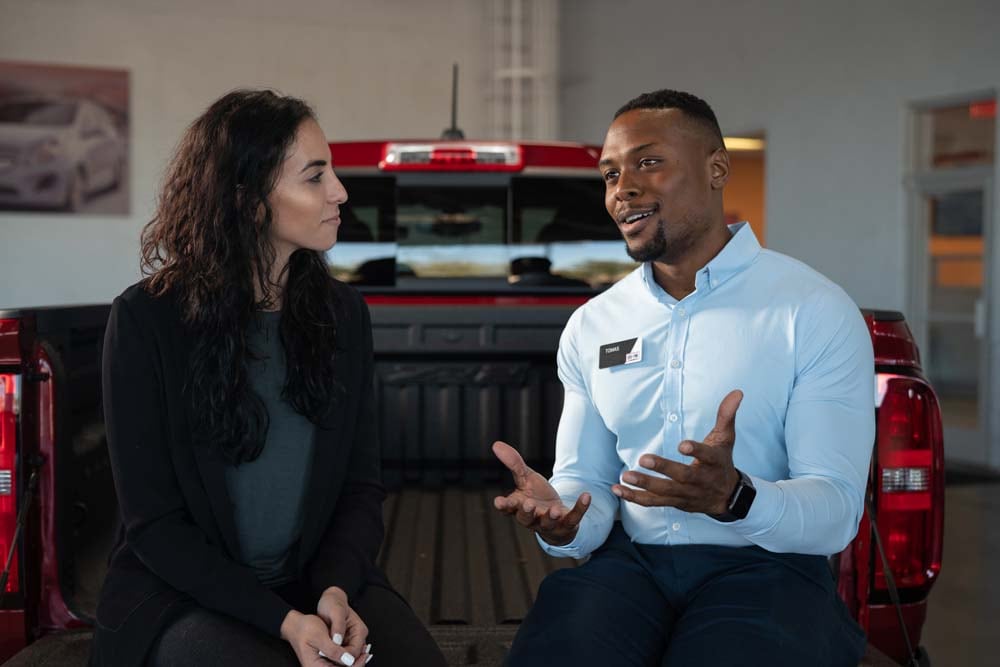 Car Buying Advice
If you're buying a car, truck, or SUV, the chances are - you need help. Don't worry. Our automotive experts are here to help.
---
*MSRP excludes tax, license, registration, destination charge and options. Dealer prices may vary.
**Based on EPA mileage ratings. Your mileage will vary depending on specific vehicle trim, how you drive and maintain your vehicle, driving conditions, and other factors.