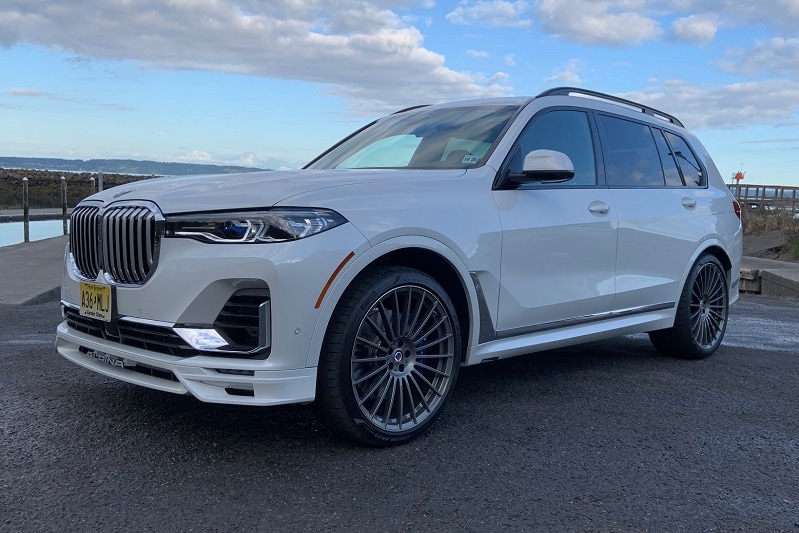 While it might not have the mainstream recognition of BMW's M division, enthusiasts will recognise Alpina. The company crest proudly displays a Weber carburetor and a crankshaft, and since 1965, the famed tuning house has been buffing the Motoren Werke's handiwork to a high luster.
The German government actually recognizes Alpina as a manufacturer, not just a tuner, and its vehicles are both faster and more luxurious than standard BMWs. Today, Alpina serves as BMW's in-house boutique builder. And though the firm has historically painted with a broad brush, working its wizardry on everything from the 3 Series, to the 5 Series, to the stunning Z8 roadster, Alpina had never produced an SUV. Until now.
Meet the 2021 BMW Alpina XB7, a battleship-sized dropkick of a three-row people mover. This machine is a breathtaking exercise in excess, and I was thrilled to get to spend a week with it.         
---
2021 BMW Alpina XB7 Exterior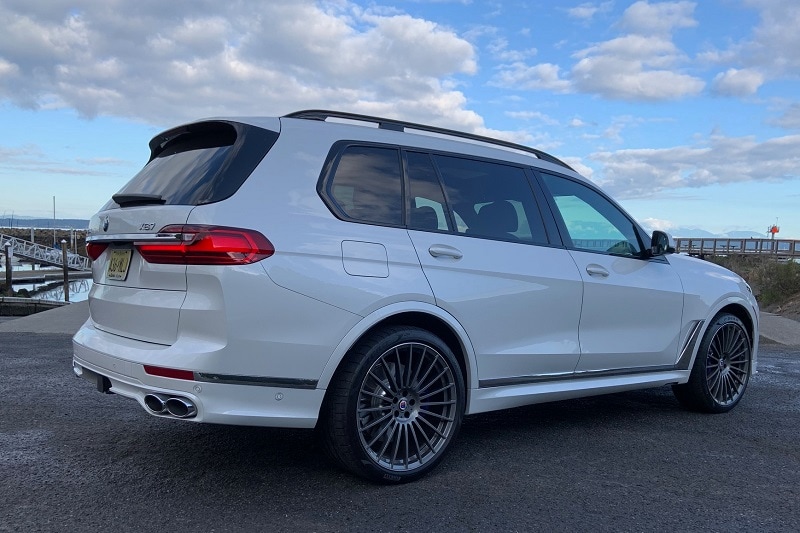 While the styling is relatively subtle, the sheer size of the XB7 gives it a commanding presence. Park it next to a Jeep Cherokee, for example, and it dwarfs Ma Mopar's off-road ready five-seater. There don't appear to be any aerodynamic tricks at play here, and this machine likely has the drag coefficient of a brick. But since this is a big SUV, it totally works visually.
Up front, there's BMW's familiar twin-kidney grille, but there's also an Alpina badge prominently placed in the recess above the front lip. At about an inch tall and seven inches long, it's impossible to miss, even if it's far from flashy.
In profile, the front fascia is almost flat, and hints at the sledgehammer-like performance the XB7 is capable of. Along the side, a chrome hockey stick-shaped bit of trim and a pair of character lines provide some visual movement, and further reinforce that this machine is no bloated behemoth. Now, on a smaller vehicle, the trademark multi-spoke Alpina wheels might look too bombastic, but against this massive expanse of sheet metal, they're perfect, and nicely fill out Bimmer's cavernous wheel wells.    
Out back, there's another Alpina badge on the drivers side of the liftgate, along with quad oval-shaped exhaust pipes. Those pipes are finished with a body-colored surround that provides a polished look to the hindquarters, and encapsulates Alpina's embrace of both performance and luxury. 
---
2021 BMW Alpina XB7 Interior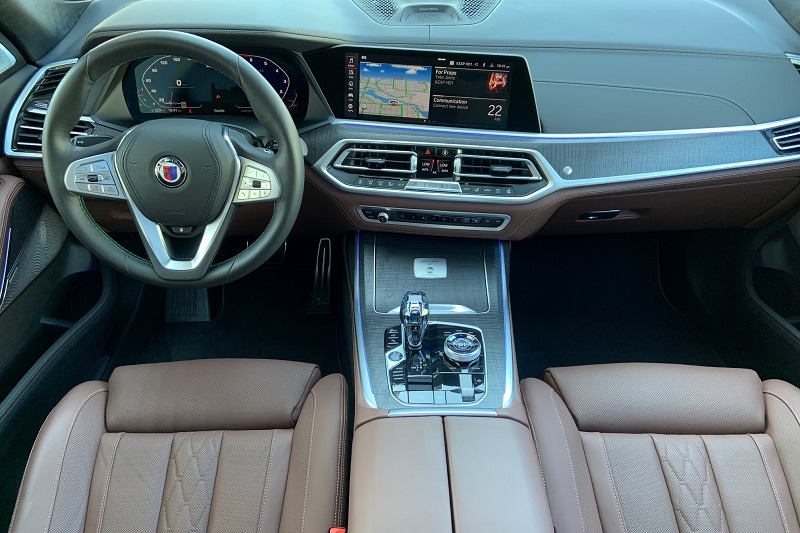 It's an egregious understatement to say the cabin of the XB7 is a comfortable place to be.  Everything that isn't next-level supple Merino leather is Alcantara, or beautifully finished aluminum, and the attention to detail is extraordinary. Reach your hand up to the base of the windshield, and the hides there are just as smooth and luxurious as the ones on the heated and ventilated seats. So in the event you have to reach up there to place a parking pass or other credential? Your hands will never so much as graze a pedestrian texture.
Audiophiles are going to want to spring for the sublime Bowers & Wilkins stereo, as the sound quality is absurd, and the gorgeously rendered metal speaker grills add some visual flare to the cabin. For what it's worth, a single Bowers & Wilkins home loudspeaker will cost you more than checking the option box on the XB7. So don't let anyone tell you there's nothing thrifty about this lovely machine.  
It's an egregious understatement to say the cabin of the XB7 is a comfortable place to be.
There are Alpina badges on the steering wheel, on the natural walnut slider which covers the heated and cooled cup holders, and on the trick inlaid glass infotainment dial, just to make sure you never forget you're inside a top-shelf BMW. It took me a few days to notice that the stitching on the steering wheel was green, as opposed to the earthy brown tones on the seats and door panels, and I loved the subtlety. It was as if the designers couldn't resist adding a tiny bit of pop for the person lucky enough to be piloting this Teutonic tank.
The massive moonroof extends all the way over the second row seats, and to be sure that the folks in the way back don't miss out, there's a separate one just for them. As expected, the third row chairs are a tight squeeze, and best left to small children, though adults could use them in a pinch. Accessing those seats is a breeze, however, as with the touch of a button, the second-row seats pivot up and slide forward in a robotic ballet worthy of the brainiacs at Boston Dynamics (of dancing robot fame).  
The rear lift gate is a two-part deal. The top half opens traditionally, while the bottom portion drops down like a tailgate, so you'll have a comfy place to sit for a picnic or pregame festivities. It's a neat system, even if it means you have to lift small items up higher when placing them in the cargo area.
As it is with other BMWs, the infotainment system is stellar. The screens display images in razor sharp detail, respond instantly, and are simple to use. Though it's far from the first time I've seen it, I particularly liked how the digital gauge cluster displays a map of your current location behind the tach and speedometer. Along with the touchscreen and redundant buttons, drivers also have the option to use gesture controls to adjust the radio volume, accept or decline calls, and skip or repeat songs. While it's a little tricky at first, once you're used to the motions, it's a little like using the Force, which is pretty cool. To help you along, there's a video tutorial in the infotainment system.
---
2021 BMW Alpina XB7 Performance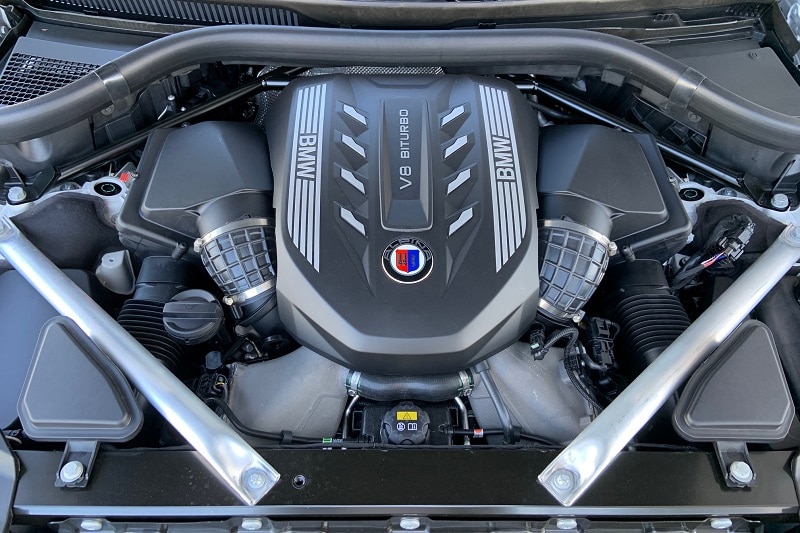 In true Alpina style, the XB7 packs a performance wallop. In contrast to the standard BMW B7, the XB7 boasts bigger turbos, a free-flowing active exhaust, and a more robust cooling system. All that go-fast kit means a jump to 612 horsepower and 590 lb-ft or torque, which is 89 more ponies and 37 more pounds of twist than the standard mill is good for. All that extra poke translates to a zero-to-60 time of just 4.0 seconds, and a top speed of 180 mph, which is as outrageous as it is awesome.          
Of course, with enough power, it's possible to make even brick-shaped seven-seaters launch like a fireball out of a trebuchet. So while it was somewhat surreal to experience such profound acceleration inside something with a larger interior volume than my first studio apartment, I was somewhat prepared for it. What I was less prepared for was just how well this magnificent beast handled the bends. Because while it might not compare with the athleticism of the M5 Competition I tested a few weeks back, the XB7 was fantastic on a twisty road, and the pronounced grip from the super-sticky Pirelli P Zero tires was extremely confidence inspiring.       
It's also worth noting while the 23-inch wheels looked as big as manhole covers, and the sidewall of the Italian rubber was minimal, the overall ride was compliant and luxurious. The Alpina-tuned  adaptive suspension is a thing of beauty, and it's a key component of the XB7's Jekyll and Hyde personality.   
---
2021 BMW Alpina XB7 Safety
The 2021 BMW Alpina XB7 has not been crash tested by the National Highway Traffic Safety Administration or the Insurance Institute for Highway Safety. This is not unusual for vehicles in this elevated price range.
That said, the XB7 comes equipped with a long list of standard safety equipment including, Forward Collision Warning, Automatic Emergency Braking, Lane Departure Warning, Blind Spot Monitoring, and Automatic High-Beam Headlights. My test vehicle also featured a host of optional equipment, including a Heads-Up Display, Adaptive Cruise Control, and an excellent Surround-View Camera.
---
2021 BMW Alpina XB7 Overall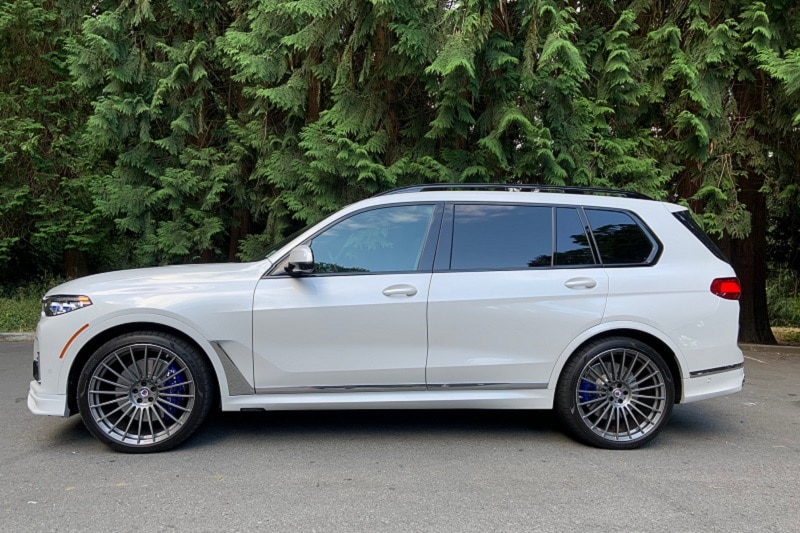 When you're behind the wheel of the Alpina XB7, with a Perrier chilling in the cooled cup holder,  there's precious little to complain about. The luxurious appointments make it feel like a private jet, and the level of thrust isn't far behind. All told, this is a 6,000-pound illustration of hulking executive transport, and it's as visually imposing as that description suggests. But on a twisty road, forget physics, because even seasoned pilots will be surprised at its capabilities.
Now, it's time to get down to brass tacks. Except in this case, the tacks are more like platinum, or gold. Or like gold-plated platinum studded with flawless diamonds. Because yup, this baby ain't cheap. The base price of my test vehicle was a formidable $141,300, but adding options like the 23-inch Alpina wheels ($2,600), the rear-seat entertainment system ($2,200), and the banging Bowers & Wilkins stereo ($3,400) pushed the price to a lofty $154,095.     
---
John Coyle | Jul 26, 2021