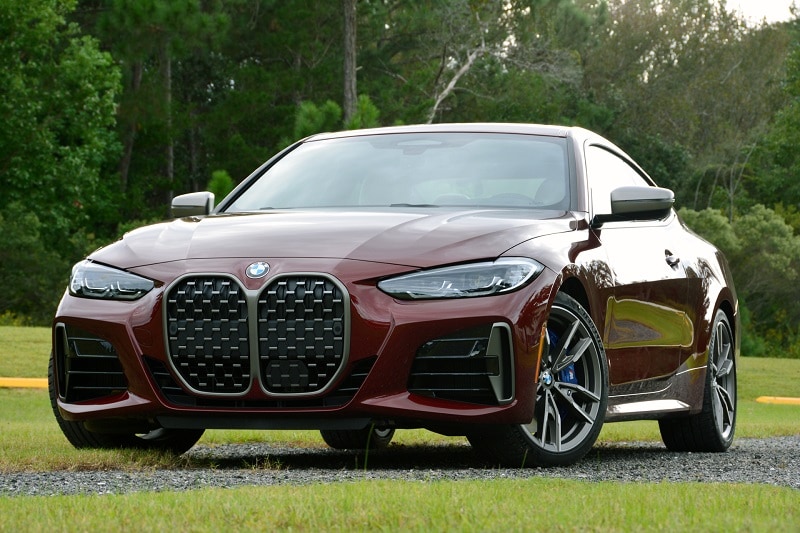 The BMW 3 Series coupe has existed since the nameplate was first introduced back in 1975, but it wasn't until 2014 that BMW created the 4 Series to stand as the two-door version of BMW's sporty compact. Redesigned for the 2021 model year, the second-generation 4 Series includes the Coupe, Gran Coupe and Convertible and offers a trio of powertrain options, and for this review, I was able to sample the mid-range 2022 BMW M440i in its new rear-wheel drive configuration.
---
2022 BMW M440i Coupe Exterior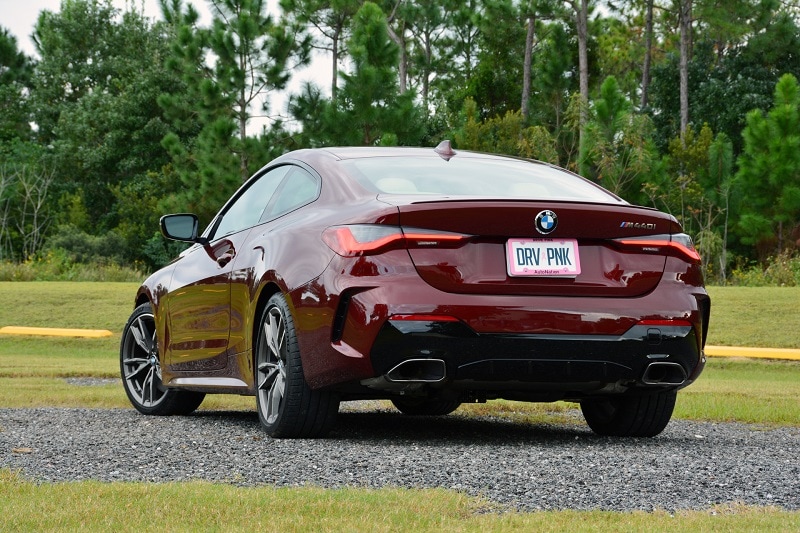 As is the case with all previous 3 Series coupes, the original BMW 4 Series looked exactly like what it was - a coupe version of the 3 Series sedan. Breaking from that tradition, this second-generation 4 Series stands out with a distinctive design that shares little, if anything, with its sedan counterpart. When it comes to the look of this coupe, it's impossible to not mention the oversized and polarizing version of BMW's signature twin-kidney grille, but once you get past that design element, the 4 Series is actually a beautiful car that resembles a scaled-down 8 Series coupe.
The bold lines and broad shoulders give this coupe an athletic stance, while buyers looking for a sportier take on new 4 Series will appreciate the M440i's style with the larger front air intakes, more aggressive rear fascia, bright blue, M-branded brake calipers and Cerium Grey accents on the grille, front air intakes, mirror caps and trapezoidal exhaust outlets. The optional $2,400 Cooling and High-Performance Tire Package also adds Cerium Grey19-inch alloy wheels wrapped in high-performance Michelin Pilot Sport+ tires, and speaking of colors, this tester was finished in the new-for-2022 Aventurin Red Metallic, one of three BMW Individual paint colors that are available for an extra $1,500.
---
2022 BMW M440i Coupe Interior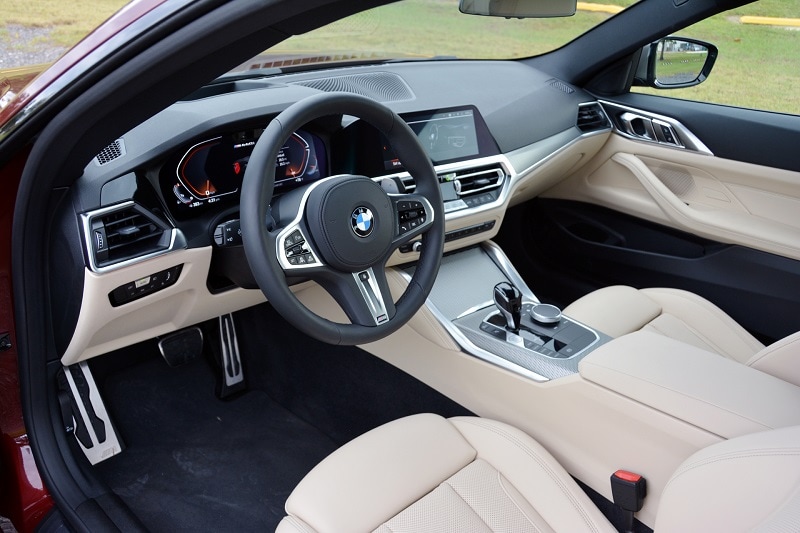 Step inside the 2022 BMW M440i, and that's where you'll find the most common ties to the current 3 Series sedan. From the front seats forward, the 4 Series is identical to its sedan counterpart with a clean, attractive layout, and this tester's sporty exterior was complemented by a more traditional black-and-beige interior with mesh-style aluminum inlays. The rotary-controlled iDrive infotainment system remains one of the best you can buy, and standard cabin tech includes cloud-based navigation (BMW Maps) as well as wireless Apple CarPlay and Android Auto compatibility. For even more tech, opt for the $750 Live Cockpit Professional that upgrades to a 12.3-inch digital gauge display and a 10.25-inch infotainment screen, and the $1,600 Premium Package that maximizes luxury with heated front seats, heated steering wheel, head-up display and BMW's Gesture Control. 
As a sporty, four-seater coupe, there's no denying that the best place to enjoy the M440i Coupe is from the front seats. These seats are comfortable enough to enjoy on long drives yet supportive enough to keep you in place during spirited cornering, and the thick-rimmed M steering wheel provides great driver control. That being said, the two back seats offer enough legroom and headroom for kids (and adults in a pinch), and rear occupants will appreciate being able to charge their electronic devices with a pair of USB ports. And for even more practicality, this coupe provides a decent amount of trunk space that can hold up to 12 cubic feet of gear.
---
2022 BMW M440i Coupe Powertrain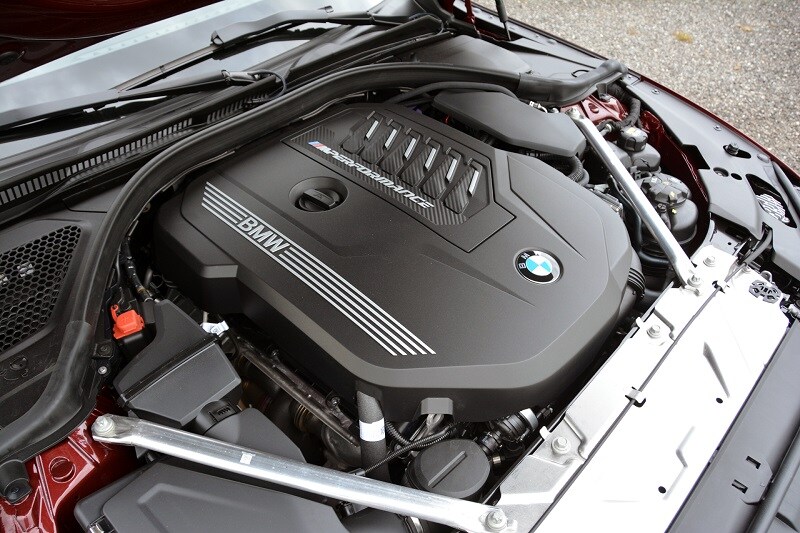 Standing in between the base 430i and the high-powered M4, the 2022 BMW M440i features a 3.0-liter twin-turbo inline-six, which is backed by an eight-speed automatic transmission and a 48-volt mild hybrid unit. This powertrain combination blends BMW's past (turbo inline-six) and present (electrification) to produce an impressive 382 horsepower and 369 lb-ft of torque marking a remarkable increase of 62 hp and 39 lb-ft of torque compared to the previous 440i coupe. According to BMW, the hybrid system is used for brake regeneration, which recaptures otherwise lost kinetic energy and uses it to boost performance under hard acceleration as well as turn off the engine for fuel-saving stop/start at speeds under 9 mph. This results in a 0-60 mph time of 4.6 seconds along with EPA-rated fuel economy estimates of 25 mpg in the city and 34 mpg on the highway.
When the new 4 Series debuted last year, the M440i was only offered with the xDrive all-wheel drive system, but now it comes standard with rear-drive and offers AWD for an extra $2,000. While the xDrive system is about 0.3 seconds quicker from 0-60, the rear drive model shaves around 130 pounds from the curb weight giving the twin-turbo coupe an even better power-weight ratio, and the car is very well balanced with great steering feedback and braking response. For optimal performance, the M440i comes standard with a sport differential, sport brakes and sport-tuned adaptive suspension, and this tester was also equipped with the Cooling and High-Performance Tire Package that added a more powerful cooling fan and an additional cooler for the engine oil - features that will make the car excel on the track. 
Although the M440i is best enjoyed on curvy roads, this coupe is surprisingly comfortable on long highway cruises providing a smooth, quiet ride. Perhaps the only disappointment for true enthusiasts is the lack of a manual gearbox, but the automatic transmission has smooth shift points in normal in driving and harder, sportier shifts when the driver drops it into Sport mode.
---
2022 BMW M440i Coupe Safety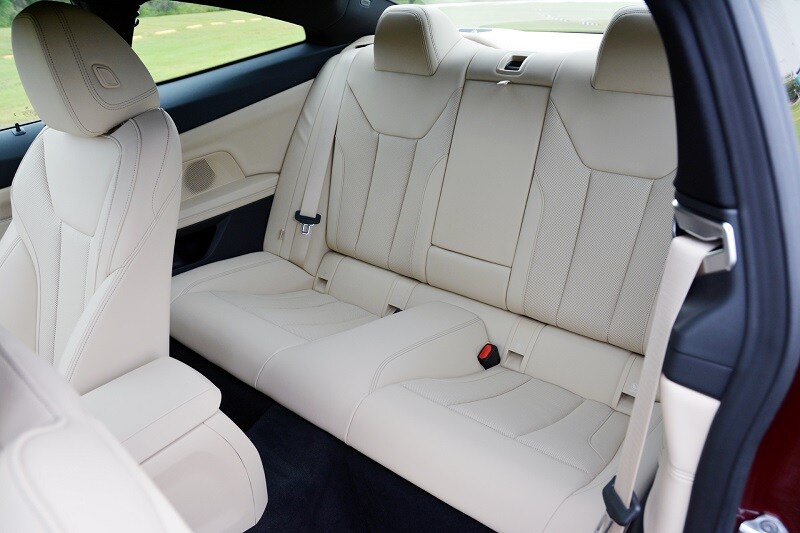 Although the new BMW 4 Series has yet to be given a safety rating by the National Highway Traffic Safety Administration, this coupe comes standard with plenty of safety features include frontal collision avoidance, pedestrian warning with braking function, blind spot detection, lane departure warning with steering correction, rear cross traffic alert, rear collision preparation and automatic high beams. This tester was also equipped with the optional ($1,700) Drivers Assistance Pro Package that bundles BMW's advanced Extended Traffic Jam Assist - a Level 2 semi-autonomous, full-speed hands-free driving assistant intended for limited access highways only.
---
2022 BMW M440i Coupe Overall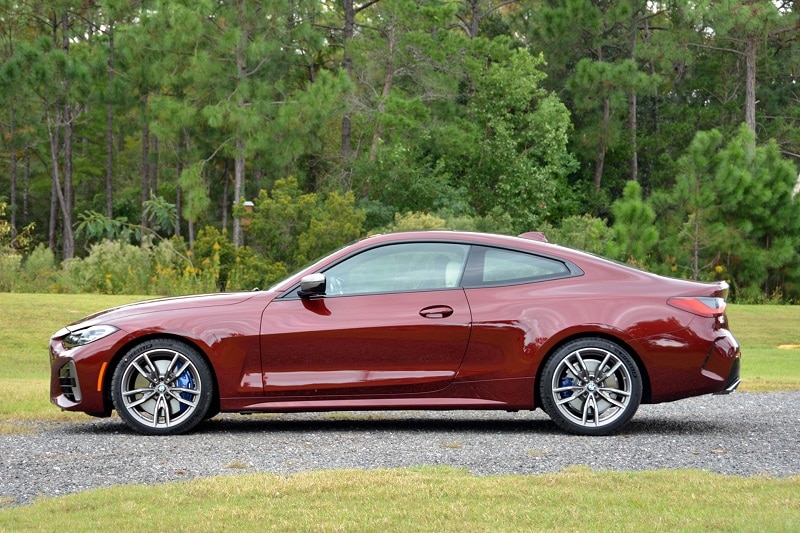 Love it or hate it, the 2022 BMW M440i backs up its luxury and performance capabilities with a design that is unmistakable. And in a surprisingly diverse crowd that includes the Lexus RC, Audi A5, Infiniti Q60 and Mercedes-Benz C-Class, the sporty and distinctive style is a welcomed attribute. Even with all the added luxury and technology, the 2022 BMW 4 Series is still reasonably priced starting at $45,800 for the base 430i, while the mid-level M440i starts at $56,700. Add in the optional safety and performance features, and this tester rang in with an as-tested price of $65,370.
---
Jeffrey N. Ross | Nov 19, 2021