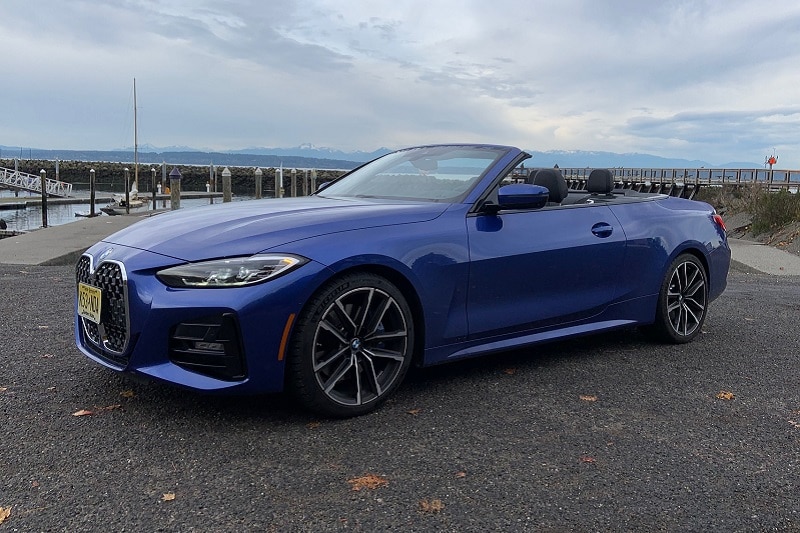 If you're going to be testing a convertible? Well, let's just say there are better places to be than Seattle in late October. Because that's when the Emerald City is turning back toward the long, rainy days it's famous for. So if you're planning on leaving the house? There's a good chance you're going to get wet.
Fortunately, during my week with the 2021 BMW 430i Convertible, I got a few crisp, clear days and nights, so I was able to experience all the glory of autumn in a peppy blue convertible. That's exactly the kind of driving experience this lovely German machine was designed for, and I enjoyed every moment behind the wheel immensely. Read on to learn more details about exactly what makes the BMW 430i Convertible such a joy. 
---
2021 BMW 430i Convertible Exterior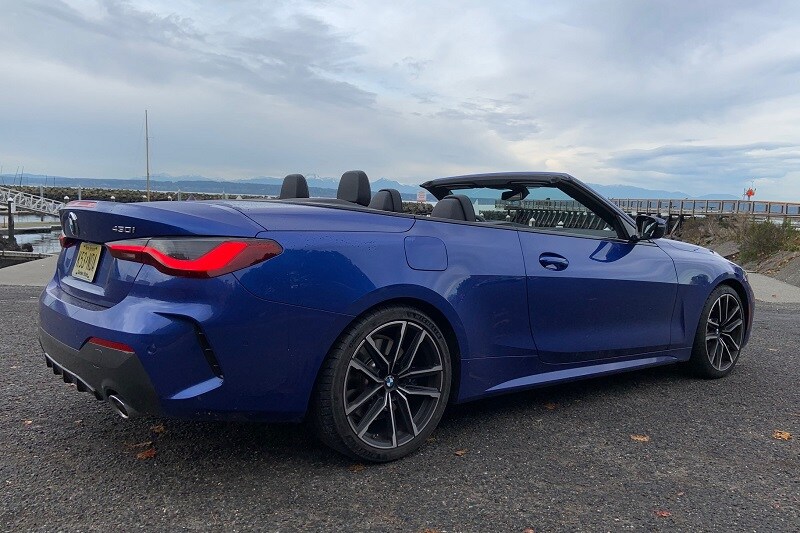 As I noted when I drove the BMW M440i back in May, the elephant in the room with the 4 Series is the massive twin-kidney grille. On the internet, the front fascia has been widely condemned, and folks defending the styling change are few and far between. In the real world, however, my experience has found that most folks seem to like the way it looks. I will say that given how drawn your eyes are to the grille, the front plate looks ridiculously tacked on. So if you live in a state that requires one, you have some decisions to make.
Debate about the front end aside, the exterior of the 430i is muscular, clean, and purposeful. When viewed in profile, the stance seems slightly nose down, and communicates the athleticism BMW is known for. Now, back in 2020, the 4 Series featured a folding hard top, which I felt was a good fit for the character of the car. This year, that's been replaced by a soft top, which saves some weight and trunk space, but does compromise the car's lines when it's raised.
That said, the top is extremely well insulated, so with the roof in place, wind and road noise are comparable to what you'd expect from a traditional coupe. If you happen to live in a place where rain can start suddenly, have no fear. The top takes mere seconds to raise and lower, and can be operated at speeds up to 30 mph.
---
2021 BMW 430i Convertible Interior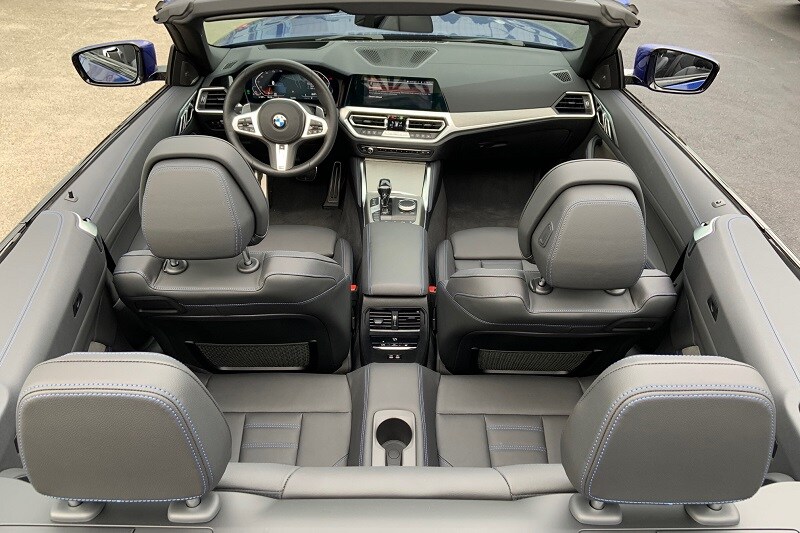 The cabin of my tester was finished in supple black leather and featured contrasting blue stitching, which matched the lovely exterior finish. Overall, I think BMW has managed to thread the needle between elegant and austere. The flashiest element at play here is the aluminum Tetragon trim, which adds some visual depth, but never looks busy, and every touchpoint feels high quality. Seriously, you'd probably have to start digging around underneath the seats to find a cheap-feeling piece of plastic. This car is billed as a 2+2, which means the back seats are basically decorative.
One of the things I really appreciated about this interior was that the seats felt infinitely adjustable, and allow you to dial in a perfect driving position. For example, when I'm driving a sporty car, I like to feel like I'm sitting on the floor, and the seats in the BMW happily obliged. Speaking of the seats, not only are the front chairs heated, but they also feature vents in the base of the headrests that will blow warm air on your neck. Given that Seattle is now regularly dipping into the low 40s at night, I found the neck warmers to be a fantastic addition to the interior. Whenever weather permitted, I would drop the top, and cruising around after dark was an absolute blast.
As with other BMWs I've reviewed recently, the 430i is loaded with tech, but isn't in your face about it. Most frequently accessed functions (think climate control, heated seats, entertainment controls) have physical buttons, and the touchscreen at the center of the console is as sharp as an HD television. Even when I was parking at night, in the pouring rain, the image from the 360-degree camera was seriously impressive, even by modern car standards. Apple CarPlay and Android Auto are available, but in all honesty, the native BMW system is so good, I opted to stay with it. The voice command function also works like a charm, and I've found it invaluable for entering destinations, as well as simple tasks like finding a random SiriusXM channel.  
---
2021 BMW 430i Convertible Performance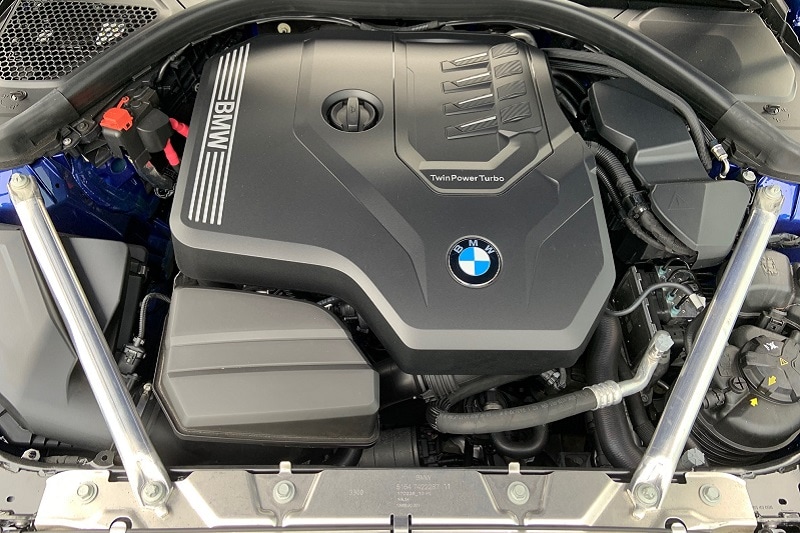 Under the hood, the 430i is packing BMW's turbocharged 2.0-liter four-cylinder. This potent little mill is good for 255 horsepower and 295 lb-ft of twist, and at idle, the exhaust note sounds slightly impatient, which befits the plucky little drop top. Now, as respectable as those numbers are, the last two BMWs I drove (namely, the M5 Competition and the Alpina XB7) were absolute monsters, with enough motivation to adequately power a cruise ship. Floor the pedal in either one of those beasts, and the uninitiated will find forward progress genuinely frightening.
But while the 430i doesn't deliver the-shot-out-of-a-catapult experience from a standstill, it's got enough poke to deliver some genuine thrills, and really gathers steam after the 25 mph mark. In corners, I found its composure confidence-inspiring, even if it lacks some of the road feel of the BMW's M cars. That said, while it's not a bare-knuckle brawler, anyone who appreciates a twisty stretch of tarmac will enjoy driving this machine, and even in the Sport setting, you don't have to worry about your fillings getting rattled out of your head.
While the 2020 model offered the option of a six-speed manual, for 2021, the only transmission option on the menu is an eight-speed automatic with paddle shifters. In a nod toward spirited driving, if you hold the left (meaning down) shift paddle back, it'll switch the car into Sport mode and shift into the lowest appropriate gear. While I'd appreciate the ability to row my own, the gearbox is generally well sorted, and most of the time, I sat back and let it handle shifting duties. Where the paddles come in truly handy is in a tight series of corners, where you can knock down a couple of gears to whip through them. 
---
2021 BMW 430i Convertible Safety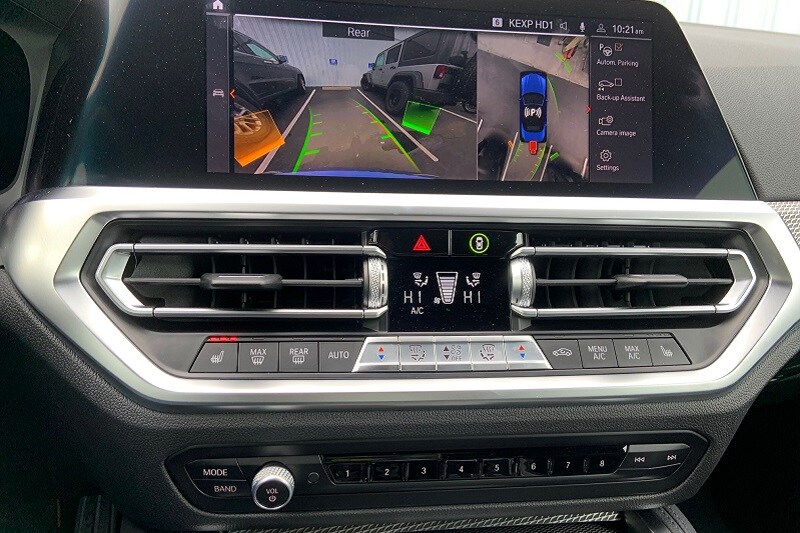 At this time, the 2021 BMW 430i has not been tested by either the National Highway Traffic Safety Administration or the Insurance Institute for Highway Safety. For a luxury vehicle, that's not unusual.
As you'd expect with a car of this caliber, the 430i is equipped with a comprehensive suite of safety systems. Dubbed BMW Active Driving Assistant, this cutting-edge tech includes Frontal Collision Warning With Pedestrian Detection, Active Blind Spot Detection, Lane Departure Warning, Low-Speed Automatic Emergency Braking, and Rear Cross Traffic Warning. 
---
2021 BMW 430i Convertible Overall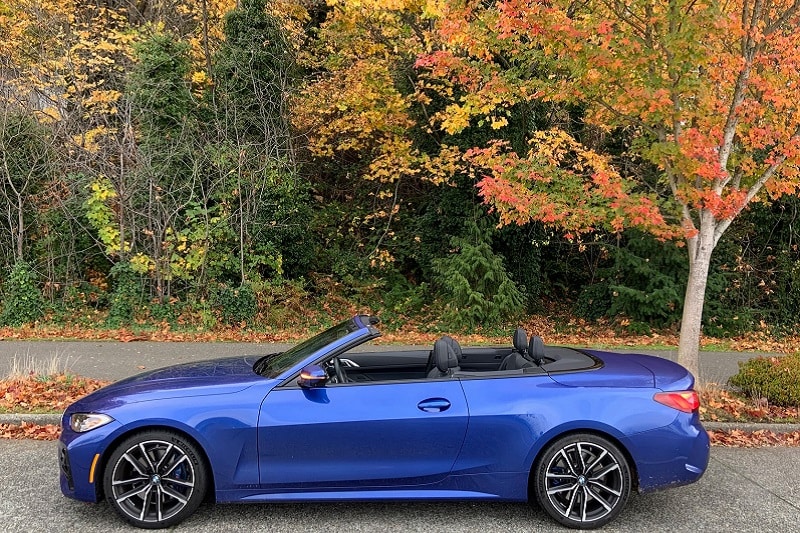 Truly appreciating the BMW 430i first means recognizing what it is, and what it was designed for. In short, it's not a hardcore performance car designed to terrorize the track. It's a sharp-looking, zippy, fun-to-drive drop top with great tech, and it's comfy whether the roof is up or down. So if that sounds like something that'll blow your hair back? Head to your local AutoNation-affiliated BMW dealer and arrange a test drive. You won't be disappointed.
The starting price for the 2021 BMW 430i Convertible was $53,100, and my tester was fitted with a slew of options which increased that significantly. The Dynamic Handling Package ($2,450), added blue M Sport brakes along with a M Sport rear differential, while the M Sport Package added variable steering. The Premium Package ($2,300) included drop top must-haves like heated seats and a heated steering wheel, and the gorgeous Portimo Blue Metallic ($550) paint was also an upcharge. All told, that brought the as-tested price of this 430i to $67,220.