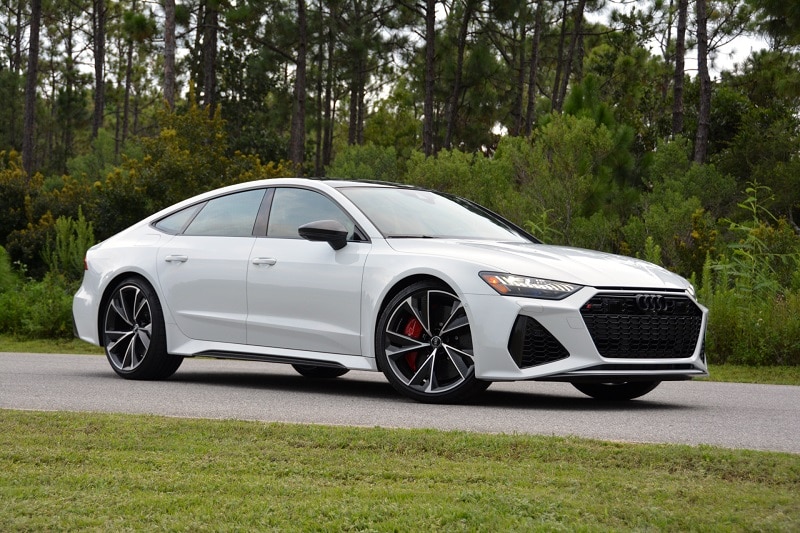 Sports cars are fun and all, but who says that your family-hauling daily driver and your corner-carving weekend sports car can't be the same car? Certainly not
Audi
. Because if you're looking for a car that is roomy enough to carry five people and their gear with blistering performance and stunning style, it's hard to think of any car that does it better than the all-new 2021 Audi RS7. 
Introduced for the 2021 model year, the second-generation RS7 is a high-performance version of the coupe-like A7, and it bolsters Audi's ever-growing RS lineup of enthusiast-minded sedans, hatchbacks, coupes, convertibles, SUVs and station wagons. The 2021 Audi RS7 is the newest addition to the RS lineup of performance vehicles, and I recently got to spend a week with this incredible car.
---

2021 Audi RS7 Exterior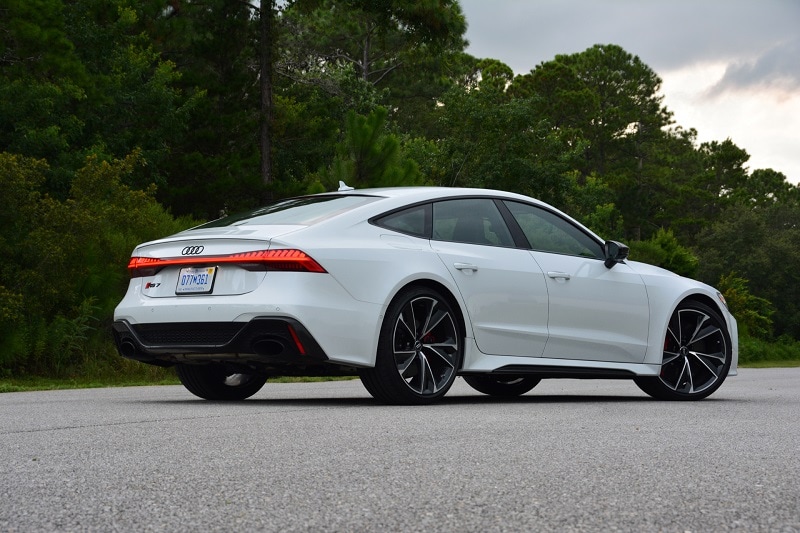 In stock form, the A7 is already an eye-catching car with its long, low nose, wide rear haunches and a fastback profile. But the 2021 Audi RS7 cranks this car to an 11 with a bold, track-ready design. It's usually hard for a car to stand out with a white paint job, but the RS7 manages to do just that in this tester's $595 Glacier White Metallic hue - basically the same color combinations as the 
2021 Audi SQ5
 we recently reviewed. Compared to a base A7, the RS7 is almost two inches wider (with wider front and rear track widths), and it also features unique front and rear bumpers, dual oval-shaped exhaust outlets, LED headlights and taillights that feature a show-stopping startup animation sequence. 
The RS7 comes standard with 21-inch wheels, but this car was equipped with the $6,650 Carbon Optic Package that added 22-inch wheels and carbon-fiber exterior trim. Poking through those massive wheels are the red brake calipers, which indicate this car is also equipped with the high-performance ceramic brakes.
---

2021 Audi RS7 Interior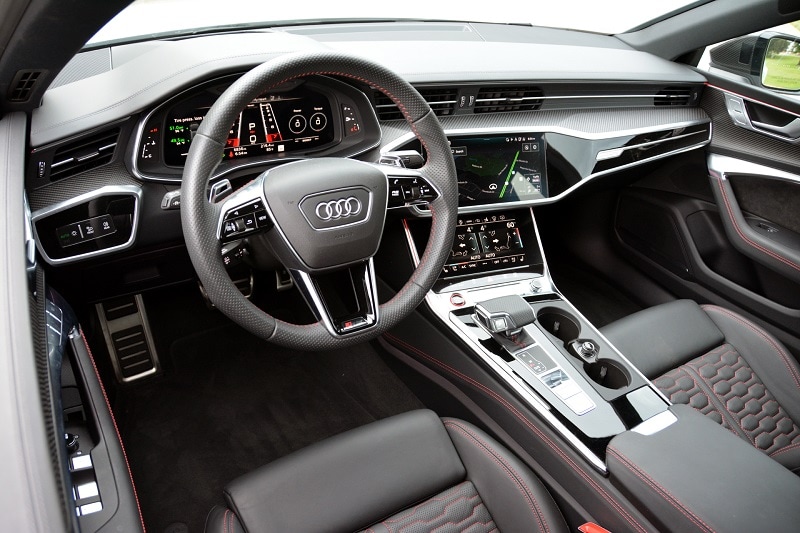 The 2021 Audi RS7 might have been bred for the autobahn, but this luxurious sedan is still ready for a fancy night out on the town. With standard features that include four-zone automatic climate control and heated and cooled front seats, this dichotomy of performance and luxury is apparent throughout the cabin. The all-black interior is contrasted with red stitching, and while the quilted leather seats are supportive during hard cornering and takeoffs, they are perfectly comfortable for everyday driving. With heated rear seats, soft-close doors, a head-up display, and extra leather stitched onto the dash, armrests and center console, the $2,250 Executive Package brings even more luxury to the cabin.
Where the RS7's luxury and performance capabilities go hand in hand is the fighter jet-style cockpit that gives the driver easy control of all the technology and features. Compared to other modern
luxury vehicles
(especially those from Germany), there aren't an excessive amount of buttons inside the RS7. Audi's digital gauge cluster can be configured to several different layouts, including a navigation map and a performance screen, while the center stack is defined by a large touchscreen infotainment system and a lower screen with haptic feedback for HVAC controls, rear spoiler deployment, and more. While the front seat is definitely the place to be for maximum enjoyment, this mid-size hatchback offers plenty of space for three rear-seat passengers, and the generous cargo space can hold up to 24.6 cubic-feet of gear behind the rear seats.
---

2021 Audi RS7 Powertrain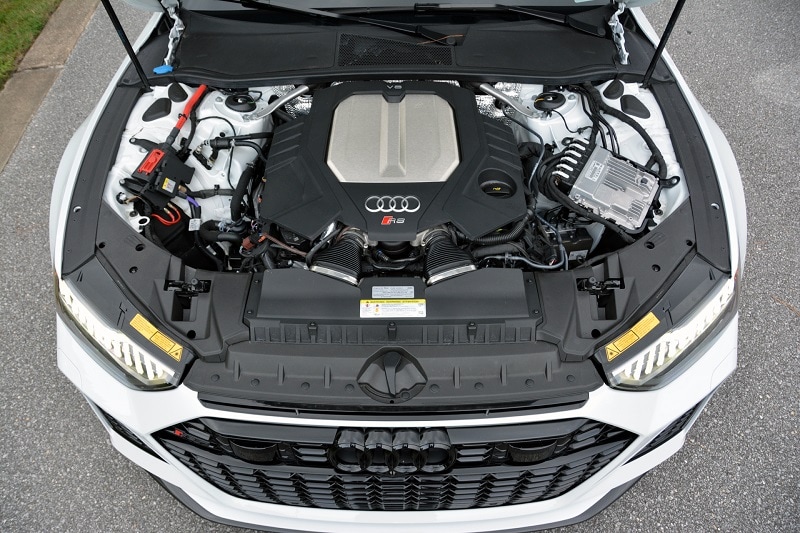 At the heart of the 2021 Audi RS7 is a 4.0-liter twin-turbo V8 that loves to rev, and it is rated at 591 horsepower and 590 lb-ft of torque. This engine is paired with an eight-speed automatic transmission and Audi's quattro all-wheel drive, which delivers a neck-snapping zero-to-60 time of 3.5 seconds. For those keeping score, that's a full second faster than the Audi S7! Not bad for a car weighing 4,938 pounds. And when you're not looking to show off acceleration runs, the RS7 is no gas guzzler, as its EPA-rated at 15 mpg in the city and 22 mpg on the highway. If you're looking for fast and efficient, check out Audi's e-tron lineup of vehicles. 
Firing up that twin-turbo V8 and listening to the engine rumble is great, especially with the $1,000 sport exhaust option. But the true enjoyment of the RS7 comes from driving this car. Thanks to a suspension that was tuned by Audi's RS team, the RS7 handles like it's on rails, and gives passengers plenty of g-force upon heavy acceleration, cornering and braking. The latter comes from the aforementioned ceramic brakes, which were a $9,000 option on this tester. Not only do these brakes help the RS7 stop on a dime, it also gives Audi a little more freedom when capping the top speed. Instead of topping out at 155 mph, when equipped with the ceramic brakes, the RS7 can hit a top speed of 190 mph. Despite the big brakes, sport-tuned suspension, huge wheels and low-profile tires, the RS7 is an easy car to drive with a surprisingly smooth ride.
Sure, you can get a faster and more powerful sedan like
Dodge Charger SRT Hellcat Redeye
, but you're not going to find many five-seaters that are as well-balanced and refined as the 2021 Audi RS7.
---

2021 Audi RS7 Safety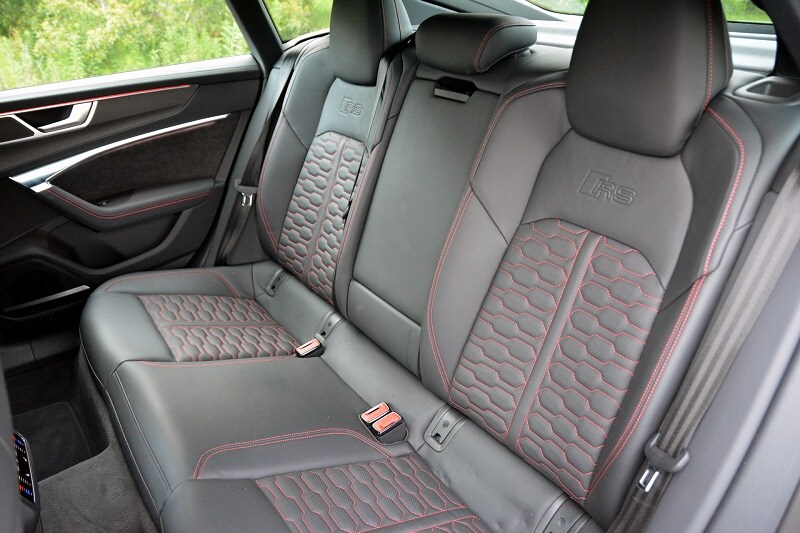 None of the 2021 Audi A7 models have been fully rated by the National Highway Traffic Safety Administration, but the standard A7 did receive a five-star side impact rating. 
The RS7 comes standard with Lane Departure Warning, Forward Collision Warning with Avoidance Assist, Surround View Cameras as well as Front and Rear Parking Sensors, and the optional $2,250 Driver Assistance Package adds Adaptive Cruise with Active Lane Assist, Rear Cross Traffic Alert, Audi Side Assist, Intersection Assist and Traffic Sign Recognition.
---

2021 Audi RS7 Overall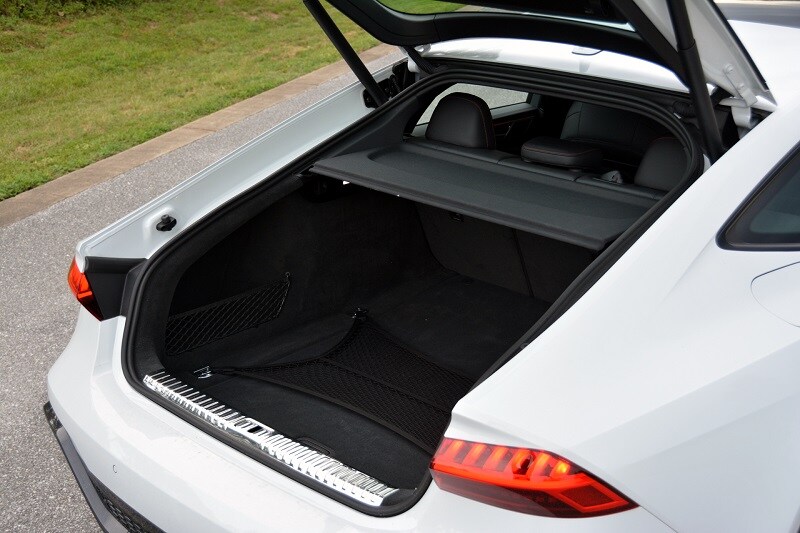 Audi's RS lineup offers something for just about any speed freak, and the 2021 Audi RS7 hits the perfect sweet spot for size, practicality and, of course, performance. This five-seater is perfectly comfortable as a daily commuter or dropping the kids off at school, but push the "RS" button on the steering wheel and this car becomes an all-out sports car. 
While a base 2021 Audi A7 will set you back $69,200, the high-powered RS7 starts at $114,000. Factor in all of the options and destination charge, and the 2021 Audi RS7 used for this review had an as-tested price of $137,540.
---
Jeffrey N. Ross
 | Aug 17, 2021