2021 Acura TLX SH-AWD A-SPEC
---
John Coyle | Dec 23, 2020
---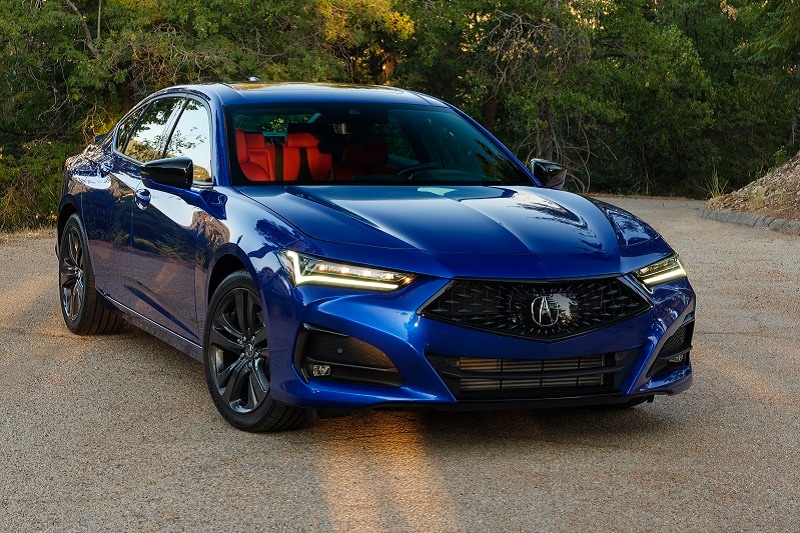 The halo vehicle in Acura's stable is unquestionably the NSX. It's a stunning blend of technology and power designed to compete in the lofty echelons populated by high-dollar exotics, and the mid-engine supercar deserves every bit of the heaps of praise it's garnered.
But enthusiasts know that ever since the brand's introduction in 1986, the product hailing from Honda's luxury division has always been intrinsically fun to drive. In the eyes of many performance fans, the high-revving Integra Type R of the late 1990s remains a benchmark for front-wheel drive handling dynamics, and with models like the TLX SH-AWD A-SPEC, that tradition of practical performance continues today.   
The Acura TLX was released in 2015, refreshed in 2018, and for the 2021 model year, it's all  new. Since I've enjoyed my previous outings with the sporty mid-size sedan - in settings as varied as the canyons of Malibu and the back roads of Oregon - I was eager to get behind the wheel. 
---
2021 Acura TLX SH-AWD A-SPEC Exterior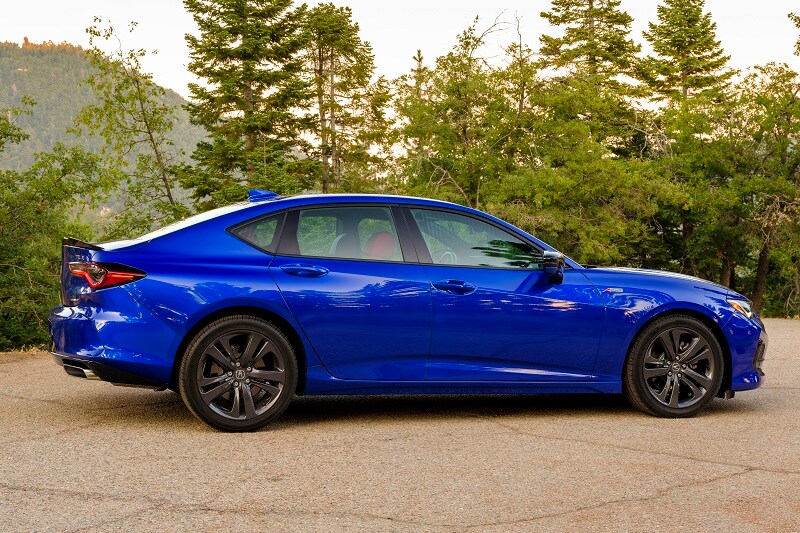 My tester was finished in Acura's striking Apex Blue Pearl, which looked great against the carbon black wheels, and confirmed my long-stated opinion that there should be a moratorium on the production of white, silver, or black vehicles. There are so many awesome options available, it's almost criminal that most everything with wheels winds up rendered in grayscale. That said, the color was far from the only thing I liked about the exterior of the TLX.
For the 2018 refresh, Acura wisely ditched the beak-like front end, and the grille of the 2021 is stylish, but not flashy. Inside the angular frame, the pattern evokes a warp- speed, starfield vibe which complements the car's athletic abilities. I'm not a giant fan of the clear plastic element surrounding the Acura badge, which is necessary for some active safety features, or the fake vents at the corners at the bottom of the front clip, but overall this is a win. The three creases on the hood are particularly well-rendered, and my favorite thing about them is how visible they are from the driver's seat.
Along the sides, there's a dramatic line which cuts through the door handles, and another curve carved along the bottom of the long axis, which gives the sheet metal a taut look. Out back, there's a tidy black spoiler, which looks trick, and rises at an angle which complements the curve of the truck lid beautifully. Given how easy it is to get a spoiler wrong, I always appreciate seeing one executed as well as it is on the TLX.         
Shop Acura TLX SH-AWD A-SPEC Inventory
---
2021 Acura TLX SH-AWD A-SPEC Interior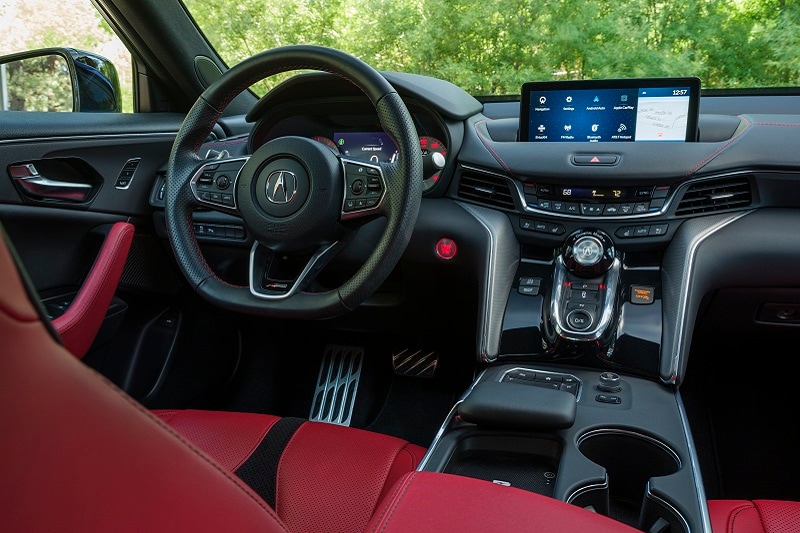 To match the sporty lines of the exterior, the cabin of the TLX feels very much like a cockpit. The center stack is wide, and a significant amount of its real estate is dedicated to the transmission controls. The push-button setup is essentially the same layout that's found in the NSX, which should tell you all you need to know about how performance-oriented it feels.
My tester's interior featured red seats with contrasting black suede inserts, and I think it looked fantastic. Fortunately, the chairs felt as good as they looked, and the bolstering managed to support me so I wasn't sliding around while tackling turns, but didn't feel race-car snug either, like the ones in its cousin the Civic Type R. The steering wheel is also pleasantly thick, and in another performance touch, it has a flat bottom. As you'd expect from an Acura, all the materials felt high quality, and the touchpoints were soft. That said, even though there's customizable ambient lighting, there's nothing flashy happening. Everything feels very much geared to the  business of driving, which I appreciated. Since this TLX is still a mid-size sedan, rear passenger room isn't great, so taller adults will likely want to stick to the front buckets. But it's fine for short trips around town. 
At the top of the center stack, there's a 10.2-inch display, which is controlled by a touchpad on the console. As someone who generally appreciates the straightforward nature of touchscreens, I was impressed by how easy it was to become accustomed to. The touchpad has a slight concave, and the action is precise, but unlike some other touchpads, it doesn't feel calibrated for mongoose-like reaction speeds of a Twitch celebrity. Importantly, there are physical controls for the climate controls, heated seats, and radio tuning and volume. And while there's most definitely a learning curve to mastering it, after a week, the setup was beginning to feel like second nature.
Shop Acura TLX SH-AWD A-SPEC Inventory
---
2021 Acura TLX SH-AWD A-SPEC Performance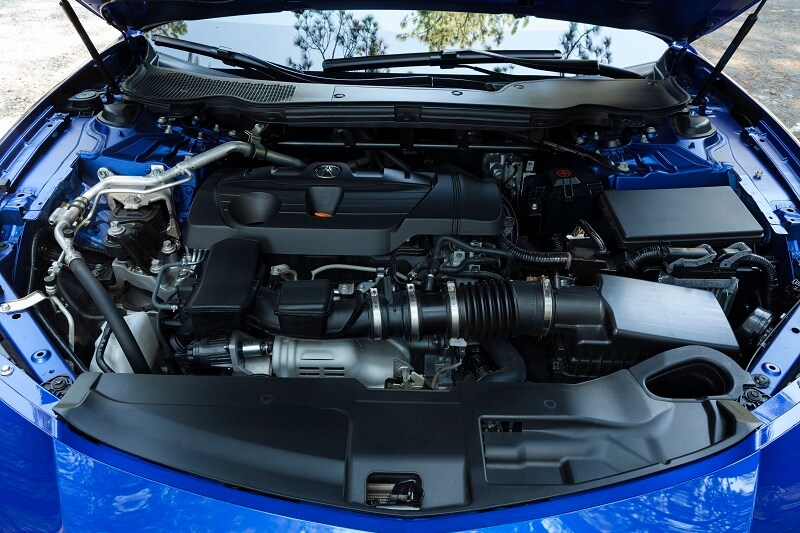 Under the hood, the TLX is packing a turbocharged 2.0-liter inline-four cylinder, which pipes 272 horsepower and 280 lb-ft to all four corners via a ten-speed automatic.
It's a potent little mill, and snapping off gear changes with the metal paddle shifters feels excellent. That said, given my enthusiast inclinations, and given just how good parent company Honda's manual transmissions are, I'd love to see a proper three-pedal option available, because this is an excellent package. With 57 percent at the front and 43 percent at the rear, the balance of the chassis has been tweaked slightly from the outgoing model, which came in at 60/40.
Obviously, that helps with overall handling, but Acura's excellent torque-vectoring all-wheel drive system makes the TLX feel exceptionally planted in the corners. The system can actually push 70 percent of available poke toward the rear, and I found the feedback through the variable-rate electric power steering to be confidence inspiring. Even on bumpy, cracked roads, the TLX remained sure-footed, but it didn't feel overly stiff when hitting the ever-present seams and pot holes of Seattle's city streets either. While I'd never describe the ride as cushy, if you're looking for a sports sedan, cushy really isn't an attribute you're looking for.
Between the stiff, well-balanced chassis, usable, never overwhelming power, and communicative steering, whipping the TLX down your favorite twisty stretch of road is a walk in the park.  
Shop Acura TLX SH-AWD A-SPEC Inventory
---
2021 Acura TLX SH-AWD A-SPEC Safety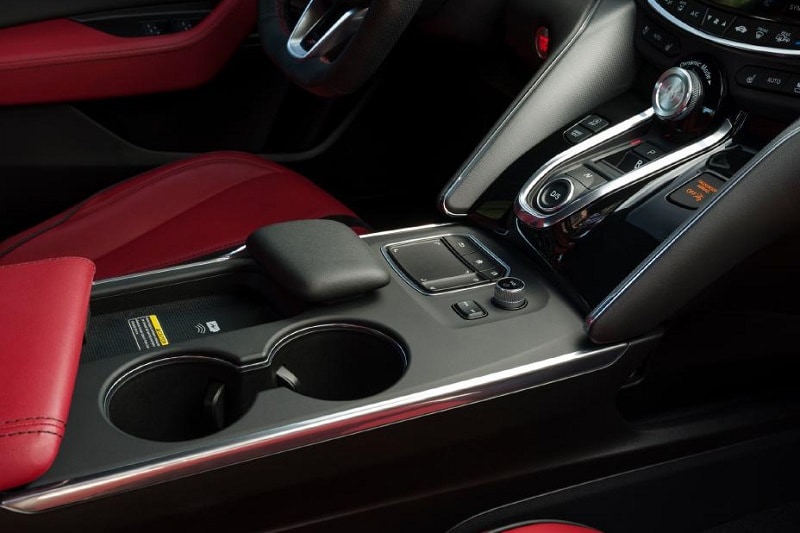 At the time of this review, the 2021 TLX hadn't been tested by either the National Highway Traffic Safety Administration or the Insurance Institute for Highway Safety. But 2020 models earned a Five-Star overall safety rating from the NHTSA, and were a IIHS Top Safety Pick+.
Acura's commitment to safety is evident in the fact that every TLX comes standard with AcuraWatch, the company's advanced suite of safety systems, which includes a Collision Mitigation Braking System, Forward Collision Warning, Adaptive Cruise Control with Low-Speed Follow, Lane Keeping Assist, and Road Departure Mitigation.
New for 2021 is the addition of Traffic Sign Recognition, Driver Attention Monitor, Traffic Jam Assist, and an enhanced Pedestrian Detection system.
Shop Acura TLX SH-AWD A-SPEC Inventory
---
2021 Acura TLX SH-AWD A-SPEC Overall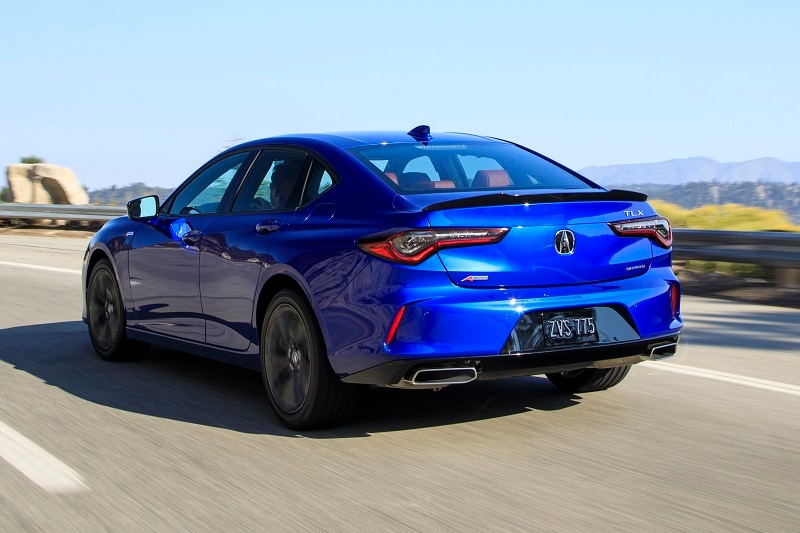 Now, I wouldn't be me if I didn't remark that TLX SH-AWD A-SPEC sounds like a secure password. But probably the best thing I can say about this machine is that it's a car from people who truly love to drive, for people who truly love to drive.
And in an era where many manufacturers are culling their sedan lineups to focus on crossovers and SUVs? That means something. Because while you'll often hear reviewers talk about how a crossover has car-like handling? If that's what you're aiming for, it really helps when you start with a car.
Of course, the elephant in the room here is that there's a high-performance Type S model in the mail, which will pack 355 horsepower and 354 lb-ft of twist. Given how good the chassis of the TLX is, and how sure-footed the AWD system is, that machine will be a right-proper beast. Look for a review of that baby in the next few months.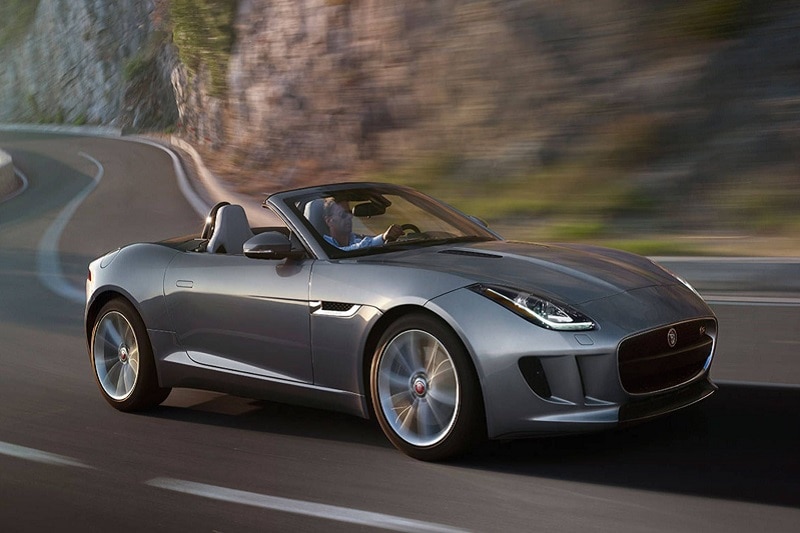 Luxury Car Research
Discover best-in-class luxury cars, trucks, and SUVs that will turn heads no matter where you drive.
---
2021 Acura TLX SH-AWD A-SPEC Specs
Layout
4-door, 5-passenger, AWD
Engine/Transmission
2.0L turbo I4, 272 hp, 280 lb-ft
Ten-speed automatic
Mileage
20/28 mpg (city/hwy)
---
AutoNation Drive Test Drive Review: ★ ★ ★ ★
---
More Research
Browse more automotive research than you can shake a stick shift at.
---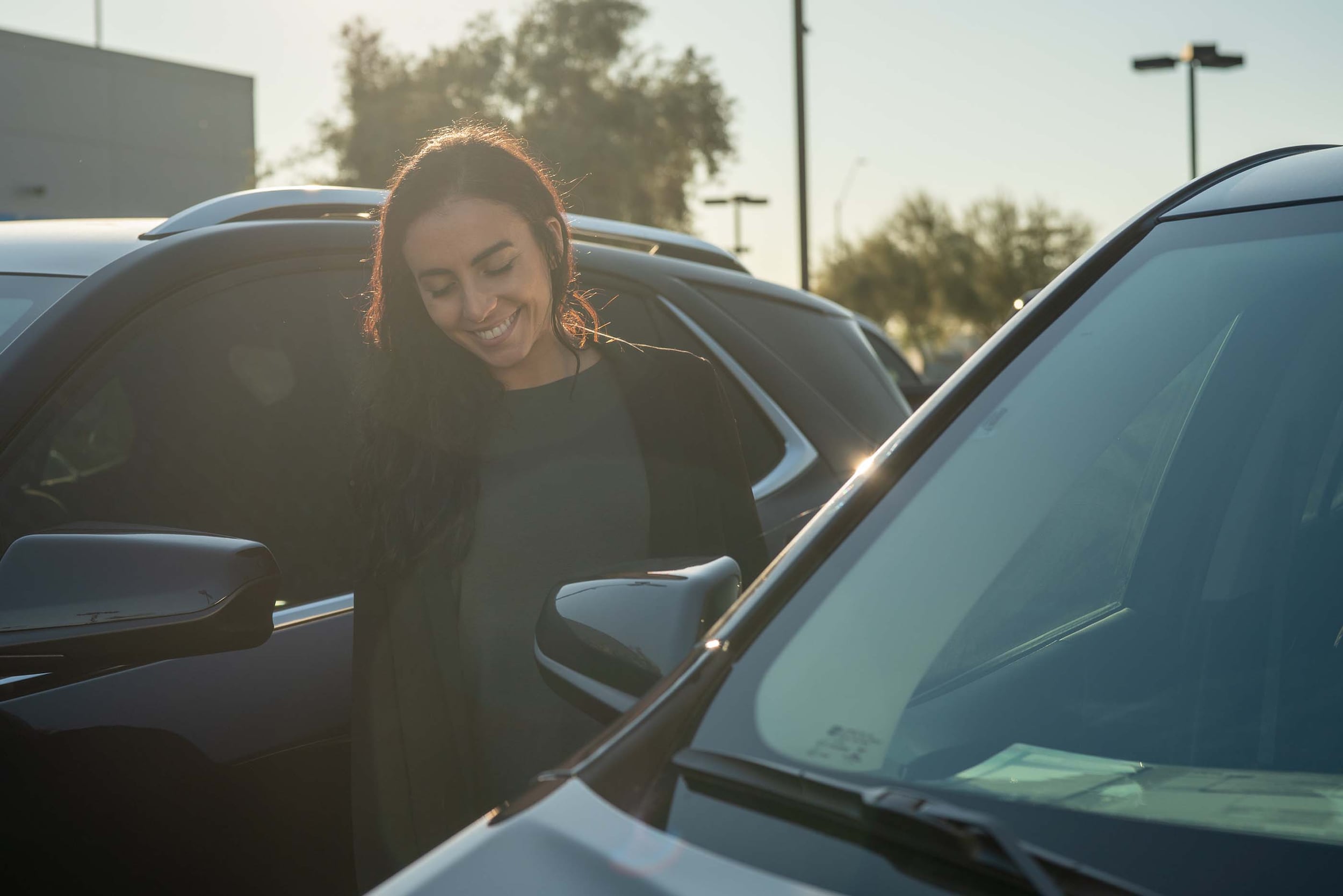 Test Drive Reviews
Our automotive experts at AutoNation Drive weigh in on price, safety, and performance of popular cars, trucks, and SUVs.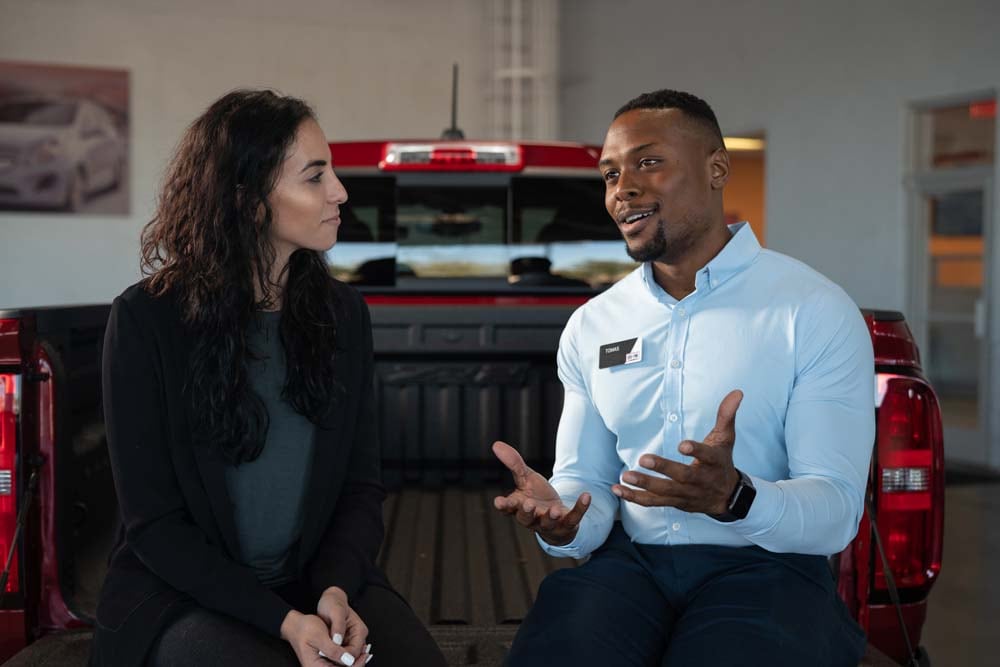 Car Buying Advice
If you're buying a car, truck, or SUV, the chances are - you need help. Don't worry. Our automotive experts are here to help.
---
*MSRP excludes tax, license, registration, destination charge and options. Dealer prices may vary.
**Based on EPA mileage ratings. Your mileage will vary depending on specific vehicle trim, how you drive and maintain your vehicle, driving conditions, and other factors.