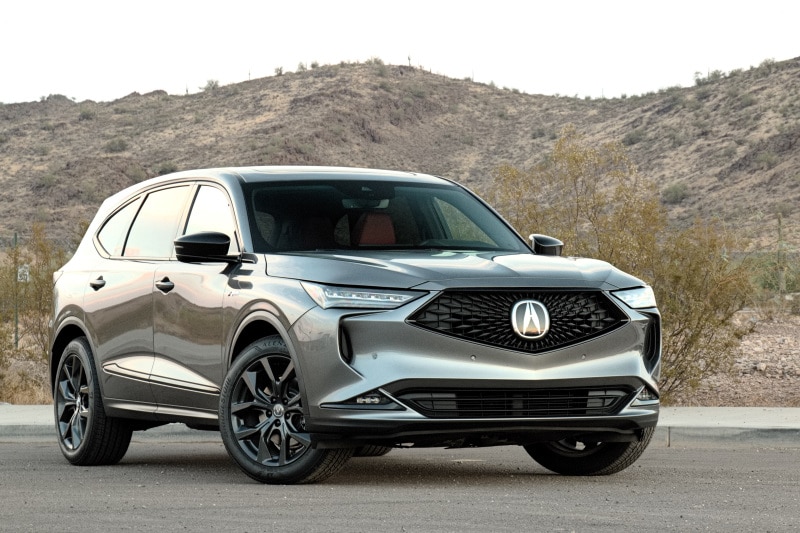 We seem to be living in a 1990s renaissance. "Sex and the City" is continuing as a series called "And Just Like That…" The Phoenix Suns are in the NBA finals for the first time since 1993. And exciting things are happening at Acura.
The Japanese automaker has been pushing to get back to its roots of producing exciting performance cars. It made the first major step in that journey a few years ago when it released an all-new, second-generation NSX. Acura discontinued the RLX sedan at the end of the 2020 model year, and filled in the void with a more focused and athletic new version of the TLX for 2021.
Now it's the MDX's turn. The 2022 model starts the midsize SUV's fourth generation and takes over as Acura's flagship vehicle. It rides on a new platform with a double-wishbone front suspension, wider front and rear tracks, upsized wheels and tires, and a longer wheelbase. Although the naturally aspirated 3.5-liter V6 is a carryover unit, it's now paired with a ten-speed automatic transmission. Front-wheel drive is standard; a fourth-generation version of Acura's torque-vectoring Super Handling All-Wheel Drive (SH-AWD) system is available. Just like the TLX, the MDX lineup will include a more powerful and athletic TYPE-S variant, the first time in Acura history an SUV will wear the badge.
All 2022 MDXs feature more interior storage space and an impressive array of standard features, including wireless phone charging, Apple CarPlay, Android Auto, and Amazon Alexa.
As before, there are no real trim levels to the MDX. There's the $47,200 base model and the three packages you can add to it: the Technology, A-Spec, and Advance. My 2022 MDX test vehicle had the first two bundles, which brought its final price to $58,125.
---
2022 Acura MDX Exterior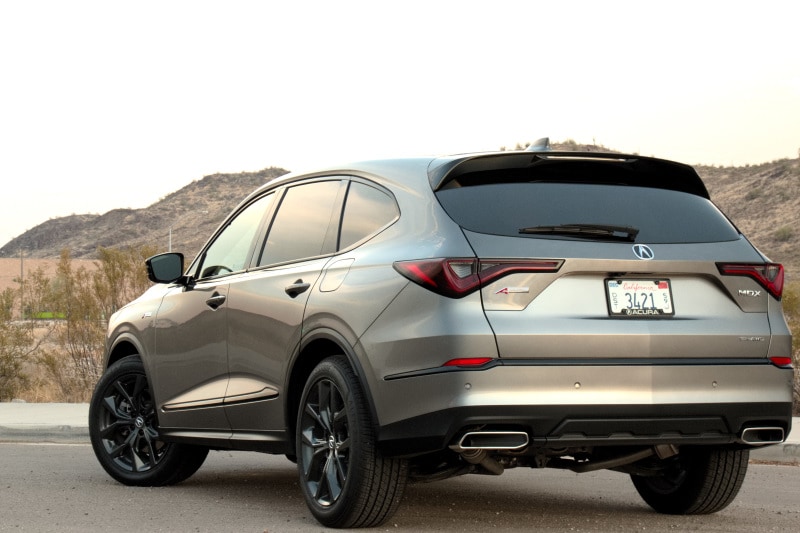 One look at the MDX and it's clear that Acura is committed to its brand rejuvenation. Instead of just making the '22 an evolutionary version of the outgoing model, Acura's design team looked to the 2016 Precision Concept, a long, low, and wide auto show one-off. You can see echoes of its bold, exaggerated styling in the MDX's instantly recognizable Diamond Pentagon grille, blade-like JewelEye LED headlights, and lower body contouring. Like the headlights, the LED taillights have a chicane-like element in them that not only makes them stand out, but quietly repeats the message that Acura is a performance brand.
My tester's Lunar Silver paint was the perfect background for the A-Spec Package, which added a variety of features, including darkened headlight and taillight casings, gloss black exterior accents, and a set of cool 20-inch "Shark Gray" wheels.
---
2022 Acura MDX Interior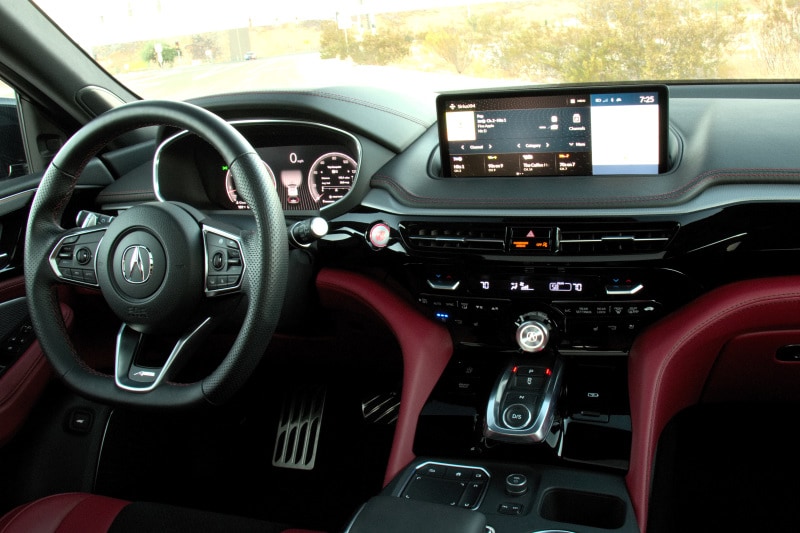 Acura doesn't offer a sport package on the MDX, but the A-Spec Package certainly does a great job playing the part of one. It totally transforms the cabin by adding a flat-bottom steering wheel, metal pedals, Ebony or Red leather seats with sporty black Microsuede inserts, and brushed aluminum trim. The A-Spec Package also has a few creature comforts to go along with those sporty touches. The Arizona heat made me thankful that the front seats were ventilated (and heated). When I wasn't alone, I made sure everyone with me got an earful of the sound coming out of the 710-watt ELS Studio 3D audio system's array of 16 speakers, especially the four mounted in the ceiling.
Surprisingly, my press loaner's flashiest features weren't part of either of its options packages. The panoramic moonroof, configurable 12.3-inch Precision Cockpit digital gauge display, and 12.3-inch HD center display are standard across the entire range of 2022 MDX models.
Given the MDX's longer wheelbase, I wasn't shocked to discover the second row had enough headroom and legroom for all 5'10" of me. The flip-down middle seat came as a shock, though. It could be removed to transform the sliding and reclining second row from a bench into a pair of captain's chairs. Its absence made getting to the third row easier. It's more spacious than before, but my experience showed that it's not quite large enough for adults my size.
---
2022 Acura MDX Performance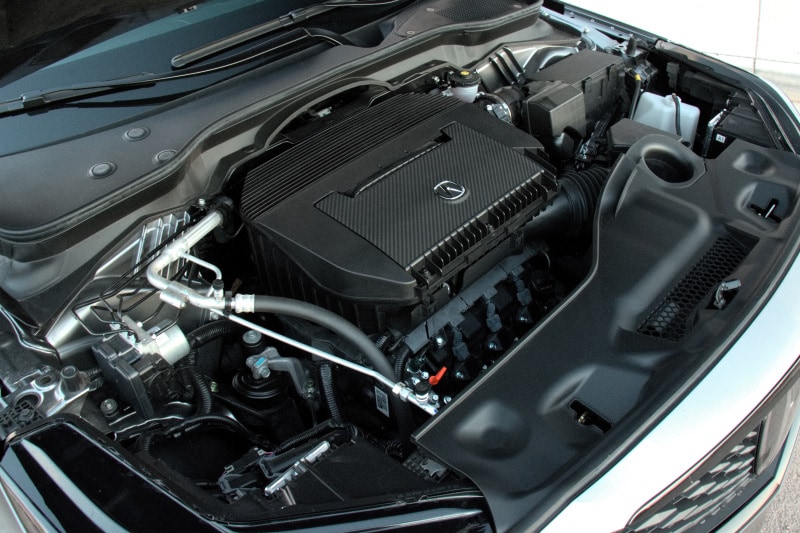 So far, I've driven two vehicles from Acura's newest lineup. The 2021 TLX showed me that it's capable of making a sedan that can effortlessly switch from comfortable cruiser to sporty sedan with a quick twist of its Integrated Dynamics System dial. The 2022 MDX was proof that Acura can be consistent in the execution of its new product strategy. In Comfort mode, the MDX was perfectly relaxed and docile. Normal sped up the MDX's engine, steering, and SH-AWD responses without making them overly aggressive or unbearably quick. Before going out onto my favorite curvy test route, I engaged Sport mode, which kept the ten-speed transmission in the thick of the 3.5-liter V6's 290 horsepower and 267 lb-ft of torque. Flat out, the MDX predictably and linearly delivered its power, which the suspension and steering handled with a confidence that inspired the same assuredness in me.
In curves, I glanced at the main gauge cluster to see how the SH-AWD system was routing engine power to the wheels. The newest version of it can transfer torque between the front and rear axles 30 percent more quickly than before and has a 40 percent higher rear torque capacity. It's capable of sending up to 70 percent of available torque to the rear axle and channeling up to 100 percent of that to either the left or right wheel to give the MDX better turn-in response. In one particular right-hand sweeper, I saw the blue bars stack up above the back left wheel in the display to show that it was getting a little more torque than the inside wheel so that I could carve the curve with more precision. It didn't operate in a palpable way, but in hindsight, it was better that it didn't. Feeling a dramatic shift in power in the middle of a high-speed turn is not exactly something I want to experience.
---
2022 Acura MDX Safety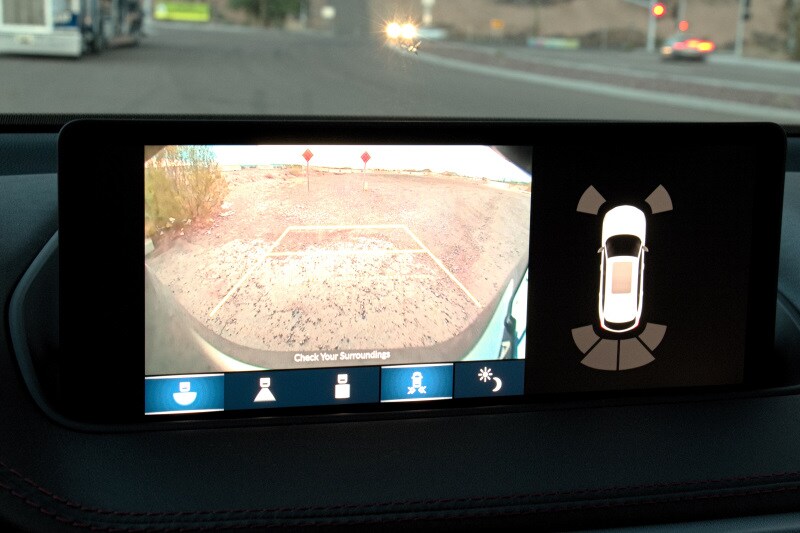 I was glad I didn't feel (in the worst sense of the word) any of the MDX's AcuraWatch safety and driver assistance technologies in action, too. For 2022, those include Road Departure Mitigation, Traffic Sign Recognition, Pedestrian Detection, and Traffic Jam Assist. That works with Adaptive Cruise Control with Low Speed Follow to keep the MDX in its lane and a set distance behind the vehicle in front of it. MDXs equipped with the Technology Package also get a new front and rear automatic braking system called Low Speed Braking Control, which can automatically apply the brakes to keep the MDX from bumping into things.
---
2022 Acura MDX Overall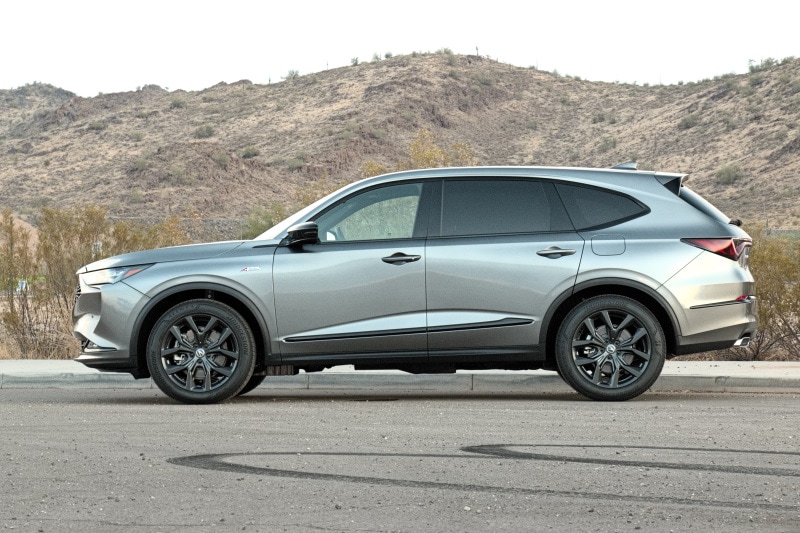 These are promising times for Acura. Its newest releases are attractive machines that deftly balance comfort and performance. Thanks to the new TLX Type-S and the upcoming MDX Type-S, that performance is going to reach new heights. Once you're done watching the "Friends" reunion, check out the 2022 MDX at an AutoNation Acura dealership near you. Just be sure to leave your slap bracelet and Hammer pants at home.
---
Derek Shiekhi | Jul 21, 2021