Derek Shiekhi | Oct 23, 2020
---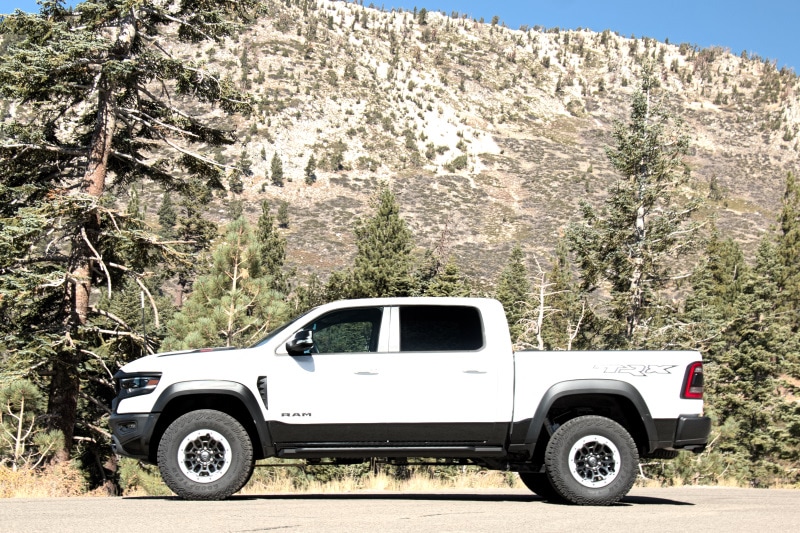 Since the 2010 model year, the Ford Raptor has been a breed of one, the only factory-produced full-size truck capable of tearing across desert floors and flying over sand dunes at high speeds.
Soon there will be another dinosaur roaming the highways and wilderness of America - and hunting the Raptor. RAM has produced what it calls an "apex predator" and named it appropriately. The 2021 RAM 1500 TRX (formally pronounced "T R X," but the missing "e" seems to roll off the tongue) will roar into AutoNation dealerships later this year with fearsome looks, hardcore suspension components and supercharged-V8 power at a starting price of $70,095. I recently set the monster loose on- and off-road during the Texas Auto Writers Association's 2020 Texas Truck Rodeo and the TRX's national media launch event near Lake Tahoe.
---
2021 RAM 1500 TRX Exterior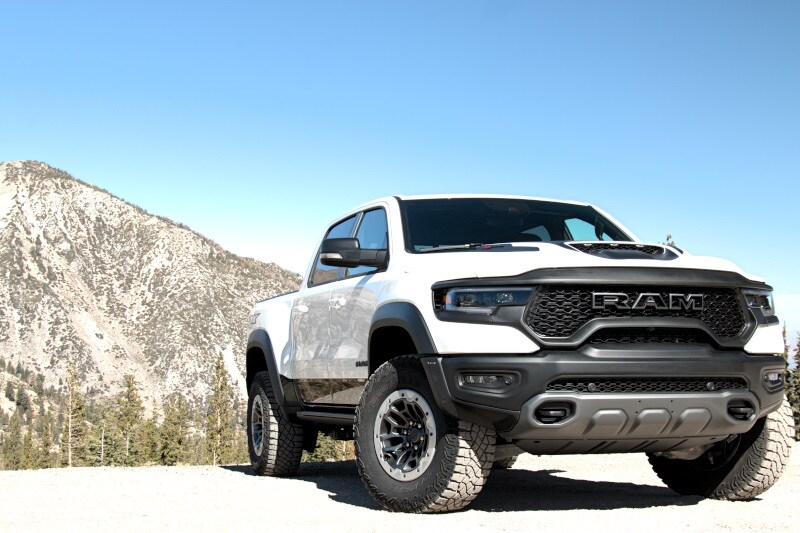 RAM designed the TRX to blast across the outdoors at over 100 mph and specifically do things that break other trucks. To make the TRX capable of withstanding such high speeds and harsh conditions, RAM re-engineered and reinforced the 1500 from top to bottom.
RAM's performance goals for the TRX required thickening and reinforcing certain parts of the frame to ensure it could survive thousands of miles of abuse. The TRX's suspension hardware is just as robust. There's a new independent setup in the front, and a five-link coil arrangement and Dana M250 solid axle with locking differential and 3.55 gears in the back. All four corners feature Bilstein Black Hawk e2 adaptive performance shocks that continuously adjust compression and rebound damping. Remote fluid reservoirs help prevent the Black Hawks from overheating during blasts over uneven terrain.
When you're drifting through gravel-covered curves and leaping over rough peaks, stability is essential. By increasing the TRX's track width by six inches, RAM gave it more solid footing. It covered that functional upgrade in flared fenders that broaden the TRX's shoulders by eight inches. A set of 18-inch-by-9-inch wheels and 35-inch Goodyear Wrangler Territory All-Terrain tires keep the TRX connected to the ground… until it flies into the air.
Edge to edge, the TRX is 88 inches wide, which required RAM to fit it with clearance lights to alert other drivers to its lane-devouring dimensions. Instead of installing the lights on the roof, RAM put them in the front bumper and the mouth of the functional hood scoop. That supplies half of the massive amounts of air the TRX's supercharged 6.2-liter V8 needs to consume, and the grille's mesh and flow-through R A M letters provide the other half. That monstrous Hemi roars through a pair of three-inch exhaust pipes that flow into black five-inch finishers.
---
2021 RAM 1500 TRX Interior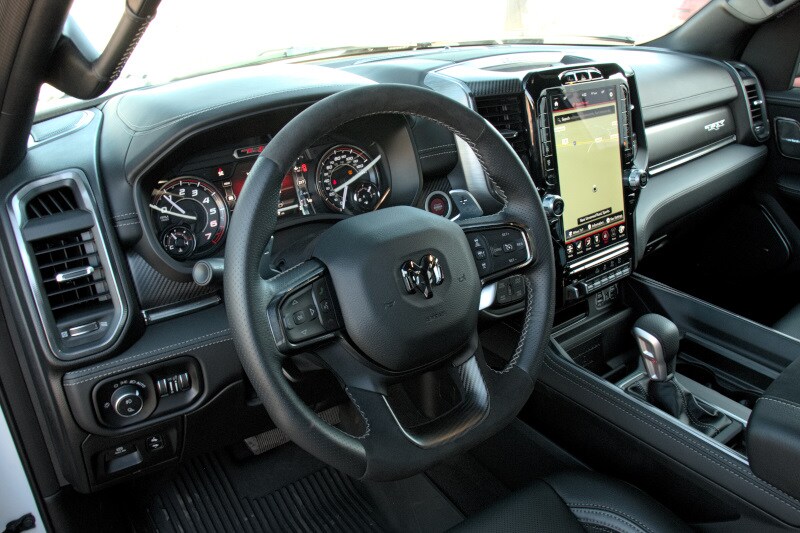 There are more functional improvements inside. Just like a high-performance sports car, the TRX has a flat-bottom steering wheel and paddle shifters. RAM opted for a traditional console-mounted shifter to increase manual gear control of the eight-speed automatic transmission. That left space where the rotary shifter dial would normally be, which RAM occupied with the buttons that change between the TRX's Auto, Sport, Snow, Tow, Custom, Rock, Mud/Sand and Baja drive modes. You can also choose the one that suits your needs on the standard Uconnect 4C NAV infotainment system's 12-inch touchscreen.
RAM offers the TRX in three trim levels: TR, TR1 and TR2. The base package is similar to what you'd find in a Rebel. From there, the interior treatments only get better equipped and more luxurious. The testers at the national media launch were all TR2 trucks, which combined Rebel sportiness with Limited refinement.
On the drive from the host hotel in Lake Tahoe to the Wild West Motorsports Park in Sparks, Nevada, I was surrounded by leather, suede-like microfiber and genuine carbon fiber trim. Heated and ventilated seats are standard in both rows. Those riding in the back can also recline their seats. Like certain other 2021 RAM 1500s, TRXs with the TR2 equipment group are available with a new customizable head-up display. My test truck had that as well as the new digital rearview mirror, which uses an external camera to provide a clear, unobstructed view out of the back.
---
2021 RAM 1500 TRX Performance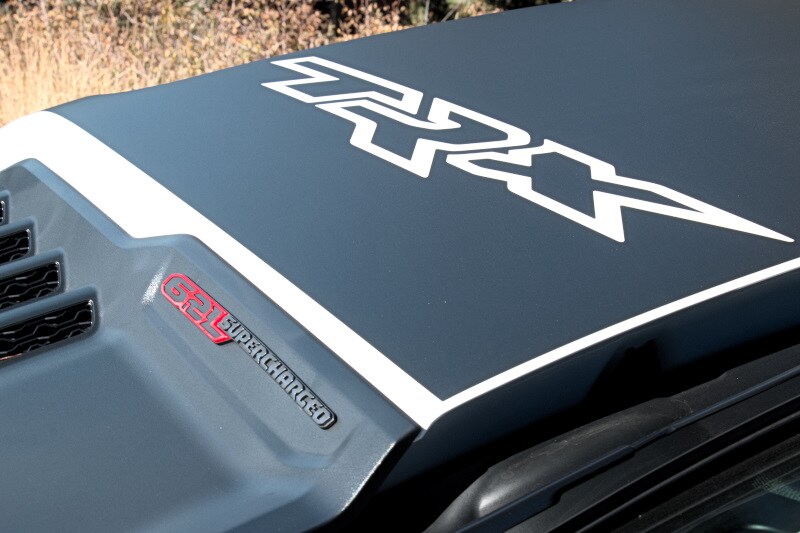 I started my journey to the off-road park with the TRX in Auto mode. It was a pleasant blend of gentle ride quality and relaxed throttle response, although when I put my foot down, the engine's 702 horsepower and 650 lb-ft of torque were always within easy reach. Most of my path out to the facility was a seemingly never-ending series of curves that revealed just how much Sport mode tightened up the TRX's suspension to keep its 6,350 pounds of curb weight in check.
My first time off-roading in the TRX was at the Texas Auto Writers Association's 2020 Texas Truck Rodeo. My colleagues and I tested it and dozens of other trucks, crossovers and SUVs on- and off-road at the Star Hill Ranch to determine the winners of a variety of categories and crown the new SUV of Texas and Truck of Texas. With 13 inches of front and 14 inches of rear wheel travel, the TRX was able to keep all four wheels planted even on the most challengingly stacked pile of stones. A splash through a water obstacle didn't come close to exceeding the TRX's 32 inches of wading depth. The TRX reached the summit of a steep uphill section so effortlessly that I probably could've just taken my foot off of the brake pedal and received the same results.
I got a chance to take the TRX off-road at much higher speeds during its national media launch. After slipping on a helmet, getting strapped into a HANS device and climbing behind the wheel next to an expert instructor named Jimmy, I was ready to fly over parts of the Wild West Motorsports Park. Jimmy guided me through a training lap, then cleared me for a full-speed run through the curvy, jump-filled course. The TRX was in Sport mode, which sent 70 percent of available torque through the back axle. With the right footwork, I could get the back end to loosen up and slide through bends in the loose sand and dirt.
The TRX's colossal power quickly got me up to 55 mph, the speed I needed to hit to jump the TRX. More than once, I came out of a curve too hot before leaving the ground. Thankfully, the TRX's substantial width helped me and Jimmy land wheels-down. We must've gotten three to five feet of air, but it didn't feel like it because the TRX's suspension absorbed the landings so well.
---
2021 RAM 1500 TRX Safety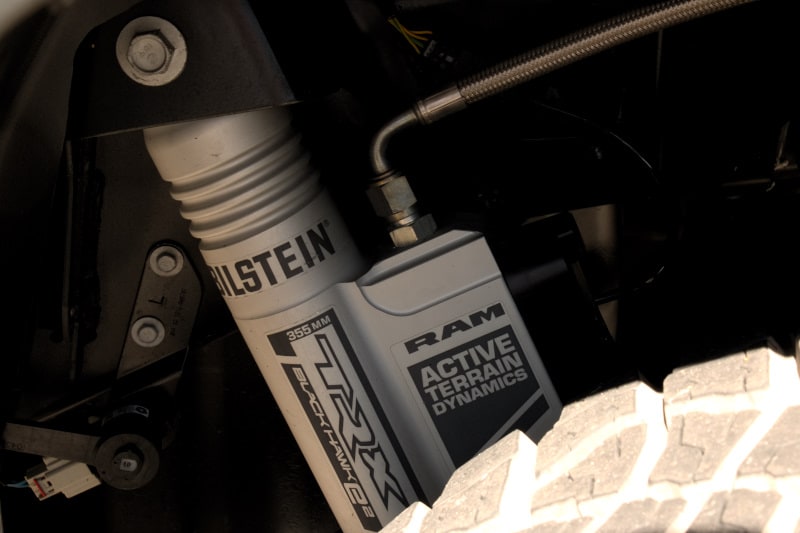 I couldn't take the helmet and HANS device with me on the drive back to the hotel. The TRX had me covered, though. It protected me with its array of safety features, including six airbags, electronic stability control with electronic roll mitigation and available Blind-spot Monitoring, Ready Alert Braking and Full-Speed Forward Collision Warning-Plus.
---
2021 RAM 1500 TRX Overall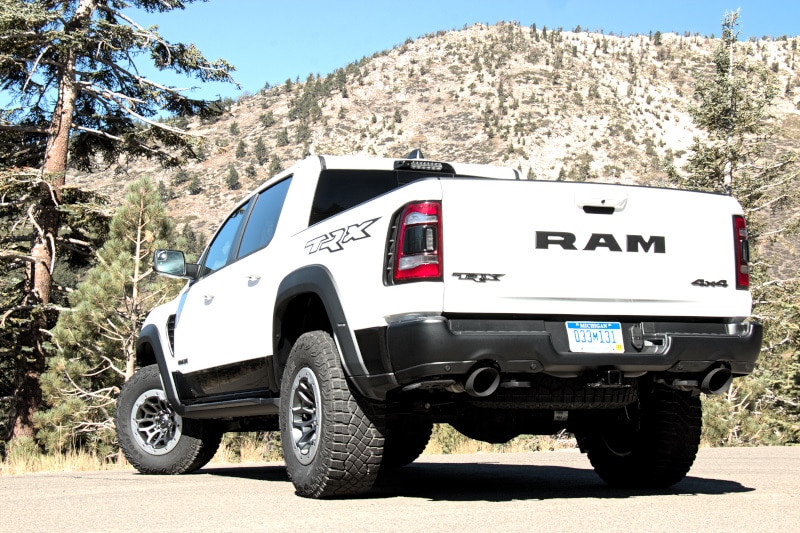 Ford and RAM are battling each other for off-road truck supremacy by pitting the Raptor against the TRX, respectively. You decide the victor. If the TRX wins you over, you can take it home from an AutoNation RAM dealership later this year.