Derek Shiekhi | Sep 29, 2020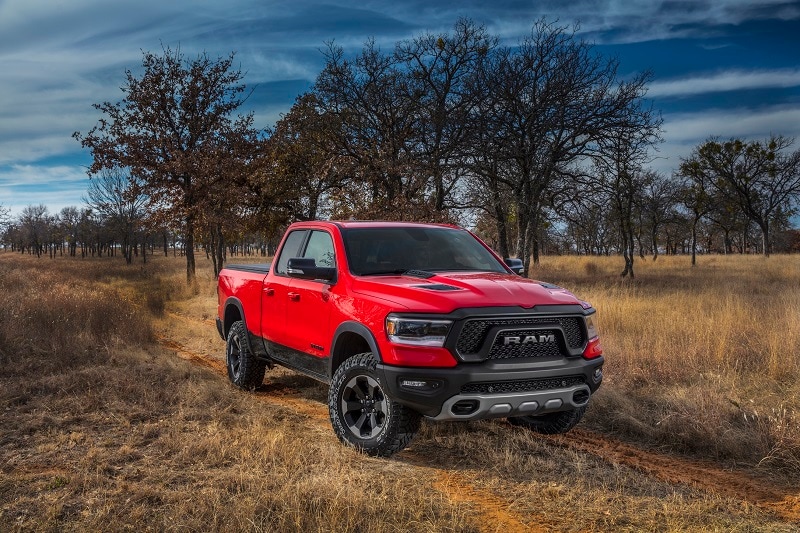 Last October, RAM brought two of its new EcoDiesel-powered 1500s down to Driftwood, Texas for a local media event. Given that four-wheel-drive models can get up to 29 mpg on the highway and the third-generation EcoDiesel V6 is available in the rough and tough Rebel, I envisioned driving one from my place in the Austin area out to Big Bend National Park seven hours away in West Texas to test its fuel economy and capabilities.
That didn't end up happening. The good news is I recently took a 2020 RAM 1500 Rebel EcoDiesel (as-tested price: $70,880) on an even more epic road trip. My fiancé Eli and I hadn't seen her relatives in El Paso, Texas and Peoria, Arizona in several months, so we loaded our luggage, some odds and ends, and our cat, Graycie, into the truck and made the roughly 2,000-mile round trip to visit them.
By the time we returned home, we had put 2,646 miles on the Rebel's odometer. All of that time on the road taught me that the Rebel is more of an ally than an enemy on long-distance journeys.
---
2020 RAM 1500 Rebel EcoDiesel Exterior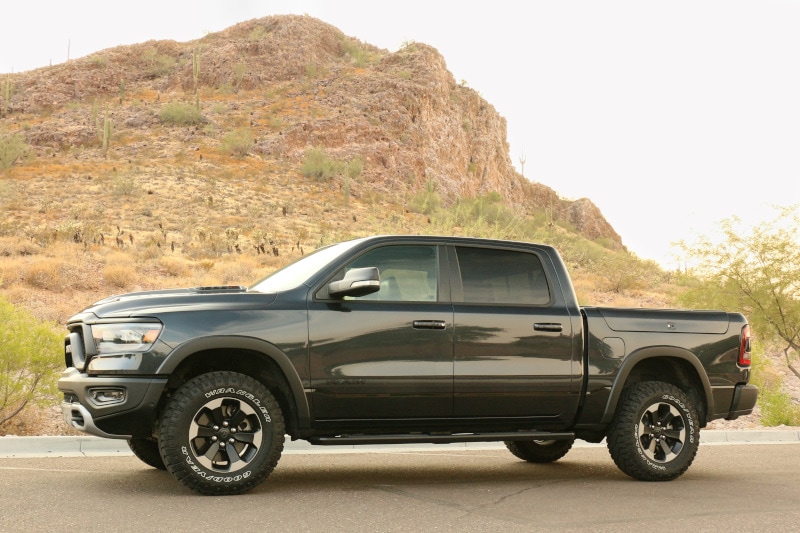 RAM equips the Rebel with an array of features designed to help it get through challenging conditions. Its one-inch lift gives it more ground clearance. Skid plates protect vital areas, such as the front suspension, transfer case and fuel tank. A set of 33-inch all-terrain tires mounted on 18-inch wheels and a locking rear differential help the Rebel escape sticky situations.
My test truck had the optional four-corner air suspension, which could drop the truck down to an Entry/Exit height, pop it up to a highway-focused Aero setting and raise it to two Off-Road altitudes. The highest of those puts 10.3 inches of space between the Rebel and whatever obstacle it needs to get over. Eli and I had a lot of stuff to carry, so I was grateful our adventure rig had almost every cargo management solution RAM offers on it. I threw a small air compressor, a small planter for Eli's mom and other small items into the lockable RamBox storage compartments that flanked the bed. After I folded back the three-panel tonneau cover, I dropped the multifunction tailgate as one large piece, then climbed into the lined 5'7" cargo box to load in two large lampshades that Eli picked out for her mom behind the movable cargo divider.
The multifunction tailgate's 60/40-split swinging doors allowed me to get closer to the bed floor and put in our two large suitcases, an area rug and Graycie's bulky automatic litter box.
---
2020 RAM 1500 Rebel EcoDiesel Interior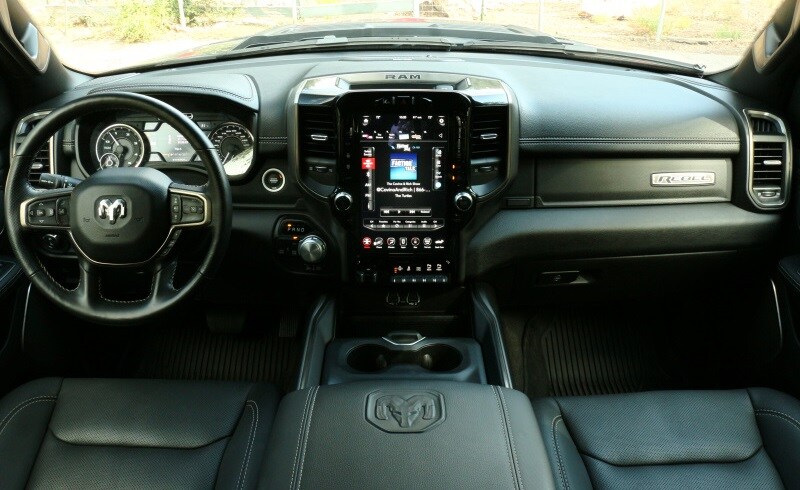 Eli and I used just about every square inch of storage space in the Rebel's crew cab, too. That's not easy to do because there's a ton of room and useful spots of various sizes everywhere inside. I put water bottles in the door pockets and front two cup holders. I stood my phone up in the clip at the front of the center console. The area below its sliding section was the perfect spot for spare masks, hand sanitizer and a package of chewing gum. There was also a conventional storage space with a flip-up top. I put a pouch containing all of my business receipts in the topmost section and used the area below to hide my gimbal and sunglasses.
Flipping up the rear seats revealed a convenient space that was large enough to hold a roadside emergency kit and other assorted items. Once I put the seats back down, I secured Graycie inside of her large travel tent. I filled the rest of the space with a couple of overnight bags, Graycie's food, cleaning supplies and a slim cooler full of chilled drinks.
We split the roughly 17 hours of driving into two days. The first took us to El Paso to see Eli's brother and his family; the second ended with us arriving at her parents' house in Peoria. All of that time on the road meant we spent hours listening to SiriusXM satellite radio on the Rebel 12 equipment group's 900-watt, 19-speaker Harman Kardon audio system.
We seemed to stay on I-10 West for an eternity, but when we finally got off of it, it was easy to see which turns we needed to take next on the massive 12-inch Uconnect touchscreen.
---
2020 RAM 1500 Rebel EcoDiesel Performance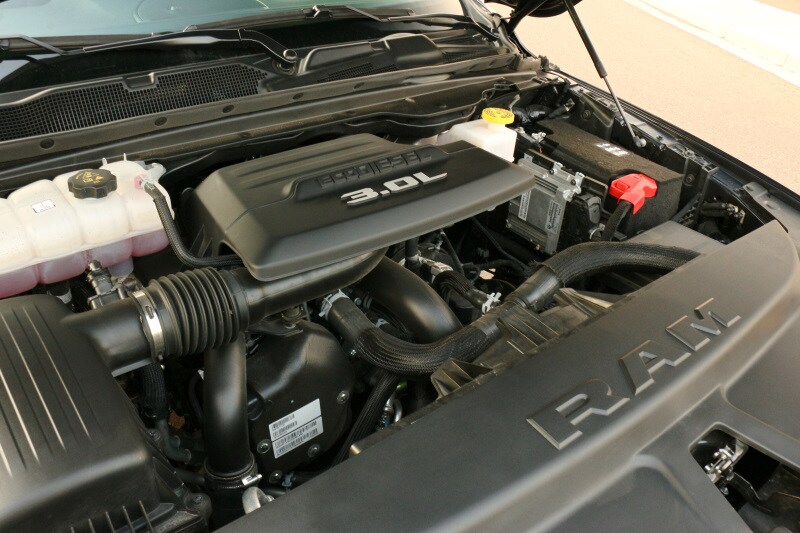 The drive alone was already long, so the fewer pit stops Eli and I had to make, the better. The Rebel's 3.0-liter EcoDiesel V6 helped us minimize our trips to the pumps. According to the EPA, it's capable of getting 21 city, 29 highway and 24 combined mpg. My test truck also had the optional 33-gallon fuel tank, which provided a potential travel range well above 600 miles, many of which Eli and her parents and I burned up going to see the towering trees and unmistakably red rock formations of Sedona.
On the way back to Austin, I crunched my own fuel economy numbers using the figures from the five times I had pumped the fuel tank back up to full. Over the course of 1,812 miles, I averaged 20.12 mpg - not bad for doing 80+ mph for hours on end.
---
2020 RAM 1500 Rebel EcoDiesel Safety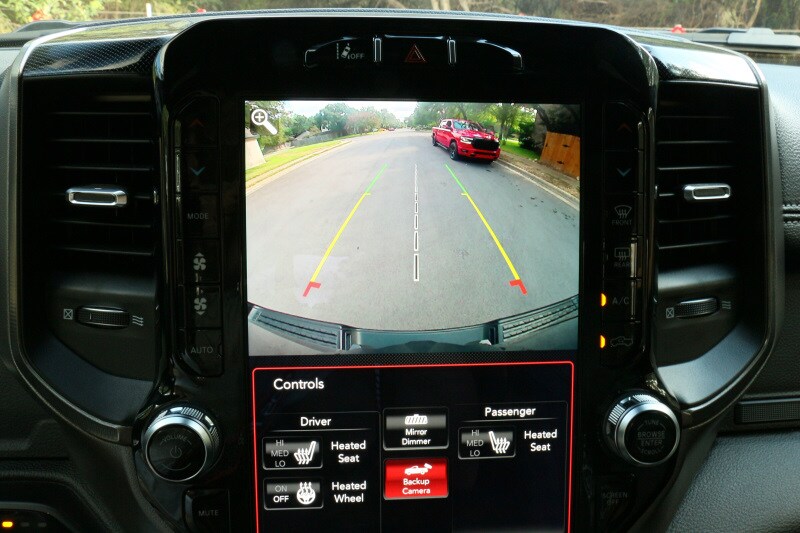 The most vital safety feature on the Rebel was one of the simplest: its mirrors. They were the perfect width and gave me a great view of the vehicles in the lane next to me. They got plenty of high-tech help from a mix of standalone add-ons and equipment packages. Blind-Spot and Cross-Path Detection was a solo upgrade. The Rebel Level 2 Equipment Group added a long list of infotainment and convenience features, as well as front and rear parking assistance with stopping capability and rain-sensitive wipers.
The Safety and Convenience Group contained the bulk of the safety tech, including Full Speed Forward Collision Warning Plus, Adaptive Cruise Control with Stop and Go, automatic high beams and Lane Keep Assist.
---
2020 RAM 1500 Rebel EcoDiesel Overall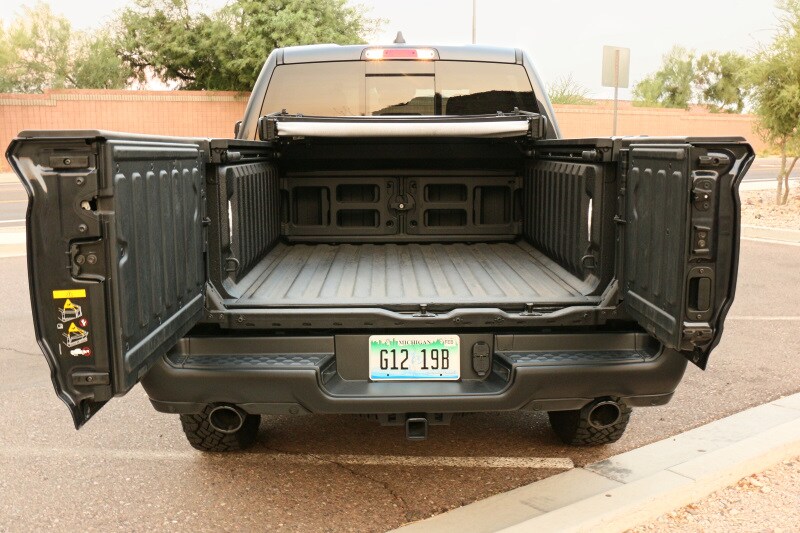 RAM's off-road version of the 1500 may be called the Rebel, but it didn't put up a fight when I used it to complete an unforgettable three-state, 2,600-mile road trip.
In fact, it was a great companion that kept my fiancé and I (and our cat) comfortable, safe and away from gas stations as much as possible. Your journey with the 2020 Rebel EcoDiesel starts the second you step into your local AutoNation RAM dealership.