Derek Shiekhi | Jan 28, 2020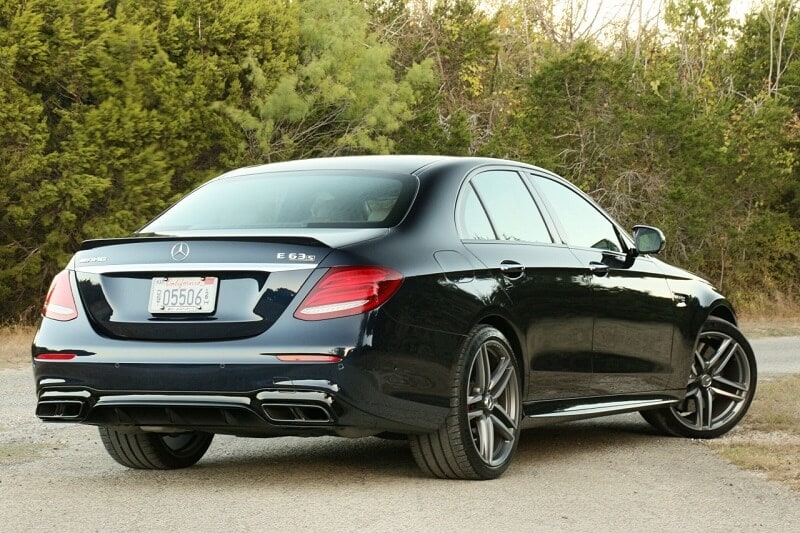 There was a time when you could only get 600 horsepower in a two-door hypercar. Just think back to the mid-2000s, when the Porsche Carrera GT, Ferrari Enzo, and Mercedes-Benz SLR McLaren were the stratospherically priced flagships of their respective brands.
That said, the Mercedes-AMG E 63 S, is a 603-horsepower performance car you can comfortably drive every day. Over the week I spent with the E 63 S, it was an absolute tire-scorching monster when I wanted it to be, and perfectly civilized when I needed it to be. How times have changed.
---
2019 Mercedes-AMG E 63 S 4-door Coupe Exterior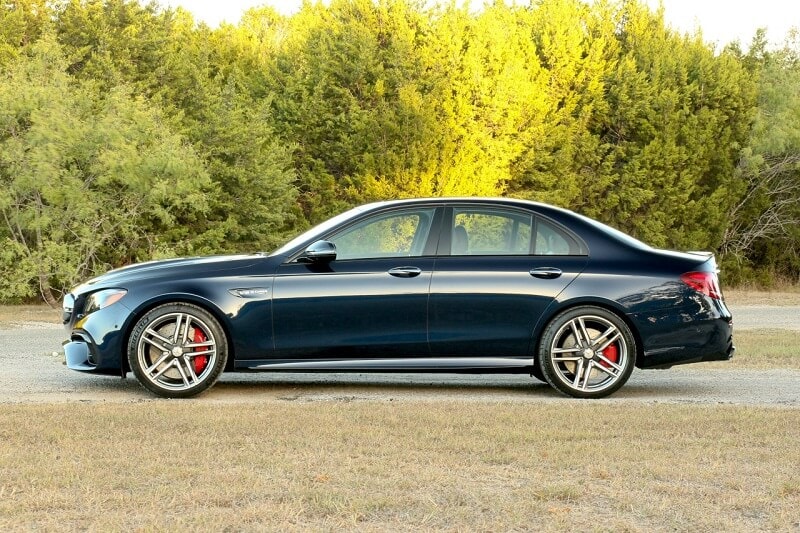 Many cars with specs like the ones the E 63 S can boast make it immediately obvious just how powerful they are, through their unusual shades of paint, or aggressive aero kits. My test car was a lot more low-key. To the untrained eye, with its deep Lunar Blue paint and assortment of black accents from the optional AMG Night Package, it probably looked like a regular sedan someone would drive to the office Monday through Friday, or use to complete a cross-country trip.
But those who knew what to look for - the pronounced front air intakes, 20-inch wheels, decklid spoiler, quad exhaust ports, and AMG badges - were aware of just what a punch the E 63 S packs when traffic thins out, and the road gets curvy.
Shop 2019 Mercedes-AMG E 63 S Inventory
---
2019 Mercedes-AMG E 63 S 4-door Coupe Interior
The E 63 S's cabin was just as subtle as its exterior styling. My press loaner wore a tasteful ensemble of AMG Nut Brown and black Nappa leather and glossy piano black accents. But there were a few signs that made it clear that I wasn't sitting in just any E-Class.The Nappa leather-wrapped, flat-bottom AMG steering wheel had a tonal center stripe at 12 o'clock to make it easier to tell when the wheel was pointed dead ahead. Both heated, cooled, and massaging front buckets were upgraded with bolsters that could strategically inflate to hold me and my girlfriend in place whenever I shot the E 63 S into curves.
While my speed was immediately legible on the 12.3-inch widescreen behind the wheel, when I was really booking, I didn't even have to look down, because I could just check it on the optional head-up display. Instead of wood veneers, Mercedes-AMG outfitted my press loaner with sporty metal weave trim that flowed across the dashboard and onto the door panels.
I spent a lot of time in the E 63 S enjoying its various luxury features. Every trip I took was extra quiet thanks to the optional Acoustic Comfort Package, which added more sound insulation around the cabin and a sound-absorbing membrane to the windshield and side windows. The optional three-zone climate control system, integrated fragrance diffuser, and the panoramic sunroof, were other touches that made the cabin feel like the lap of luxury, and the upgraded 1,450-watt, 23-speaker Burmester 3D audio system was spectacular.
Halfway through my time with the E 63 S, I had to go out to Bee Cave, Texas to attend the Texas Auto Writers Association's 2019 Texas Truck Rodeo and help determine the newest Truck of Texas. The power trunk lid opened up to reveal a 13.1-cubic-foot cargo area - plenty of space for my hard-shell camera case, briefcase, and full-size suitcase.
Shop 2019 Mercedes-AMG E 63 S Inventory
---
2019 Mercedes-AMG E 63 S 4-door Coupe Performance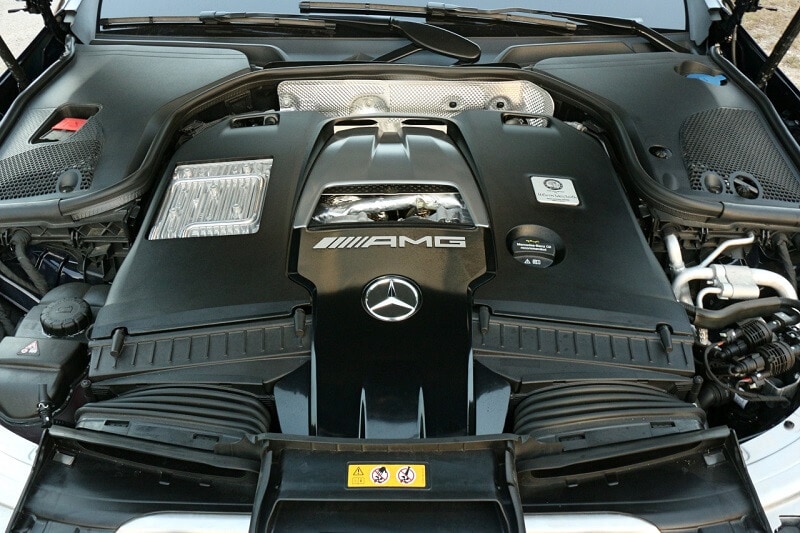 I didn't need to watch the navigation route from my house to the Texas Truck Rodeo's host hotel on the E 63 S's 12.3-inch center widescreen, because I followed my pal Bryan, who was testing a 2019 Mercedes-AMG CLS 53 press loaner. So it was the perfect time to switch the AMG Dynamic Select system from the composed cushioning of its Comfort setting to its Sport mode, and open up the optional AMG Performance Exhaust System.
The Sport setting firmed up the E 63 S's adaptive dampers and air suspension, and gave me quicker access to the hand-built twin-turbo 4.0-liter V8's 603 horsepower and 627 lb-ft of torque. The E 63 S routed that through a nine-speed multi-clutch transmission, a limited-slip differential, and 4MATIC+ all-wheel drive that could fully vary torque distribution between the front and rear axles. On boost, the E 63 S transformed from a plush and serene cruiser into a roaring mechanical beast. I could feel the back end squat down as the E 63 S's massive power found its way to the road and rocketed me forward. Quickly, I learned its thrust and speed exceeded my usable road and nerve. In the sweeping curves of Central Texas, the suspension did a respectable job of keeping the substantial mass it was tasked with controlling in check.
When the traffic ahead made it clear I had to calm down, the red calipers clamped down on the 15.4-inch front and 14.2-inch rear rotors and brought my speed down efficiently.
Shop 2019 Mercedes-AMG E 63 S Inventory
---
2019 Mercedes-AMG E 63 S 4-door Coupe Safety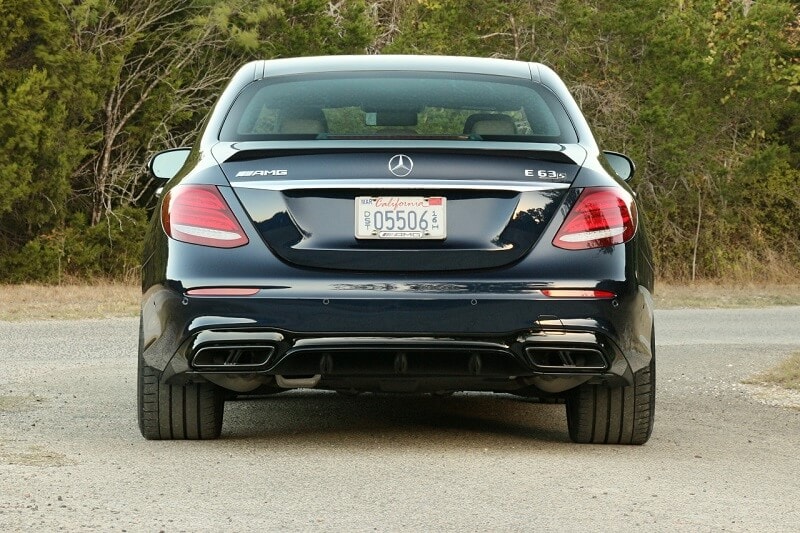 The E 63 earned a 5-Star overall safety rating from the National Highway Traffic Safety Administration, and was named a Top Safety Pick+ from the Insurance Institute for Highway Safety.
In addition to its standard safety equipment, which included LED front and rear lighting, Blind Spot Assist, and a 360-degree camera system, my media loaner had an optional Driver Assistance Package. Mercedes-AMG packs that with a long list of features like Active Lane Keeping Assist, Active Emergency Stop Assist, Active Brake Assist with Cross-Traffic Function, and more.
Shop 2019 Mercedes-AMG E 63 S Inventory
---
2019 Mercedes-AMG E 63 S 4-door Coupe Overall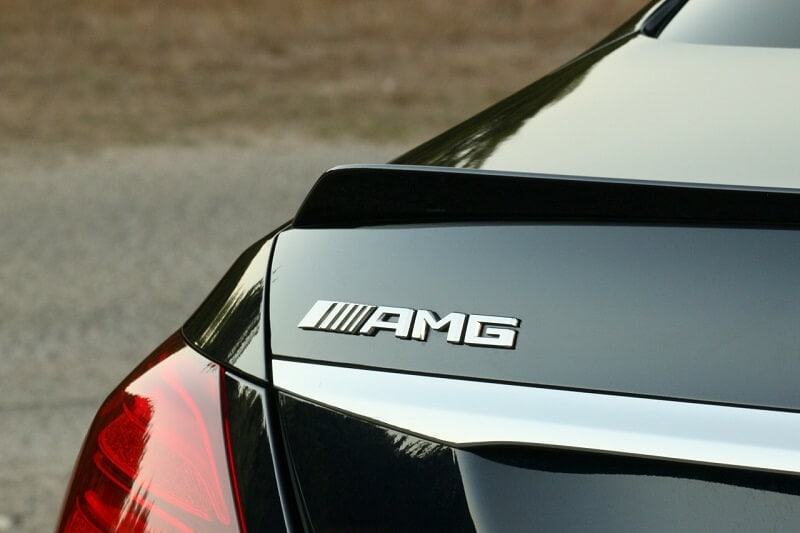 It's a great time to be a performance vehicle enthusiast, because you're no longer restricted to certain types of vehicles if you crave massive power. Fittingly, the Mercedes-AMG E 63 S offers a bottomless well of thrust in a body style that allows you to share the joy of a 3.3-second zero-to-60 sprint with family and friends.
Prices start at $106,350*, and drivers who get to experience the E63 S will attest this machine is worth every penny. Visit an AutoNation Mercedes-Benz dealership to arrange a test drive today.
---
2019 Mercedes-AMG E 63 S
Layout
4-door, 5-passenger, AWD, luxury sedan

Engine/Transmission
4.0L twin-turbo V-8
603 hp / 627 lb-ft
9-speed automatic
Mileage
15/23 mpg (city/hwy)
NHTSA Safety Rating

★ ★ ★ ★ ★

---
AutoNation Drive Test Drive Review: ★ ★ ★ ★
---
More Research
Browse more automotive research than you can shake a stick shift at.
---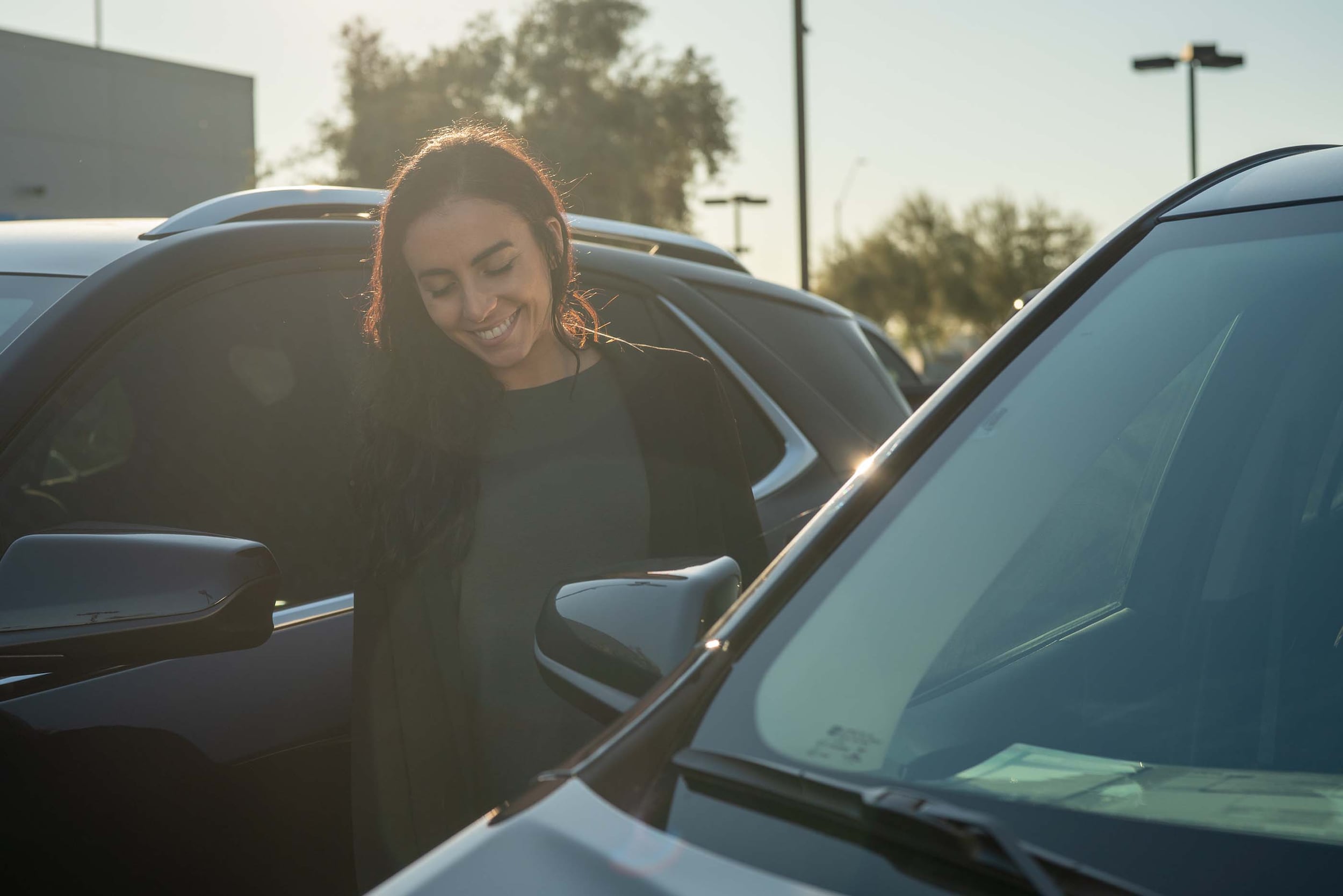 Test Drive Reviews
Our automotive experts at AutoNation Drive weigh in on price, safety, and performance of popular cars, trucks, and SUVs.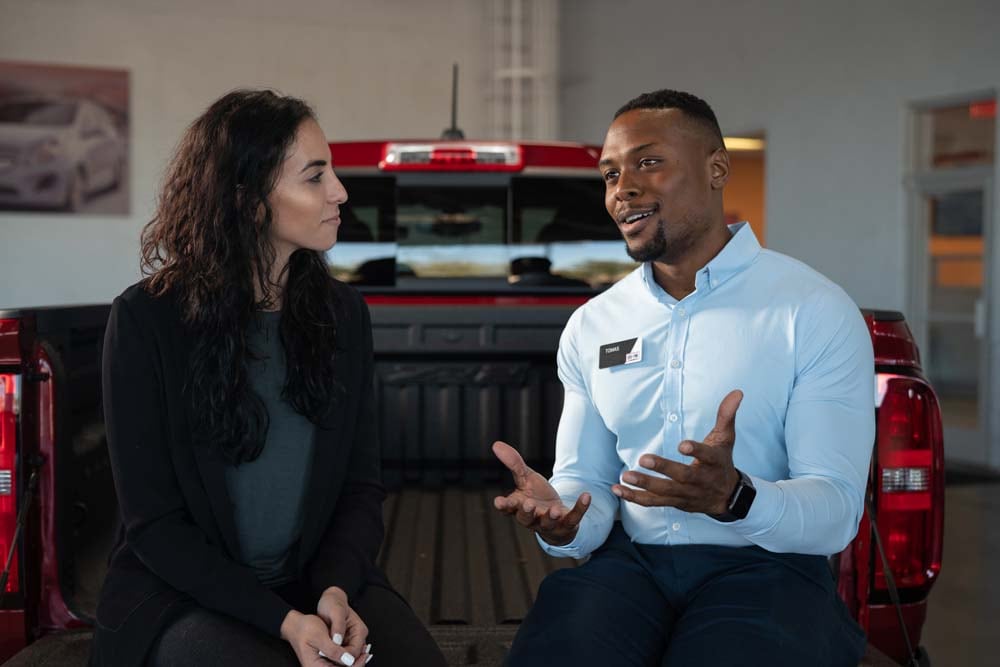 Car Buying Advice
If you're buying a car, truck, or SUV, the chances are - you need help. Don't worry. Our automotive experts are here to help.
---
*MSRP excludes tax, license, registration, destination charge and options. Dealer prices may vary.
**Based on EPA mileage ratings. Your mileage will vary depending on specific vehicle trim, how you drive and maintain your vehicle, driving conditions, and other factors.