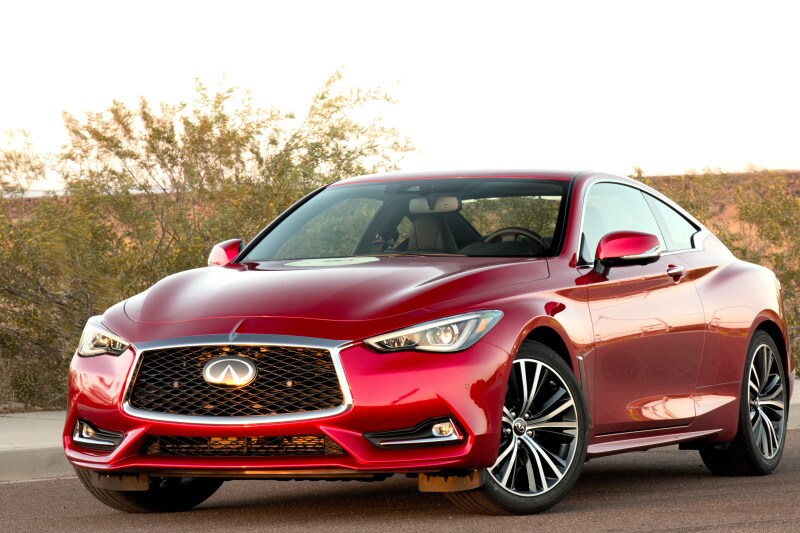 The INFINITI Q60 has such a sculpted, curvaceous design that it's easy to lose sight of its other characteristics. If you can manage to avert your gaze from its flowing lines and take a more analytical look at it, you may notice how it's changed for the 2021 model year.
Grand Blue and Slate Gray join the list of available paint colors. All trim levels, Pure, Luxe, and Red Sport 400, now come standard with rain-sensing wipers. The Q60 Luxe model gets the most significant exterior and interior upgrades. I didn't notice them at first because I was so distracted by my $56,485 test car's concept car-like styling, but once I started driving it, I became more aware of the additional content INFINITI put into the newest version of the Q60 Luxe.
---
2021 INFINITI Q60 Luxe AWD Exterior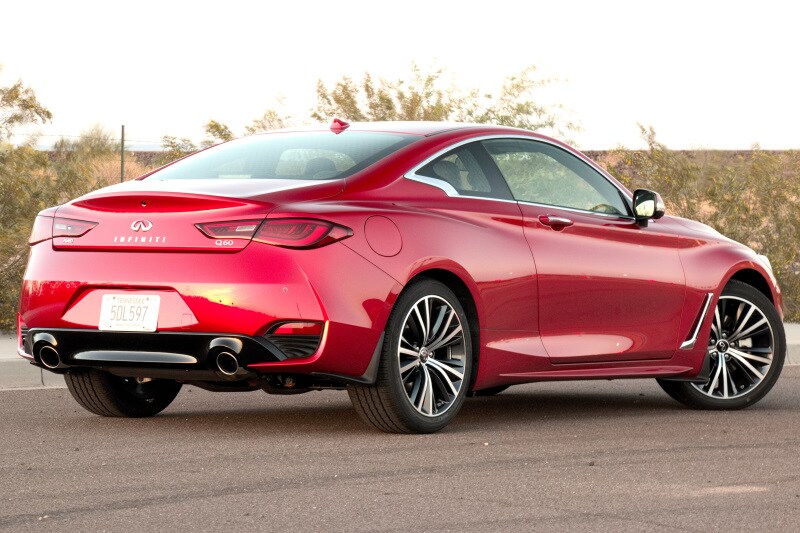 The Q60 has always looked like the quintessential luxury coupe. It's a low-slung, wind-swept sculpture on two-tone 19-inch wheels, an indulgence in form over function. Chrome trim highlights the distinctively shaped grille, fog lights, front fenders, and blade-shaped greenhouse. The addition of Dynamic Sunstone Red to the 2021 Q60 Luxe's color palette makes it even more decadent. It's one of the most gorgeous shades of red out there, especially when the sun strikes it and lights its inner fire, which burned brightly enough to catch my neighbor's attention. It was the first time I had ever seen her. Her first words to me weren't a greeting. They were an exclamation of just how gorgeous the shade of red on the Q60 was. I didn't hold it against her. I agreed.
---
2021 INFINITI Q60 Luxe AWD Interior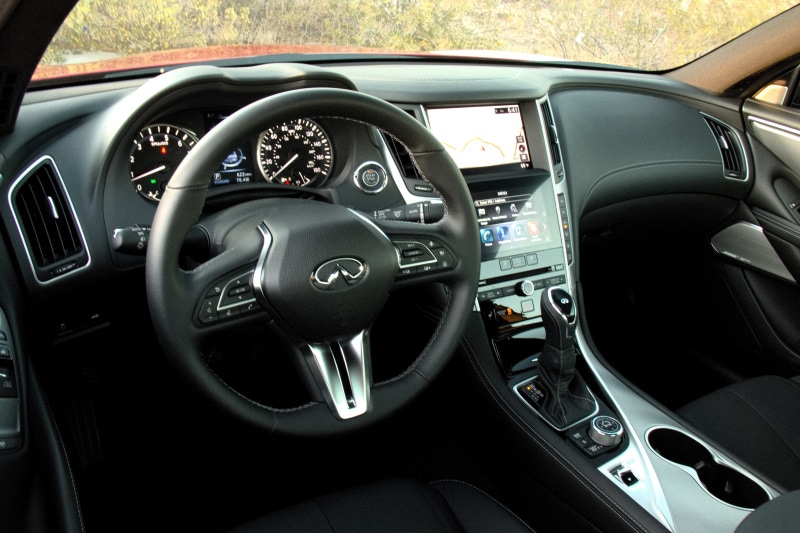 The majority of the Q60 Luxe's updates make its cabin a nicer place to rack up miles. That's especially true when it's cold outside. The steering wheel is now heated, just like the front row of semi-aniline leather seats, which come with power lumbar support and form-fitting side bolsters on the driver's side. Unfortunately, the seats aren't ventilated. On the plus side, remote start is now standard, so it was easy for me to pre-cool the cabin before I went out to run errands.
INFINITI configured my test car with the optional Essential Package. Its most significant features are a power tilting and telescoping steering column, an upgraded climate control system with auto recirculation and filtered and purified air, and navigation. The map for the nav function showed up on the INFINITI InTouch infotainment system's eight-inch top HD touchscreen. Using the seven-inch bottom unit, I could input a navigation address, set up Android Auto or Apple CarPlay, and punch in the radio station I wanted to hear coming out of the Bose Performance Series Audio System.
One of the trade-offs to the Q60's fast roofline and its focus on the driver and front passenger was a lack of space in two major areas. If I wanted to put my iPhone Xr anywhere, I had to slide it into one of the two open-top cupholders. Back seat room was also limited - for adults. For groceries or small items I didn't want rolling around up front, it was plenty large enough.
I was pleasantly surprised by my test car's optional Cargo Package. Its thick mat provided a sturdy barrier between the carpeting and my heavy, bulky camera case. The full-width cargo net was the perfect place to put my tripod to keep it from sliding around the trunk.
---
2021 INFINITI Q60 Luxe AWD Performance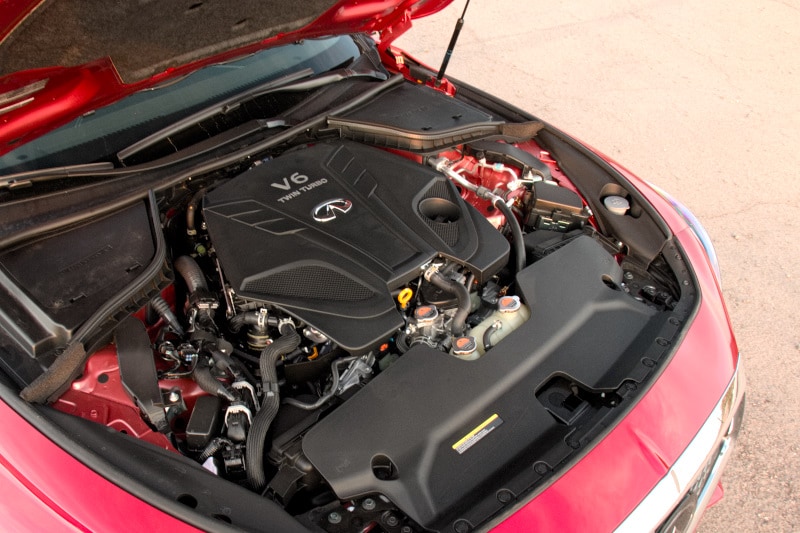 With its flashy red exterior, the Q60 had more than enough show. The 3.0-liter V6 under its bulging hood gave it the go to match. Huffing boost from a pair of turbos, it generates a nice round 300 horsepower and 295 lb-ft of torque, then channels that to the road through a seven-speed automatic transmission. My tester's all-wheel drive system only amplified the effects of the engine's figures and made rocketing away from stop lights and speeding up to smoothly merge onto the highway just a pedal push away.
A rocker switch on the center console allowed me to change the Q60's drive mode and the associated engine/transmission and steering settings. Standard was perfect for most around-town trips. The steering felt light, even in low-speed situations, such as moving around a parking lot.
Whenever the road ahead started to curve, I bumped up to Sport to access its more aggressive settings. I did the same with the shifter to upshift and downshift at will. Gear changes were quick enough for my needs, although paddle shifters behind the steering wheel would've been a nice option so both of my hands could've been on the wheel at all times.
Eco was another option. Even though I didn't use it, I still managed to average 22.3 mpg over the course of 331.2 miles. That's just north of the EPA's fuel economy estimate of 22 mpg combined. Personal let me customize the settings as I liked. Combined with the all-wheel drive system, the Snow mode gives the Q60 four-season driving capability.
---
2021 INFINITI Q60 Luxe AWD Safety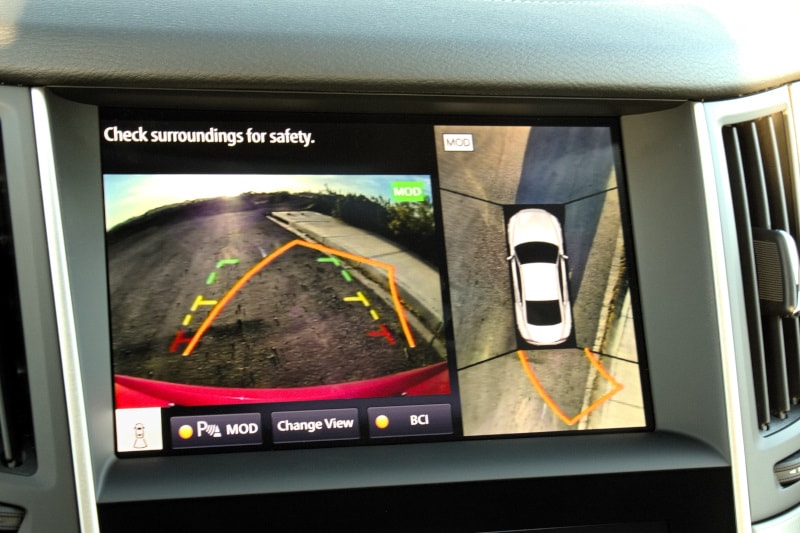 My press loaner had a lot of add-ons that made it more convenient and functional. It didn't need any more safety features, though. Automatic high beams, Predictive Forward Collision Warning, Forward Emergency Braking, Backup Collision Intervention, and more were standard equipment, as well as several driver assistance technologies.
The most notable were Hill Start Assist for preventing rolling backward on steep inclines and Active Trace Control, which could brake individual wheels to keep the Q60 on the right path through curves.
---
2021 INFINITI Q60 Luxe AWD Overall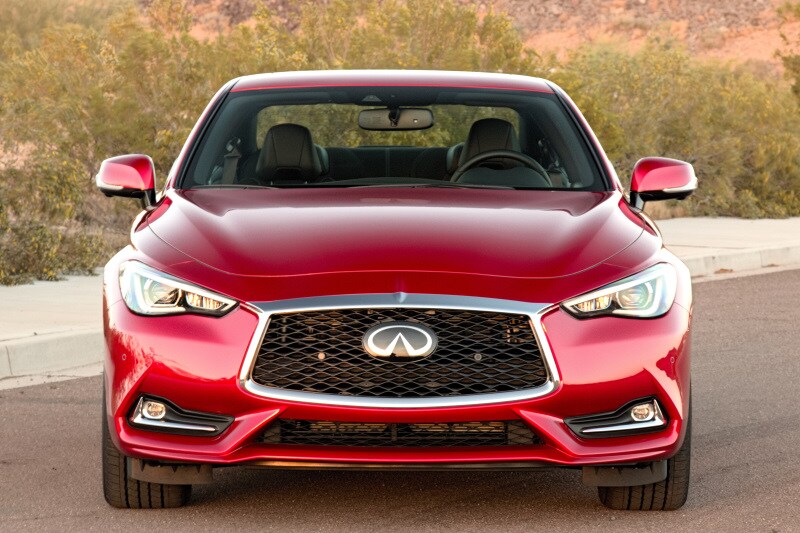 The next time you go into an AutoNation INFINITI dealership and see the gorgeous Q60, just remember that even though it looks familiar, it's not exactly the same as it was in 2020. The 2021 model is better equipped than its predecessor, especially in Luxe trim. And be sure to check out a Q60 with the Dynamic Sunstone Red paint. It'll be easy to recognize because it'll probably be occupying prime real estate in the showroom.
---
Derek Shiekhi | Jun 07, 2021