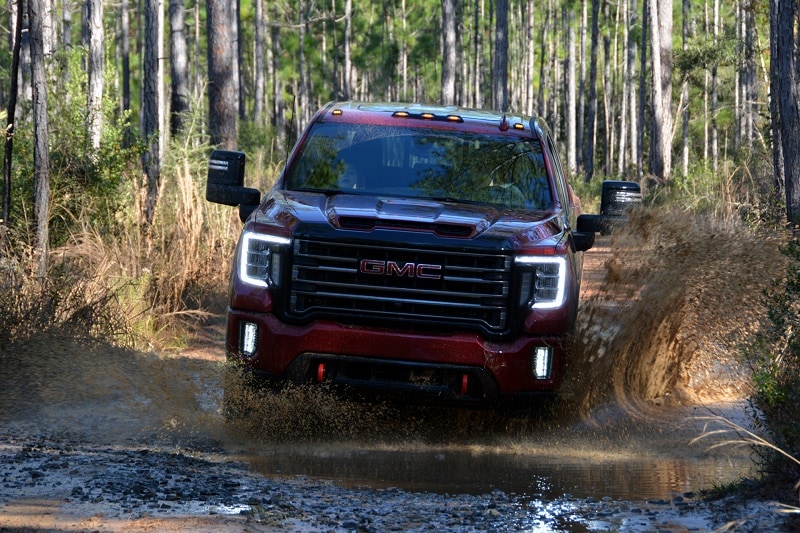 Ever since I had the chance to test out the Ford F-250 Super Duty Tremor, I've been waiting to get my hands on that truck's key rival, the 2021 GMC Sierra 2500HD AT4. Now, heavy-duty trucks may have been born to haul, but a growing segment - including the AT4 - shows just how capable these trucks can be in rugged terrain.
GMC first introduced the AT4 line on the Sierra for the 2019 model year, and now it's an off-road sub-brand across the entire lineup. Recently, I got a chance to drive the all-new 2021 GMC Canyon AT4, and last year, I had the chance to drive the half-ton 2020 GMC Sierra AT4. So I was excited to get some seat time in the diesel-powered 2021 GMC Sierra 2500HD AT4.
---
2021 GMC Sierra 2500HD AT4 Exterior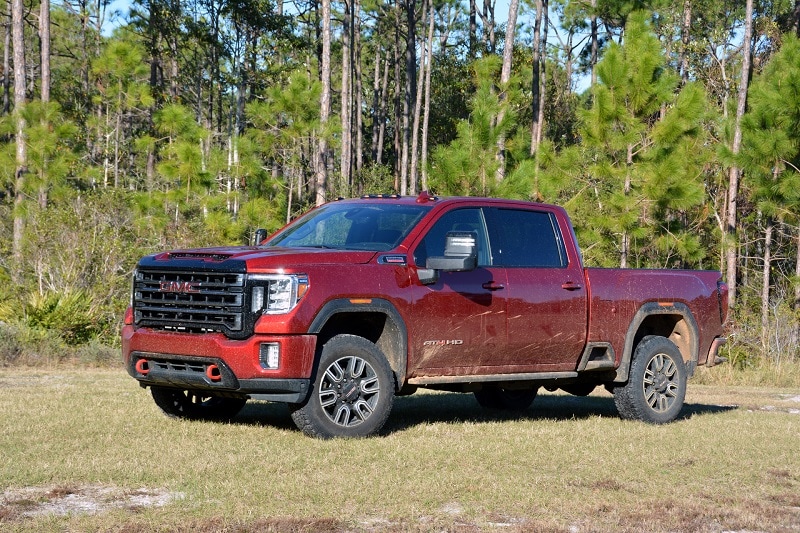 The GMC Sierra HD lineup was redesigned for the 2020 model year, and just due to its sheer size, this heavy-duty hauler packs a bolder style than its half-ton counterpart. Available in the Crew Cab body only, the 2021 GMC Sierra 2500HD AT4 has a unique style with its large, blacked-out grille, red tow hooks, and the largest tires you can get on a Sierra pickup truck. The 275/65R20 Goodyear Trailrunner AT are almost 11 inches wide, and sit just over 34 inches tall. For those keeping score at home, that's about an inch taller than you can get on any other Sierra HD model, and two inches taller than what's offered on the Sierra 1500 AT4.
This tester was equipped with the new-for-2021 Cayenne Red Tintcoat (a $645 premium color) as well as the $7,975 AT4 Premium Plus Package that includes included in the AT4 Premium Plus Package, 20-inch machined aluminum wheels with black accents and the "high-clearance" side steps. These low-profile cast aluminum steps feature the Sierra logo, and they are shaped similarly to the rock sliders you find on hardcore off-road vehicles. And since it is a heavy-duty pickup truck, the Sierra HD AT4 maximizes utility with LED bed lights, LED cab clearance lights and GMC's innovative six-function MultiPro tailgate. The only thing the Sierra HD AT4 doesn't offer that the Ford Super Duty Tremor and Ram Power Wagon both offer is a factory winch.
Shop 2021 GMC Sierra 2500HD AT4 Inventory
---
2021 GMC Sierra 2500HD AT4 Interior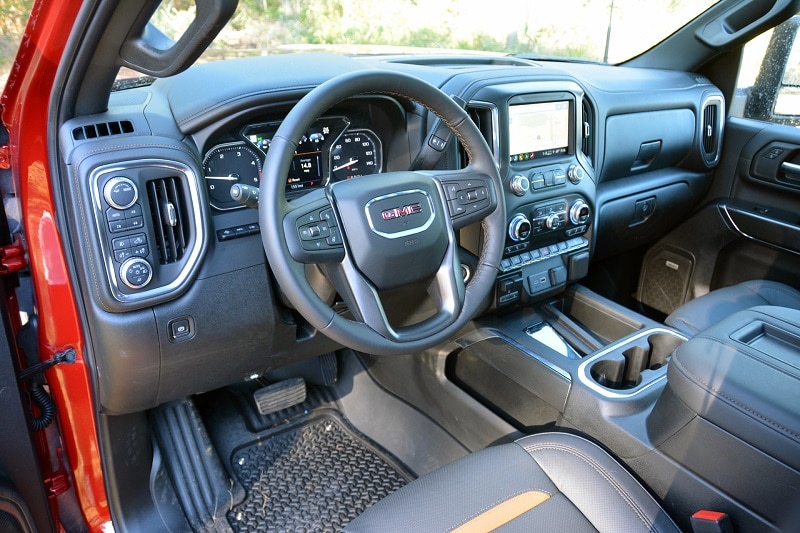 From the outside, the 2021 GMC Sierra 2500HD AT4 is all about ruggedness, but the interior design is all about practicality and luxury. In the luxury department, the AT4 has dark leather that's complemented with saddle colored accents, contrasting stitching, and satin metal dash trim. The AT4 logo is also displayed on the front door sill plates, and embroidered into the front headrests. New for 2021, GMC offers front and rear rubber all-weather floor mats with carpeted snap-in inserts. This option is a great indication of just how well the AT4 balances between ruggedness and luxury.
With the aforementioned AT4 Premium Plus Package - a $7,975 option package - the AT4's interior feels extremely close to what you'll find in the Sierra Denali lineup. Everything, from heated front and rear seats, cooled front seats, a head-up display, an eight-inch touchscreen navigation system, and more is on the menu. Being the Crew Cab model, the Sierra AT4 has a cavernous interior designed to maximize passenger and cargo space. Three adults fit comfortably in the rear seat, but this space easily converts to allow plenty of cargo, and features a flat-load floor. There's also a massive center console, dual glove boxes and small storage compartments built into the rear seat backs.
Shop 2021 GMC Sierra 2500HD AT4 Inventory
---
2021 GMC Sierra 2500HD AT4 Performance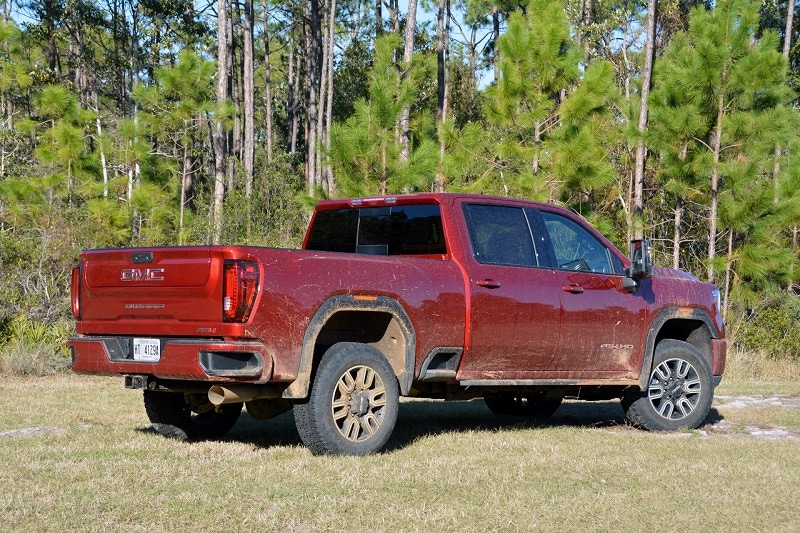 While the 2021 GMC Sierra 2500HD AT4 might not look as extreme as the Ram Power Wagon, this big, bad off-roader offers one thing its rival does not - a diesel engine. While the base configuration comes with a 401-horsepower 6.6-liter gasoline V-8, the best way to enjoy this heavy-duty AT4 is with the optional Duramax engine. For an extra $9,890, the Sierra HD serves up the 6.6-liter Duramax turbo-diesel V-8 that lays down 445 horsepower and whopping 910 lb-ft of torque, which is more than enough poke to sling mud on the trail. With this engine and 4x4 Crew Cab configuration, the Sierra 2500HD has a maximum towing capacity of 18,500 pounds. There are no EPA-rated fuel economy estimates for heavy-duty trucks like the Sierra 2500HD, but this tester averaged 14.8 mpg in a week of mixed driving that included a day of off-roading.
Since the heavy-duty trucks are designed for work and play, the Sierra HD AT4 doesn't offer a lifted suspension like the Sierra 1500 AT4. That doesn't mean this big truck isn't fully capable of tackling tough off-road terrain, though. The 2021 GMC Sierra 2500HD AT4 is equipped with an off-road suspension package that features Rancho twin-tube shocks, and added skid plates help keep this truck's underbelly protected. During some moderate off-roading, the AT4's suspension was happy to flex, while the standard locking rear differential provides plenty of traction for loose terrain.
The optional 20-inch tires provided impressive grip for the conditions I encountered, and they weren't noisy at speed on the highway. With a little over ten inches of ground clearance, the AT4 Crew Cab short bed provides plenty of room to traverse tough terrain, but doesn't take away from the truck's towing capability. For a high-tech off-roading experience, the AT4 offers optional equipment like a 360-degree camera. This system can display various views for more nimble off-road driving, and even features a heads-up display which shows information like steering wheel angle and a vehicle inclinometer.
Shop 2021 GMC Sierra 2500HD AT4 Inventory
---
2021 GMC Sierra 2500HD AT4 Safety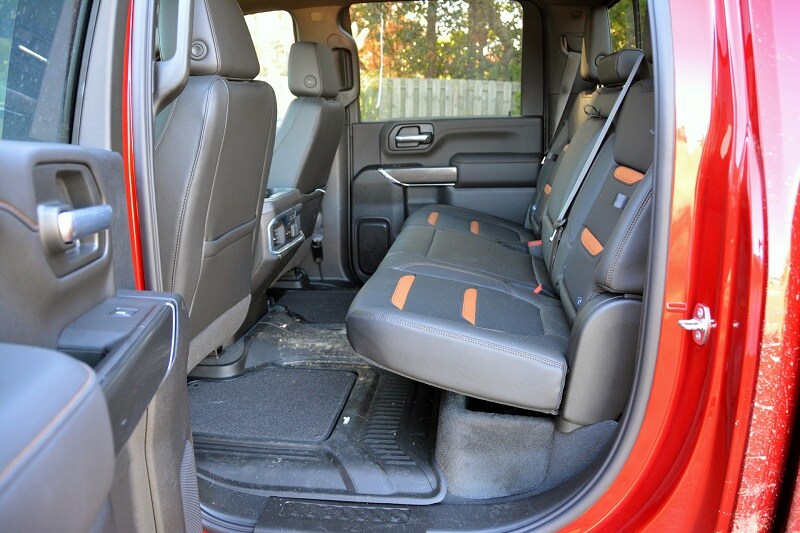 Heavy-duty trucks aren't rated by the National Highway Traffic Safety Administration, but that didn't stop GMC from stuffing the 2021 GMC Sierra 2500HD AT4 with all of the latest safety technology. Bundled in with the AT4 Premium Package are advanced safety features such as front and rear park assist, lane change alert, lane departure warning, rear cross traffic alert, forward collision alert, automatic emergency braking and automatic high beams.
Shop 2021 GMC Sierra 2500HD AT4 Inventory
---
2021 GMC Sierra 2500HD AT4 Overall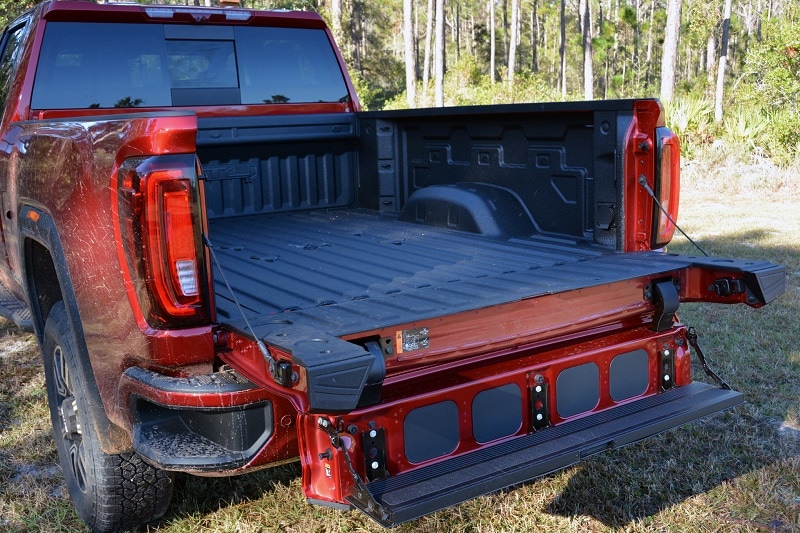 No matter if you're looking for a heavy-duty pickup truck that can haul up to 18,500 pounds or be able to tackle off-road terrain, the Duramax-powered 2021 GMC Sierra 2500HD AT4 is ready for any adventure. There's no shortage of sticker shock in the world of full-size trucks these days, and the Sierra 2500HD AT4 is no exception. Despite the fact that a base Sierra 2500HD will set you back just $36,100*, this decked-out, diesel-powered Sierra 2500HD AT4 had an as-tested price of $78,050*.
Shop 2021 GMC Sierra 2500HD AT4 Inventory
---
Jeffrey N. Ross | Apr 14, 2021