Jeffrey N. Ross | Nov 12, 2020
---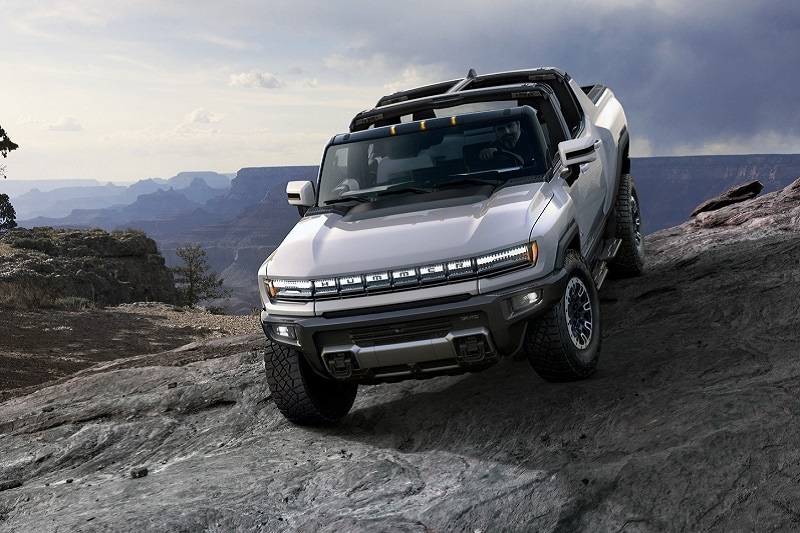 At the peak of Hummer's popularity, the line of military-derived SUVs was seen as public enemy number one for environmentalists, but that will likely change with the introduction of the all-new 2022 GMC Hummer EV. A decade after its demise, GM's Hummer brand is relaunching under the GMC division, and here's an overview of what to expect from the "world's first all-electric supertruck" that will be going up against EV pickup trucks like the Ford F-150 EV, Rivian R1T and Tesla Cybertruck.
---
2022 GMC Hummer EV Exterior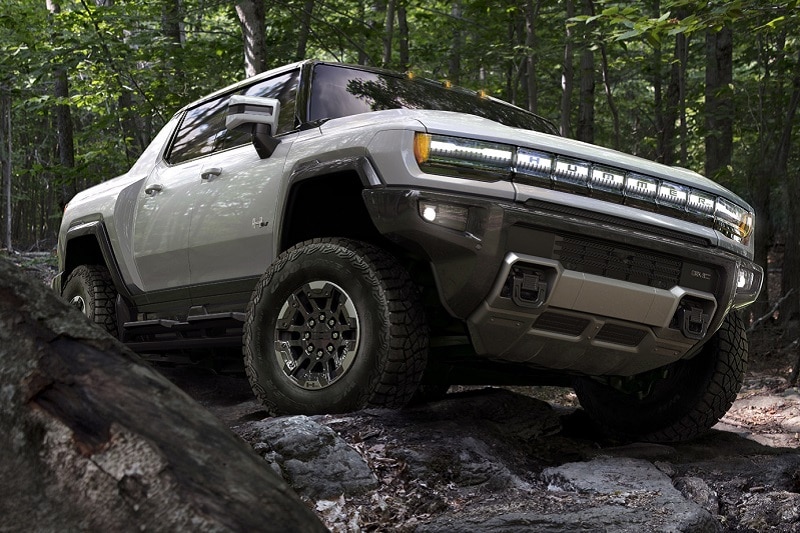 Similar to the original trio of Hummer models, the GMC Hummer EV is an imposing vehicle! With a total length of 216.8 inches, the Hummer EV is longer than a Chevy Tahoe but shorter than a Chevy Suburban, while the 135.6-inch wheelbase is almost a half foot longer than the Suburban. Looking at other dimensions, the 81.1-inch height and 86.7-inch width give the Hummer EV a taller and wider presence than the Ford F-150 Raptor.
In terms of its design, the Hummer EV pickup truck has bold styling with a single-piece body that combines the four-door cab with a five-foot cargo bed. The coolest part of this truck's design is the Infinity Sky Roof with four removable roof panels (which are available as transparent panels) creating an open-air driving experience that is made even better with a power-sliding rear window. Being a GMC product, it's no surprise that the brand's MultiPro Tailgate also made it onto this truck. Adding to the look and off-road prowess, the Hummer EV comes standard with 35-inch tires that were specially engineered for this vehicle, and GMC says that customers will be able to fit 37-inch tires on their Hummers without any modifications.
Like the Humvee/Hummer H1, the GMC Hummer EV will be an off-road beast. That starts with incredible ground clearance offering 10.1 inches in the standard driving mode, 11.9 inches in Terrain Mode and 15.9 inches in Extract Mode. This latter mode raises the suspension by six inches allowing the truck to ford up to 32 inches of water and providing excellent capabilities with a 49.7 degree approach angle, 32.2 degree breakover angle and a 38.4 degree departure angle. While the height-adjustable suspension will allow the Hummer EV to traverse just about any terrain, the advanced UltraVision system is an off-roading innovation with up to 18 exterior cameras including waterproof underbody cameras!
---
2022 GMC Hummer EV Interior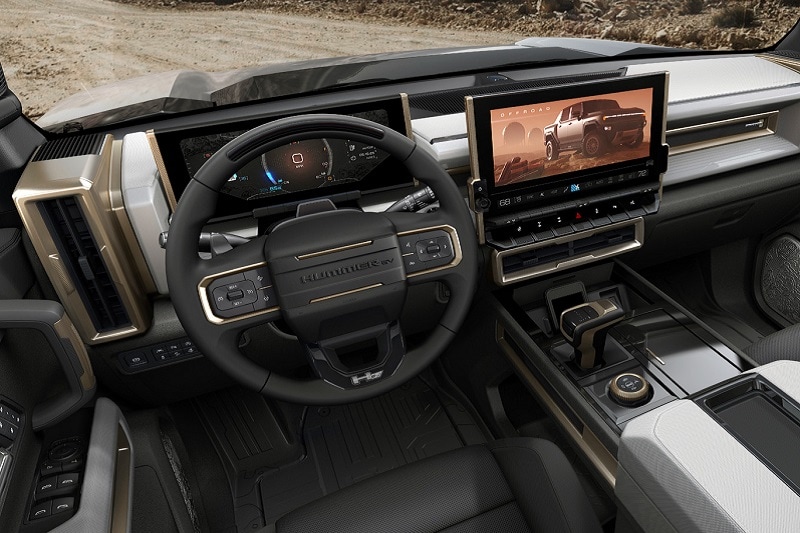 Inside, the GMC Hummer EV packs a mixture of ruggedness, luxury and high-tech gadgets into a five-passenger cabin deserving of a six-figure electric "supertruck." Although it isn't clear what equipment will come standard on the subsequent trim levels, the interior of the Edition 1 features two-tone seats with bronze accents and all-weather flooring. In place of an engine, the hood of the Hummer EV hides generous cargo space big enough to hold all four of the removable roof panels. In terms of technology, the Hummer EV Edition 1 comes standard with a 14-speaker Bose audio system as well as a 12.3-inch digital gauge cluster and 13.4-inch center touchscreen display.
---
2022 GMC Hummer EV Powertrain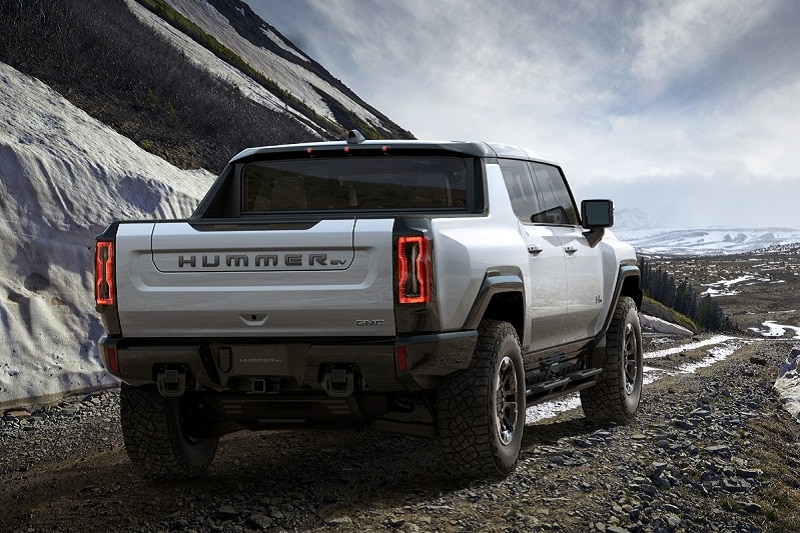 GMC's first full-electric vehicle is powered by GM's Ultium battery system that will be available in four specifications. It will take about two and a half years for the full rollout of all GMC Hummer EV models, and the Edition 1 will be the first powered by a three-motor propulsion system with a claimed output of 1,000 horsepower and 11,500 lb-ft of torque. GMC says this model will be able to accelerate from 0-60 mph in about three seconds, and it will have an estimated EV driving range of more than 350 miles. The EV3X model will also have a three-motor system, but the driving range will drop to closer to 300 miles with an output of 800 hp. The EV2X and EV2 will each have a two-motor system that is rated at 625 hp, and a driving range of between 250 and 300 miles.
For rugged, off-road driving, the GMC Hummer EV features Driver Mode Control that includes the Extract Mode that lifts the suspension about six inches. This electric Hummer truck also offers four-wheel steering including the Crabwalk feature that lets the Hummer EV drive diagonally, and the available front e-lockers and "virtual rear lockers" maximize the off-road capabilities. Adaptive Ride Control ensures continuous suspension damping for optimal handling performance both on the street and trail.
---
2022 GMC Hummer EV Safety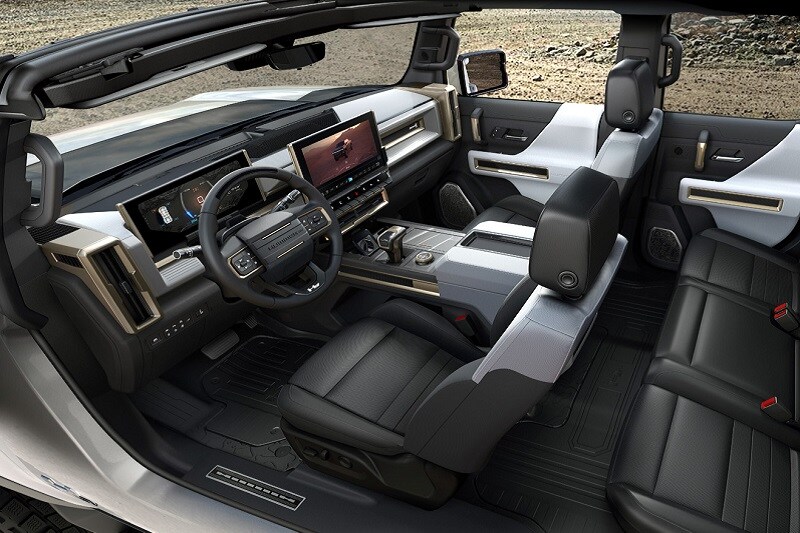 Although the full spec sheet has yet to be revealed, GMC has confirmed that its Hummer EV will be available with the latest version of GM's advanced Super Cruise driver assistance technology. Building on the original Super Cruise system, which was exclusive to Cadillac, this updated system now allows for automatic lane changes in addition to the semi-autonomous, hands-free driving.
---
2022 GMC Hummer EV Overall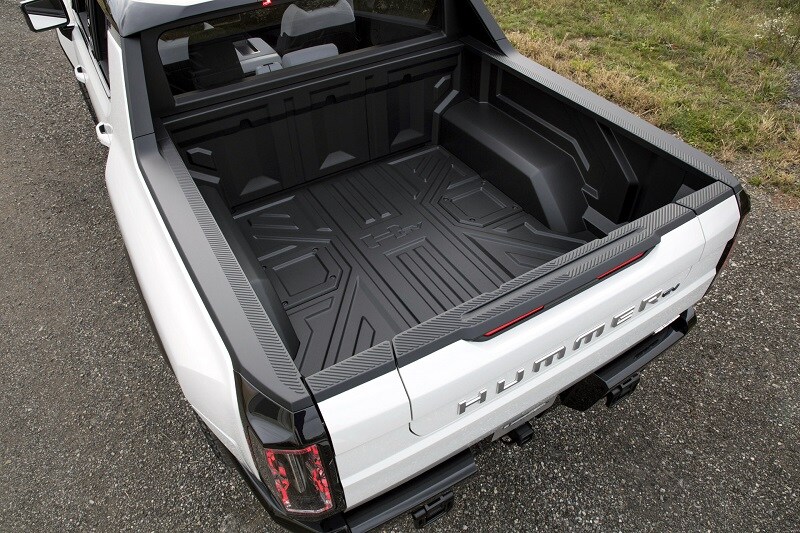 The GMC Hummer EV will initially launch in the fall of 2021 with a limited-production model called the Edition 1 priced starting at $112,595, and all reservations for this model were snatched up in a matter of minutes - just 10 minutes to be exact! If you weren't lucky enough to snag one of these Edition 1 models, the 800-hp Hummer EV3X will go on sale in the fall of 2022 for $99,995. Two 625-hp versions will round out the lineup with the EV2X launching in Spring 2023 priced at $89,995 and the lowest-priced model - the $79,995 Hummer EV2 - set for a debut in the spring of 2024. The GMC Hummer EV will only be sold at select GMC dealerships, so be sure to stop by a participating AutoNation GMC dealer for more information on the all-electric GMC Hummer EV.