Manuel Carillo III  | Jun 04, 2020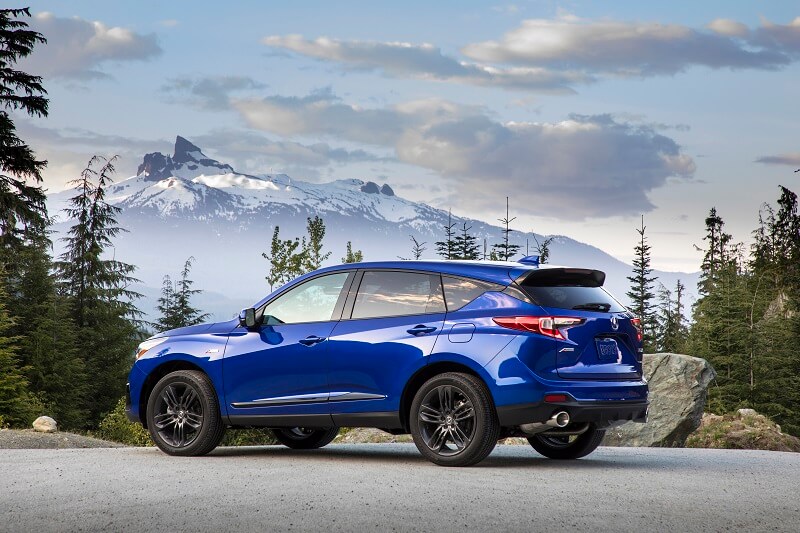 There's no denying it. Cars are getting more expensive. The average price of a new vehicle hovers in the $35,000 ballpark. In consequence, the average loan term is now 68 months, and 84-month loans are not uncommon.
If you're in the market for a luxurious crossover, you can expect to pay more than that $35,000 average transaction price, but you needn't pay double that to enjoy a cosseting experience - even for a crossover with a luxury badge on the nose.
Here's a roundup of luxurious crossover SUVs that offer a strong value-for-dollar quotient that should keep your loan term, or loan/lease payments grounded.
---
2020 BMW X1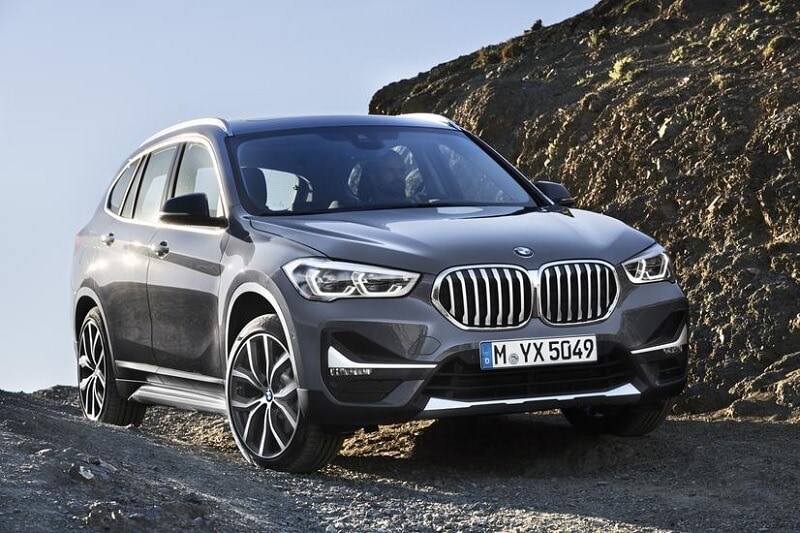 The BMW X3 is a smart purchase if you're someone who can afford to send your kids to the best private schools. If you're a normal person with a more conservative budget, though, the X1 ain't bad. BMW's smallest crossover shares its front-wheel-drive underpinnings with the MINI Cooper, which is a less expensive platform than the rear-drive BMW 3 Series that shares DNA with the X3.
The X1's dollar-efficient bones mean a reasonable $36,195 starting price. Even if you include extras like a panoramic sunroof, head-up display, embedded navigation, heated front seats, a Harman Kardon premium audio system and adaptive cruise control, the X1 will still only set you back $43,020.
Read about BMW powertrain options.
---
2020 Acura RDX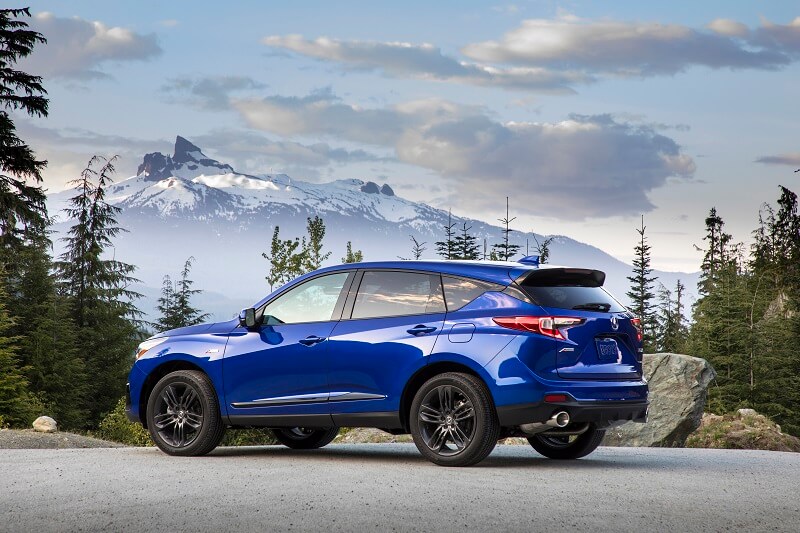 Acura's compact luxury crossover SUV is one of the most remarkable values in this roundup. Starting at $38,825* and sauntering into the mid-$40,000 arena reasonably equipped, the RDX can tussle with the best from Germany like the BMW X3 and Mercedes-Benz GLC-Class. Comparably equipped, those crossovers cost about ten grand more.
When talking about interior and exterior design, cabin comfort, technology and quality, the RDX feels like a steal, but it's still not too good to be true. An RDX can devour a set of mountain-road switchbacks quickly, though it doesn't have quite the driving dynamics of the Benz or Bimmer. However, for the way most people drive, the RDX is easily a top pick among all compact luxury crossovers.
---
2020 Mercedes-Benz GLB Class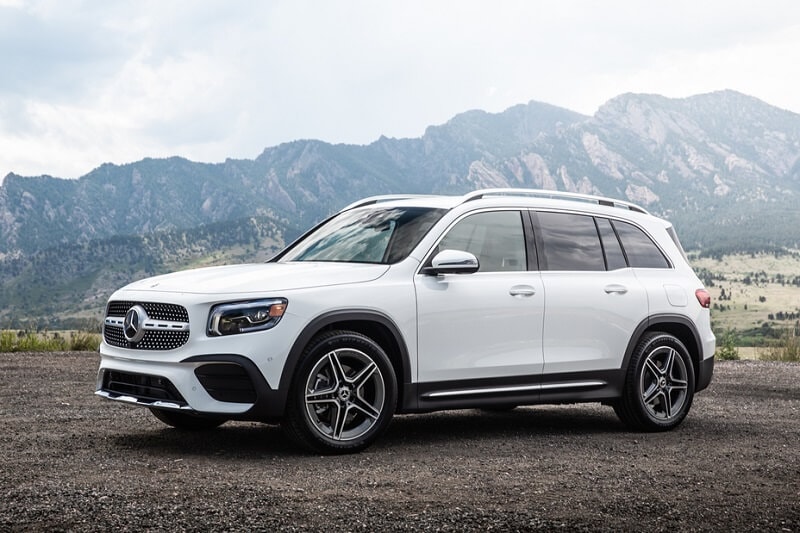 The GLB is a new addition to the Mercedes-Benz SUV lineup that slots between the subcompact GLA and GLC crossovers. The GLB's party piece is that for just an extra $850 over the $36,600* base price, you can equip it with a third row of seats, bringing the crossover's maximum occupancy to seven.
Seven-occupant luxury crossovers like the Acura MDX and the Infiniti QX60 start in the mid-$40,000 range, making the GLB an incredible value proposition, if you can forgo the extra space of the markedly larger Acura and Infiniti.
Load the GLB with popular options, and the price remains reasonable. Extras like keyless access, auto-dimming driver's-door and rearview mirrors, a panoramic roof, heated front seats, third-row seats, blind-spot monitoring, twin 10.3-inch displays for the instrument cluster and infotainment touchscreen (versus the standard, twin seven-inch units), embedded navigation, wireless phone charging, adaptive cruise control and a Burmester premium audio system get the GLB up to $46,180*. Who says Benzes have to be expensive?
Shop Mercedes-Benz GLB Inventory
---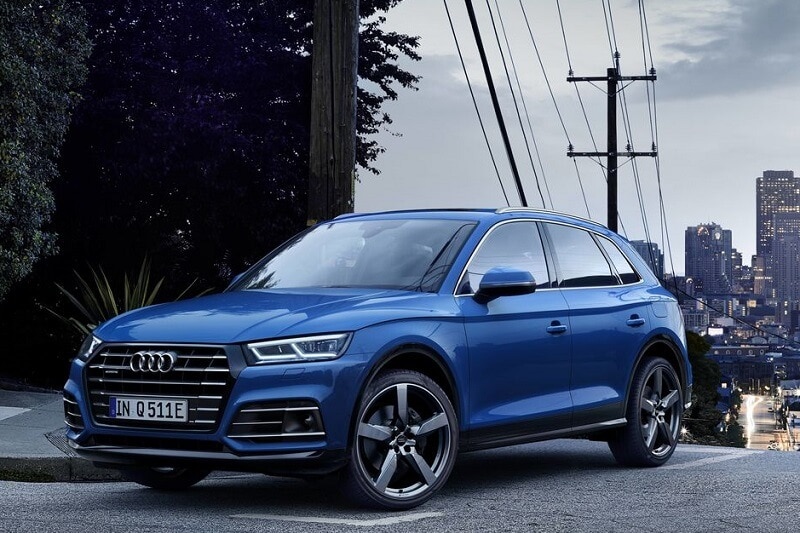 The Bimmer and Benz mentioned above are relatively inexpensive because both are based on economical, front-engine, front-drive architecture. If you have to have a German SUV based on a genuine luxury-car platform (i.e. the Audi A4), then the Audi Q5 is a solid bet.
Audi's compact luxury SUV starts at $44,295* and includes auto-dimming, power-folding exterior mirrors, keyless access, driver's seat memory, automatic emergency braking, blind spot monitoring, rear cross-traffic alert and satellite radio. Other features include Apple CarPlay and Android Auto on a seven-inch touchscreen, a wireless phone charger and signal booster, plus front and rear ultrasonic parking sensors. Adding a panoramic sunroof costs $1,450, which elevates the Q5 to $45,745.
---
2020 Volvo XC40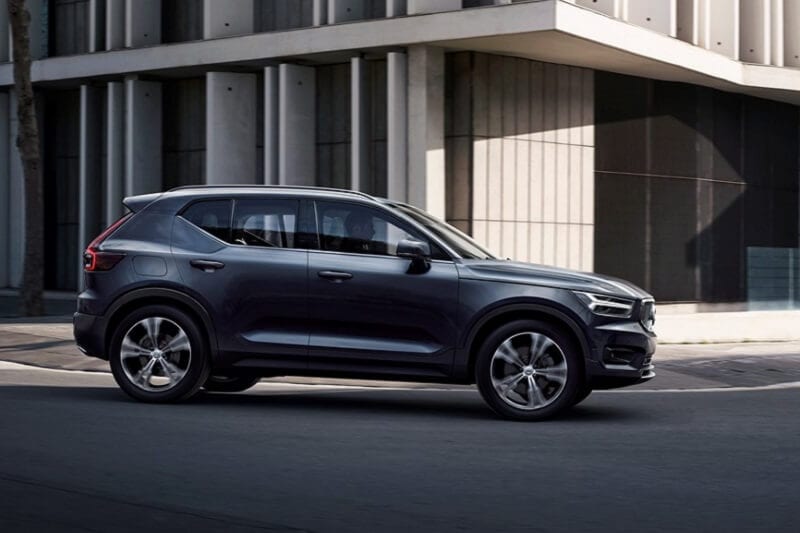 The Volvo XC40 may be a subcompact luxury crossover, but you wouldn't notice that from the inside. This SUV is huge inside. Maybe more than any other vehicle on sale today, the XC40 interior space belies its outside footprint. Beyond that, the XC40 is incredibly handsome, relatively off-road capable when equipped with all-wheel drive, and reasonably priced at $35,340* to start.
At that price, you get front-wheel drive and 187 horsepower. For only $2,000 more, you get AWD and a big power bump to 248 horsepower. At this level, the XC40 feels quick and ready to get you out of trouble in a hurry.
Adding options like keyless access, retractable and auto-dimming side mirrors, panoramic sunroof, heated front seats, a heated steering wheel, embedded navigation, Harman Kardon premium sound system, wireless phone charging, adaptive cruise control, blind-spot monitoring, 360-degree camera, and ultrasonic parking sensors brings your grand total to a reasonable $44,420*.
---
2020 Lexus UX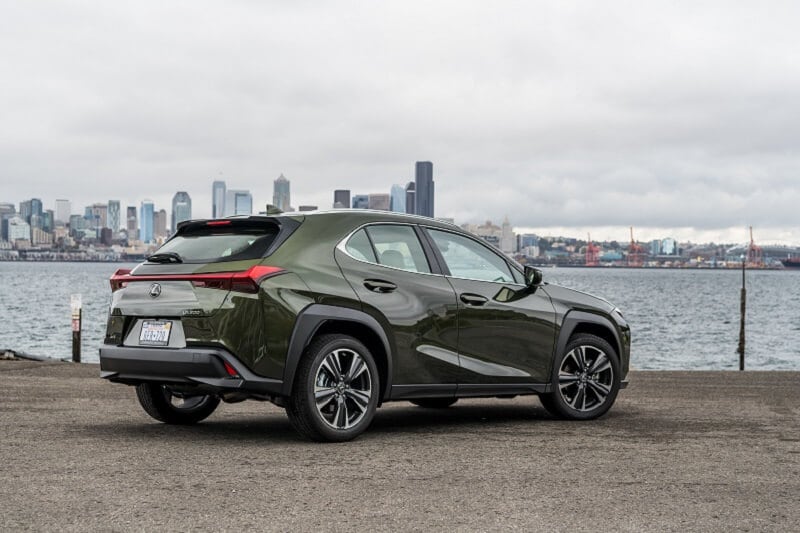 Do you miss tailfins? You know, like the ones you'd see on Cadillac and Chevy sedans of the '50s? Well, they're attempting a comeback with the 2020 Lexus UX. If you look closely at the UX's rear corners, you'll notice the taillight lenses do double duty as rear fins. It's an approach to tailfinning I've never seen before, but I quite like it. There's plenty more to like about the UX, as well, including its $33,325* starting price.
Options like rain-sensing wipers, sunroof, auto-dimming rearview mirror, head-up display, embedded navigation, wireless phone charger, heated and ventilated front seats, blind-spot monitoring with rear cross-traffic alert and a hands-free-opening and closing rear hatch bring the price not much higher to just $38,375*.
---
2020 Cadillac XT4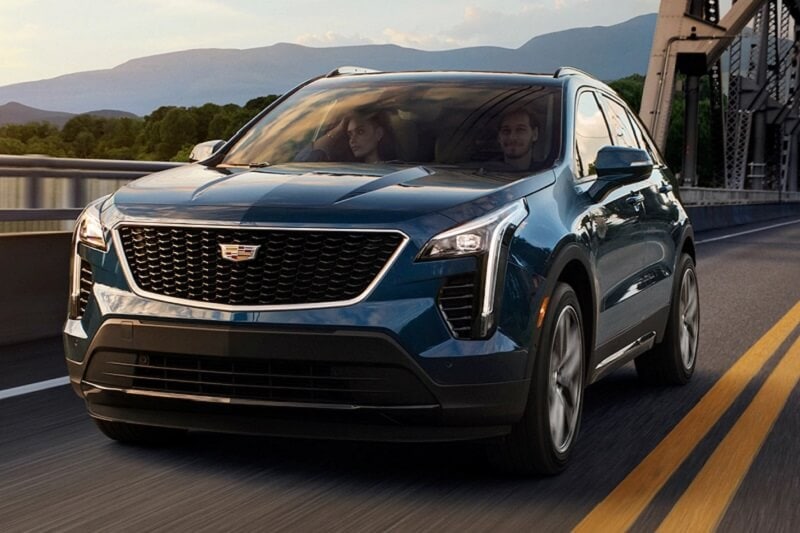 To my eye, the Cadillac XT4 might even be better-looking than the Volvo XC40. Regardless of which one looks more appealing to you, both are good values, but at $36,690 the Cadillac commands $1,350 more to start.
If you try to option the XT4 to the same level as the AWD XC40 above, you'll end up paying a couple thousand more thanks to the way Cadillac structures its option packages. Instead, stick with the base XT4 in FWD Luxury trim, and then add the panoramic sunroof, heated front and rear seats, automatic heated steering wheel, embedded navigation, 13-speaker Bose premium audio system. Add those up and you end up coming out to $40,740*. You'll lack adaptive cruise control, but you'll still have automatic emergency braking, and you'll also have an extra $3,680 lining your pockets.
---
2020 Buick Enclave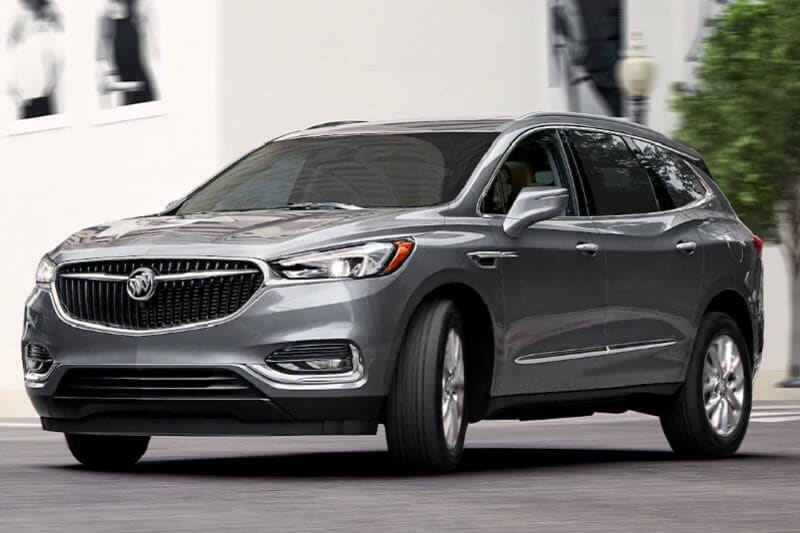 At $41,195*, the Enclave undercuts similar luxury crossovers by more than $3,000. That's why it's the only luxury, three-row midsize SUV on this list. Even if you equip the Enclave with a bevy of features, you can still keep the price reasonable.
For just shy of 50 grand out the door, you can include automatic emergency braking, lane-keep assist, blind spot monitoring with rear cross-traffic alert, front and rear ultrasonic parking sensors, a heated steering wheel, heated, ventilated and massaging front seats, heated second-row seats, a power-folding third row of seats and a ten-speaker Bose premium audio system. It doesn't hurt that the Enclave is classy-looking, to boot.
---
2020 Nissan Kicks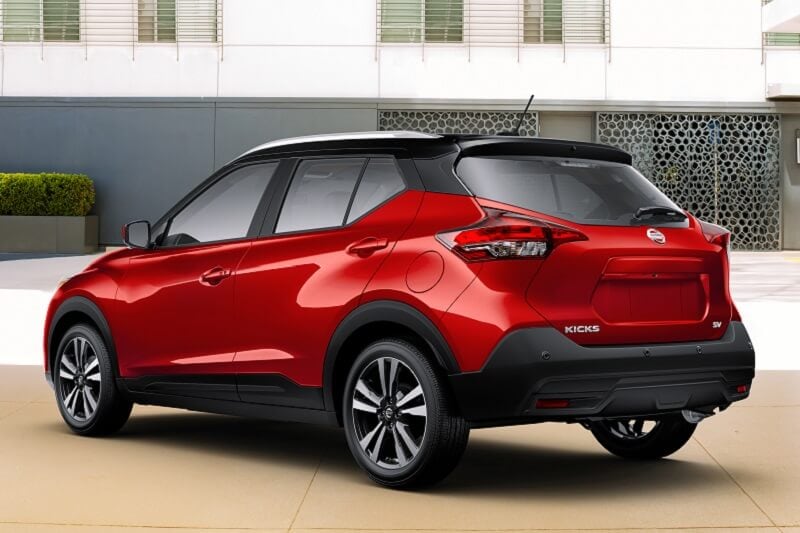 You may be wondering, "How did a subcompact economy SUV that starts at 20k make it onto this list?" It's a valid question that leads to answering how the Nissan Kicks is extra special.
Load the Kicks up with all the fixins, and the grand total still comes out to only $24,015*. For that you get two important features: the first is heated seats - an important touch when the mercury plummets. The next is the Kick's eight-speaker Bose Personal Plus audio system. Two of those eight speakers are near-field elements in the driver's headrest that help deliver sound akin to the quality of audio you'd hear in a $100,000-plus Range Rover.
Those features ride atop a machine that offers a luxury-car-soft and luxury-car-quiet ride that can easily rival the $40,000 subcompact luxury crossovers mentioned above. If you're someone who's used to being pampered in luxury cars, but you fancy a comparably inconsequential monthly payment, the Nissan Kicks - unquestionably the odd duck on this list - is the undisputed winner among all the options on this roundup.
---
2020 Jeep Grand Cherokee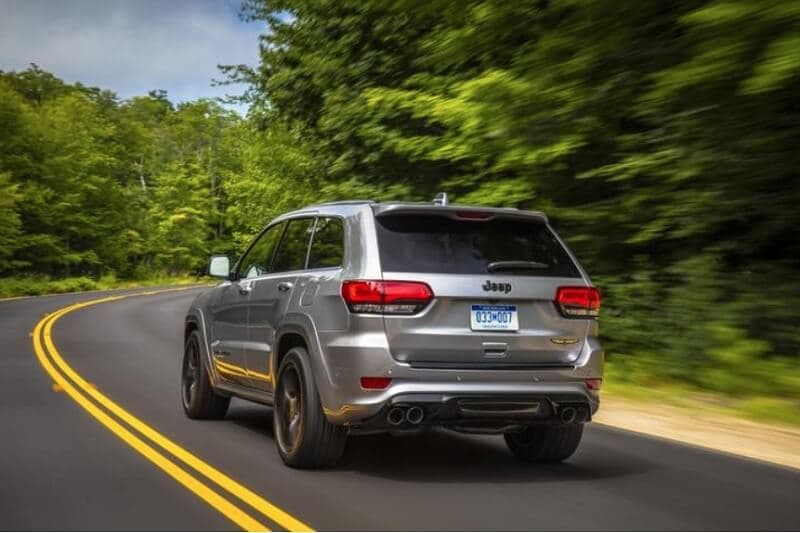 With how capable the Grand Cherokee is off road, you'd be forgiven for thinking the Jeep flagship is a conventional truck-based, body-on-frame SUV, but it's not. Just like a typical sedan and all the other crossovers on this list, the Grand Cherokee is a unibody design.
The Grand Cherokee is one of the auto market's best examples of off-road capability mixed with cosseting luxury. Even the base, rear-wheel-drive Grand Cherokee Laredo at $33,540 offers a terrifically quiet interior with a plush ride.
Add options like four-wheel drive, rain-sensing wipers, adaptive cruise control, automated parallel parking and a 506-watt Alpine premium audio system, and you're out the door for only $45,740, which is great considering all your neighbors and work acquaintances will think you spent well into the $50,000s.