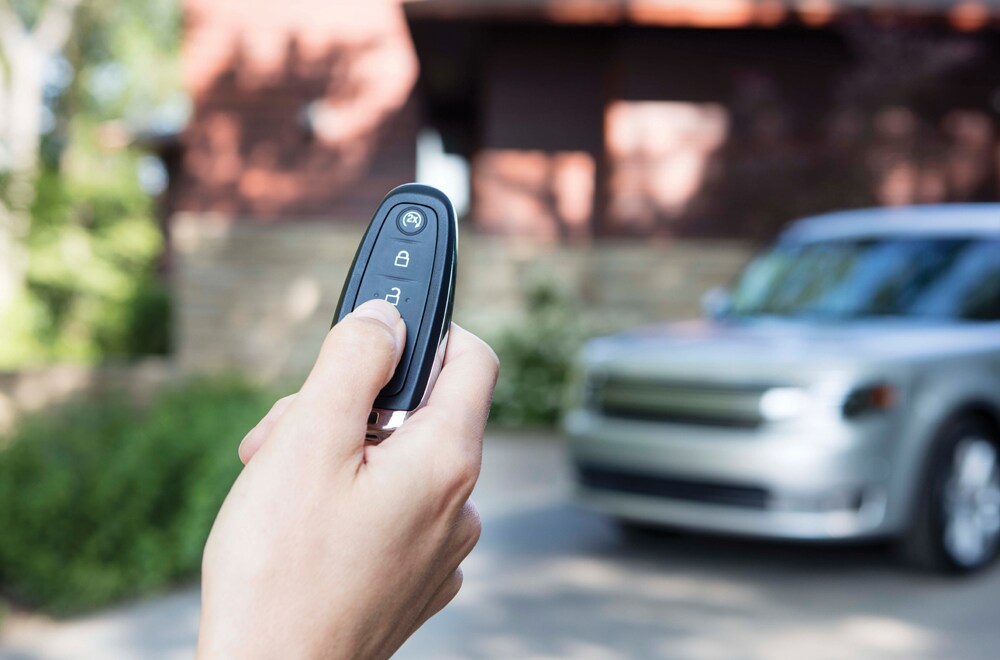 Going Keyless

Discover the ins and outs of Keyless Entry.
Our AutoNation Drive editors demystify everything you need to know about Keyless Entry and Remote Start.
---
Demystifying the Keyless Entry Feature
If you've been searching for a new or used car online, chances are you've come across the Keyless Entry feature more than once. Here our AutoNation Drive editors do a deep dive into the popular Keyless Entry feature, so you come to the test drive armed with the power of knowledge.
Keyless Entry available on most new vehicle models
For most new cars, trucks, and SUVs, Keyless Entry is now a standard feature on even the most basic of trim levels. In fact, if this is not the first car you've ever purchased, it's possible you've already owned a car with Keyless Entry. If you're interested in a vehicle with Keyless Entry, visit your local AutoNation dealership and chat with one of our teammates. They will be happy to help you find a vehicle with Keyless Entry that fits your budget or lifestyle.
---

Read the Keyless Entry FAQ
Our AutoNation Drive editors cobbled together a FAQ about Keyless Entry and Remote Start below. Get to know Keyless Entry before you visit your local AutoNation dealership for a test drive.
---
What is Keyless Entry?
Keyless entry, sometimes called passive entry, allows drivers to enter their vehicles without the use of a key. If you have the key to the vehicle on your person, or in your purse, your vehicle will open automatically when you put your hand on the door. Essentially, you do not have to physically enter the key of your vehicle in order to open the door or into the ignition.
The smart way in and out of your vehicle
If your car is equipped with the Keyless Entry feature, your Smart Key will be your lifeline into the car. Your car will identify the Smart Key using a radio generator via antenna signals placed throughout the vehicle. By keeping your Smart Key in your purse or pocket, you can lock the vehicle's door in the following ways:
    Press the button on the door handle, OR 
    Touch the area on the door handle, OR
    Walk away from the vehicle.
What is Remote Start?
Remote Start is a feature that works in tandem with Keyless Entry. Remote Start is similar to a Smart Key, but instead of a traditional blade key, vehicle operators can open doors and start ignitions with the push of a button on a FOB.

The Remote Start feature uses a unique signal from your key FOB that communicates with your car, verifying that your key FOB will activate the engine.

Key FOBs for Remote Start are operational when you are within 100 feet of the vehicle. To start the vehicle, you must be inside of it with the Smart Key.


How does Remote Start work?
Remote Start sounds a bit like you're playing race cars with the kids. But don't worry -- it doesn't mean your car's going to leave without you. If your vehicle features Remote Start, you can start the engine of your car if you are inside the vehicle and you have the Smart Key inside the vehicle, also.


How do I start a push-button push-start?
Getting on the road in your push-button car is as easy as the click of a button. With a Remote Start FOB, you can simplify turning your car on or off.
Here's how to start your push-start car like a pro:
Keep the FOB with you.
Hold down the brake.
Push and hold the Engine Start button until it starts or shuts off.
If you are shutting the vehicle off, remember to apply the parking brake for safety.
What happens if my Remote Start FOB fails?
If you think the idea of Remote Start sounds like a recipe for disaster, don't worry: your vehicle's manufacturer has a plan for that. The best way to ensure you can always enter and turn your vehicle on is to keep one of your traditional blade keys on your keyring at all times.

Most cars with Remote Start will still let you start them manually, with your blade key, in a backup slot somewhere in the steering column. You can locate this slot by checking your steering column or your vehicle's instruction manual. It may be cleverly hidden in the dash of your car.


---
Shop by Brand
Shop all new cars, trucks, and SUVs available in AutoNation dealerships coast to coast.
---