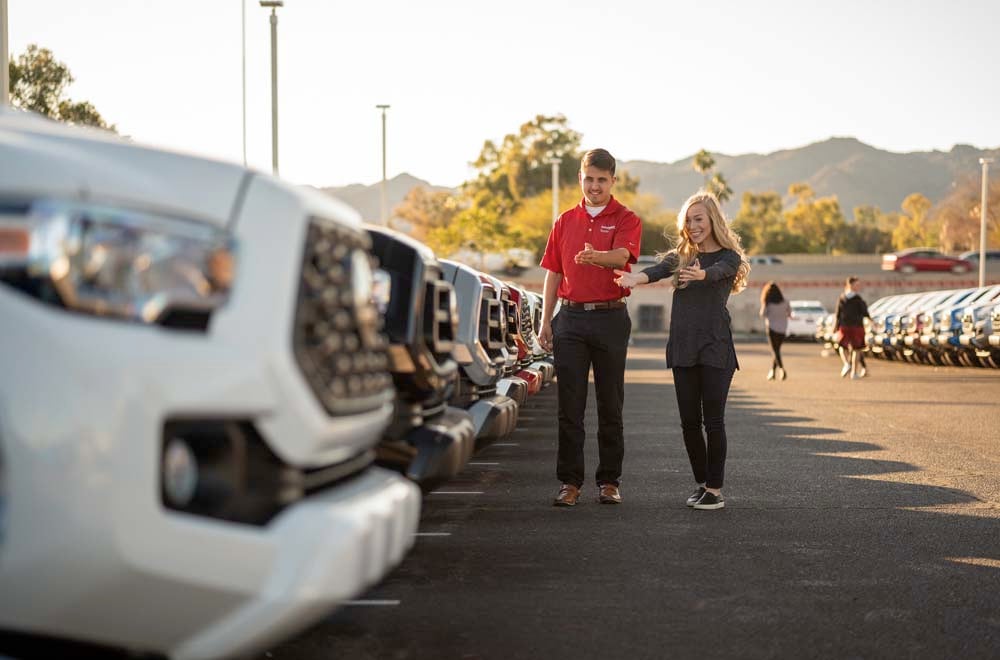 How To Buy a Car

Buying a new car doesn't have to be hard.
Here's a handy guide to help you get into your dream car.
---
How to buy a new or used car
It's easy to get overwhelmed when you have hundreds of used cars to choose from. BMW of Bellevue is here to help make the car buying process easy for seasoned and first-time buyers alike. Check out our handy guide and tools for buying your first car.
Finding new and used cars at AutoNation is easy
With 100,000 vehicles online, you can search for your dream car from the comfort of your own home. You'll be sure to find a new or used car that fits your lifestyle and budget.
Find your local AutoNation dealership
If you still have questions about the car buying process, don't hesitate to contact your local AutoNation dealership. We're here for you every step of the way.
1 -- Find your dream car
To find the perfect vehicle for your traveling needs, you'll want to head over to our new or used inventory to check out what we offer. Find a model that fits your lifestyle -- whether you commute around town, haul kids and soccer equipment, or take long road trips.
Sometimes, you know the car when you see it. But most of the time, you'll want to research which car fits your lifestyle. Consider your daily routine and how you would use a car in Bellevue, WA. You don't have to go for a brand new truck. In fact, you could opt for a reliable, certified used vehicle to get you around town.
2 -- Test drive your dream car
When you're ready to see a vehicle in person, it's time to come visit us. If you've never been to a car dealership by yourself before, don't be intimidated. It may be overwhelming when you find our extensive lot of new and used vehicles, but having just a few questions at the ready can ease your mind and make the process move smoothly.
What can I actually afford? Knowing your budget ahead of time will narrow down your choices for your test drive process. Use our payment calculator to help you determine potential car payments.
Should I lease or buy a vehicle? There are many pros and cons when deciding whether or not to lease or buy your new or used car. If you plan on keeping your car for more than a few years, buying it may be the best option.
What is the cost of ownership? Ask the dealership about vehicle protection plans to help reduce the cost of repairs and maintenance over time. The cost of ownership may vary from dealership to dealership.
Here are a few additional tips to help you with your test drive.
Do schedule an appointment to test drive your vehicle. Wait times will vary depending on the day of the week.
Avoid busy weeknights or holiday weekends when sales and promotions are involved. AutoNation offers competitive pricing year-round, so you'll be sure to get a great price.
Drive in different conditions if possible. You may want to plan ahead and come back when it's raining, or at sunset, to get the feel for the vehicle when it isn't partly sunny.
Survey the controls, infotainment system, and other features beyond drivability. Check for ease of use, understanding, and reach.
Consider your lifestyle. Will a child seat fit? Is there plenty of cargo space for soccer equipment? Would your dogs be comfortable and safe in the back?
Once you've decided on a vehicle, it's time to move on to the next step -- financing.
3 -- Get financing
If you're short on time, you'll definitely want to fill out our loan application ahead of time. Not only will it give you a better idea of what car you can afford and will receive financing for, it will help your sales representative get you going in your new car.
We make vehicle financing easy with a wide range of finance and lease programs, and a menu that clearly presents all the prices and options. So you can choose the one that is right for you. Our Finance Pledge ensures full visibility into the process.
4 -- We'll buy your car
We want to buy your car from you. Get a top-dollar offer and a check the same day. We'll buy any year, make or model. The process is quick, convenient, and you can get started from the comfort of your own home.
Selling your car with AutoNation is never a hassle. We'll buy your car and you don't have to buy one from us. So, if you just want to sell your vehicle, we're ready when you are.
Offer is good for 7 days or 500 additional miles. Other dealers and websites give you an estimate. At AutoNation, your certified offer is good for cash and guaranteed for 7 days.
Get a check on the spot. Bring your guaranteed offer and vehicle to any AutoNation store and get paid on the spot.
Fill out our trade-in form to get your offer certified today.
5 -- Keep your car running smoothly
We know that your annual maintenance is important for the overall life of your vehicle. Here are a few ways our AutoNation service teams can help you keep your vehicle running like the day you brought it home.
Free pit stops. We will check and properly adjust your tire pressure and top-off your vehicle's oil and other vital fluids. Fast. All at no charge.
Upfront service pricing. Get service without surprises. The price we quote is the price you'll pay. Guaranteed.
Repair guarantees. We complete all repairs for the estimated amount and guarantee our repair work for 12 months, or 12,000 miles.
---
Discover your dream car at AutoNation
When you're ready to come in for a test drive, call us or visit your local AutoNation dealership to  see the vehicles we have to offer.

AutoNation teammates are available to answer all your questions. Come see what makes your local AutoNation dealership the premiere new or used car dealership for first-time car buyers.