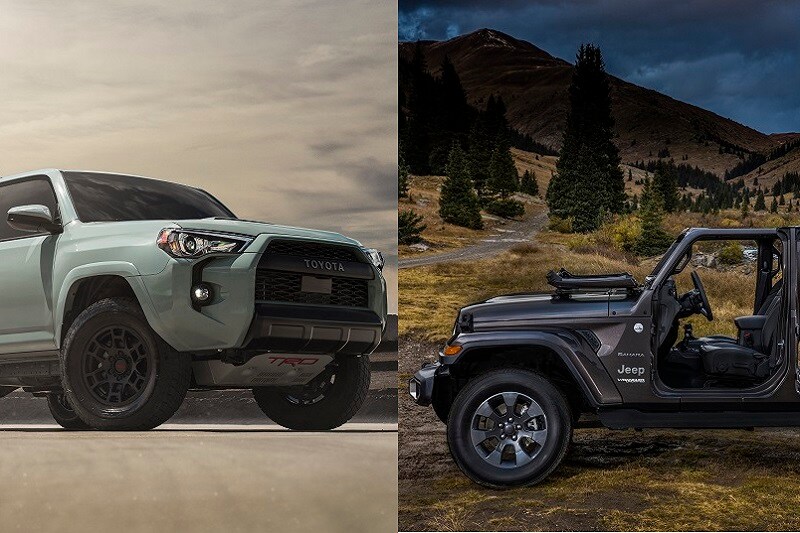 The rivalry between the
Ford Mustang
and
Chevy Camaro
has been going for decades. Over the past several years, Ford and RAM have been slugging it out in the truck market for outright towing supremacy. Until the arrival of the all-new
Ford Bronco
, the
Toyota 4Runner
(MSRP: $36,765) and
Jeep Wrangler
(MSRP: $29,070) had been the only two competitors of their kind in the midsize off-road SUV segment. Let's take a closer look at what links and separates these two iconic rigs. To get an even better view, be sure to visit an AutoNation Toyota or Jeep dealership.
---

Strong Bones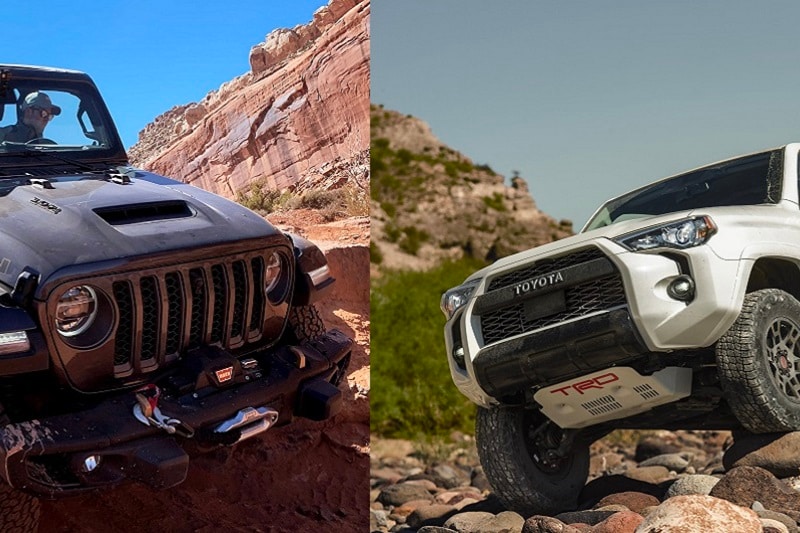 There are a lot of midsize SUVs out there, but the 4Runner and Wrangler are fundamentally different vehicles. Like most pickup trucks, both of them are body-on-frame vehicles, meaning the body is mounted on top of the frame instead of both pieces being one unit the way they are in unibody vehicles. One of the primary benefits of body-on-frame (aka ladder-frame) architecture is that it stands up well to the kind of twisting and flexing that vehicles have to endure when going over rough, uneven terrain.
---

The Differential Between the Two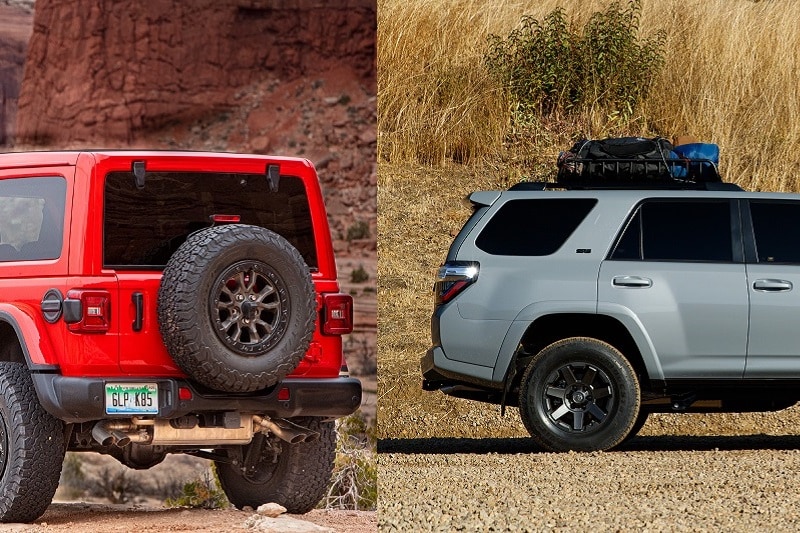 If you want a 4Runner, but don't need four-wheel drive, you can get one without it. That's not how the Wrangler rolls. It's 4WD no matter what. The base system is the Command-Trac part-time setup. The next level up is Selec-Trac, which is available in a full-time configuration and capable of automatically switching from two- to four-wheel drive according to traction needs. Rubicon models are equipped with Rock-Trac. That comes standard as a part-time system, but can be ordered with full-time functionality. Its 4:1 low gear ratio means it only takes a small amount of throttle to get big results when you need them.
The 4Runner is available with either a locking center or locking rear differential. When engaged, the locking center unit distributes 40 percent of available torque to the front wheels and 60 percent to the rear wheels. The locking rear differential forces both back wheels to turn at the same speed so even if one wheel is in the air, the wheel with traction can do its job and help extract the 4Runner from Mother Nature's clutches.
Jeep uses a different approach. Certain Wrangler models are available with a Trac-Lok limited-slip rear differential (LSD). In normal circumstances, it functions like an open diff. When the two back wheels experience a drastic difference in traction that affects how quickly they spin, the LSD works more like a locking diff by restricting the difference in their turning speeds, which allows the wheel with a better connection to the ground to put its available power down more effectively. The hardcore Wrangler Rubicon comes with Tru-Lok locking front and rear differentials to conquer the roughest and toughest conditions. Like 4Runners equipped with the available Kinetic Dynamic Suspension System, the Wrangler's electronic sway bar disconnect system gives its front wheels the ability to articulate more over uneven surfaces, then automatically reconnects the sway bars once the Wrangler Rubicon hits a certain speed to keep it stable on the road. 
---

One vs. Many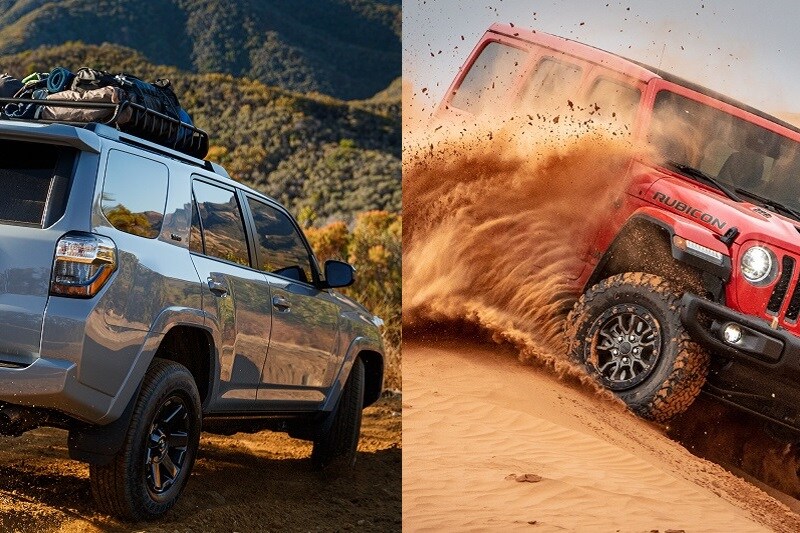 The 4Runner carries on with the long-running combination of a naturally aspirated 4.0-liter V6, which generates 270 horsepower and 278 lb-ft of torque, and five-speed automatic transmission.
Jeep offers the Wrangler with a variety of four-, six-, and even eight-cylinder engines. Those span a spectrum that includes a plug-in hybrid with 21 miles of all-electric driving range at one end, an EcoDiesel V6 that cranks out 442 lb-ft of torque in the middle, and a 470-horsepower 6.4-liter Hemi V8 at the other end. Some engines are available with a six-speed manual; otherwise, an eight-speed automatic turns the Wrangler's power into forward motion.
---

Some Disassembly Desired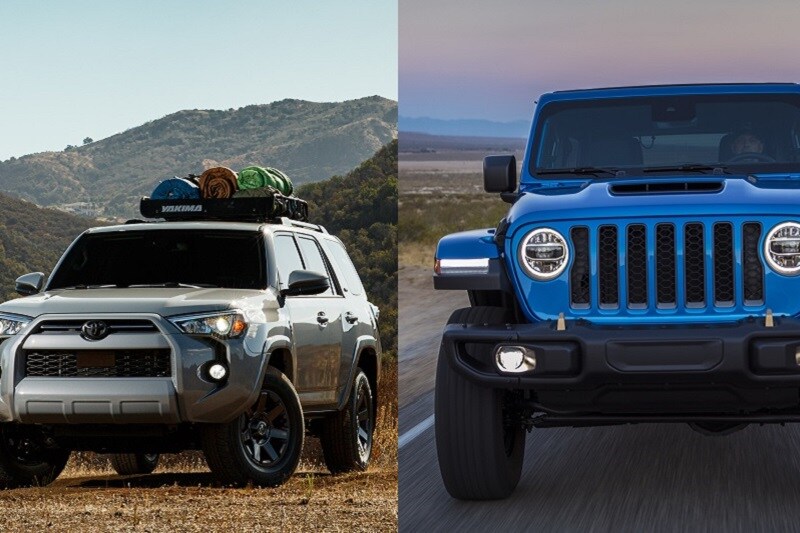 The 4Runner is only available as a four-door with a rear liftgate. Jeep offers the Wrangler in a nimble two-door configuration and a roomier four-door Unlimited layout.
If you want to feel closer to the outdoors in the 4Runner, just lower the side and rear windows, then open the available sunroof. The Wrangler doesn't have a power rear window, but it makes up for that by offering hard, soft, and power retractable roof options; removable doors; and a fold-down windshield. We've driven the Wrangler doorless and roofless and can full-heartedly say that it was a unique, unforgettable experience.
---

What's New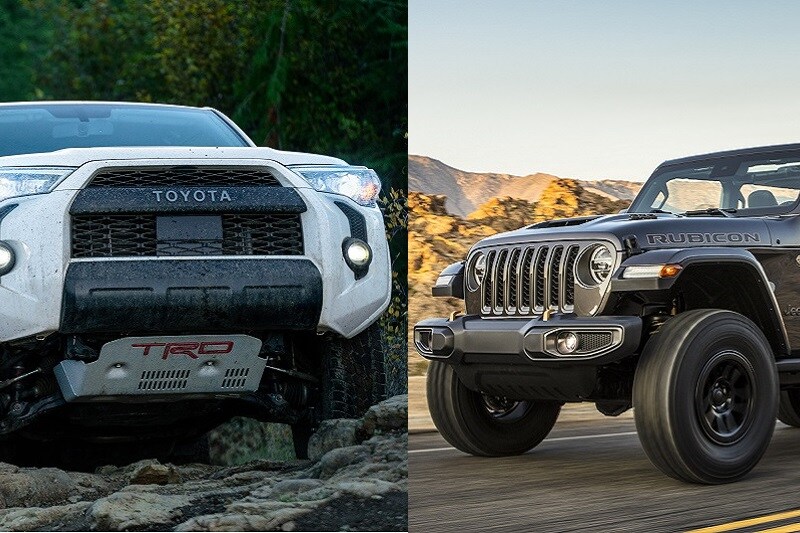 The fifth-generation 4Runner has been on the market since the 2010 model year.  Since then, Toyota has gradually updated the veteran of off-road adventures. All 2021 4Runners come standard with fog lights. The Trail Special Edition model joins the lineup. Based on the SR5 trim level, it comes dressed in black exterior badging and black seats with tan stitching. All-weather floor liners, Yakima LoadWarrior rooftop cargo basket, sliding cargo tray, and 40-quart cooler make "roughing it" a smoother experience. The flagship TRD Pro model is available in a new color called Lunar Rock and comes equipped with new black TRD wheels, Nitto Terra Grappler rubber, and re-tuned 2.5-inch Fox shocks with internal bypasses that improve the way the 4Runner drives on trails and performs during high-speed blasts through the outdoors.
Stay tuned for the 2022 4Runner. All models come with LED low beams, high beams, and fog lights. The new TRD Sport model features a hood scoop, color-keyed accents, 20-inch wheels, and Cross-Linked Relative Absorber System (X-REAS) suspension system. 
In July of this year, Jeep announced it's offering an Xtreme Recon Package on Wrangler Unlimited Rubicon and Wrangler Unlimited Rubicon 392 models that adds a 1.5-inch suspension lift, specially tuned shocks, 4.56:1 gearing, 17-inch beadlock capable wheels, and 35-inch BFGoodrich K02 all-terrain tires to make them into the ultimate Jeep wilderness warriors. Click here to read all of the other ways in which the 2021 Wrangler is even better than last year's model.