Jeffrey N. Ross | Oct 13, 2020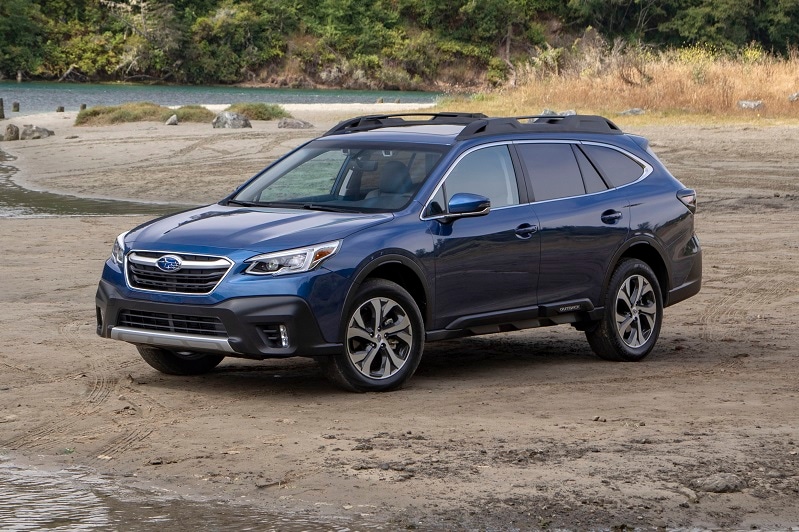 Recreational vehicles continue to rise in popularity, and there are plenty of options on the market,ranging from massive motorhomes to manageably sized tow-behind trailers.
If your storage space and budget are limited, small travel trailers provide ample space and opportunity to enjoy the great outdoors, and with weights of around 3,000 pounds, these trailers can easily be towed behind standard vehicles. That's right, you don't have to buy a big, gas-guzzling pickup truck to haul most smaller tow-behind campers.
With that in mind, we've put together a list of the top five cars that are perfect for towing small travel trailers. But as always, you'll want to make sure your car is properly equipped and properly maintained before using it as a tow vehicle.
---
Volvo S90/V90/V90 Cross Country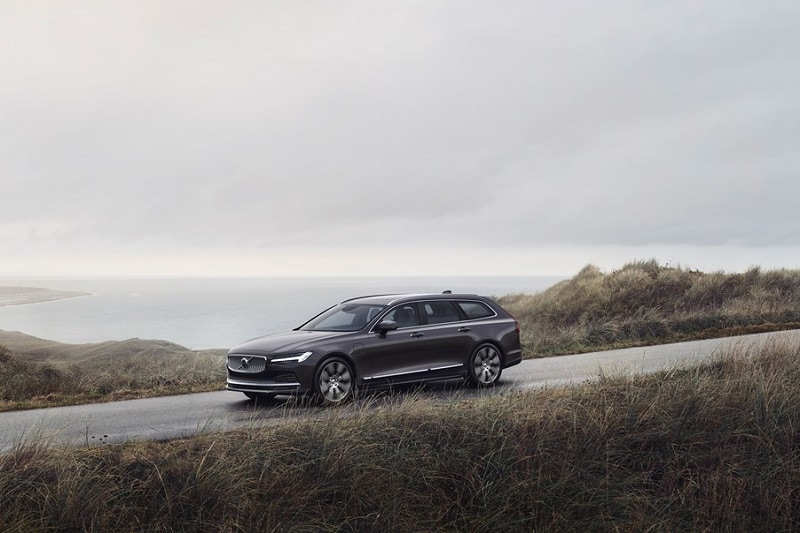 Station wagons have always been the ultimate vehicle in which to explore the open road, so it's no surprise that Volvo V90 lineup offers CUV-like towing capability with a car-like ride and style.
The V90 T6 and V90 Cross Country provide more than enough towing capability for small travel trailers with a maximum capacity of 3,500 pounds, but if a station wagon isn't quite your style, the S90 is the four-door sedan counterpart to the V90, and it can still haul a hefty 2,000 pounds. The S90/V90 lineup is a solid trio of trailer-toting cars, but the Volvo V90 Cross Country is the best SUV/CUV alternative with an extra 2.3 inches of ground clearance and AWD standard.
Whether you're looking for a family sedan or an off-road capable station wagon, the Volvo S90/V90/V90 Cross Country will get you where you need to go.
Shop Volvo Cross Country Trim Inventory
---
Subaru Outback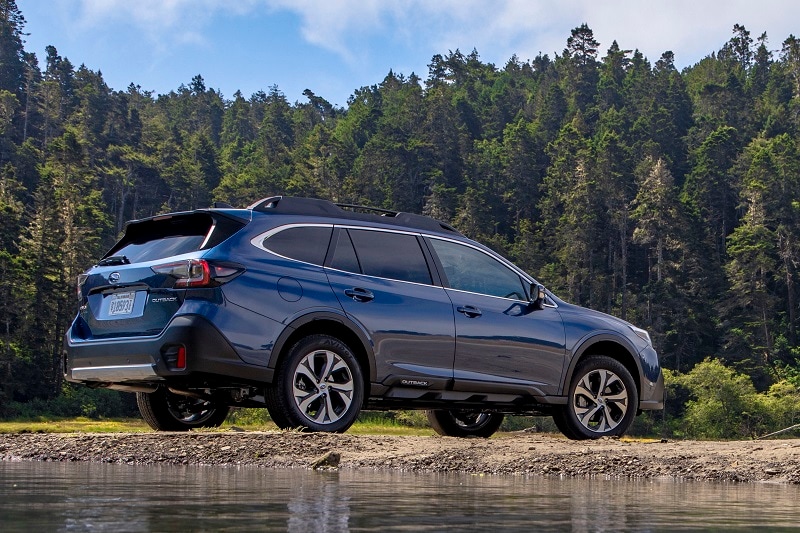 The Subaru Outback is another alternative to bigger, bulkier SUVs and CUVs with a station wagon design, 8.7 inches of ground clearance and an impressive towing capacity for a mid-size vehicle.
The 2020 Subaru Outback offers two engine options, and the 2.5-liter Boxer four-cylinder engine delivers 182 horsepower that allows this station wagon to tow up to 2,700 pounds. The Outback XT models upgrade to a 2.4-liter turbocharged Boxer four-cylinder that produces 260 hp and improves maximum towing capacity to 3,500 pounds. Like pretty much the entirety of Subaru's current lineup, the Subaru Outback also comes standard with all-wheel drive making it even better for hauling a small travel trailer.
Station wagons are an icon of American family road trips, and the Subaru Outback is ready to hit the road.
---
Audi e-tron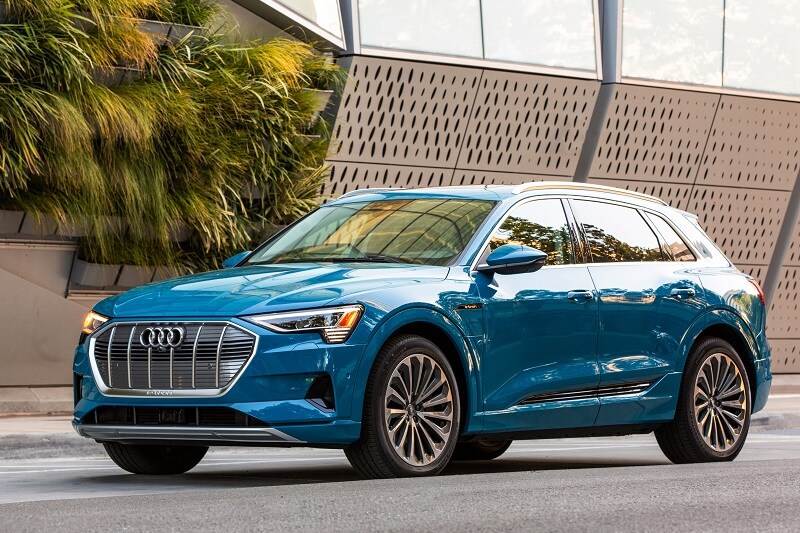 Even advanced cars are able to make easy work of towing, and the Audi e-tron is a perfect example.
The high-tech e-tron features a powerful, all-electric powertain capable of driving 204 miles on a single charge, and this Audi can tow 4,000 pounds! That's enough to tow a small travel trailer or even a car hauler. Thanks to a power output that can reach 402 horsepower in "Boost Mode," the five-passenger Audi e-tron is able to accelerate from 0-60 mph in 5.5 seconds, and it's able to charge equally fast thanks to a DC fast charging capability allowing an 80 percent charge in about 30 minutes making it the ideal dual-purpose vehicle for normal driving and light-duty trailering.
What better way to enjoy the great outdoors than doing so in a vehicle that is good for the environment?
---
Toyota Sienna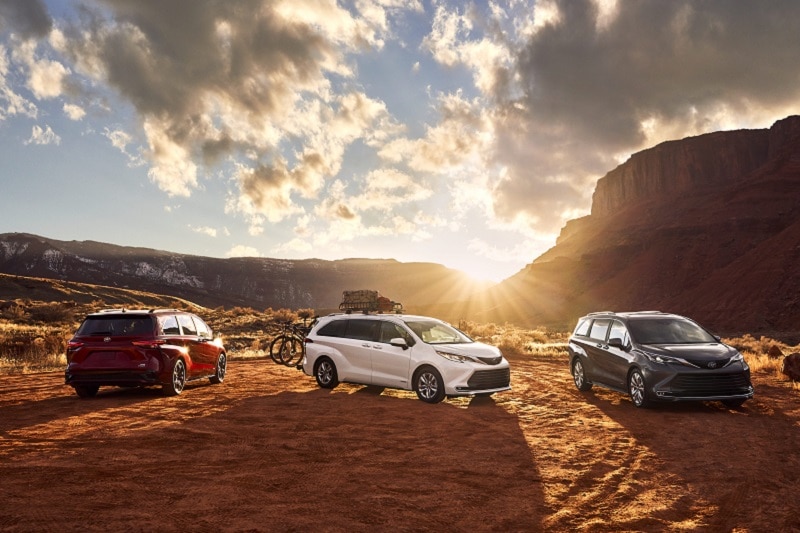 Minivans are another option for travelers looking for something that isn't a truck or SUV.
The 2020 Toyota Sienna, for example, is rated with a towing capacity of up to 3500 pounds, and it is offered with an available AWD system. In addition to all of that towing ability, the Sienna offers SUV-like interior space with three rows of seating for up to eight passengers or the ability to accommodate 150 cubic feet of gear with the third-row seats folded and the second row removed. The max towing capacity is the same for all trim levels both FWD and AWD, and all models are powered by the same 3.5-liter V-6 rated at 296 horsepower.
Bring the whole family and your small travel trailer along for the ride with a Toyota Sienna minivan.
---
Dodge Challenger and Dodge Charger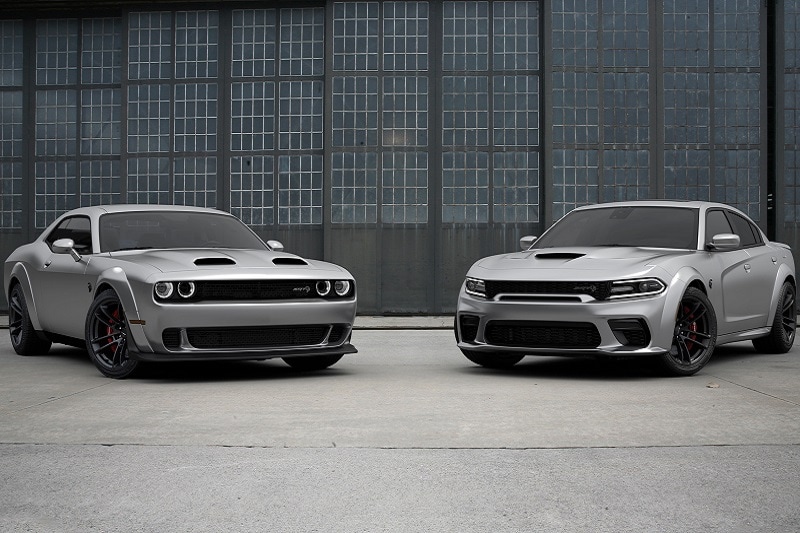 If your travel trailer is on the smaller side and you want something more exciting to drive, the Dodge Challenger and Dodge Charger are both viable options.
These iconic muscle cars can be equipped with either a 3.6-liter V-6 or base 5.7-liter Hemi V-8 to deliver a towing capacity of 1,000 pounds. The major benefit, of course, is owning a tow-capable car that looks cool with or without a trailer attached to it. Just imagine rolling up to a campsite with your small travel trailer with a boldly styled Dodge Challenger!
Shop Dodge Challenger Inventory