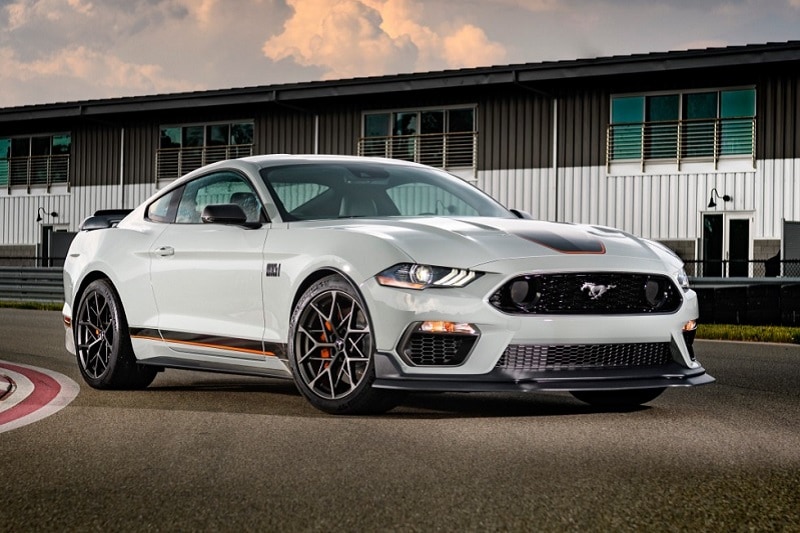 Recently, we rounded up Ten Vehicles Ready for the Winter Wonderland. All those vehicles are great for getting you, your presents and your your family (even your grumpy aunt Edna who should be riding on the roof) to the tree-lighting ceremony stress-free and on time. It's the most wonderful time of the year, after all.
But what if you're thinking long-term? Of course you're thinking long-term. When you buy a car, you're likely thinking about how it's going to serve your needs all year long, and not just when the snowflakes are falling on your nose.
We're delving into how your potential next car or SUV will keep you comfortable all 365 days, but in an incredibly specific manner. Here, we're simply rounding up an affordable coterie of cars that have heated and cooled seats.
Even though it's where the sun doesn't shine, your bum still deserves some climate control. Let that statement sit a while if you don't agree at first. Here are ten vehicles that will prevent you from ever having to say the words, "I'm freezing/sweating my cheeks off!"
---
Jeep Cherokee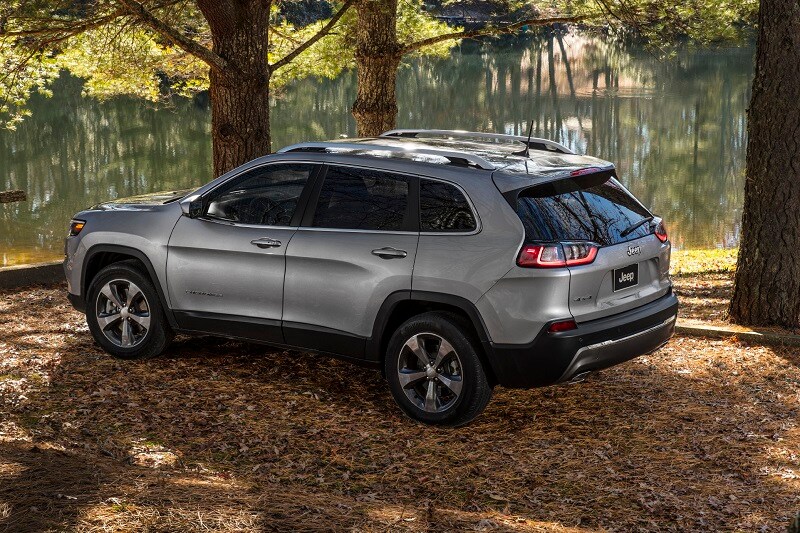 Even with a reasonable starting price of $27,235*, the Jeep Cherokee offers a quiet and comfortable ride befitting that of a more expensive compact luxury SUV. If you want to match that luxurious feel with bona fide luxury features (such as heated and cooled seats), you'll need to step up to the Limited trim level, which starts at $32,845*.
The Limited offers standard features like a leather interior, satellite radio, as well as Apple CarPlay and Android Auto on an 8.4-inch touchscreen. If you want cooled seats, you have to elect the $1,445 Luxury Group package that also includes a hands-free power liftgate, bringing your total to $34,290*.
---
Volkswagen Arteon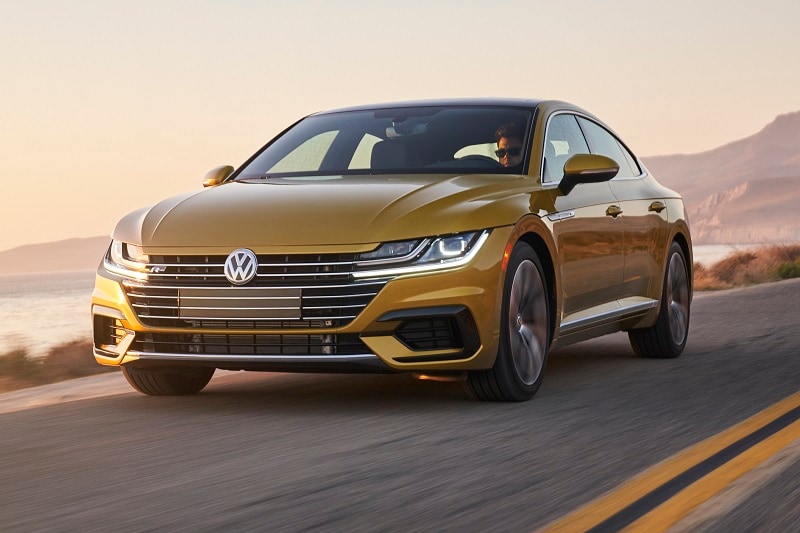 The $69,995 Audi A7 is a fantastic car if your income is deep into the six figures. But for the rest of us who put Frank's RedHot on everything instead of caviar, there's actually something even more likable that costs only half as much. That unicorn is the Volkswagen Arteon, which is pretty much just as enjoyable to drive as the A7, and is arguably much better-looking.
At the Arteon SE's $36,840* starting price, you're treated to standard heated front seats. If you want your booty to keep its cool amid spirited summer driving, though, you'll need to step up to the top-tier, $47,205 Arteon SEL Premium R-Line with 4Motion all-wheel drive. That's quite the price jump, but even so, the top-shelf Arteon remains roughly $23,000 less than the A7 ... or enough to buy Aunt Edna her own car. With all that savings, you still get ritzy luxury features like a massaging driver's seat, heated steering wheel, a 12-speaker, 700-watt Dynaudio premium sound system and automated parallel parking.
Shop Volkswagen Arteon Inventory
---
Hyundai Sonata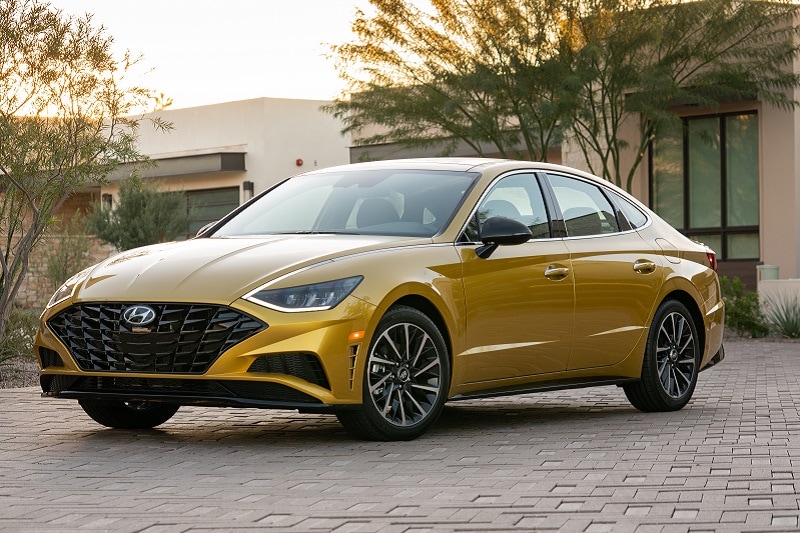 The Hyundai Sonata has been completely redesigned for the 2020 model year, and it is striking. From its coupe-like profile to its radical LED front-lighting accents that carve their way up into the hood, who says mainstream, midsize luxury sedans can't be head-turners?
A temperature-controlled buttocks pairs well with an attention-grabbing exterior design, and with the Hyundai Sonata, you won't have to break the bank for that premium pairing. For $24,330*, you'll start off with the Sonata in its standard SE trim. If you want heated seats, that brings you to the SEL trim at $26,430*. Heated and cooled seats come standard on the top Limited trim at $34,230*, which is equipped quite generously. The Limited model's amenities include leather upholstery, a 12-speaker Bose premium audio system, as well as a 10.3-inch touchscreen with Apple CarPlay and Android Auto.
Hyundai also includes advanced driver-assistance features like adaptive cruise control with lane-centering to help round out one of the most appealing cars you can find on the market.
---
Ford Mustang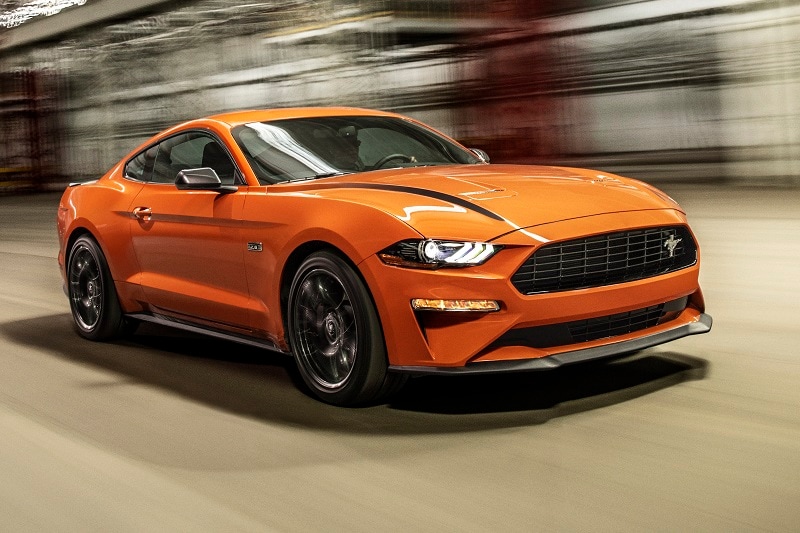 It wasn't too long ago when a base Mustang was a black hole of depression any time you mashed the accelerator into the carpet. Sure, economy-engined 'Stangs of yesteryear were affordable, but a low price was about all they had going for them. My, have times changed. Because the 2.3-liter four-cylinder Mustang, at $27,765*, offers performance specs that'll be plenty for most buyers. The base car's turbocharged engine puts out 310 horsepower and 350 pound-feet of torque.
Move up to the $32,780 Premium trim, and you'll enjoy luxury features like heated and cooled leather seats as well as Sync 3 infotainment with Apple CarPlay and Android Auto.
---
Toyota Camry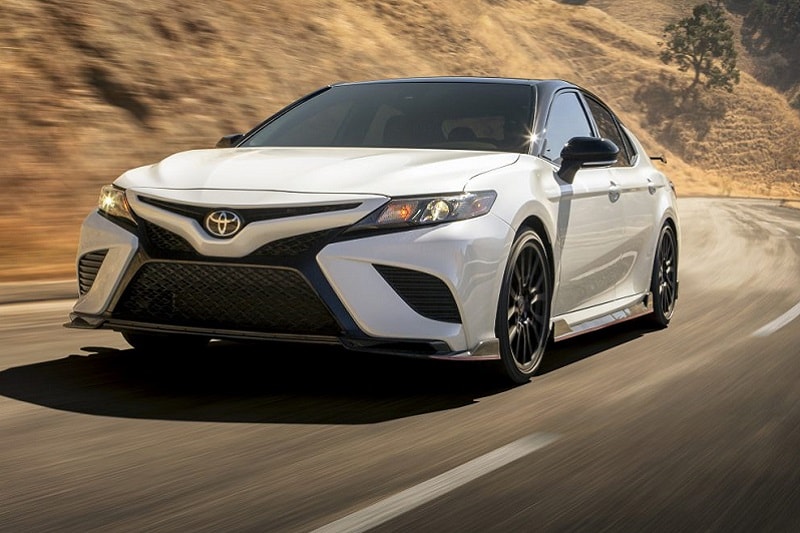 Crossovers are all the rage right now, but the Toyota Camry remains America's best-selling sedan. Perhaps you've owned a couple of Camrys in your day, and you want to stick with the nameplate. Does Toyota's popular mid-sizer pass this roundup's heated- and cooled-seats test? Why, yes, it does.
The Camry starts at $25,250*, but to get heated and ventilated front seats, you need to start at the $30,280 Camry XLE. From there, you check the box for the $5,245 Driver Assist Package, bringing your grand total to $35,525*.
---
Hyundai Tucson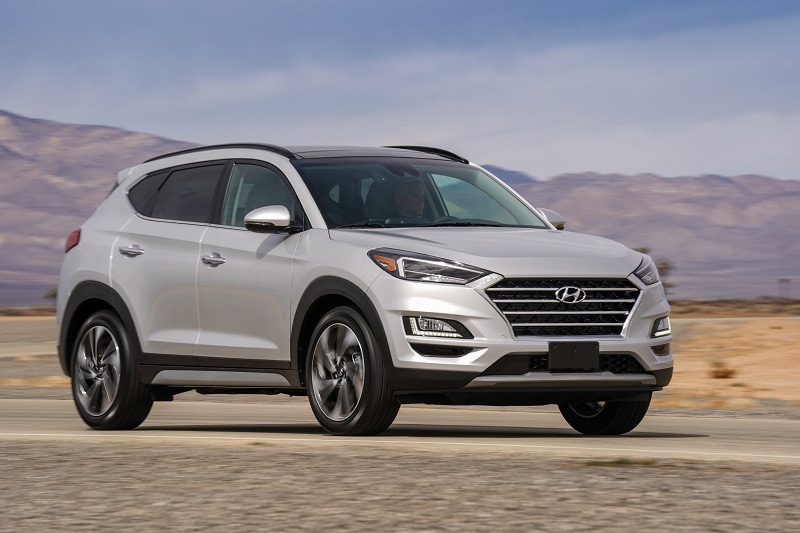 The Hyundai Tucson is a strong value contender in the compact SUV segment. At $24,445* in its base SE trim, you get popular features like Apple CarPlay and Android Auto on a 7-inch touchscreen. For just a little more cash, you can get heated seats in the $25,895 Value trim.
If you want the whole heated and cooled enchilada, though, that necessitates pulling out all the stops for the $32,795* Tucson Ultimate. The top-tier Tucson also includes heated rear seats, embedded navigation on an 8-inch touchscreen, and an 8-speaker, Infinity premium audio system.
---
Nissan Pathfinder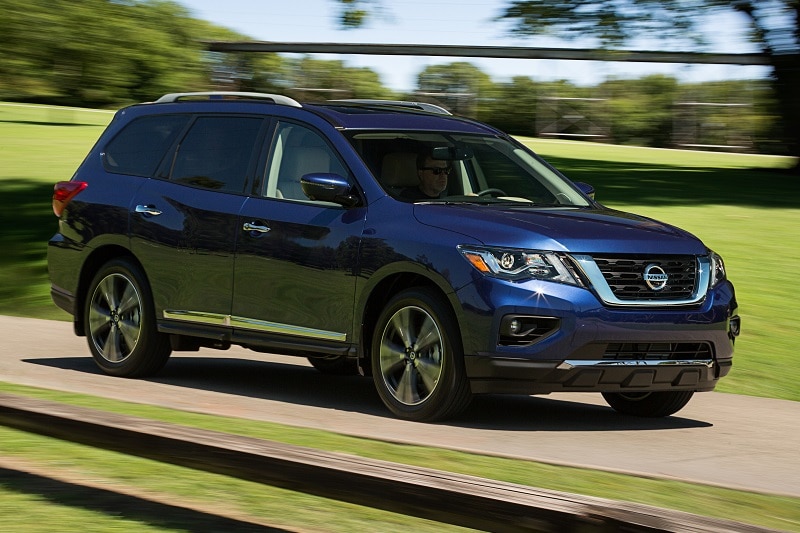 Nissan's midsize crossover SUV can seat seven people, will tow up to 6,000 pounds, and guess what? It will also heat and cool your tushie, the latter of which is terrifically useful when you're hauling six screaming soccer children of the corn hellbent on making your blood boil.
The Pathfinder starts at $32,775* in its base S trim. If you want heated seats in the first and second rows, as well as a heated steering wheel, the $39,185* SL gets you there. Finally, for heated and cooled front seats, you'll need to step into the $44,015* Pathfinder in its top-spec Platinum trim.
Shop Nissan Pathfinder Inventory
---
Acura RDX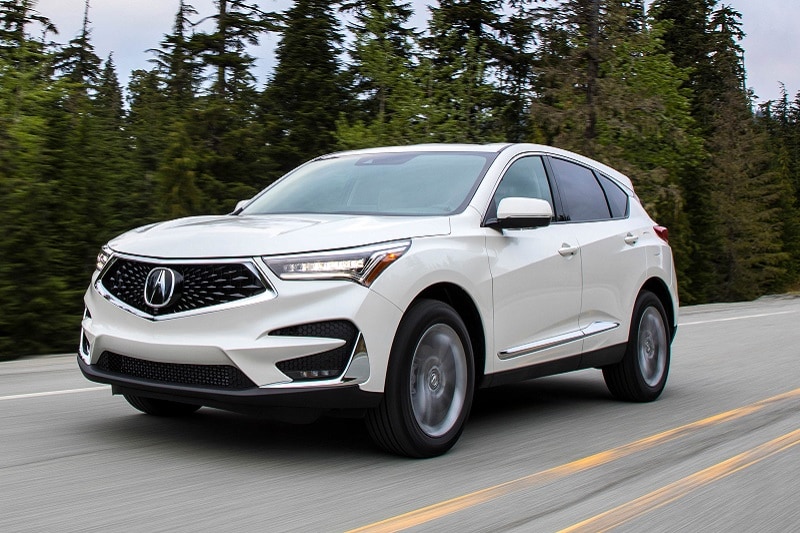 If you're in the market for a sporty, compact luxury crossover, you have to put the Acura RDX on your shortlist. It's fiercely competitive with SUVs like the BMW X3 and Audi Q5, but it costs thousands less.
The standard RDX at $38,595* already comes with heated front seats. If you want front seat ventilation, too, step up two trims to the sportier A-Spec package at $44,795*.
---
Lexus UX 200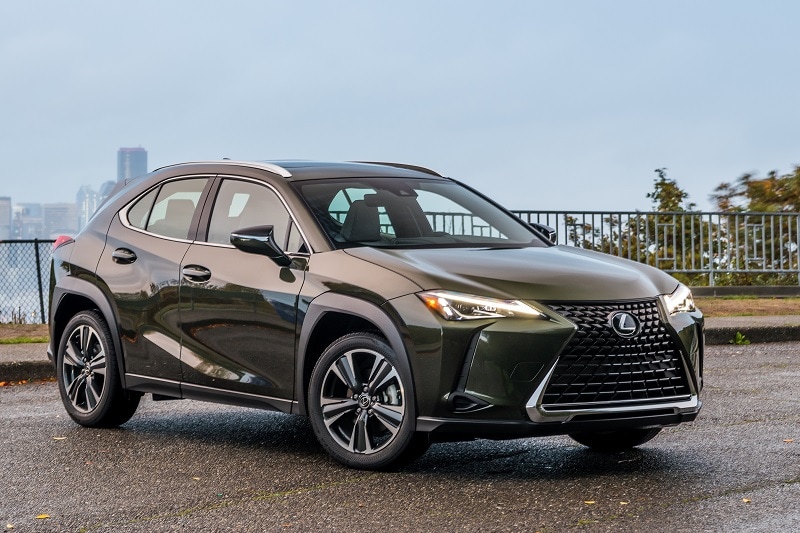 For fans of heated and cooled seats, Lexus makes it easy with the UX 200. All you have to do is begin with the base model at $33,325*, elect the $1,675 Premium Package and voilà: you've got a happier bum. Opting for the premium package automatically selects the $325 auto-dimming rearview mirror with compass and homelink transceiver, leading to a grand total of $35,325*.
Not bad for a well-equipped luxury SUV.
---
Buick Envision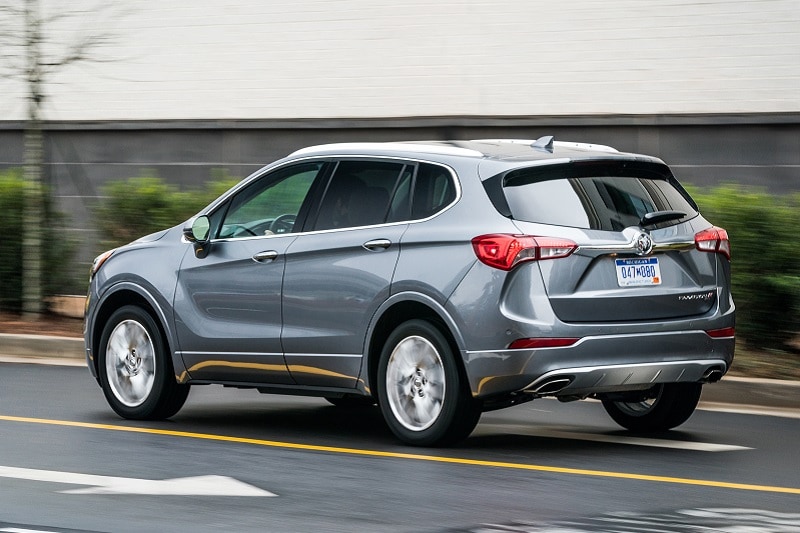 If you're looking for something luxurious, but need a little more interior volume than the UX offers, have a gander at the Buick Envision. Starting at $33,190*, it's a handsome little front-wheel drive SUV.
Need heated and cooled seats? Then you'll have to opt for the loaded, all-wheel-drive Envision Premium II at $44,795* with fancy features like a seven-speaker Bose premium audio system, a head-up display, embedded navigation and automated parallel parking.
---
Manuel Carillo III | Dec 16, 2019